Crete Bus Trips

This page may contain affiliate links, see our disclaimer here.

---
Crete Bus Service
In Crete, our local bus service is safe, reliable and cheap. Travel times will be a little longer than the same journey by car.

The local and regional bus services in Crete are run by regional collectives known as Kino Tamio Eispraxeon Leoforon or KTEL.
There are many different lines to take, all with excellent service.


---
The Bus Service in Crete

Crete Bus - services are usually on time and reliable. Tickets are cheap and the buses are very safe. Timetables vary during different seasons.
Seasons

Busy season is summer which is July and August.
Slow season is winter which is November to February.
From March to June the bus services start to increase and are changable, so check the timetables.
From September to October, after summer, there may be changes in the timetables so it is always best to check first.
Most bus stations are fairly basic and central in each town, except for Heraklion which has two regional bus stations for KTEL buses.
We urge you to get a good Crete guide book to see details of these different bus stations, because many people do get confused about them and they are located in different parts of the city.
See our page with details on the two Heraklion bus stations here.

The local and regional bus services in Crete are run by regional collectives known as Kino Tamio Eispraxeon Leoforon or KTEL.
More about KTEL here with timetables
As you can see below, the buses used for the local service are actually very modern coaches. They are looked after very well because each one is an owner, there is usually a driver and an assistant who takes the fare after you get on the bus, in a remote bus stop.
If you are at a bus station, you can buy your ticket before getting on a bus.
These are really comfortable and reliable and we have gone everywhere in Crete on them and had no hassles.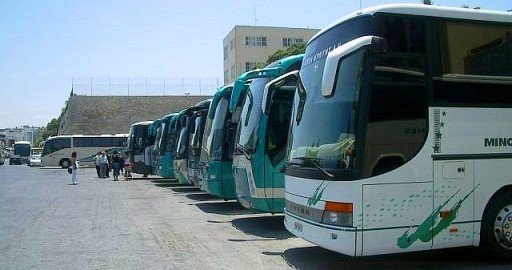 ---
Crete Bus
Independent Travel in Crete
Inland, Crete is a harsh and mountainous island with many steep, curvy roads. Roads from the north to the south are not common as they need to cross over the White Mountains, or Psiloritis range, and in the east, the Dikti Mountains. Therefore, journeys from the north to the south are on high, winding mountain roads and are not fast freeway rides.
This, of course, is just the amount of adventure that real travellers are after off the beaten track. For all these reasons, please check the suggested time of duration of your bus journey and do not assume it will take 'freeway time'.
One route that does not cross mountains is from Heraklion to Matala in the south, the road crosses through some of the foothills of Psiloritis range but generally passes through the beautiful Messara valley, with beautiful views to the west and east over olive groves. Visitors come here to see the southern beaches and also Phaistos and Gortys and many other historical sites.
The Crete Bus service is perfect for independent travellers who want to explore the small villages and out of the way places in Crete. Just be patient and be prepared to wait for infrequent services to smaller places.


---
Getting Around by Bus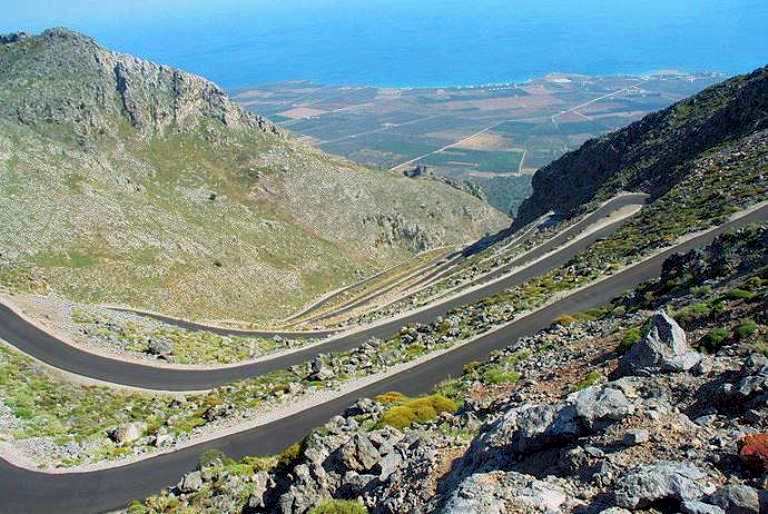 The road to Frangokastello
---
Route Guides for Crete Bus Travel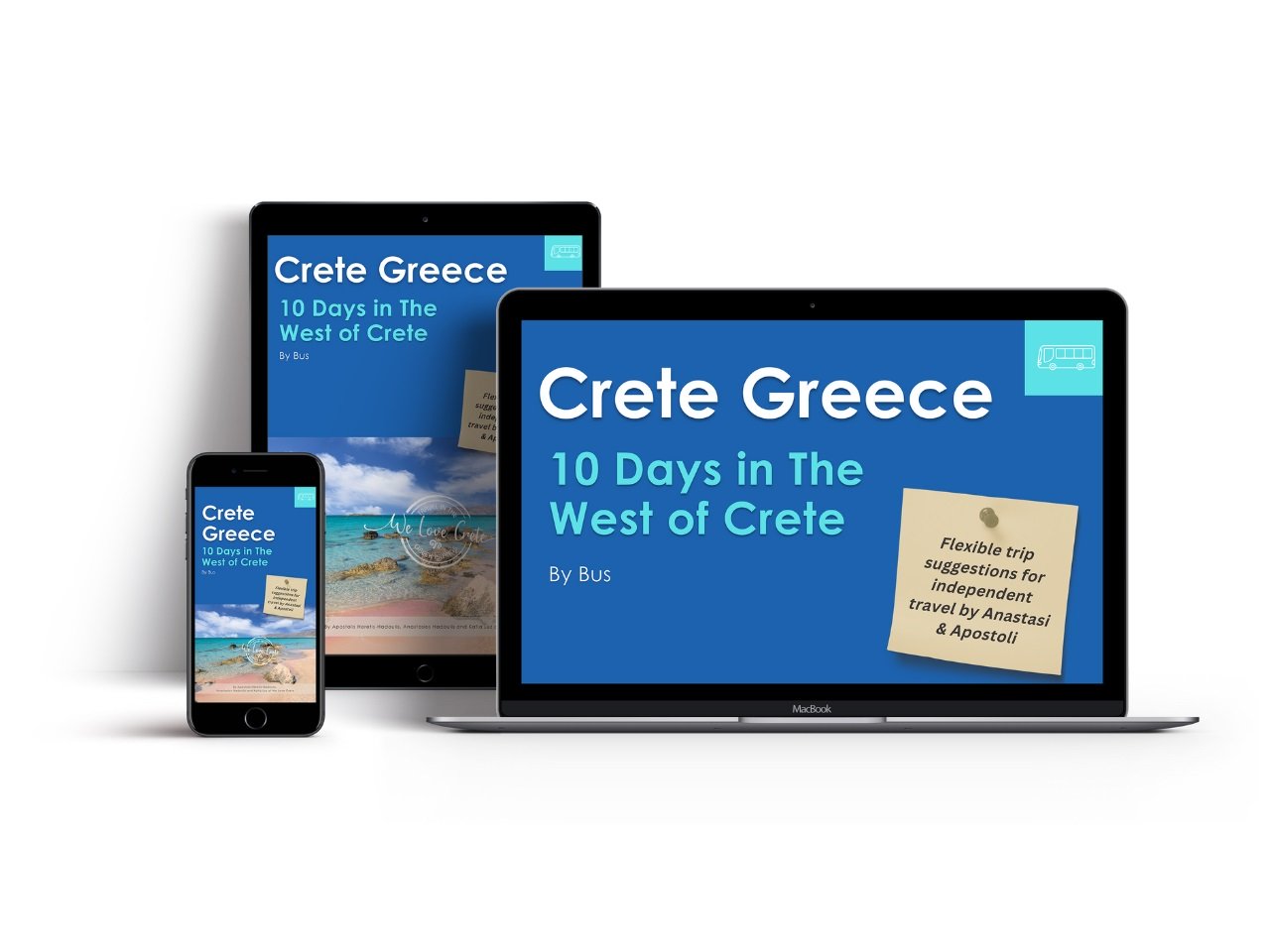 West Crete by Bus

This wonderful guide to the west of the island visits the following destinations:

•    Knossos
•    Rethymnon Old Town
•    Arkadi
•    Georgioupolis
•    Chania Old Town
•    Samaria Gorge
•    Agia Roumeli
•    Sougia
•    Agia Irini Gorge
•    Palaiochora
•    Elafonisi Beach
•    Balos Lagoon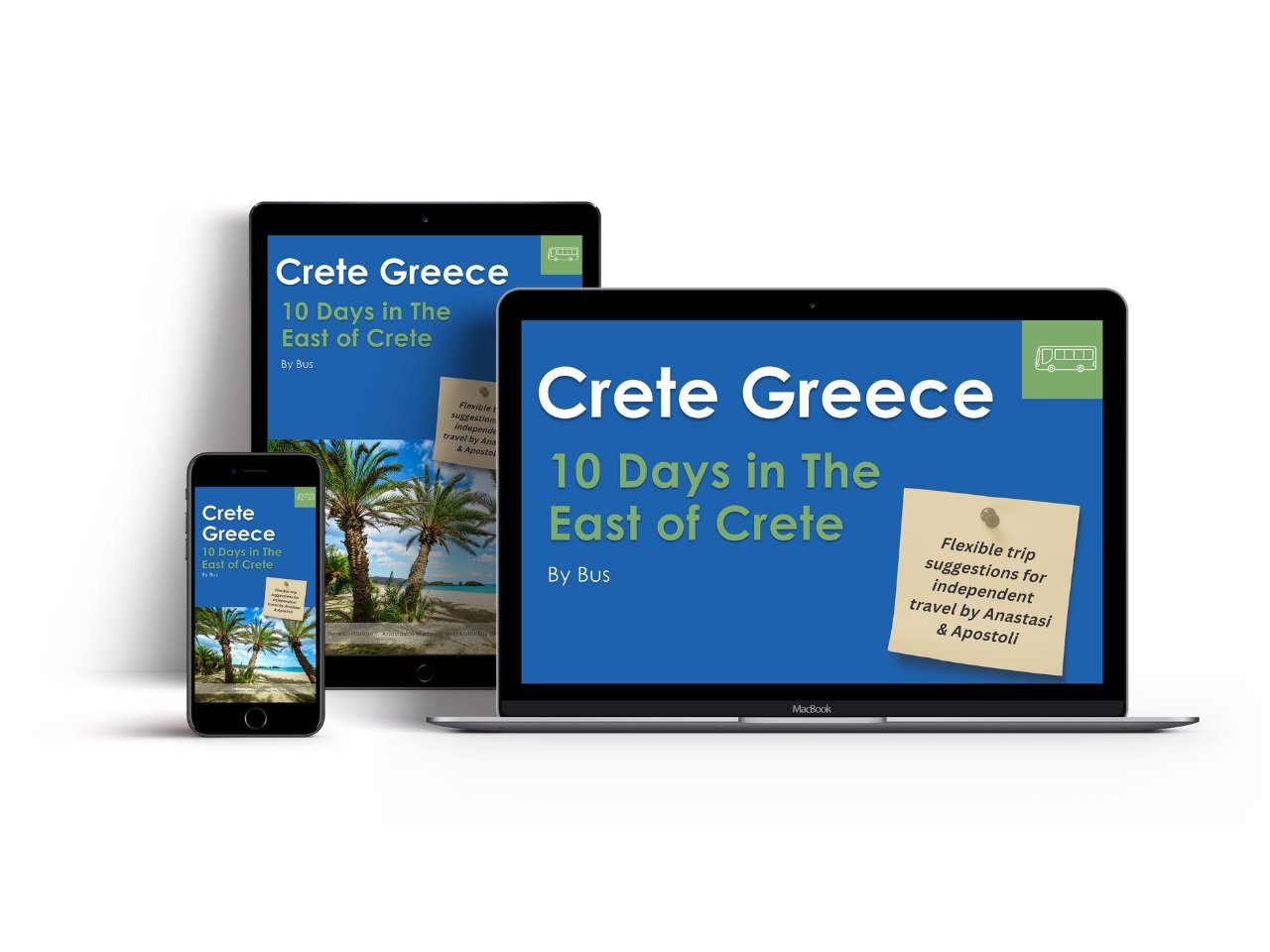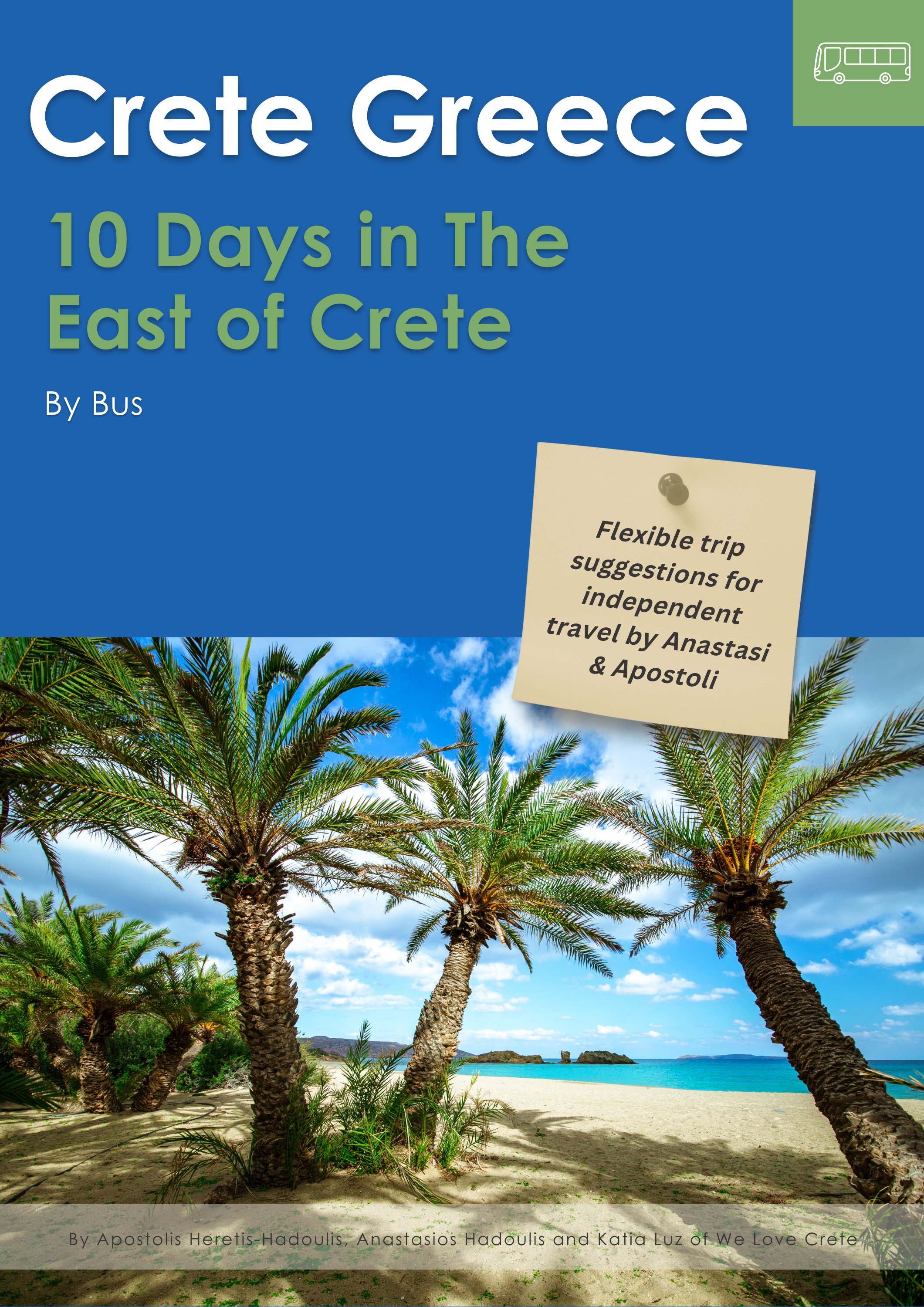 East Crete by Bus

This wonderful guide to the east of the island visits the following destinations:

•    Knossos
•    Agios Nikolaos
•    Elounda
•    Spinalonga Island
•    Sitia
•    Vai Beach and Palm Forest
•    Palaikastro
•    Zakros Gorge
•    Kato Zakros
•    Makrigialos
•    Ierapetra
•    Chrissi Island
---
Accommodation
Find your accommodation nearby to the four major Crete bus stations.
Chania - Corner of Kydonias & Kelaidi Partheniou Streets, Chania (near 1866 Square)
Rethymnon - Emmanouil Kefalogianni Leoforio Avenue, near the old town

Heraklion - Bus Station A - Ikarou 9, Heraklion

Agios Nikolaos - Epimenidou 59
See the station locations on the map below.

---
Accommodation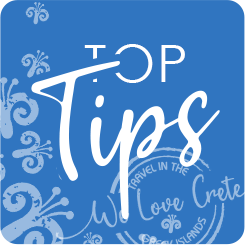 Accommodation within walking distance of the Crete bus stations.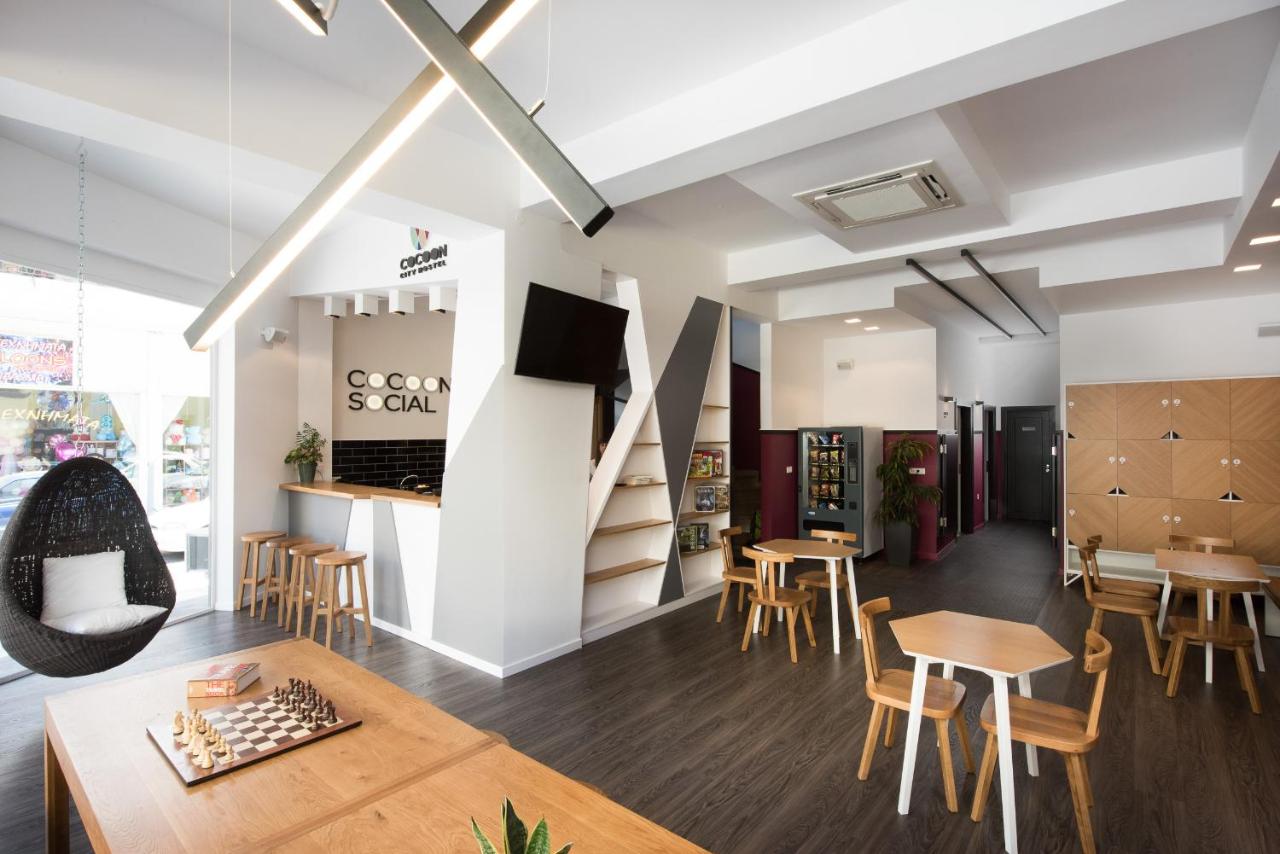 Cocoon City Hostel is close to the bus stop in Chania with budget rates suitable for all the family, and great for solo travellers. Close to the old town, cafes and tavernas.
Casa dei Delfini in the old town of Rethymnon - gets you into the centre of things with only a short walk from the bus station. Affordable accommodation with historic style. A stunningly beautiful restored home full of character. Enjoy delicious breakfasts.
Located close to the little harbour, the lighthouse, the Rimondi Venetian Fountain, the Rethymnon Fortezza, the Archeaological Museum and the Porta Guora.



A 1.2 km walk from the station, close the centre of town and all shopping streets, the Mirabello Hotel is affordable in the buzz of Heraklion town.
Easily walk to the Morosini 'Lions' Fountain and cafes - along 25 August Street and along the pedestrianised streets of the heart of Heraklion. Close to the Historical Museum of Crete, Agios Titos and the 1866 Markets.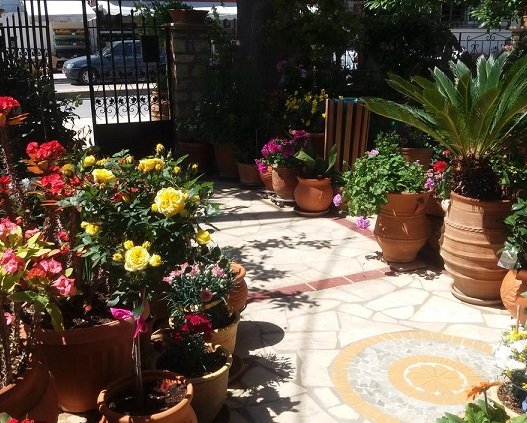 400 metres from the bus station and 200 metres from the beach, Eleni Studios is your home away from home in Agios Nikolaos. Meet your new friendly hosts and receive genuine Cretan hospitality.
Enjoy views to the sea, the pool and the handy self-catering rooms. Stroll to Lake Voulismeni, the harbour and local beaches.

---
Getting Here
Take a 1 hour flight from Athens to Heraklion with Aegean Airlines or Olympic Air, with many flights available per day.
Or take a 9.5 hour overnight ferry from Pireaus port of Athens to Heraklion port.
More on flights and ferries below.
Car hire in Crete is a really good idea as it is a large island 60 km by 260 km. There is so much to explore.
When you book with our car rental partners - Rental Centre Crete - you are supporting a local company with excellent service and an easy online booking procedure. We are sure you will be well looked after by the team. Choose from hybrid or non-hybrid vehicles.
---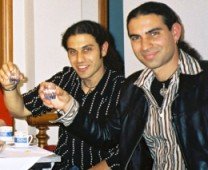 "We trust you have enjoyed these tips from the team at We Love Crete. Evíva!"
Contact us with further questions or feedback. We love to hear about your travels in Kríti and Greece. Let us know of any updates or additions, errors or omissions. Help us make this website the best it can be. Kaló Taxidí!

---