Getting to Ammoudara Heraklion

This page may contain affiliate links, see our disclaimer here.

---
Getting to Ammoudara Heraklion - travellers write to us to ask us their questions about Crete and we are more than happy to help. See tips here from the team at We Love Crete.


by Rose
from Israel
Hi there,
Do you recommend Georgia Hotel as being near Heraklion beach?
Is the accommodation suitable for two elderly ladies? Is it a swimming beach? How do you get to this accommodation from the airport? Is there a public bus or shuttle?
---
Getting to Ammoudara Heraklion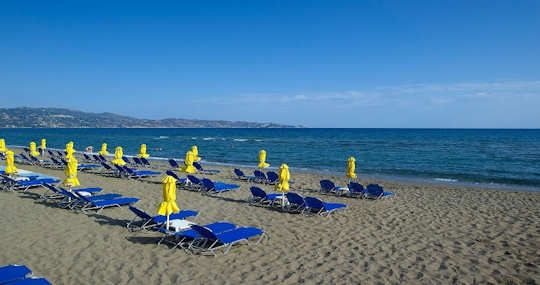 Yiasas Rose,
Yes you mean this Georgia Hotel, yes it will be suitable for you, request for ground floor rooms will be best. It is a small set of three storey apartments with a pretty garden and a pool just metres from the beach. It is a family hotel with Georgia and Dimitris ready to look after you.
Yes, Ammoudara Beach is a good swimming beach. The taxi from the airport to here is very short and best for you to take, only 9 km, approx. €23 if you pick up a taxi from the stand at the airport.
You can pre-book a taxi or shuttle bus for peace of mind.
When you enter this website, you can put in your arrival airport (Heraklion) and search for your destination (Ammoudara Heraklion).  Then you can put in the number of passengers, the date and time of your arrival to get an exact price. In June (which is high season) it seems to be about €19 one way.
Local Buses
The first bus option is to take the local bus from across the road from the airport on Leoforos Ikarou, take the "No. 6 Bus Airport - Ammoudara". This bus will take you all the way, just ask the driver to drop you near to Hotel Georgia, which is at 10 Vargias St, Ammoudara. It is very close to Andrea Papandreou Avenue, where the bus travels, and the stop is called "Andrea Papandreou 87".
The other bus transport option with the local bus is to take the "No. 15 Airport to Foinikia" to the Bus Station A in Heraklion (by the port), then take No. 6 from there to Ammoudara. Prices are €1.10 or €1.50 or €5 per day. Buy tickets at the periptero or kiosk before boarding.
See website: astiko-irakleiou.gr for Heraklion City buses
More on Crete local buses here...
More info on Heraklion Airport here...
More info on Getting Around in Crete here...
See the info on booking a hire car here...
See more information about Heraklion town below, and places you might want to visit while on holiday.

Agia Pelagia is a nice seaside village with many pretty coves, perhaps nice to visit from Ammoudara...
To get to Knossos Minoan Palace site, which is 5 km to the south-east of Heraklion town, you can also take the local bus No.2 Knossos. We suggest it is best to take this from Plateia Eleftherias in the centre of Heraklion.
Enjoy getting to Ammoudara Heraklion, the region is also known as Gazi, and Heraklion Crete, enjoy your stay at the beach.

---
Heraklion Town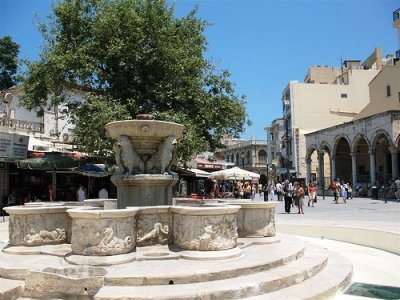 Getting to Ammoudara Heraklion

Visit the vibrant capital town of Crete, which is 7 km from this beach, to see its many surprises. Highlights include:
The Venetian Old Port and 'Castello del Mollo' Fortress

Heraklion Archaeological Museum

Knossos Archaeological Site

Liondaria Fountain

1866 Street Open Markets

Pedestrianised shopping streets and Koraii cafe quarter

Venetian Loggia

Venetian Walls and Tomb of Kazantzakis

St Titos and St Minas Cathedrals



And yet, as you will see below, you can also enjoy the beach very close by. Here we show you beaches near Heraklion town.


---
Beach by Beach
Getting to Ammoudara Heraklion

You could stay just to the west of Heraklion at these beaches:
You could stay on the south coast at these beaches:
Matala
Kokkinos Pirgos
Keratokambos Beach
Which Bus?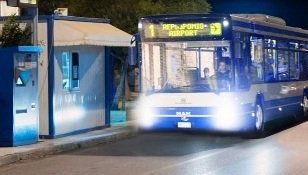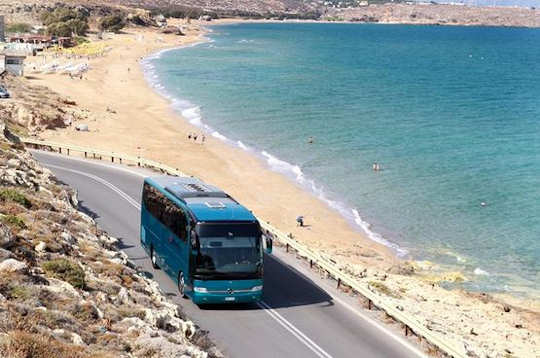 Take the local Heraklion Urban Buses (blue) for Ammoudara.

For Agia Pelagia, Matala or Kokkinos Pirgos Beaches take KTEL (green) buses.

---
Accommodation
Getting to Ammoudara Heraklion - we suggest these budget and mid-range studios and hotels at these beaches in Heraklion region.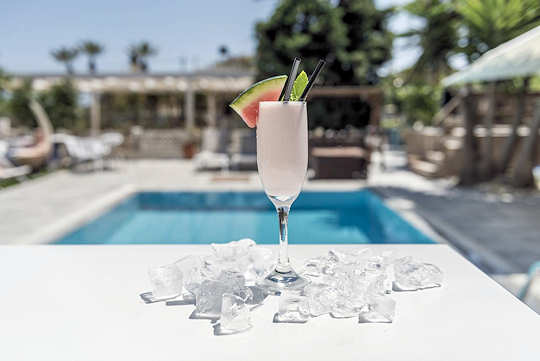 Ammoudara Beach - this beach is lined with hotels and resorts, with some of the best five star resorts in Crete, for an affordable stay just 100 m back from the beach on a local road, choose Georgia Hotel which is small and run with friendly hospitality by a local family.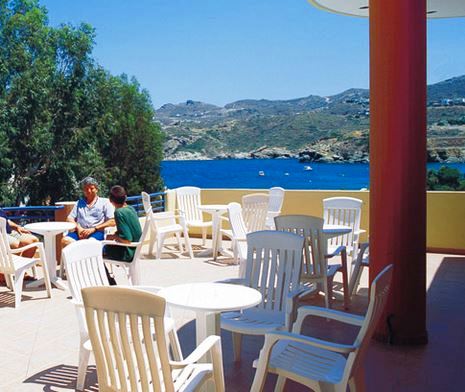 Agia Pelagia - just 30 m back from the water you will find the simple, modern and very handy Andy's Apartments. This is a good choice that does not involve a steep walk up the surrounding hills and is close to everything.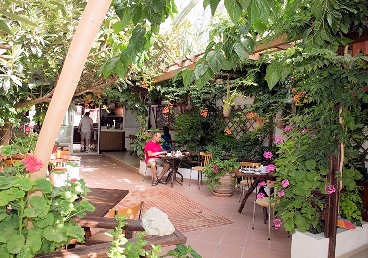 At Matala Beach we suggest the small and affordable family-run Nikos Hotel, which is a few streets back from the beach in the centre of the village.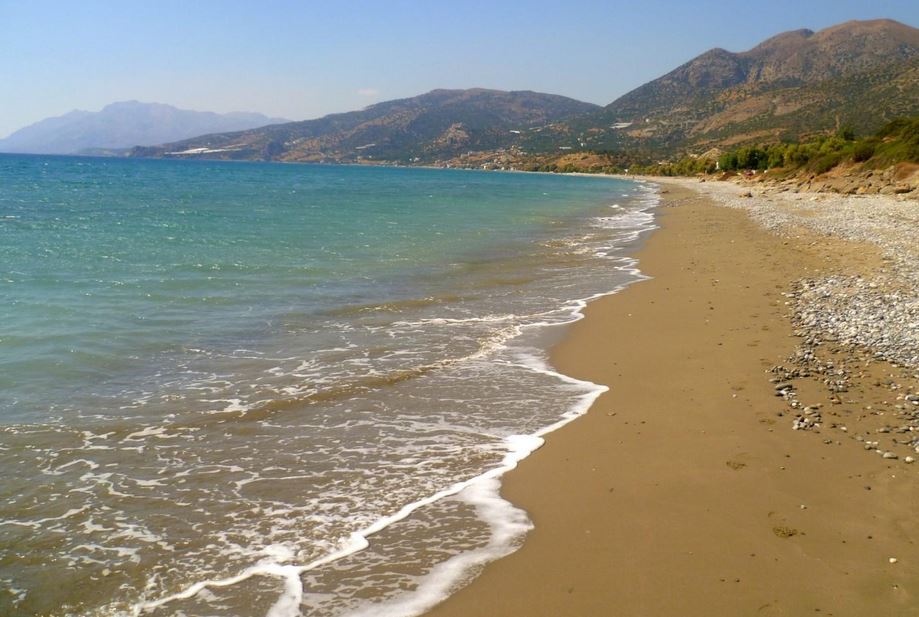 At Keratokambos Beach you will be just a few steps from the beach at the affordable Chouzourakis Studios with four terraced apartments and leafy garden. Quiet yet central and close to restaurants.


---
On the Map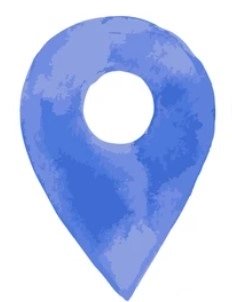 Getting to Ammoudara Heraklion -  this beach is shown on our map, located just 6 km west of town:
---
Getting Here
Getting to Ammoudara Heraklion

Fly directly into Heraklion Airport from many hubs in Europe, or with a 1 hour flight from Athens. The airport is 5 km north-east of Heraklion town.

Take an overnight ferry 9 hours from Pireaus Port of Athens to Heraklion Port. The port is 1 km from the centre of town.
Bus travel and taxi services are frequent and easy from both locations, see details below.


---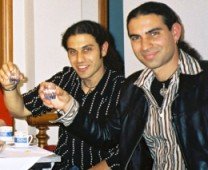 "We trust you have enjoyed these tips from the team at
We Love Crete. Evíva!"
Contact us with further questions or feedback. We love to hear about your travels in Kríti and Greece. Let us know of any updates or additions, errors or omissions. Help us make this website the best it can be. Kaló Taxidí!

---