Kokkinos Pirgos Beach
This page may contain affiliate links, see our disclaimer here.

---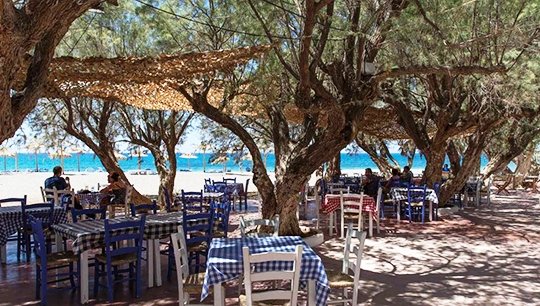 Kokkinos Pirgos Κόκκινος Πύργος beach is a wild, long and pebbly beach and fishing harbour on the south coast, with surf and one of our favourite fish tavernas in Crete.

---
About Kokkinos Pirgos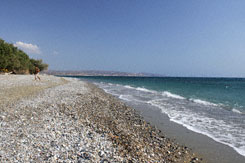 The town took its name 'Red Tower' after a tower that was built here in the middle-ages from red clay. It is no longer here. Today it is still a sleepy fishing village with a Cretan way of life.
As you look out over the Libyan Sea, you can see two islands to the south. These are called Paximadia, which means 'bread rolls' such a characteristic name for these islands.
To make your way to this beach, drive down the lush Messara valley to Timbaki and be careful to take signs to Kokkinos Pirgos. There is a brand new rock and cement harbour here, I guess the town is not very pretty, but the beach is gorgeous.
Fishing boat off the harbour of Kokkinos Pirgos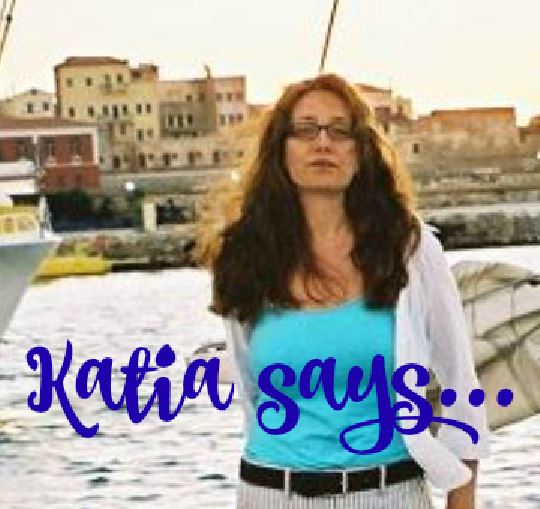 "I enjoyed some of the most beautiful sunsets from this beach, whilst skipping stones into the water. Ahh, what a way to enjoy a summer evening!
The Red Castle fish taverna is located right on the beach, not on the other side of the road, not next to the beach, right on the beach. Now that is the way to enjoy the Mediterranean! Wonderful food, not the best service, but who cares when the view is this good and you are relaxed anyway!"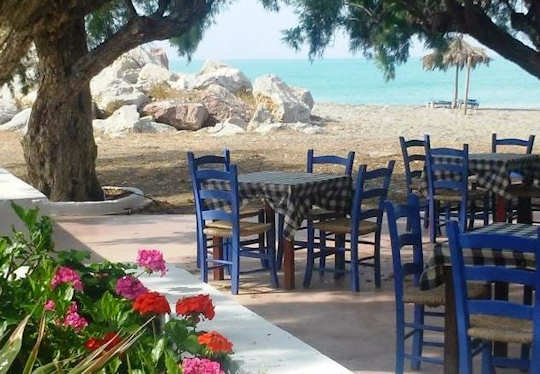 The Red Castle Fish Taverna is on the beach
Clear waters mean it is perfect for scuba and snorkelling - see below.
Nearby is Agia Galini which tends to get very crowded in summer, and is a departure point for ferries to the beautiful southern beaches such as Agios Giorgos, Agiofarango and Preveli. 

Only 10 km from historical sites of Festos and Gortys, close to Agia Triada Minoan ruins and 70 from Heraklion town, this is a little unknown village with beautiful views over the Libyan Sea and sunsets in the evening. Looking back inland are great views of the Psiloritis mountain range.
Visit the market town of Mires or the mountain village of Zaros for day trips inland, or discover beautiful Matala Beach with its unusual caves.
Or visit the inland villages of Tymbaki or Kamilari just 10 km inland, which has many cafes and restaurants and gets a breeze in the summer evenings.

---
Accommodation Kokkinos Pirgos
---
Scuba and Snorkelling
This location, with its wide bay and the islands of Paximadia, has countless little rocky coves and beaches to explore underwater. Clear waters and calm conditions make diving here a pleasure...
Mare Sud Dive Centre offer lessons and dives with training beginning in the pool at The Little Inn. Nikos Tsagarakis will guide you under water safely with his many years of experience...


This video below shows Kokkinos Pirgos and the surrounding area including Gortyna, Agia Triada, Agio Farago Gorge, the ancient ruins at Kommos, Phaistos, the Gortyn River, Kalamaki Beach, Kamilari Village and Matala Beach all with beautiful photography.
---
On the Map
See the location of Kokkinos Pirgos beach on the map directly south of Heraklion in the centre of the island here.

---
Getting Here..
Take a 1 hour flight from Athens to Heraklion with Aegean Airlines or Olympic Air, with many flights available per day.
Or take a 9.5 hour overnight ferry from Pireaus port of Athens to Heraklion port.
The closest is Heraklion International Airport which has regular flights from all over Europe and Athens daily.
From Heraklion you can hire a car and drive on the very comfortable national road south via Agia Varvara, Agioi Deka, Mires and Timbaki to Kokkinos Pirgos, a journey of 70 km.
Local buses also take this journey - see all details below:

When you book with our car rental partners - Rental Centre Crete - you are supporting a local company with excellent service and an easy online booking procedure. We are sure you will be well looked after by the team. Choose from hybrid or non-hybrid vehicles.
---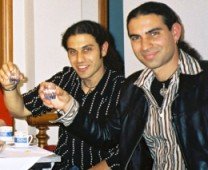 "We trust you have enjoyed these tips from the team at
We Love Crete. Evíva!"
Contact us with further questions or feedback. We love to hear about your travels in Kríti and Greece. Let us know of any updates or additions, errors or omissions. Help us make this website the best it can be. Kaló Taxidí!

---