Zaros Village
In the Mountainous Centre of Crete
This page may contain affiliate links, see our disclaimer here.

---
Zaros Ζαρός village, in the foothills of the central mountain range of Crete, is a lovely village, with its lake and gorge nearby. It is a very relaxed, rural and leafy spot to stay awhile. This area is popular with locals who drive up for a volta.


The village is 44 km from Heraklion in the very centre of the island, at the southern foothills of Mount Idi ~ Psiloritis. The locals produce olive oil, sultanas, vegetables and spring water. This is the Kenourghiou region of Kriti, part of the Heraklion region.
Near the village are traditional water mills which have been working since 16th century, archaeological sites, monasteries and, all around, of course, lots of fresh, clean mountain air.
On a dry island like Crete, you must understand how important water is to the local people, as their agriculture is their way of life. Hence here, the cooling waters of Zaros are life giving in every way.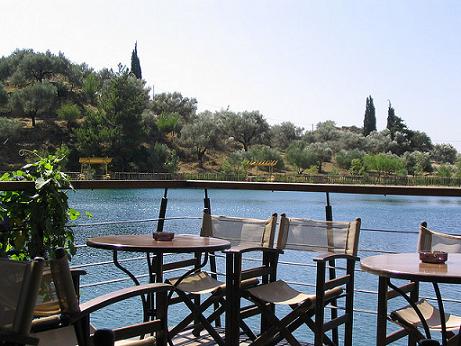 ---
Lake and Local Fish Farms
One of the attractions of the area are the local fish farms with wonderful fresh trout and salmon.  One serves terrific local traditional food in a covered courtyard, just next to the jumping fish. I Limni – The Lake, is a good taverna and serves fresh trout. Fish from glyko nero fresh water, are a modern taste. The fish tasted delicious to me. The meal here was heartily enjoyed by all.
Just 1.5 km from the village is Lake Votomos is a lovely place to visit for a picnic or to eat at one of the cafés right on the water, especially good to cool off during summer heat.
A truly idyllic natural haven for relaxation.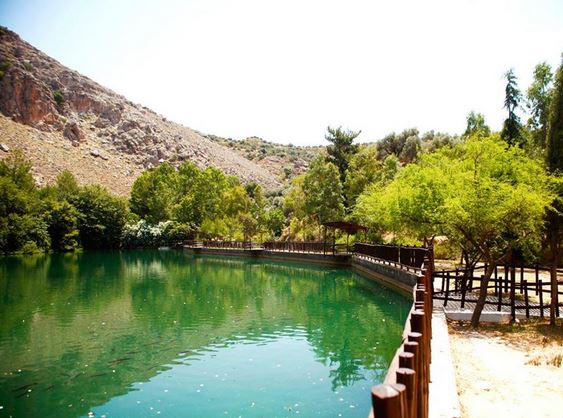 ---
Hiking and Walking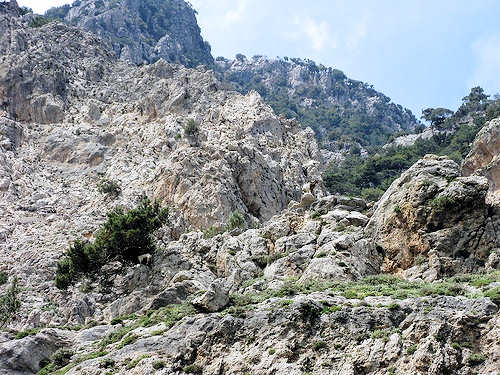 Agios Nikolaos Gorge in Rouvas Forest
Rouvas Gorge is part of the Psiloritis mountain range and is on the hiking route known as the E4 European Walking Path.
The gorge is also known as Agios Nikolaos Gorge, and is a steep walk among kermes oaks, plane trees, pines and maples.
If walking from south to north, the walk can commence in two places:
at the side of Lake Zaros 1.5 km from Zaros

at the Monastery of Agios Nikolaos 2.3 km from Zaros
This section of the E4 connects to or from Nida Plateau, is a tough walk of 12 km, for fit walkers and not suitable for children.
If walking from north to south, the walk can be commenced at Agios Ioannis chapel on the Nida Plateau.

There is an unsealed road from Agios Ioannis to Gergeri village, for the return journey, or after a break at the picnic ground at Agios Ioannis with benches, toilets and shelter, some walkers decide to return, on foot, back down the gorge.
This walk is best from April to October, and walkers must take care in spring because the river of the gorge will be flowing with snow run-off.
Always check with locals about local track conditions and weather, always hike with a group, and take plenty of food and water.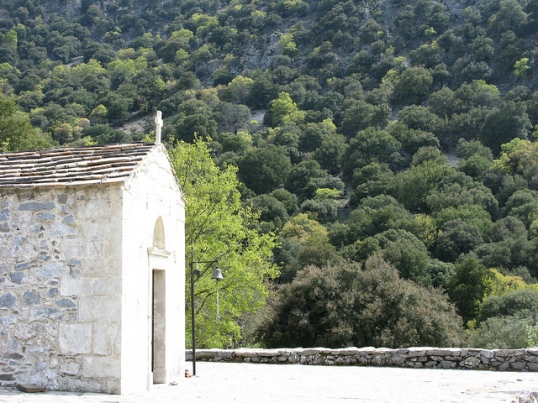 Agios Ioannis chapel at the start of the walk on Nida Plateau


Hiking in the Psiloritis range

---
Local Spring Water
You may feel you know Zaros as the major bottled water company in Crete labels all its bottles 'Zarós', of course it is bottled from the local spring, by Votomos SA, who open their plant to visitors.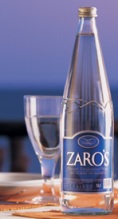 ---
Mini Guide by We Love Crete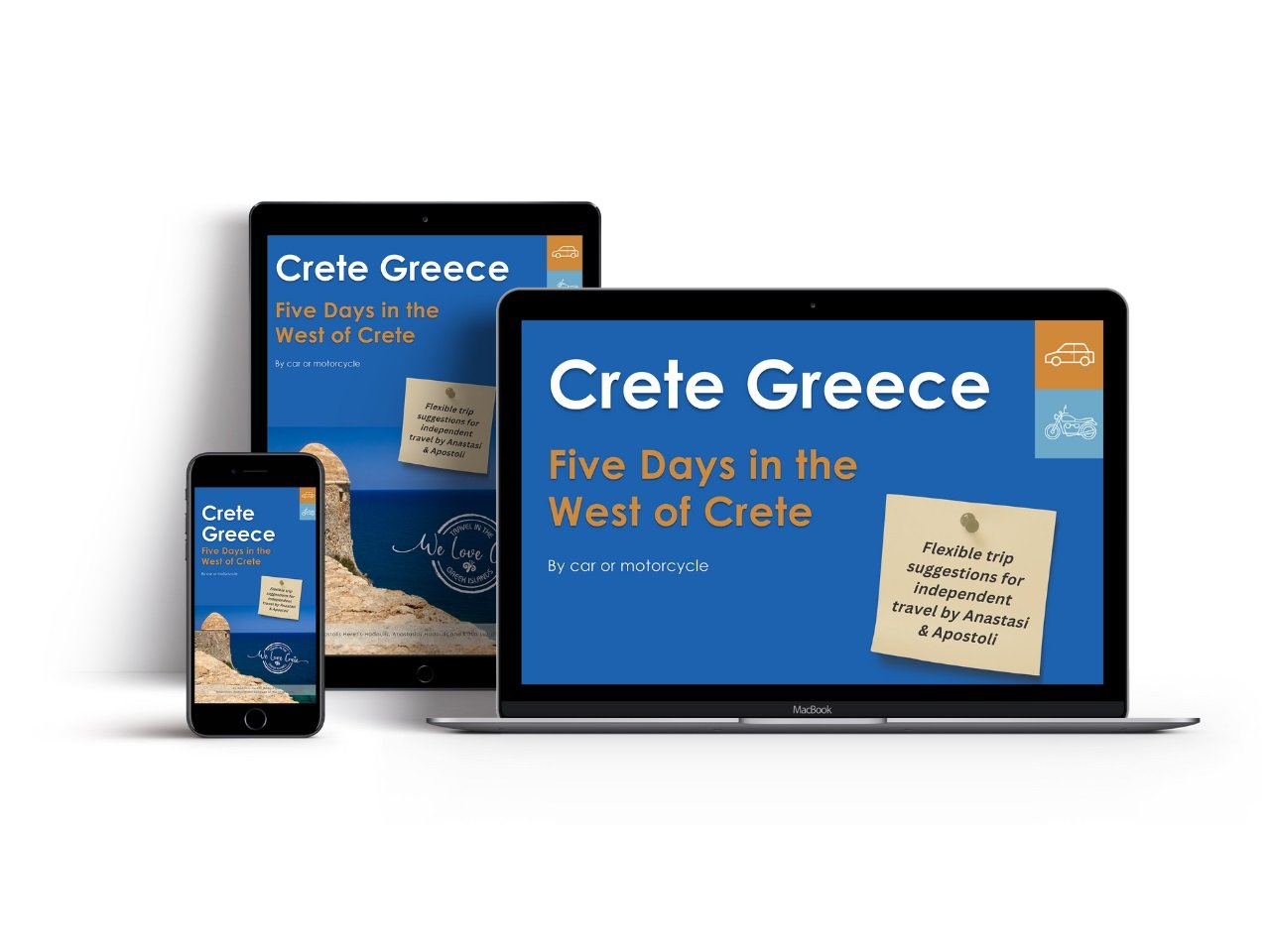 Taking some time and a car will mean you can explore Ζαρός village and the ruggedly beautiful interior of the island of Crete.
Take a back roads journey through the island of Crete in Greece. The Five Days in the West of Crete helps you discover the real Crete — archaeological sites, wine tastings, organic tavernas, hidden valleys and other gems in the west of Crete.
This unique route includes Zaros and we encourage you to amend the journey to suit your needs, and to spend more time in this lovely village.

Exploring by car it is easy to visit other villages such as Kerasia, Dafnes, Agia Varvara or the town of Mires and ancient sites of Phaistos and Gortyna.
---
Local Cooking School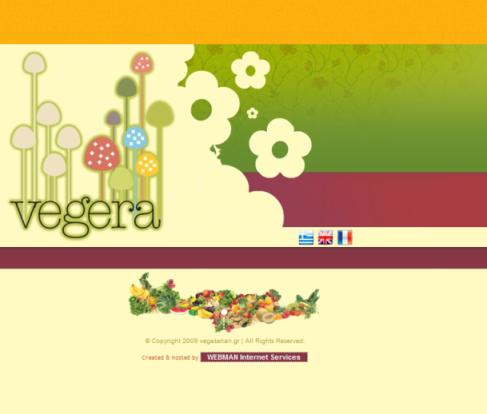 Taverna Vegera in the village is where you will find authentic Cretan cooking and warm hospitality. See Vivi Kalaitzaki at the Taverna Vegera for fresh, delicious food made from local produce. Dishes lovingly prepared by Vivi and her mother Irini show the true Cretan hospitality and nutrition now becoming famous and recommended as one of the healthiest diets. In Crete, a simple dish such as yogurt and honey is touched by heaven.
---
Accommodation
Nana Apartments close to everything, this small guesthouse is a relaxing place to stay in the foothills of Psiloritis. Enjoy a Cretan breakfast of fresh organic produce; eggs, milk, pure olive oil, local herb tea, honey and freshly baked bread.
Keramos Studios in central Zarós, at the heart of one of the prettiest villages in the mountains. Free private parking, terrace and restaurant. Enjoy mountain views from your balcony.

"True local accommodation in the centre of Zaros. our hosts were delightful and super friendly."
---
On the Map
See the location of the village on the map of Crete below.
---
Zaros - Images
Below are more beautiful photos of Lake Votomos.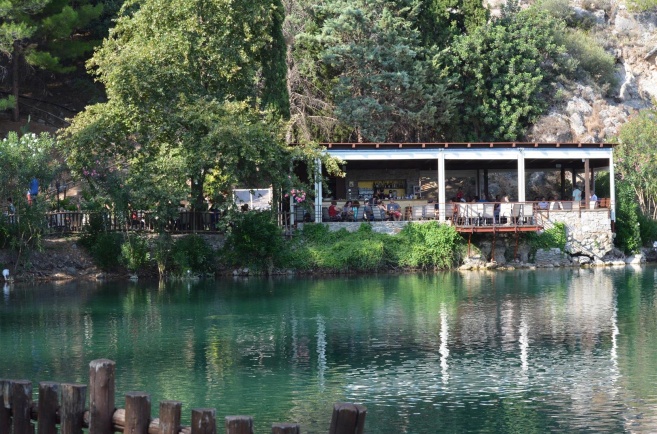 Eat at Lake Votomos (pictured above) or try the tavernas in the village for traditional Cretan cuisine.


---
Getting Here
To get to Zaros you need to fly into the international airport at Heraklion, which has the code HER.
Details of flights and ferries are below.
The best way to arrive into Zaros is with a rental car, as it is an easy 50 km drive from the airport or 44 km from Heraklion town.
Drive south from the city on the national road 'Ethniki Odos Heraklion Phaistos' until you get to the village of Agia Vavara, at a distance of 30 km. Here you will turn west into the mountains, following signs to Zaros, for another 16km. You will drive through the villages of Panasos and Gergeri.
Once you are in the village of Zaros, it is a short drive north into the hills to visit Lake Votomos, 1.5 km and Rouvas Gorge 2.3 km.

Car hire in Crete is a really good idea as it is a large island 60 km by 260 km. There is so much to explore.
When you book with our car rental partners - Rental Centre Crete - you are supporting a local company with excellent service and an easy online booking procedure. We are sure you will be well looked after by the team. Choose from hybrid or non-hybrid vehicles.
---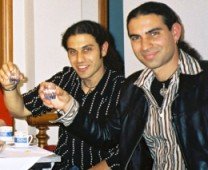 "We trust you have enjoyed these tips from the team at We Love Crete. Evíva!"
Contact us with further questions or feedback. We love to hear about your travels in Kríti and Greece. Let us know of any updates or additions, errors or omissions. Help us make this website the best it can be. Kaló Taxidí!

---