Dafnes Village
This page may contain affiliate links, see our disclaimer here.

---
Dafnes ~ Δαφνές is 18 km from Heraklion town south by the national road, central to the Heraklion region. A proud Cretan village, surrounded by other villages Veneráto, Avgenikí, Kerásia and Síva. The dimos local government is Palianí Παλιανή, named after the nunnery on the outskirts of Venerato.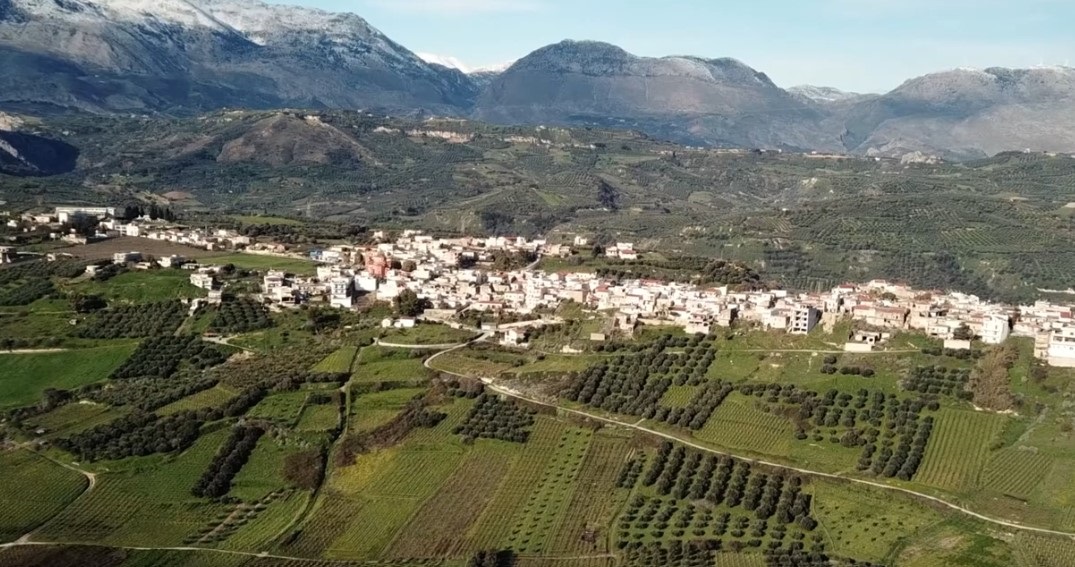 The village sits along a ridge line looking over the foothills of Mt Psiloritis, surrounded by gently sloping valleys. It is an agricultural centre busy producing sultanas, grapes, wine, spirits, vegetables and olive oil.
The name comes from daphni which means laurel. This is a tree that was growing in the chapel of the village. 
---
Winemakers of Dafnes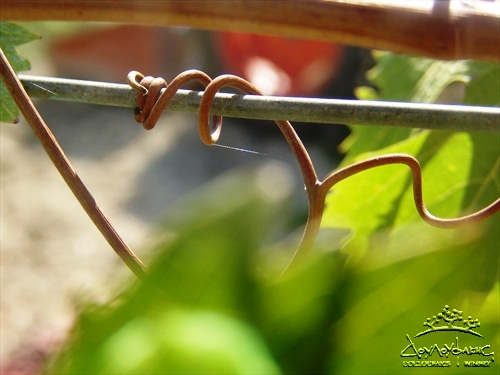 The village sits just up from the national road with access to both Heraklion and the thriving agricultural valley of Messara. The village has been on the trade routes of the island for many years. Since the 13th century it has been known for its dafniano wine.
Today the famous red wine VQPRD 'Dafnes' is produced by the Agricultural Cooperative of Iraklion, from liatiko variety.
The hub of village life is the kafenion, of which there are plenty. The central plateia is shaded by beautiful large eucalyptus trees, and ringed by cafés and kafenia. On one side of the plateia is the small church of Agia Zoni Agios Nikolaos, a beautiful rough stone church dating from 1685.



As a centre for wine-making, the region has a few different wineries including
See our wine page about the wine grown here.
The industry suffered in the mid '80s with the phylloxera virus, forcing winemakers to plant American rootstock. This initial problem has proved a long-term gain for Cretan wine, as a wider range of varietals are now grown all over the island, resulting in tasty modern wines.
To visit Douloufakis Winery
book at least one business day beforehand
Opening hours are 10am to 3.30pm Monday to Friday.
Wine Tasting and Tour 'Yamas' 10am, 12noon and 2pm

Douloufakis Winery celebrates 25 years!! See the winery and grape growing and wine production in this video across the years.



Here the Winevert reviews the Douloufaki Sparkling wine from vidiano grapes.


Nearby Winery
In the nearby village of Siva is the Silva Daskalaki winery. In an ideal ecosystem that can highlight the richness and the distinctiveness of the Cretan wines in a quality production, the third generation of wine makers in this family primarily focuses on organic local varieties, such as Liatiko, Mandilari, Plyto etc., but also on international wine varieties.
Opening hours at 9am - 5pm Monday to Friday
Open on Saturdays 9am - 3pm
Book one day in advance for 3 different types of tours and tastings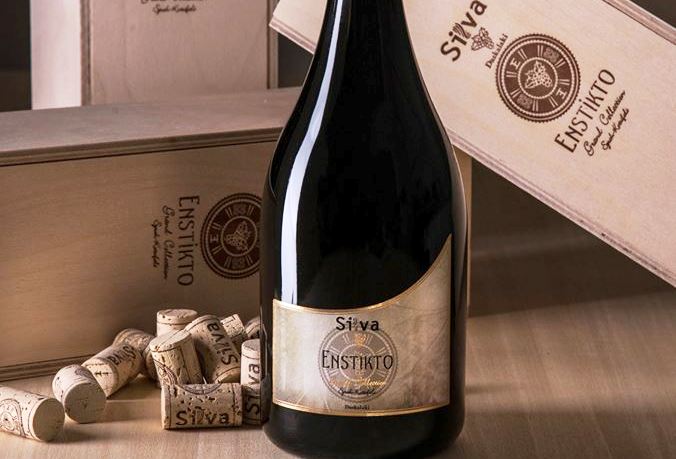 ---
Exploring Around Dafnes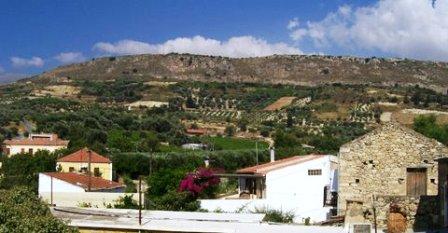 The European walking path E4 passes close by to this village as it traverses down from the Ida range through the wine country and rolling hills of Heraklion, past Zaros the on to Ano Asites and Ano Archanes, with some trails passing through Venerato and close to this village.

Nearby is the village of Kerasia, see our food page which relishes village life, foods and rhythms.
Close by are the other wine regions of Peza and Archanes, and of course the ancient Minoan site of the Palace of Knossos.
To the south by the national road lies the town of Moires. It is easy to reach this town in the centre of the Messara plain within a one hour drive, and close to it are the historic sites of Festos and Gortys.
Also within driving distance is the leafy mountain village of Zaros, with fresh mountain trout a local specialty, and the cool forested lake of Votomos.



---
Independent Travel in Crete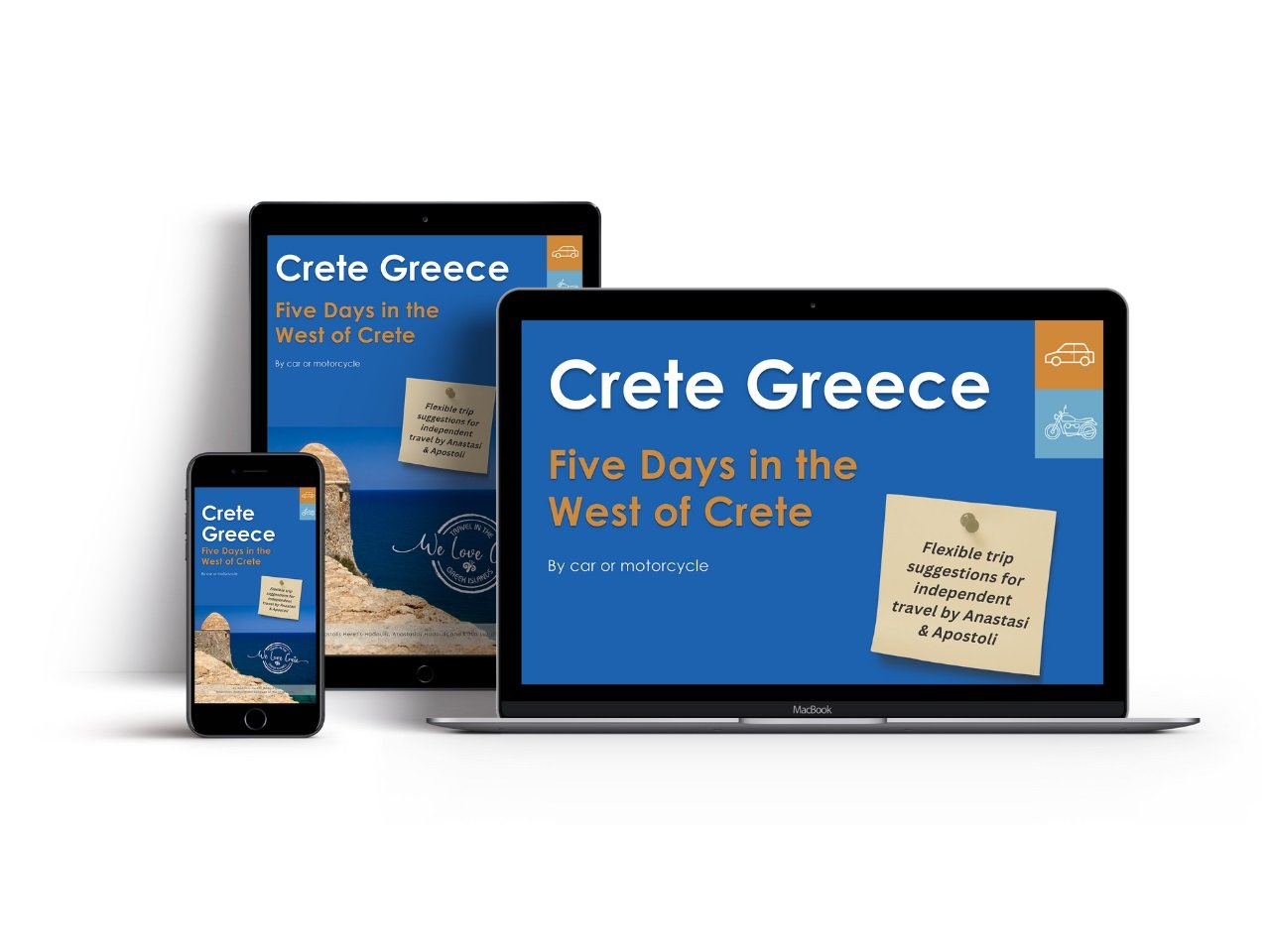 This village is included in the itinerary of our e-book 5 Days in the West of Crete by Car or Motorcycle, which is a route guide for the independent traveller beginning in Heraklion and including Knossos, this wine region, Zaros, historic sites, Rethymnon and Chania.
Of course this itinerary can be flexible and you can take much longer to visit this beautiful island, we have simply found many of our readers asking for tips for a four or five day visit.

---
Accommodation Nearby

Christina's Home is in Dafnes village within walking distance of everything, the central plateia, the kafes and shops.
Accommodating 6 guests in one part of the house and 4 guests in another, this warm and welcoming family home is an experience of village living at its very best.
Ideal as a base for your family in Crete or for an extended family gathering or small group seminar.
Located 19 km south of Heraklion town and best accessed with a car.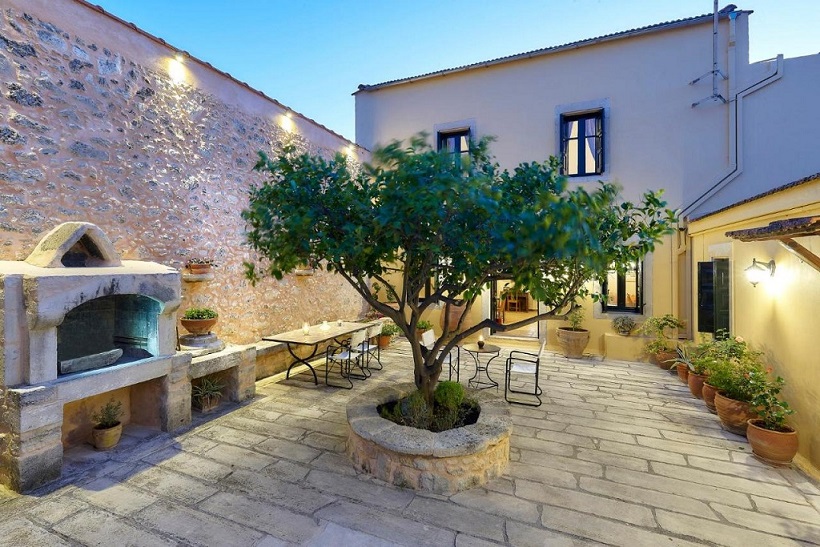 Castello Villa Dafnes is a spacious, large village home in the centre of the village of Dafnes welcoming 9 guests in comfort.
Find all your modern conveniences in a traditional home with a 4 bedrooms, 2 bathrooms, a beautiful pool, outdoor courtyard, outdoor oven, fully equipped kitchen and more.
Makes an ideal central location from which to visit Knossos Palace, Heraklion town, local wineries and indeed historical sites such as Phaistos and Gortyna.
Wine-tasting across the road, local plateia, cafes and snacks.

---
Map of Crete
See the location of this village on the map below.
---
Getting Here
Arrive by regular flights from Athens to Heraklion International Airport HER to visit Dafnes village.
Flights are very frequent and trip duration is 1 hour. This airport is also services by many European hubs with regular flights.
Arrive by ferry from Pireaus port of Athens to Heraklion port by overnight ferry, a trip duration of 8.5-12.5 hours, depending on the season.

The local KTEL bus service has a regular service from Chanioporta to this village.
It is best to drive to Dafnes with a hire car - a journey of only 22 km - and keep your car for visits to nearby villages, wineries, tavernas and historic sites.

When you book with our car rental partners - Rental Centre Crete - you are supporting a local company with excellent service and an easy online booking procedure. We are sure you will be well looked after by Harry and his team. Choose from hybrid or non-hybrid vehicles.
---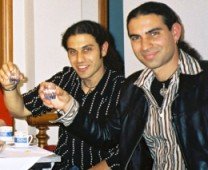 "We trust you have enjoyed these tips from the team at We Love Crete. Evíva!"
Contact us with further questions or feedback. We love to hear about your travels in Kríti and Greece. Let us know of any updates or additions, errors or omissions. Help us make this website the best it can be. Kaló Taxidí!

---