Crete Food, Wine, Spirits & Organics
This page may contain affiliate links, see our disclaimer here.

---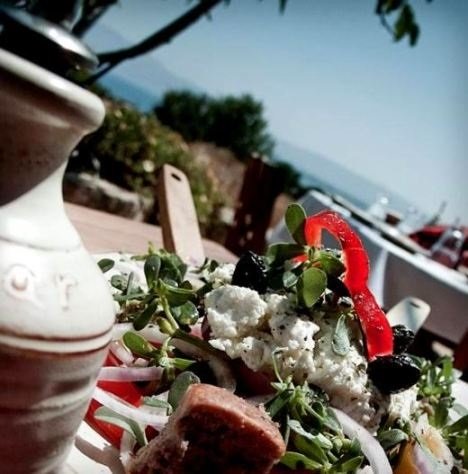 Crete food! The Cretan diet is the best in the world, according to the World Health Organisation.
The locals just know, instinctively and through strong traditions, how to live life, and this includes how to enjoy good healthy food.

---
Crete Food - Dakos

One of our favourites. Dakos whether you eat it for breakfast, lunch or as a snack any time of the day, always reminds us of Crete. Get the recipe here and some tips on where to find a good dakos in Crete.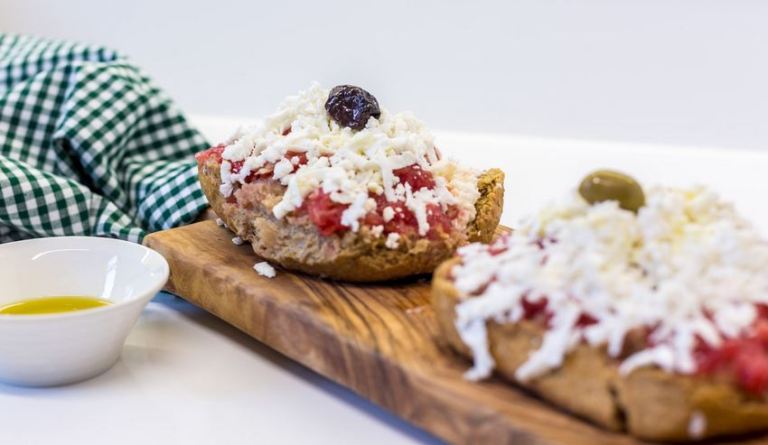 Dakos salad can now be found in many fancy restaurants in Crete
---
Crete Spirit- Tsikoudia or Raki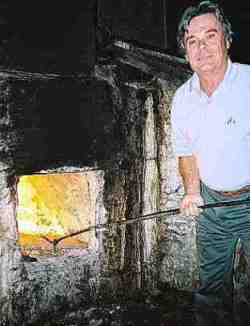 Manoli at the kazani
After the grape harvest and the wine making, our kazáni is fired up. This is the local still, making a potent white spirit from the wine grapes. Many pleasant hours are spent sitting around the fire making tsíkoudia which is a labourious process for those responsible, consisting of 10 minutes hard work followed by 2 hours of hard drinking.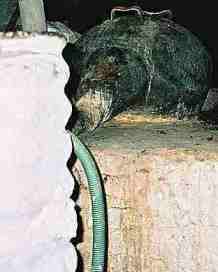 Occasionally, to line our stomachs, we pop some potatoes in the hot coals and eat them steaming fresh from the fire. The sweet smell of the tsíkoudia made from the must of the grape harvest and wine production will always remind me of the fun and relaxing parea at the kazáni in our village.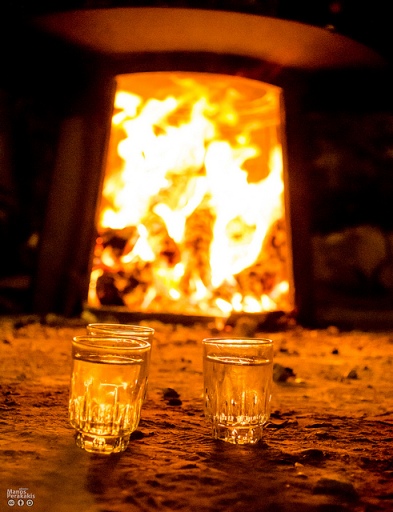 Tsikoudia or raki has a very high alcohol content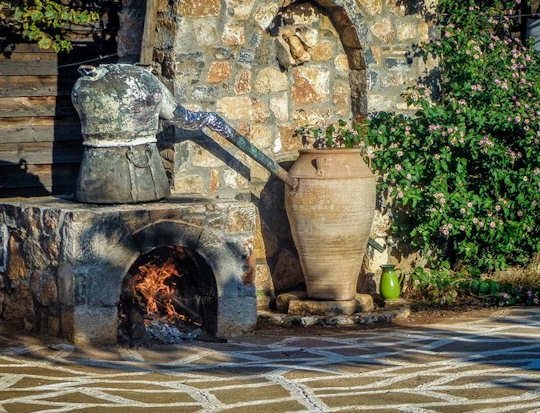 The kazani or rakokazano distills grape pomace into a clear white spirit called raki or in Crete tsikoudia
---
Crete Food - Spoon Sweets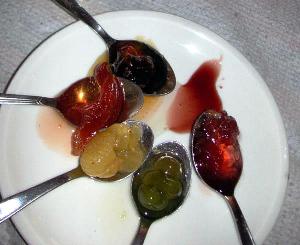 One unusual tidbit for visitors to know about is gliká tou koutalioú, literally 'sweets of the spoon'. These are preserves, usually home-made, served on a tiny plate with a tiny spoon to newly arrived visitors (at any time) or at a coffee date in the home.
These are a very handy thing for any Cretan (Greek) household to have in the cupboard, as the sugar preserves the fruit, it doesn't readily spoil and is a handy fall back when 'the cupboard is bare' of fresh-baked sweets. The flavours can be as varied as the gardens and orchards around the village, and also seasonal, we love the siko σύκο fig spread also known in English as fig jam or fig marmalade, made with fresh figs.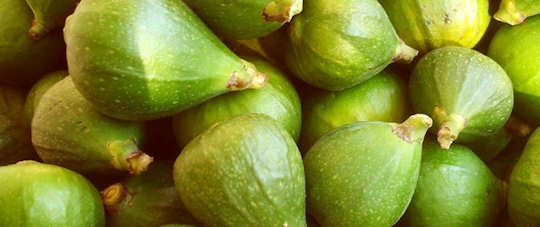 Fresh green figs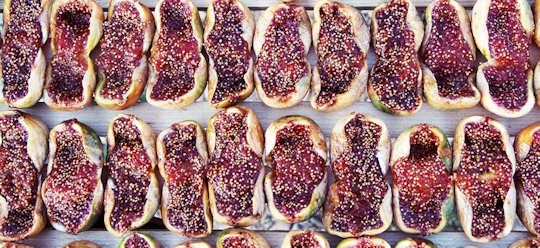 Split sun dried figs
---
Crete Food - Pastries for Breakfast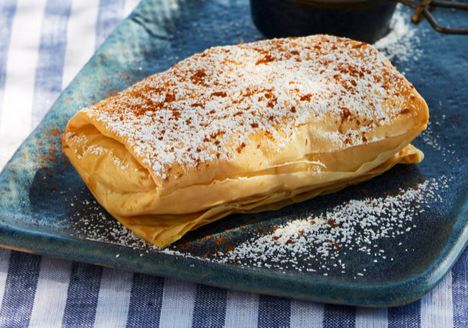 It is never too far between treats with the Greek pastries. Many coffee dates will be filled with these delicious fattening goodies. One of our favourites is bougatsa.
This golden brown crispy pastry filled with mizithra μυζήθρα cheese makes a filling if not nutritious breakfast or snack at any time of the day.

In Chania try Bougatsa Chanion at 37 Apokoronou St, and Bougatsa Iordanis at 24 Apokoronou St, Chania.
In Heraklion try Phillo Sophia cafe near the Liondaria
Here you can see the preparation of bougatsa at Iordanis in Chania.

---
Food Tours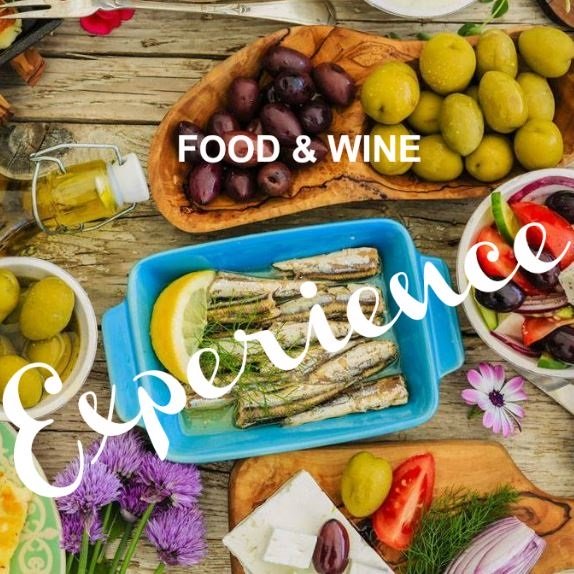 Chania: Old Town Highlights Guided Tour with Street Food - visit the local food markets and walk for 4 hours through the gastronomic highlights of this fascinating historic town, visit the old Jewish and Ottoman quarters and taste the local white spirit or raki. Enjoy mesedes which are little appetisers, part of the Cretan diet which is one of the healthiest in the world. Find out why.
Rethymnon Walking Tour with Food Tasting - treat yourself to a 4 hour gastronomic exploration of this cosmopolitan town, with food and beverage tastings, hidden spots not in the guidebooks all through the old zone. 4 hour walk.
Heraklion: Cretan Wine Tasting Tour & Gourmet Lunch - visit some of the best wineries in the Peza and Archanes regions of Heraklion, taste 15 wines presented by a professional sommelier, then enjoy a gourmet lunch highlighting the best cuisine of Crete. 9 hours.
---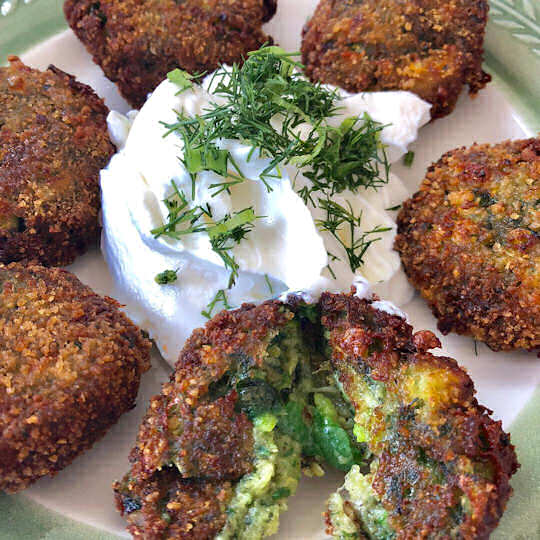 Zucchini balls Κολοκυθοκεφτέδες are not just an excuse to have Tzatziki Τζατζίκι but taste wonderful too
This video captures the essence of Cretan food - shepherds, fishermen and winemakers share their passion for their local produce...they share the Incredible Flavours of Crete.


---
Getting Here
Take a 1 hour flight from Athens to Heraklion with Aegean Airlines or Olympic Air, with many flights available per day.
Or take a 9.5 hour overnight ferry from Pireaus port of Athens to Heraklion port.
More on flights and ferries below.
Car hire in Crete is a really good idea as it is a large island 60 km by 260 km. There is so much to explore.
When you book with our car rental partners - Rental Centre Crete - you are supporting a local company with excellent service and an easy online booking procedure. We are sure you will be well looked after by the team. Choose from hybrid or non-hybrid vehicles.
---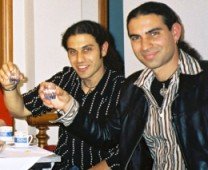 "We trust you have enjoyed these tips from the team at We Love Crete. Evíva!"
Contact us with further questions or feedback. We love to hear about your travels in Kríti and Greece. Let us know of any updates or additions, errors or omissions. Help us make this website the best it can be. Kaló Taxidí!

---