Greek Cookbooks
This page may contain affiliate links, see our disclaimer here.

---
Greek Cooking and Recipes

...
Greek Cookbooks

One of the most beautiful experiences in Greece is the dining and the cuisine. The atmosphere in Greece ensures that tastes are amplified. The freshness of the food means that each meal, no matter how simple, is delicious and remembered well after your holiday in Greece.

So, here is how to bring that Greece food back home to your table, where ever you are in the world...open a bottle of wine...invite some friends over, and Opa! you have a Greek feast.
These Greek recipies show you how to recreate the nourishing, healthy Greek diet. Most cities in the world will have a good market where you can find authentic Greek merchandise, or if not, in these days of online shopping, you can order organic products direct from Crete or Greece.


---
Buy Cookbooks Online...
The Cretan Diet: 120 Authentic Recipes For Long, Healthy And Happy Living by Aura Tatu
The Secrets of Good Health: Olive Oil by Nikos & Maria Psilakis
Cretan Healthy Diet: Truths and Secrets by Stelios Riglis
Cretan Cooking by Nikos & Maria Psilakis
Feasting & Fasting in Crete: Delicious Mediterranean Recipes by Diana Farr Louis
Fish and Figs by Jacques Fricker
Proudly, Crete now has one of the highest registrations of organic produce in all of Greece, which is a wonderful way of continuing land practices unchanged over centuries and ensuring healthy eating and a healthy planet. In addition to tasting great, Greek olive oil is rich in monounsaturated fats and can decrease the risk of heart disease.


A Cretan favourite is water drizzled dakos ντάκος rusk dowsed with olive oil, sprinkled with fresh oregano picked from the garden, accompanied with olives on the side and of course a glass of dopio local wine or icy cold ouzo.
---
Greek Cookbooks
Vegetarian Food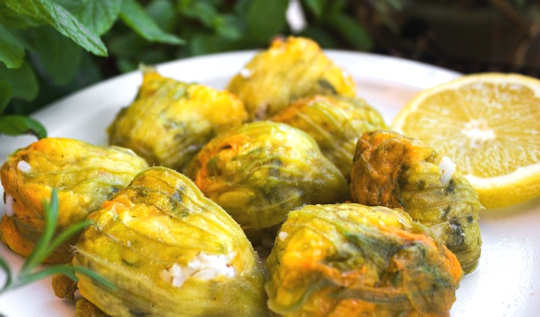 Greek food is great for vegetarians. Many of the central dishes of both Cretan and all Greek food are vegetables and there is a variety in the style of the cuisine - epitomised by the meze - lots of little plates of various flavours all passed around the table. Olive oil, fresh fruit, fresh garden vegetables and nuts are all central to the cookery of Crete...

Diane Kochilas shares many great recipes in her vegetarian Greek cookbook ... (left)
---
The Mediterranean Diet

| | |
| --- | --- |
| | The Mediterranean Diet has become very famous as a healthy daily approach to food and well being. Live as long as the author's grandfather - 99 years old! |
---
Dakos Cretan Salad

Dakos is a family favourite - see our recipe here...

Made with fresh ingredients, this is a tasty snack at any time of day.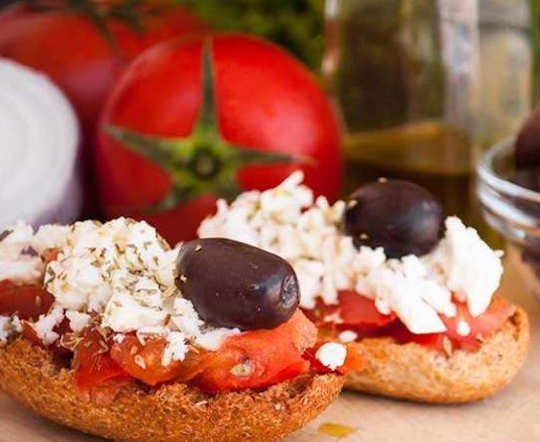 Dakos is a simple rustic salad made with paximadia (rusks)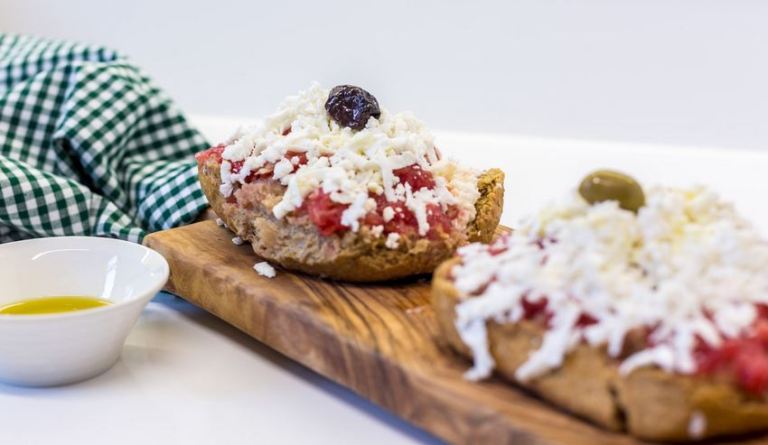 Dakos is now a popular restaurant dish in Crete
---
More Greek Cookbooks

Greek Cookery & Wines by Sofia Souli
Greek Cookery: 300 Traditional Recipes by Aspasia Angelikopoulu
A Taste of Crete by June Marinos
My Greek Table by Diane Kochilas
Traditional Greek Cooking: Food and Wines of Greece by George Moudiotis
Cretan Cuisine, Traditional Mediterranean Recipes For Eating Healthy and Living Wellby Aura Tatu