Cretan Diet – Products
This page may contain affiliate links, see our disclaimer here.

---
Buy Products from Crete Online
Olives on the tree in Crete

The beauty of the Cretan diet is its simplicity; fresh, natural and pure. No fancy sauces or preparations.

Mix fresh fruit and nuts and vegetables, plenty of olive oil and very little meat. Less sugar and saturated fats. A wine or two. Some raki.

Sounds good!
The elements are:
• vegetables
• fresh wild greens and herbs

• fruits
• whole grains
• pulses; lentils, bean and peas

• nuts
• olives and olive oil
• fish and seafood

• honey
• sheep and/or goat milk products; cheeses and yogurt

• wine and raki
• add the way of life of the Cretan people!

Proudly, Crete has one of the highest registrations of organic produce in all of Greece, which is a wonderful way of continuing land practices unchanged over hundreds of years and ensuring healthy eating and a healthy planet.
| | |
| --- | --- |
| Horta is a general term for wild greens, of which there are many varieties | After winter rains, horta or wild greens flourish, and grannies are busy out in the country lanes with their bags collecting the lush dark green 'weeds'. There are actually many different types of horta...getting to know them and how to cook them is one of the pleasures of life in the country of Crete, learning about Cretan food. |
Find authentic Cretan products listed below for sale.
• Terra Creta Estate Organic Extra Virgin Olive Oil, 500ml
• Terra Creta Platinum 0.2 Extra Virgin Olive Oil - less than 0.2% acidity, 500ml

• Cretan Thyme Honey from Sfakia By Saviolakis Family, 340g

• Meligyris Cretan Thyme Honey, 450g
• Gaea Extra Virgin Olive Oil from Kritsa Estate, 500ml (case of 6)

• Sitia Lasithi Extra Virgin Olive Oil, 500ml

---
The Cretan Diet
Whatever your tastes, you will find something wonderful about Cretan food. Is it the atmosphere? Is it the air? The mountains? The soil? The fresh water? The Mediterranean? Is it the farmer or the cook?
This will take a few hours of diálogo dialogue... so let's pour another wine and discuss...

Dópio ...local, is a great Greek word to know if you are travelling. It can refer to just about any food or drink or preparation, and ensures your hosts know you want the real thing. Ask for dópio crassi... local wine.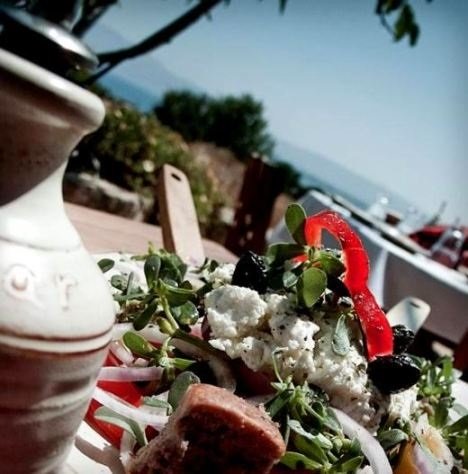 Gramvousa Taverna, Chania Crete
At a taverna you could simply say dópio fagitó… local food. Your hosts will know what you mean. At a fishing village of course ask for dópio psári ...local fish.
Don't forget your Greek coffee...because of course, much of your day in Greece is focussed around the kafe or the kafenion and coffee.
The preparation of the coffee is very important and a source of endless discussion in every household and indeed, every kafenion...of course this is also part of the Cretan diet...
See more about Cretan cuisine in this wonderful story by Chef Byron...
See more about the wild greens of Crete here...
---
Small Mixed Plates

Meze is the word for small plates of appetisers typically eaten before a meal. We like to make a meal of them, adding many plates of vegetables and seafood. You can do this in any taverna on the island, just add as you go. Be sure to ask for horta or wild greens and perhaps a plain plate of tomatoes. Add good company, wine and conversation, before you know it, you're having a meal!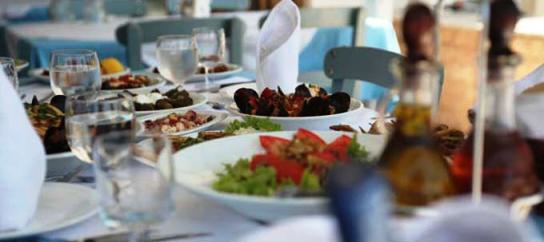 A taverna in Crete by the sea, with lots of little plates of food called 'meze'
---
Rustic Salad

| | |
| --- | --- |
| Dakos is a rustic salad of Crete | Crete is full of olive groves and olive oil is one of the main foods of the island |
Dakos Salad - pictured above is one of our favourite salads which is full of staple products of the Cretan diet - paximadia or barley krithári  rusks, tomatoes, olives, olive oil and feta with herbs - see our recipe here to enjoy a fresh salad.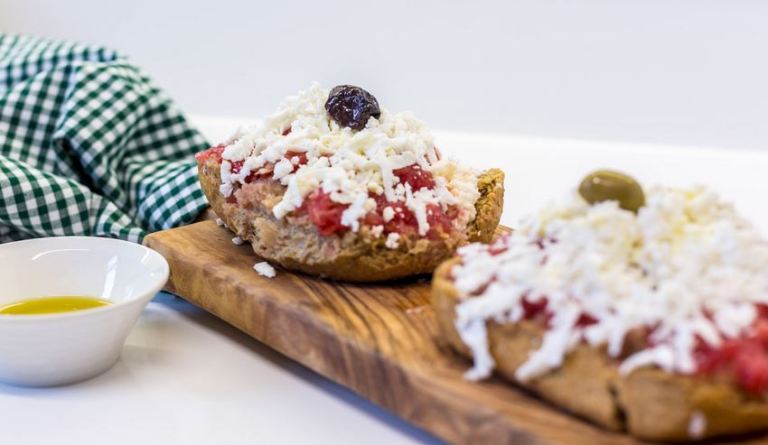 Dakos salad on a platter with olive oil in a bowl beside it
---
Olive Oil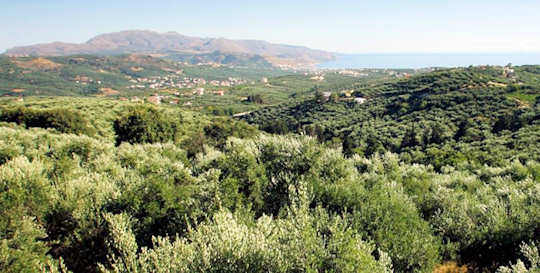 Olive groves of the Terra Creta farm in Kolymvari, western Crete
Olive oil is at the heart of the Cretan diet, it is grown all over the island and used in just about every meal. For cooking and dressing, and for many other uses, you need some good extra virgin organic olive oil such as the ones for sale on this page. Oil has unsaturated fats and so is much healthier than other types of fat, yet full of goodness, especially when it is natural rather than boiled or fried, it also has loads of anti-oxidants.

---
Wine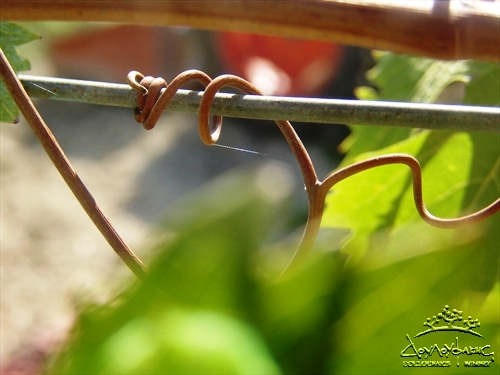 Douloufakis winery is in Heraklion in central Crete
Crete produces many wines and it is possible to ask for dopio crassi where ever you eat on the island. If you have a particular interest in wines, visit some of the many wine-growing regions on the island and view the vineyards, taste the produce and understand the land - wines of Crete - just be sure to let the light dance in your glass as you drink it down.

---
Raki or Tsikoudia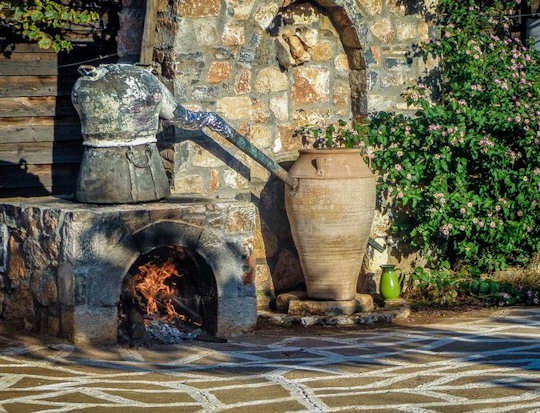 A 'rakokazano' in Crete - a still for the making of raki
Tsikoudia Τσικουδιά is a clear spirit made from the by-product of wine grapes. The distillation process uses locally produced grapes already pressed for their juices for wine, in this way nothing is wasted and harvest time becomes busy with the preparation of raki or 'tsikoudia' as it is known in the local dialect. A glass or two of this spirit a day helps the metabolism and is credited as part of the mystery of the Cretan diet. And it certainly doesn't hurt as you sit by the fire in winter!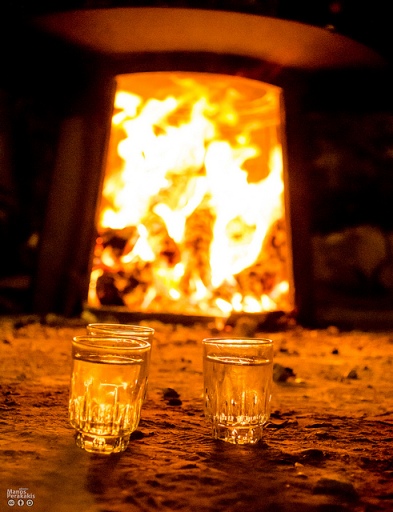 Kazani fire and glasses of raki, this is typically 40% alcohol or higher, so take it slowly