Tsikoudia
The Cretan Spirit
This page may contain affiliate links, see our disclaimer here.

---
Tsikoudia...all over Greece, and much further a field, a fire-water called raki is produced from the grape skins and must left over from wine production.
To know Crete, you almost certainly will become acquainted with this fine spirit. In Crete it is called Τσικουδιά, (with the emphasis on the final letter a).

Let us tell you a bit more about it, how it is made and how to enjoy it in Crete.

---
What is Tsikoudia?
This is a clear grape spirit produced by many agricultural co-operatives, wineries, distilleries and families all over Kriti. This is the crystal clear drink many visitors are offered upon arrival to a house, a hotel and even in a shop, as Cretan hospitality suggests that every visitor be offered this heart-stopping and heart-warming drink upon arrival, or after dinner.
We have been offered tsíkoudia by the roadside, in tavernas, in homes and shops and hotels all over Kriti, and in our village our shelves quickly become filled with many bottles gifted to us within a few days after our arrival.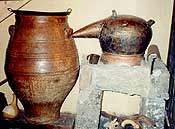 So sweet and sweet-smelling is this drink, we just need to smell it and we are taken back to the hills of our village, to the tables of friends and to the valley of vineyards, even when thousands of miles away in Australia.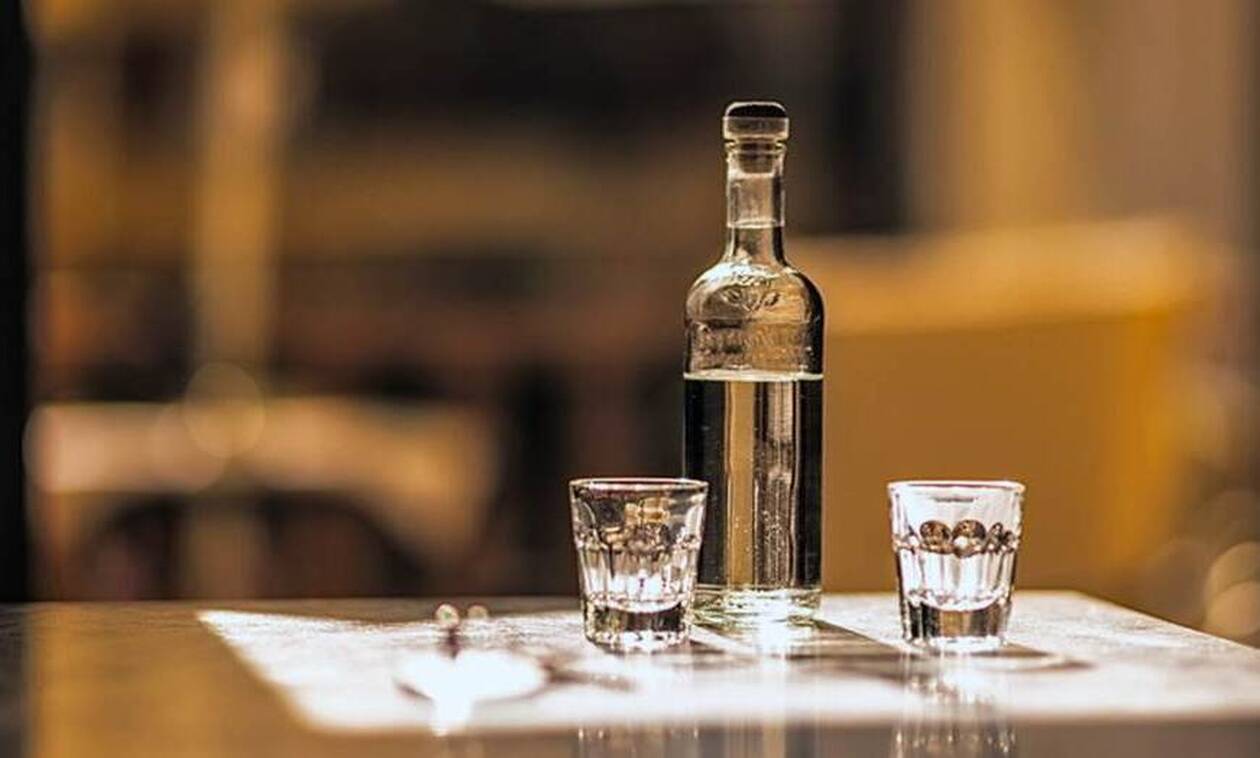 Don't mind if you don't like hard liquor, take your first drink and sip it, no need to throw it down unless you feel inspired. If you don't want another, no one will be offended, but you risk walking out on only one leg. Local folklore says it is better to have two drinks, as you have two legs. You will always be offered food with alcohol, so the perfect mixture of snacks or mesedes will accompany your drink.
---
How is Tsikoudia Made?
How is this spirit prepared? Well, each village will have a different preparation and different stories to tell, many a night has been whiled away debating the most preferred method, however, we can give you a basic idea here.
The best way to learn about the making of tsikoudia is to find your local kazani or still in your village in the months following the grape harvest, around October and November, gain an invitation to visit the kazani and not an invitation to work it, as it is back-breaking and soul destroying work, and sit back and enjoy the process… we will explain as we go...
After the harvest, grapes are crushed for wine. The remainder – grape stems and skins – referred to as strafylo – is set aside in barrels to ferment. Usually one family in the village gets the license to run a small still, and everyone brings their strafylo in dribs and drabs over the life of the kazani distillation – known as kazánisma.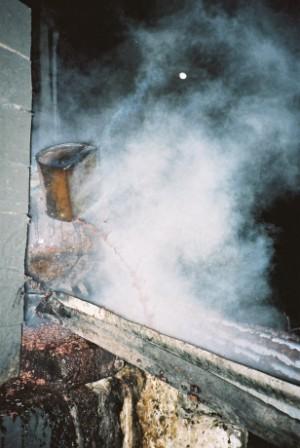 The license is a big deal and means that the still must be kept working day and night until it expires.
The still most usually consists of a copper pot with a large domed copper lid. Attached to the lid is a copper funnel leading to a water-cooled tank or jar. The copper pot sits over a fire.
The strafylo are placed in the pot, on top of a layer of thyme branches, to prevent scorching, the lid placed on top and the tapered tube sealed with flour dough - zymi. As the fire heats the grape mash, it produces steam which is funnelled to the tank and cooled by the water, becomes liquid again, a very special alcoholic liquid, tsidoudia or raki. This mixture can be anywhere between 40-65 percent alcohol.
The hardest job of all is taking the steaming hot used grapeskins back out of the copper pot in the middle of the night. The only compensation is good fresh tsikoudia, a warm fire, a few snacks and great parea.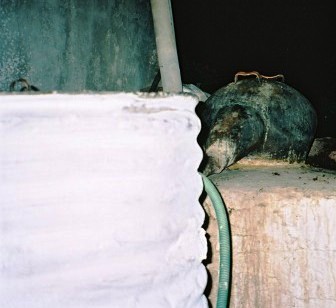 In our photos here, you can see the hot steaming left-over mash being scooped from the kazani onto a crude metal slide under the full moon, the waste grapes are then collected into a big rotting pile which grows and grows over the days of the kazani. Gradually, however, even this is used as fertiliser, completing the cycle of grape harvest.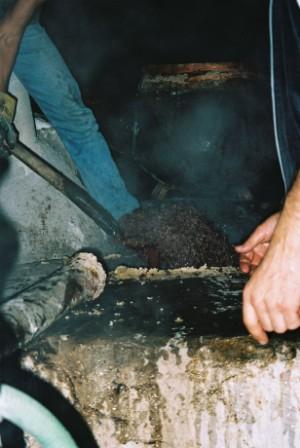 Friends come from villages near and far to sit and take up the important role of watching and waiting at the kazani. Each brew takes at least 2 hours. The hard workers must rest and take down a few sfinakia of their newly created tsikoudia before leaping up again and getting hot and sweaty digging out the hot grapes and putting in new grapes.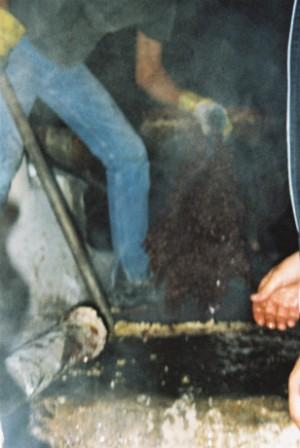 The visitors' job is to concentrate on taking even amounts of tsikoudia so as not to rush it, admiring the brew, enjoying the mezedakia, and generally giving great parea – company – to all and sundry. Don't forget to eat as you go, and don't mix your drinks, and you will experience the crystal clear results of a night with sweet tsikoudia.
Don't forget its medicinal uses. Our yiayia swears by it for many remedies, and it is very very warming on a cold night.
Commercial tsikoudia-raki is available all over Kriti, a good place for visitors in a rush to find it is in the street market at Heraklion. Quality, strength and taste vary greatly.
---
Where do I Find Tsikoudia in Crete?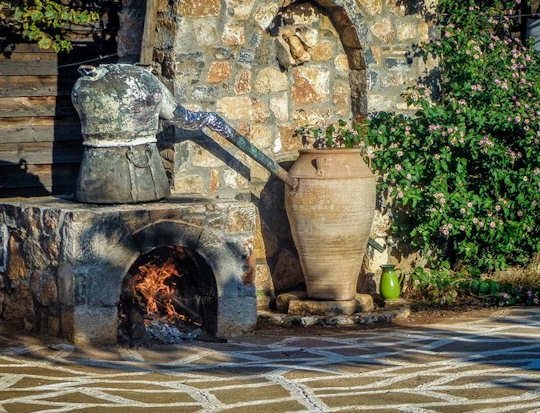 Cretan Olive Oil Farm and Raki Distillery near Agios Nikolaos
Find your bottle of local raki or tsikoudia in the laiki agora local markets such as the Chania Municipal Market, the 1866 Market in Heraklion, or indeed through your favourite taverna.
You can look out for a rakokazano - raki boiler or distiller, or a Raki Distillery in many parts of Crete.
Visit the Cretan Olive Oil Farm and Raki Distillery near Agios Nikolaos, or the Zargianakis Raki Distillery in Prinias, Heraklion.
You can find organic raki, rakomelo which has honey, as well as many other traditional and not-so-traditional varieties of tsikoudia.
Organic raki infused with strawberry, orange, almond and coffee are available to try. Many people like anise-flavoured raki.

Visit the Georgiladakis Winery and Raki Distillery at Petrokefali in southern Heraklion.
In October, you can ask around your local village and you may be lucky enough to be invited to the local distillery. The village of Vamos in Apokoronas has short 4-5 hour tours during October to the local distiller's place.
The Sitia Co-operative create a special tsíkoudia called Varvaki (left), named after the endangered falcon – Eleonora's Falcon– a symbol of freedom in eastern Crete.
---
Experience Raki in Crete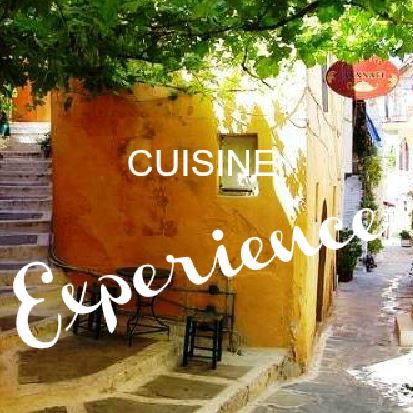 Street Stories of Chania Morning Tour with Samples of Raki and Mezedes - visit the local food markets and walk for 4 hours through the gastronomic highlights of this fascinating historic town, visit the old Jewish and Ottoman quarters and taste the local white spirit or raki. Enjoy mezedes which are little appetisers, part of the Cretan diet which is one of the healthiest in the world. Find out why.
---
Tsikoudia Terms

tsikoudiá – grape spirit of Crete 
tsípouro – same grape spirit with a different name in the rest of Greece
kazáni – the still used to make raki-tsikoudia
kazánisma – the distillation process
stráfylo – the already pressed grapes
zými – dough which is used to seal up the lid of the copper pot
sfináki(a) – small shot glass(es) used to drink rakí-tsikoudiá

Eviva!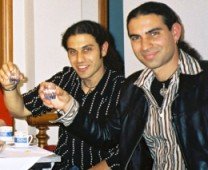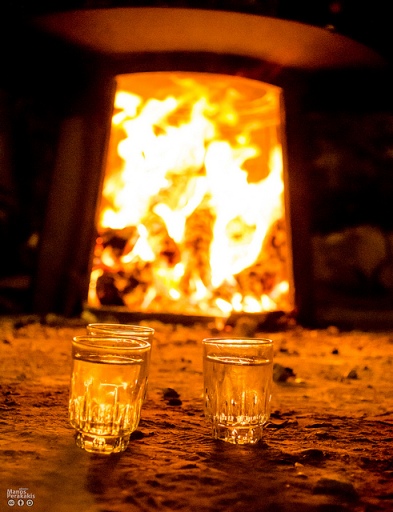 ---
Getting Here
Get to Crete on a one hour flight from Athens to:
Take a ferry from Pireaus Port of Athens to Chania Souda Port or Heraklion Port. Crossing duration is 9 hours.

More information about flights and ferries to Crete below.


Car hire in Crete is a really good idea as it is a large island 60 km by 260 km. There is so much to explore.
When you book with our car rental partners - Rental Centre Crete - you are supporting a local company with excellent service and an easy online booking procedure. We are sure you will be well looked after by the team. Choose from hybrid or non-hybrid vehicles.
---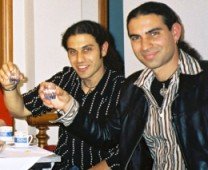 "We trust you have enjoyed these tips from the team at We Love Crete. Evíva!"
Contact us with further questions or feedback. We love to hear about your travels in Kríti and Greece. Let us know of any updates or additions, errors or omissions. Help us make this website the best it can be. Kaló Taxidí!

---