A Crete Food Journey

by Byron Ayanoglu

internationally recognised author and chef
This page may contain affiliate links, see our disclaimer here.

---
A Crete Food Journey - this is a lyrical poem, punctuated by fresh produce; vegetables, fruits, oils, nuts and cheeses cultivated for centuries on Kriti.
The cuisine includes fresh olive oil, and plenty of it.

Below is the tale of a gastronomic gallivant around Kriti by world traveller, acclaimed chef and author Byron Ayanoglu RIP.

We give our thanks to Byron for taking this journey and deliriously delighting in the delicacies of Crete. Byron was so generous, before his passing, to share this story with us here at We Love Crete.
As we would say 'Kali Orexi!'
A Crete Food Journey - In and around Chania
Crete's second largest seaport is the Venetian-built Chania, on the north-western coast. It is a maze of hillside, slender-tall, 16th century row-architecture, which descends in sharp-angled meandre down to the sun-drenched harbour. It is a stunning town, but we leave it eagerly in search of tirieftis, a cheese made from milk of pregnant goats, a rarely-found, seasonal specialty.
My guide is old friend Aristedes Pasparakis, the mythical food maven. Having ran out of Canadian (Vancouver, Calgary, Toronto), and international (London, Los Angeles) locations for which to create epochal restaurants, Aristedes has been reshaping the restaurant business of his native Greece for the last nine years.
In the process, he has joined the culinary crusade of the homeland to revitalise Greek cuisine, and to elevate it into gastronomy. The pursuit of this lofty task is predicated on locating and serving the heirloom foods of the Greek countryside, and especially those of Crete, whose diet has been judged as the most healthful on Earth. And so, Aristedes thinks nothing of driving fifty kilometres into the treacherous mountain passes south of Chania, to unearth tirieftis.
Temenia is a village that is seemingly built into the hill, after a particularly severe series of switch backs in the western peaks of Lefka Ori, home of the famous Samaria Gorge. And right there, on the edge of the precipice is Ta Temenia, its only restaurant, barely visible from the road for all the rosebushes in full bloom in mid-November. Prokopis Marketakis, the owner, is deep into his cups on this Monday morning, when no customers were expected.
He offers us sugar-glazed almonds and some of his home-made tsikoudia (Crete's fire-water, an eau-de-vie distilled from grapes). His daughter's marriage was last night, and he's still celebrating. He has much trouble just to set down our tablecloth and cutlery. Happily, his wife, the chef Vassiliki, is very much on the case.
Crete Food Journey - Fresh broadbeans from a backyard garden in Crete
Aristedes has been here before. She knows what he likes. And what he likes is an across-the-board sampler of the kind of eating that equips Crete's people with vigour and joy-for-life well into their nineties. Vassiliki serves us a meal all of whose ingredients are grown by her on the premises of, and on the hillside bordering, the restaurant.
Askrolibri greens; therapeutic, somewhat bitter, tasting of nuts, are blanched, and served alongside boiled koukia broad beans, with the obligatory olive oil (her own) and lemon (from her own lemon tree). The globe's reddest egg yolk, just born off one of the chickens running loose in the courtyard, is fried and served with a garlicky, home-made sausage. The globe's ripest tomato, still warm from its perch on the branch, is partnered to a just-pulled red onion, to nestle in the olive oil.
So tart-sweet, this tomato needs no other dressing, not even salt. She serves us her own multi-grain bread, along with goat meat and sweetbreads braised with deeply scented, mountain dandelions. And also her freshly baked kaltzouni, a sort of calzone, a crepe stuffed with mixed bitter greens and goat cheese.
And then, the cheeses themselves. The goat mizithra is a densely strained, full-fat miracle of a cheese, that blends its perfumes of the goat milk, either with an olive oil topping or, with some of the chef's own thyme-honey. Either way, a cheesy Nirvana. And even more so, the tirieftis, which finally arrives, still warm, since it has just been curdled from milk that Vassiliki's pregnant goat obliged only an hour ago, when we first arrived. "You have to milk them carefully," sighs the multi-talented chef, "they must not think that they've already given birth."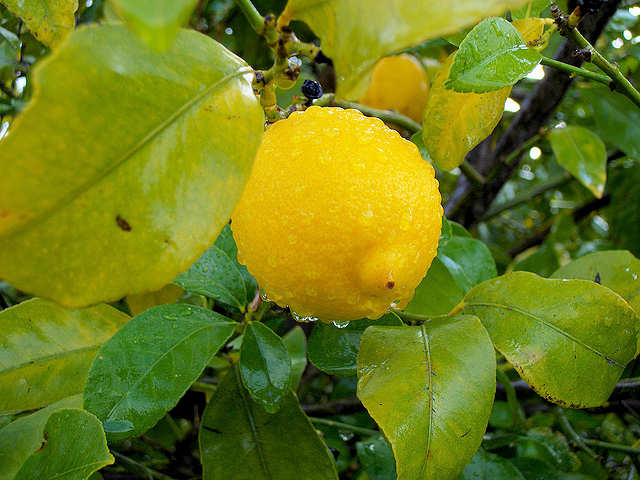 Crete Food Journey - Fresh lemon from the garden
We take our first nibble, and swoon in tandem. This is such a splendid amalgam of tastes, it is practically dangerous to feed it to food-maniacs like Aristedes and myself. An initial burst of goat-piss and pungent hormones settles into a sweet, full taste in mid-palate, only to dissolve into the fragrance of all the flowers and herbs the goat grazed on, to nourish itself and its unborn. It is so complex and satisfying an array of flavours, that we refuse to dilute it neither with olive oil, nor honey. The only suitable dessert for a meal of this magnitude is the digestive mournidia, a liquor of white mulberries, which has been distilled since Minoan days (some five millennia) in nearby Agia Irini, only ten kilometres uphill from Temenia.
Deliriously full, we drive the extra fifteen kilometres of mountain curves downhill to the southern shore, for a swim in the Lybian Sea, at Paleohora's palm-fringed beaches. This is one of the southernmost points of Greece, with nothing between it and the warmth of North Africa. There is something so un-Canadian about a swim in November, so wasteful, since a vacation to the sun is so much more productive in February. So naughty; so immensely pleasurable.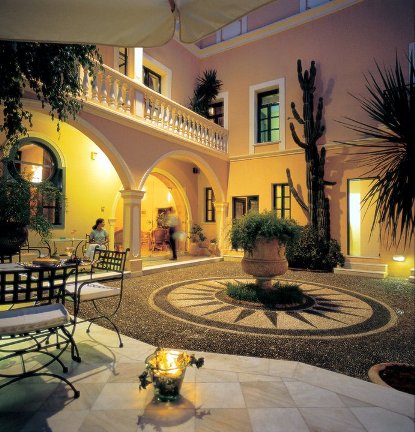 Crete Food Journey - the atmospheric courtyard of the Casa Delfino Hotel, Chania

A Crete Food Journey - Chania
Back in Chania, I hole into the delightful Casa Delfino Hotel (above), to recover from all the eating, and Aristedes's hair-raising, Greek-style driving, on the way back through the mountains last night. Delfino is a refurbished Venetian mansion, with spacious suites and a historical claim to old-world comfort. Very peaceful once inside its mosaic courtyard, with the arcaded, angular galleries and balconies, it is an ideal spot from which to explore the breathtakingly intricate network of medieval streets, and the endless cafe-society of the harbour.
The long, circular harbour is a tapestry of overlapping histories. A 13th Century castle protects the dainty Venetian corniche of red-brick roofed dwellings (now, cafes), with a Byzantine church and an Ottoman hamam bath-house leading to a long, enclosed pier and the forever shining lighthouse, a lit finger of stone, pointing to the open, deep-blue sea.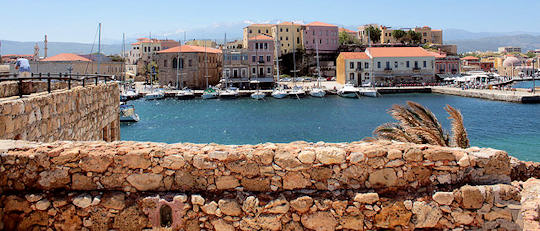 A Crete Food Journey - Chania Harbour
At supper, we walk along the water's edge, on flagstones wet from the spray of the sea and the evening dew, to Mathios's tavern, on the other end of the harbour.
Our objective is his sea-urchin salad, but needless to say, the meal turns into another Aristedes extravaganza, an echo of all Greeks who always over-order, as if this could be their final meal. It derives from a precarious past, when life was often turned upside down, because of this, or the other overnight invasion, or catastrophe.
The sea-urchin salad is a true masterpiece, with the delicate roe and flavourful juices of live echinoderms wondrously slurpable in their lemon-oil-parsley dressing. A sea delicacy of the highest order, that has permanently spoiled me, showing off its Japanese equivalent, the sushi-staple uni (which comes to us frozen), as a flavour-challenged, greasy, distant relative.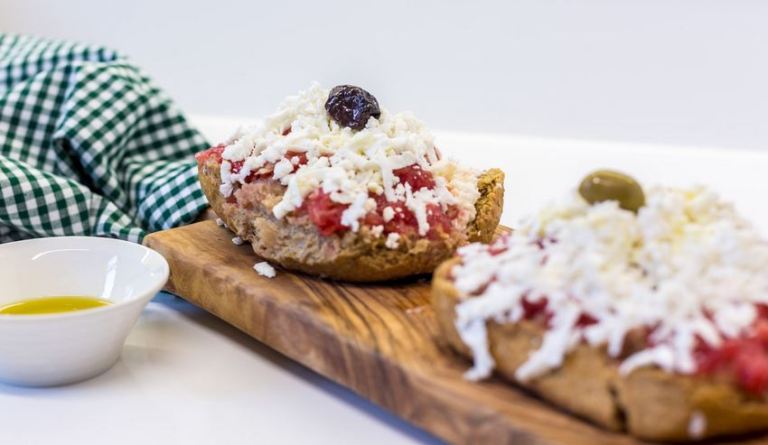 Crete Food Journey - Dakos Salad, a speciality of Kriti

Mathios proceeds with simply dressed, bitter stamnangathi greens (that drive away bugs when grown around wells); dakos (moistened, whole-wheat rusks, topped with tomato, feta, and oil); fried baby mullets and whitebait; zucchini flower croquettes; ricotta-stuffed sweet calzones (a remnant of the Italians), and sweet-cheese stuffed sfakia crepes (from the Ottomans), both of which desserts are dripped with local honey from orange blossoms. We finish the evening with an outdoor coffee in mid-harbour, lights flickering around us semi-circularly, in tune with the anthem-like Crete songs of the national songbird, Nikos Xylouris.
The feasting at Chania culminates with an all-out search for gamopilafo, a boiled goat and rice dish, that is served only at weddings, and is never made in batches of less than twelve portions. It taxes Aristedes's powers of persuasion, but he finally manages to convince George Hatzimanolakis of Leventis Tavern, in Ano Stalos, some fifteen kilometres south-west of Chania, to make a small, two-person sampler for us tonight.

A Crete Food Journey - Kissamos
We spend the afternoon in anticipation of the wedding rice, and to render the wait more bearable, we drive west of Chania, past the continuous tourist resort along the beach road, to the thriving town of Kissamos, and beyond it to the western edge of Crete, for a swim in Falassarna. Voted the second best beach in Europe (the first is in Cephalonia), this is a long affair of crystal-clear, aquamarine waters, with fairy-tale coves, and even some mild surf in the middle. For additional interest, there is an Egyptianate, semi-excavated, Minoan port, just north of the beach.
Refreshed, and a little misty for the old days, I finally sit down to gamopilafo, to find it a plain dish of only a single flavour. This is faithful to the minimalism of Crete's cuisine, which spotlights the essential taste of the principal ingredient. In this instance we're talking goat-meat. The arborio-style rice is cooked al dente in rich goat stock, and finished with a good coating of even richer goat butter, to be served alongside large chunks of bone-in, boiled goat. Boiled meat of any kind is a bit of a turn-off for me, but I like the rice, which is like an inchoate risotto, with a nice, creamy sauce. It is a bit bland, but who am I to argue with a multi-thousand year-old recipe that helps people live forever.
A Crete Food Journey - On the way to Elounda
Having eaten our way throughout the Chania area, now we drive the two hundred and forty kilometres to Elounda for some r'n'r, but not before hitting a couple of major meat stops on the way; Drossia for roast suckling pig, and Anogia for flame-tenderised lamb.
A Crete Food Journey - Drossia
Drossia is one of those wink-and-you've-missed-it, cross-roads villages on the old Rethimno-Heraklion road. Once powerful as an Ottoman administrative post, it is now famous as the home of the best charcoal-roasted suckling pig on an island redolent of the fatty little beasts on the spit. And the Drossia pig, grown organically around the village, is indeed melting, and the crackling is sweet-crunchy, and our table at Tsangaris Tavern is in the shade of a four hundred year-old plane tree, with a mid-afternoon, autumnal breeze that is warm and jasmine-perfumed.
A Crete Food Journey - Anogia
Anogia is twenty miles straight uphill from Drossia, and is renowned for its clear mountain air, and its astounding views of the valley, from which Psiloritis, Crete's tallest mountain (at 8000 feet) sharply rises. But Anogia is celebrated for its sterling progeny, the singer Xylouris, and Aristedes himself, among them, and most of all for the otherworldly texture of its addictively tasty ofto kreas (slow-roasted lamb).
The lamb is carved and butterflied to a slab that is evenly one-inch wide. It's stretched on skewers, and propped against an active, wood-burning fire inside a cave-like, open-mouthed oven. It takes almost three hours for all its fat to burn off, and for the meat to practically levitate. Especially if it's had at Aetos Tavern, whose chef-owner, an Aristedes cousin, Manolis Pasparakis, is the acknowledged master craftsman of ofto.
I'd brave the drive to Anogia many times over, just to eat this meat, and let it evaporate on my tongue, accompanied by anthogalo (a soured, fresh goat-cheese), and a salad of papoules (a mache-like mountain lettuce), and also for the sheer spectacle of the respectively ninety six and ninety eight year-old psalm singers, competing from across the pulpits of the Sunday morning liturgy, to see who'll most consistently hit the right notes of the ancient music.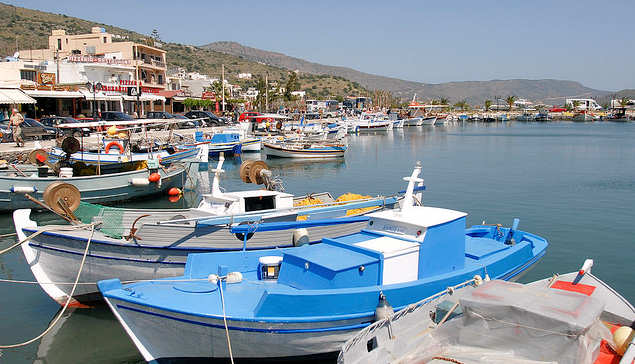 Crete Food Journey - Elounda Harbour, Lasithi

A Crete Food Journey - Elounda
Elounda Bay in the Gulf of Mirabello, near the eastern end of Crete,is a world all its own. Whitewashed and summery, this is picture-postcard Greek island, with bright light, olive-grove hills, and an emerald-sapphire sea that seems to bring the horizon within swimming distance. Originally a sleepy fishing village some few kilometres from the pretty port-town of Agios Nikolaos, the evolution of Elounda is the work of visionary couple, Spyros and Eliana Kokotas.
Armed with expertise; he's an architect, she, a hotel administrator, aspirations, and some serious cash, they embarked on a continuously improving, major resort complex, that has revolutionised hospitality standards all over Greece. The Elounda complex is now three luxury hotels; the Relais & Chateau member Elounda Mare, the fully equipped (including par-three golf course) Porto Elounda, and the brand new, truly exclusive, all-suite Peninsula.
The properties are arranged around a jewel-like beach, with many in-grounds attractions, several good restaurants, and pampering service. It's all so very relaxing, that one could easily forget any other world even exists. And despite the phantasmagoric, three-storey, monster suite with elevator, and indoor as well as outdoor private pools, for the eight grand, one could stay here affordably.
Duty calls, and I venture away from Elounda's considerable charms for some professional eating around the neighbourhood. I discover the modest Pine fish-taverna on the quiet inner-port of Agios Nikolaos, with its lazy pace and its ideally fried red mullets, my favourite creature from the seas.
For pure astonishment I take to the mountain paths south, towards the foothills of Mount Dikti, for staka, the richest goat cheese I've ever tasted. It's in Kroustas Tavern, the only eatery of Kroustas village. Chef-owner Costas Stavrakakis offers staka on its own, to be spread on bread, and then inside an omelet of day-fresh eggs, for a double assault on my arteries. I do believe that it would take a lifetime of Crete (eating bitter greens, climbing all those hills) to overcome regular doses of staka omelette.


A Crete Food Journey - Home to Knossos
I end-bracket this unforgettable, highly selective tour of Crete (from one cheese to the next, so to speak) at Knossos, for a shot of non-culinary culture. This five thousand year-old capital of the Minoan empire is just south of Heraklion, modern Crete's capital city and principal port.

Knossos is hauntingly complete, with its oft-photographed, brick-red columns, its palace chambers, its still-explorable Labyrinth, and its million hints of an advanced civilization to rival Ancient Egypt, its closest neighbour.
I had last visited this site during a torrid day in late July. It was stifling that day, and so crowded it had seemed dubious that the precious relics would survive our invasion. Now, in late fall, on a clear day of warm breezes, that had started for me with a swim in the sea, I am almost alone at Knossos, free to wander at will. My only companions, a group of bubbly, field-tripping third-graders, getting their first ever feel of the glory of their ancestors.
---
A Crete Food Journey - Books

Byron Ayanoglu was a prolific author - some of his books are available below.
Crete on the Half Shell - his autobiographical travel memoir about his journeys, and restaurant project, in Crete - is hilarious and a great read for those planning to travel or move to Crete. In the UK and Australia it was titled Taste of Honey. It is the same book.

---
A Crete Food Journey
Tavernas, Restaurants and Hotels
mentioned in this article

Restaurants

Ta Temenia, in Temenia, 50 km south of Chania
Tel: 28230 51590
Mathios is now closed
Leventis Taverna, in Ano Stalos, 15 km south-west of Chania
Tel: 28210 68155
Aetos Taverna, in Anogia, 40 km south-west of Heraklion
Tel: 28340 31262
Kroustas Taverna, in Kroustas, 15 km south of Agios Nikolaos
Tel: 28410 51362

Hotels

Casa Delfino, in the old town of Chania
Casa Delfino
Elounda Mare Luxury Hotels and Resorts
Elounda Mare
We trust you have enjoyed this story about a Crete food journey - see more about the healthy and natural Cretan diet here.

---
Getting Here
Take a 1 hour flight from Athens to Heraklion with Aegean Airlines or Olympic Air, with many flights available per day.
Or take a 9.5 hour overnight ferry from Pireaus port of Athens to Heraklion port.
More on flights and ferries below.
Car hire in Crete is a really good idea as it is a large island 60 km by 260 km. There is so much to explore.
When you book with our car rental partners - Rental Centre Crete - you are supporting a local company with excellent service and an easy online booking procedure. We are sure you will be well looked after by the team. Choose from hybrid or non-hybrid vehicles.
---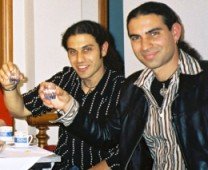 "We trust you have enjoyed these tips from the team at We Love Crete. Evíva!"
Contact us with further questions or feedback. We love to hear about your travels in Kríti and Greece. Let us know of any updates or additions, errors or omissions. Help us make this website the best it can be. Kaló Taxidí!

---