Crete Diet
This page may contain affiliate links, see our disclaimer here.

---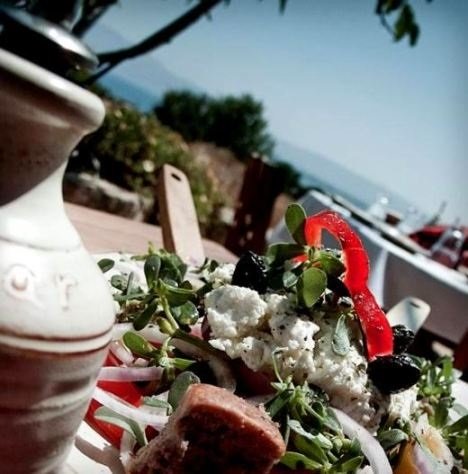 The Crete Diet is a lyrical poem, punctuated by fresh produce; vegetables, fruits, oils, nuts and cheeses cultivated for centuries on Kriti.
The cuisine includes fresh olive oil, and plenty of it.

The natural diet of the island of has been recognised as one of the healthiest in the world. It includes wild greens, fresh home-grown tomatoes, broad beans, lemons and fresh olive oil. Crete diet also contains the more unusual mezithra, staka and anthogalo.
This diet is not a weight loss diet or a special diet, it is the regular daily diet of the people of Crete. Every village has its own specialities such as mournidia, mulbury liquor or just tzikoudia grape liquor.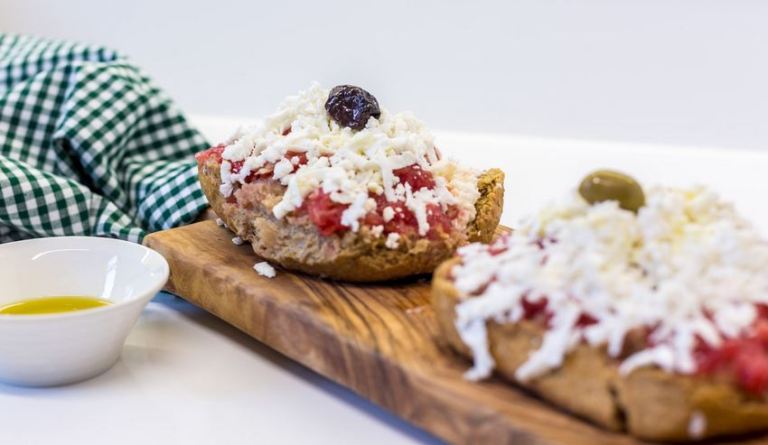 Dakos Salad - with paximadia or rusks
Crete Diet




'The World's Healthiest Diet'



Village Rhythms
In the village, the natural rhythms of the harvests influence what is fresh and natural to eat.
In October, the stafília grapes have been harvested and the sultanas dried, so each house has abundant quantities of sultanínas sultanas, bursting with the summer sun trapped inside.
In the village in November, each breakfast was karídia walnuts as they were plentiful. Sometimes simply karídia and méli walnuts and honey.
Later in January, the trees were full of mandarínia so these sweet treats were a feature at most meals and coffee breaks.
Zucchini Flowers Stuffed with
Rice and Crushed Wheat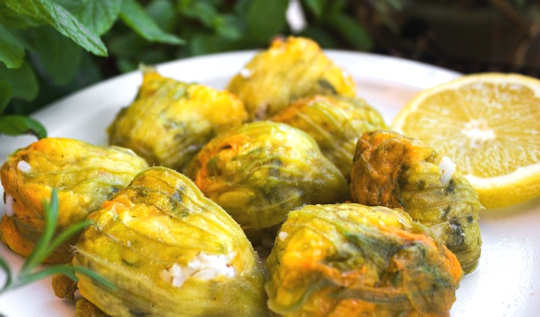 Κολοκυθοανθοί γεμιστοί - Kolokithoanthí yemistí - Stuffed zucchini flowers or courgette flowers
An example of one of the dishes of the cuisine of Crete is Κολοκυθοανθοί γεμιστοί - Stuffed zucchini flowers or courgette flowers. In the video below, Michalis, the cook from 'Crete of Tastes' shows you how to make this delicious dish.
Chondros means fat  and comes from 'chontroalesméno' or coursely-ground and refers to crushed wheat or cracked wheat which is well-used in Cretan cooking. Cracked wheat is made from kernels of wheat that have been coarsely cracked, so that each piece ends up being around one quarter of the size of a kernel. This is used quite a bit in Cretan cooking.

Get the full recipe from Crete of Tastes
---
Moustalevriá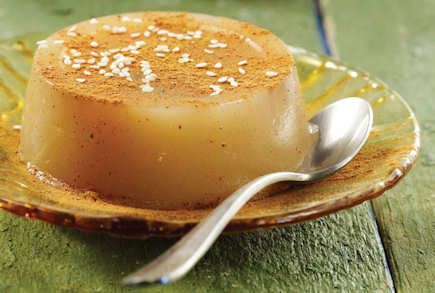 Moustalevriá
After the grape harvest and the all important trip to the einopoiío οινοποιίo wine factory, the scrappy left-over grapes are made into moustalevriá  μουσταλευριά.
This sweet, wholesome dish is traditionally made from the músta must, the squashed skins of the grapes left over from wine-making.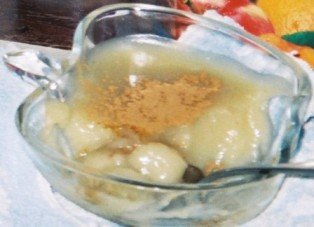 Moustalevria made for me by Eleni
---
Cretan Food - Chórta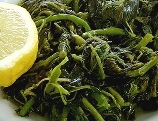 Chorta χόρτα or wild greens in Crete
After winter rains, chórta  χόρτα flourishes, and yiayias are busy out in the country lanes with their bags collecting the lush wild greens. There are actually many different types of chórta...getting to know them and how to cook them is one of the pleasures of life in the village, and learning about Cretan food.
These include radikia, amaranth and dandilion but there are many more such as stamnagathi or wild chicory - more information here


---
Local Foods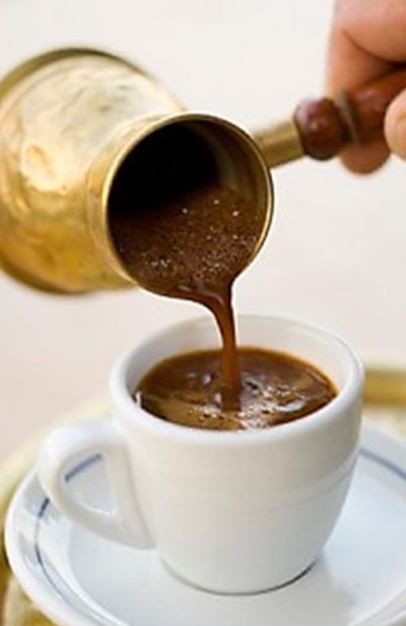 As you sit relaxing in the kafeníon, don't be surprised if a ruddy faced shepherd comes in bearing mizíthra fresh goat's whey cheese from the mountains. This freshness is one of the great qualities of Cretan food.
Around Christmas time, those with squeamish stomachs should stay away from the butcher as he kills the pigs for the village. Our kafedzís, who used to be the town butcher, still performs this service in late December for all the families with pigs. As he knew I was squeamish, in the weeks leading up to Christmas, he would make the hand sign for cutting his throat and say na spháxo ta vorúnia – "I am going to kill the pigs - want to come and watch?" He never tired of making this joke and others which would always make me laugh, and him and the rest of the kafeníon laugh at my grimaces and squirms. Pork is a popular Cretan food.
---
Crete Diet - Books
One of my favourite modern travel narratives is 'The Taste of Honey' by Byron Ayanoglu about his culinary adventures in Crete. Also titled 'Crete on a Half-Shell', this light-hearted account of one very talented chef from the diaspora returning home to Greece, or at least, begin willing to explore his Greekness by selling up his life in cold Canada and buying a home in Crete, making new friends and opening a taverna...well...you find out for yourself how it all turned out...
Byron's book 'Simply Mediterranean Cooking' will have you creating the cuisine of Crete in no time, Byron was chef to Mick Jagger, amongst other gigs, and has written over 15 cook books.

'Cretan Cooking' by Maria and Nikos Psilakis contains 265 recipes of authentic Cretan dishes and will get you and your family satisfied for many delicious meals containing the Crete diet.


---
Cretan Diet - Tours

Experience a day of cooking classes or some days learning about the cuisine of Crete. In the villages and hills of Crete you will find the true hospitality and character of the island. Explore and taste the local fresh organic foods, learn about the balance of produce that makes up one of the healthiest diets in the world.
Here are a few experiences to try on your holiday to Kriti.

Crete Diet - Cooking Classes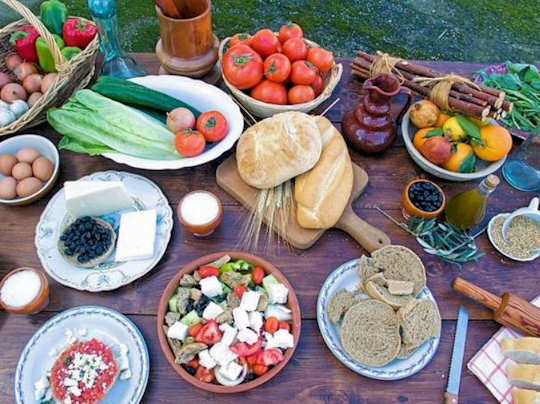 Crete diet - take a one day tour with a cooking lesson
Cretan Cooking Lessons in Chania - this one day tour will give you a real experience of Crete away from the beaches and towns. Including pickup and drop off, picking of vegetables in the kitchen garden, a cooking lesson, history tour in historic home, a scenic walk and a visit to an olive grove followed by appetisers and local wine, then sit down to your own sumptuous lunch in good company.

---