Greek Pastries - Bougatsa
This page may contain affiliate links, see our disclaimer here.

---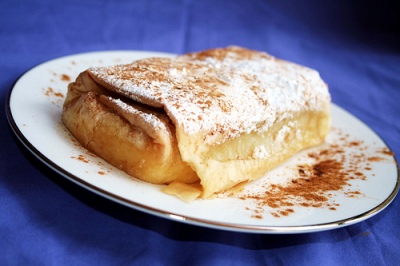 In Greece, the most delicious Greek pastries will be offered to you time and time again. This is true. Whether you are Greek or a visitor, that is one constant about life in Greece, you will be offered the most beautiful foods, including desserts. Make sure when you are eating your main meal, that you leave room for these special treats.
One of our favourites Bougatsa ~ Μπουγάτσα , is a pastry with custard served for breakfast in Crete. Any place that serves bougatsa for breakfast is a great place for us!
Are any of these Greek pastries really Greek? Well they were invented and eaten before nationalism was created, so we can't really answer that question. We know however, that the most beautiful version of bougatsa is made by the zakaroplasteio in downtown Carlton in Sydney, no that's not really true, but it runs a close second to those prepared in Iraklion, Kriti.
Mmmm...bougatsa…what can we say, it is crispy and creamy and vanillary and yummiest fresh and hot!


---
Greek Pastries
Recipe for Bougatsa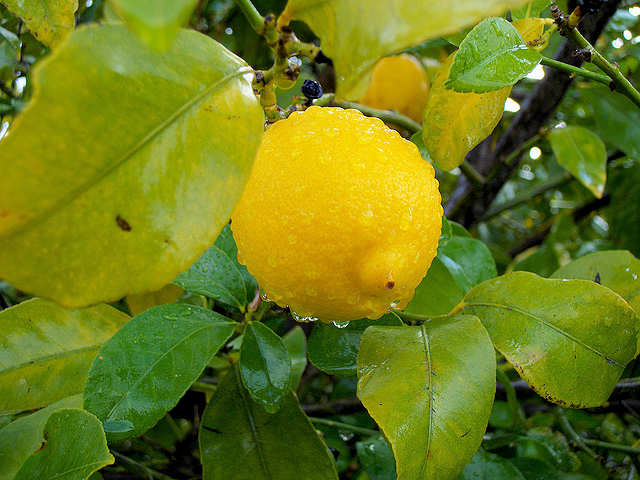 Fresh lemon in the garden in Crete
1 egg
1 egg yolk
¼ cup sugar
1 ½ cups whole milk
¼ cup semolina
½ cup butter
2 teaspoons fresh lemon juice
1 teaspoon lemon zest
½ teaspoon vanilla extract
8-10 sheets filo pastry
½ cup melted butter
Icing sugar
Cinnamon


Beat the eggs until they are frothy then beat in the sugar until the mixture is thick and creamy, then let sit.
Heat the milk until hot. Do not boil. Remove from heat and gradually fold the milk into the egg mixture with the whisk. This is now your custard.
Set the custard on medium low heat and stirring constantly add the semolina.
Now cook on a low heat stirring constantly until thick and smooth, then fold in the butter. When completely mixed in, remove from heat and let sit until cooled, then stir in the lemon juice, lemon zest and the vanilla.
Preheat oven to 350oF
Brush each filo sheet with the melted butter before placing the custard on the lower third. Fold into a parcel roughly 15x10cm.
Fold right and left sides of filo towards centre. Brush sides with butter. Fold upper third down and brush with butter Your bougatsa will now look like a bursting envelope.
Place on a lightly buttered baking sheet. This recipe makes 7-9 envelopes. Brush the tops with butter and bake until golden brown for between 15 and 20 minutes.
Serve warm dusted with icing sugar and cinnamon (we prefer ours without sugar).
---
Where to Find Bougatsa in Crete...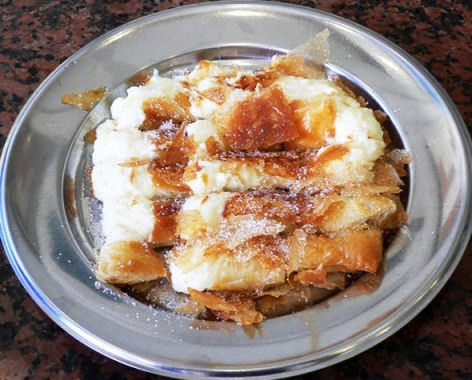 Bougatsa served fresh in Crete
There are many places to eat bougatsa all over the island and in both Chania and Iraklion. Really one of the best is in Iraklion behind the Liondaria on Kalokerinou near the bus-stop. 
The only thing to do is to try bougatsa from a different café every morning while you are in Kriti, whether you live there or are just visiting, and keep going till you have found your favourite. Don't forget your Elliniko café (Greek coffee) while you are tasting!
In Chania try Bougatsa Chanion at 37 Apokoronou St, and Bougatsa Iordanis at 24 Apokoronou St
The excerpt below features the making of this delicious treat from scratch, even including the pastry, by artisans in Crete:
The video below shows bougatsa being made at Iordanis in Chania
In Heraklion, try Phillo...sophia or any of the cafes around the Liondaria fountain, we are serious that you are going to have to do your own tasting to see which ones are your favourites!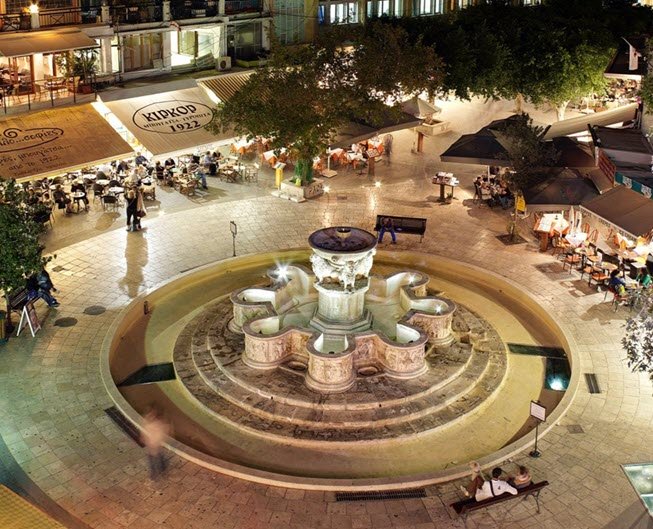 Philosophia Cafe is next to the Liondaria fountain in central Heraklion - try the bougatsa here and at every other cafe around the square before making up your mind which is your favourite!
Other delicious treats include baklava, galaktoboureko, melomakarona, kourabiedes, loukoumades and kataifi.
Greek pastries are best eaten in a balanced diet, and the Mediterranean diet will include loads of fresh vegetables and fruit, nuts and variety.

See more about the Cretan diet and healthy wild greens on our food pages...
Kali Orexi !! Καλη 'Ορεξη !!