Crete Greece Beaches with Seaside Tavernas

This page may contain affiliate links, see our disclaimer here.

---
Crete Greece Beaches with Seaside Tavernas - experience the beauty of the seaside with the pleasure of good local food.
Our top 7 tavernas with local food in Kriti are known as 'paradosiaki' or traditional tavernas. There you will find much more than food. A true welcome, hospitality, friendliness and genuine local fresh produce for a start. Get to know your new friends at a taverna.

Combine that grounded, delicious experience with the dazzling azure and turquoise sea, the sparkles on the bay and the light breezes and you will just begin to unwind and understand the calm, relaxed Greek way of life.
Eviva! Cheers!

Our Top 7 Beaches with Tavernas by the Sea in Kriti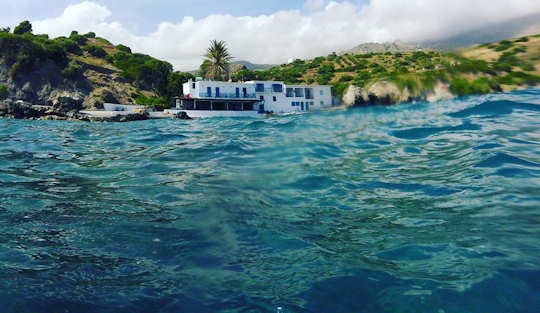 Crete Greece Beaches with Seaside Tavernas - do you like remote beaches with plenty of space to swim, lie on the beach, walk away from other swimmers and feel the wind in your hair?
Do you like to relax on the sand or pebbles away from it all, swim in clear waters and then sit by the bay for a hearty meal for lunch or dinner?
This is summer in Crete, and we are so delighted to share our top seaside experiences with you.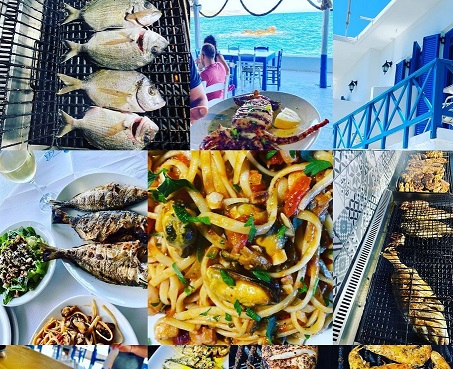 Fresh fish caught today - eaten tonight by the bay (image from Fotia Taverna)
---
In Chania
Captain Fidias, Sfinari Beach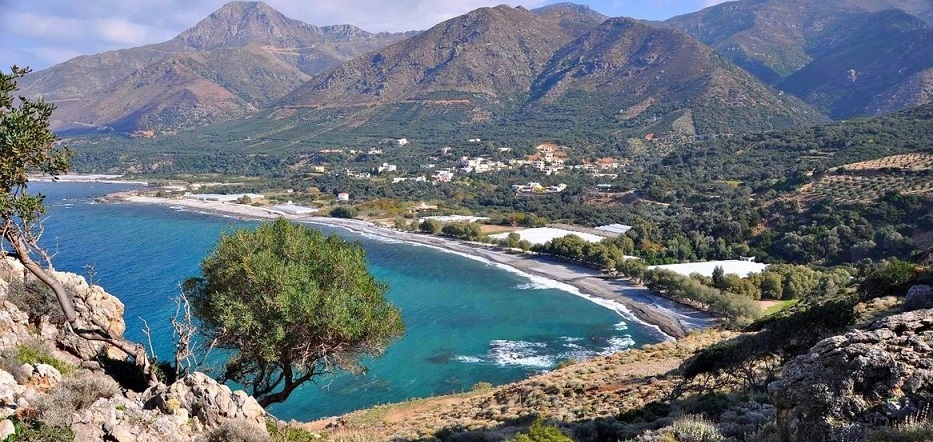 Crete Greece Beaches with Seaside Tavernas - this remote beach on the very western coast of Crete is wide, sandy, pebbly and spacious and well worth the drive just for this taverna. Run by the same family for over 40 years, this is as authentic a local fish taverna as you can find in Greece. Simple dishes done well. Sit right on the beach, under the trees.

At Captain Fidias Taverna try freshly caught fish of the day - depending on the catch on the day - like Red Mullet, Scorpion Fish, Blackfish and Swordfish. Try seafood favourites like octopus, lobster, calamari and shrimp. Don't forget the tasty little fried whitebait for meze!

Driving to Sfinari Beach from Chania town, there is a bit of a steep winding road to get here, but it is well worth it and plenty of shade under large tamarisk trees. The journey is 60 km from Chania and 30 km from Kissamos.

If you have walked here to complete the very first section of the E4 Walking Path in Crete, that is a hike of 22 km and you deserve the very best seafood stin skara - on the grill - and a mighty ouzo or raki! Well done! Bravo!



---
Taverna Marmara Beach near Loutro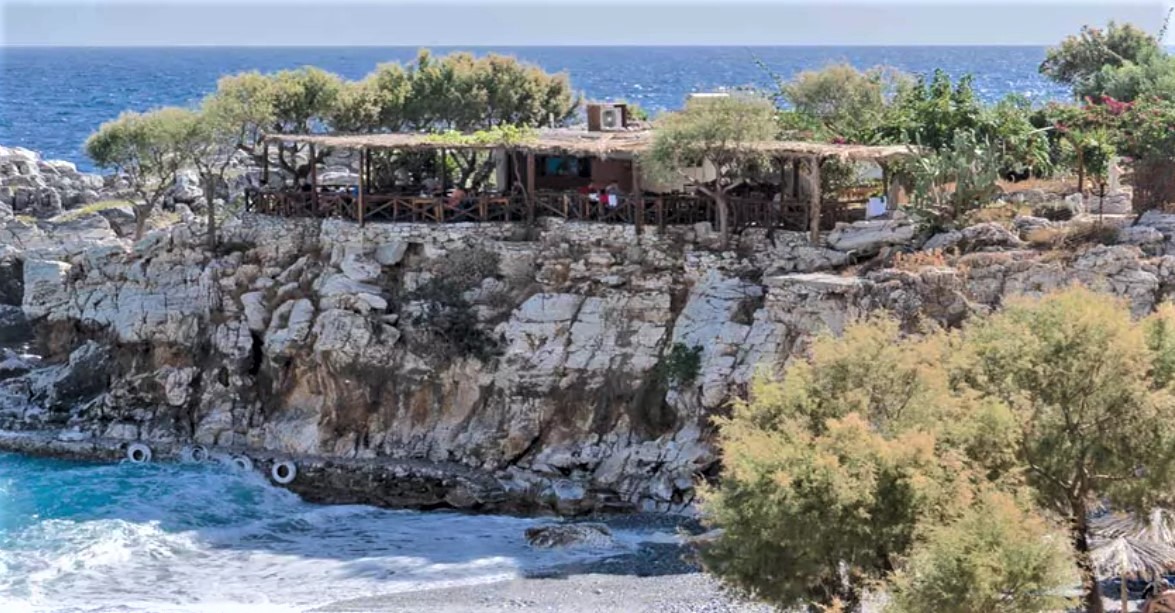 Crete Greece Beaches with Seaside Tavernas - Dialeskari or Chrysostomos Χρυσόστομος Taverna is on the remote Marmara Beach at the mouth of Aradena Gorge in the south of Sfakia in western Crete. Get there by boat, walk in from Loutro or visit after your hike of the gorge.
The beach here is a combination of pebbles and sand, the sea is clear and there are stunning white rocks jutting into the sea. Explore sea caves, snorkel, swim and walk the gorge, or walk here by the coastal route from Loutro.
Then take yourself to the taverna for a refreshing drink, some shade and a view over the blue, blue Med.
Try the authentic Cretan cooking, which includes slow-cooked goat, Sfakian pies and wild greens. Try the local seafood and don't forget the calamari.
You can get a water taxi here or kayak from Loutro or Palaiochora or surrounding beaches. Walkers also come here on the E4 European Walking Path of Crete.

Marmara Beach near Loutro, southern Crete
---
In Rethymnon
Agia Fotini Beach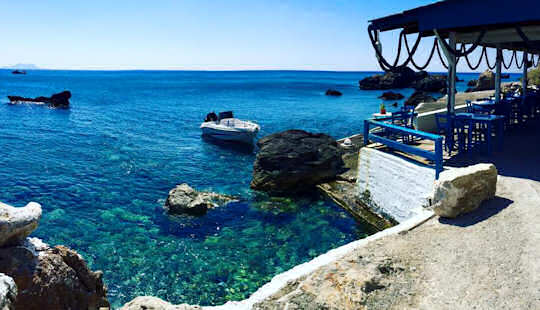 Sit and relax by the sea or swim at this tiny cove at Agia Fotia Taverna
Crete Greece Beaches with Seaside Tavernas - this beach can be reached by a short 35 minute drive from Rethymnon town, more information is available here on our Agia Fotini page.

Take a moment to visit the village of Spili on the way, to see the cooling fountains which is especially lovely in the heat of summer.
Although the beach is named Agia Fotini, the taverna here is named Agia Fotia and has been run by the Perakis family for years
Sitting right over the western end of the bay, you are just a few footsteps from the clear, azure water of the Libyan Sea. The south-facing aspect means wonderful sunsets over the sea, where you can sit gazing metaphorically to Africa.
Stavros, Vicky and their now adult children Vangeli and Evgenia will meet you with their friendly local service, and recommend the fresh fish caught that day.
Enjoy the simple pleasure of home-made potato chips with calamari, or red snapper and prawns.
Above the taverna are simple rooms for rent, just like in the good old days. But watch out, they get booked out quickly.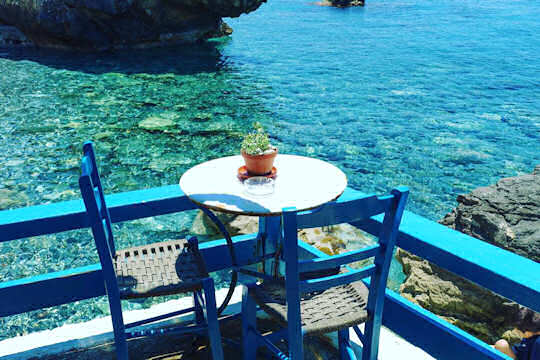 Table for two next to the blue at Agia Fotia Taverna, in southern Rethymnon, Crete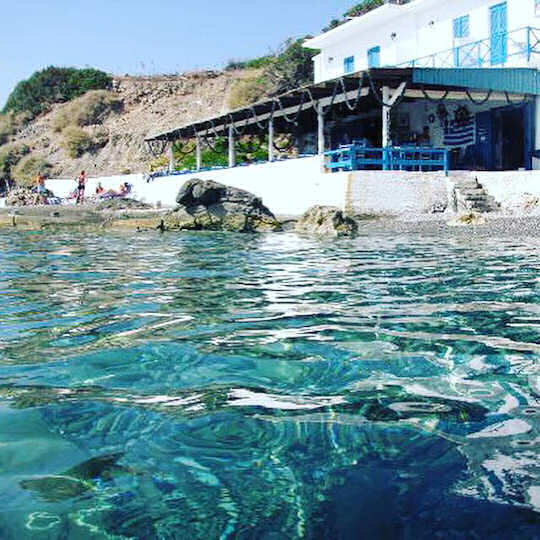 Clear waters for snorkelling around Agia Fotini Beach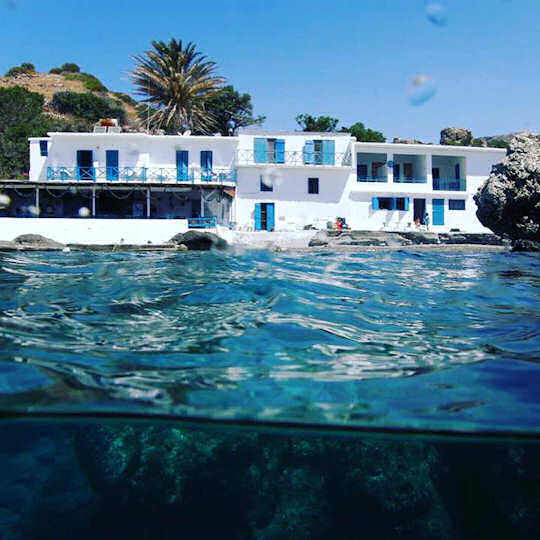 Taverna and rooms at Agia Fotia, swim in the Med to get your appetite back
---
Crete Greece Beaches
Apanemia Taverna, Triopetra Beach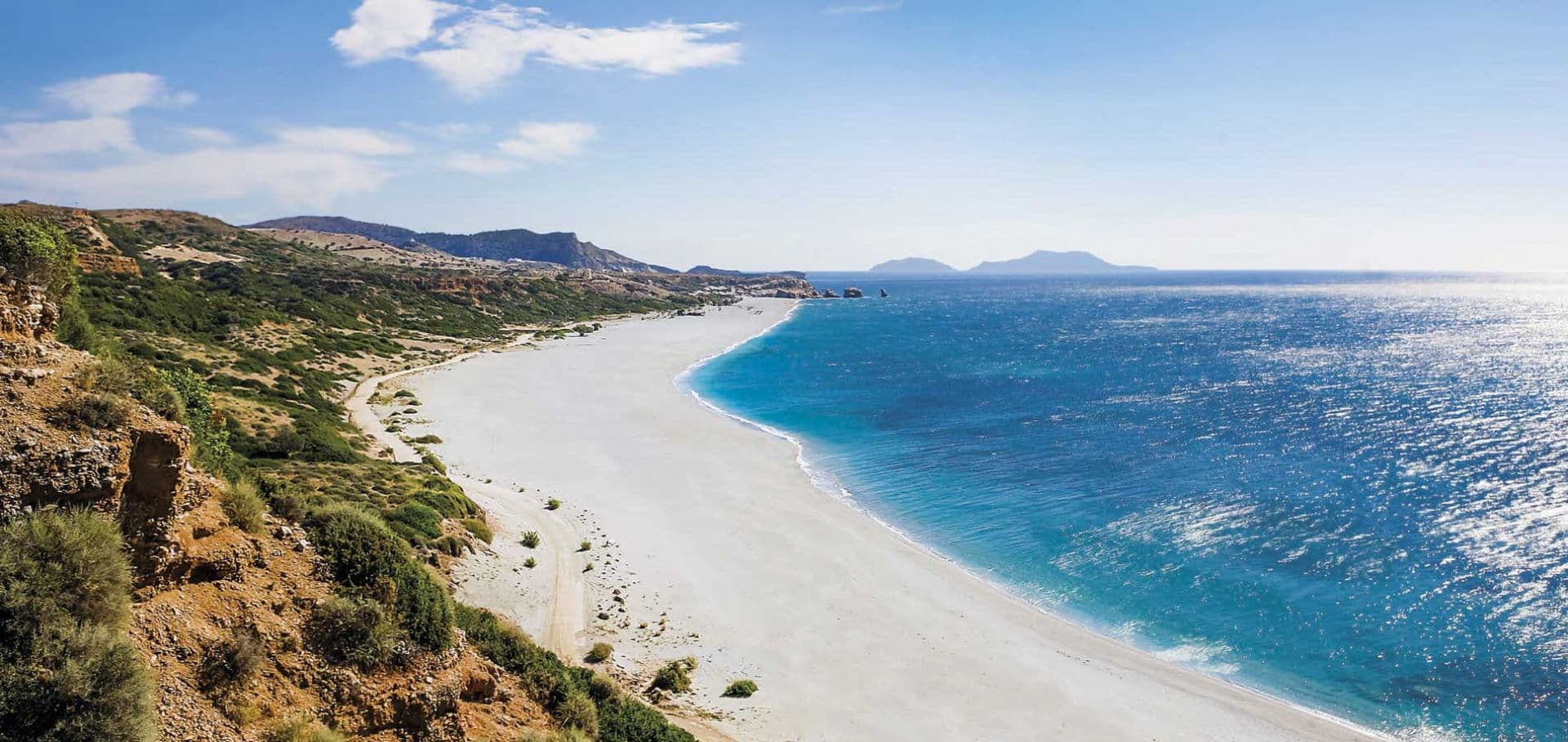 The three rocks are clearly visible here
Crete Greece Beaches with Seaside Tavernas - Triopetra Beach can be reached by a 50 km drive from Rethymnon, via Spiliand Akoumia, which takes about 1 hour, but with stops along the way to visit the villages and take in the mountain views, it is a lovely scenic journey of about 2 hours.
Triopetra's stunning beach is remote and dominated by three large rocks on its southern point - hence the name - trio for three and petra for rock.
Just to the east of the rocks, the next cove around from the big wide beach is the small Triopetra beach, where you can find Apanemia Taverna with traditional food, good service and a beachside location.
Stelios and Georgia will make sure you are looked after. Fresh salads, grilled meat, fresh seafood, local olive oil and home made drinks.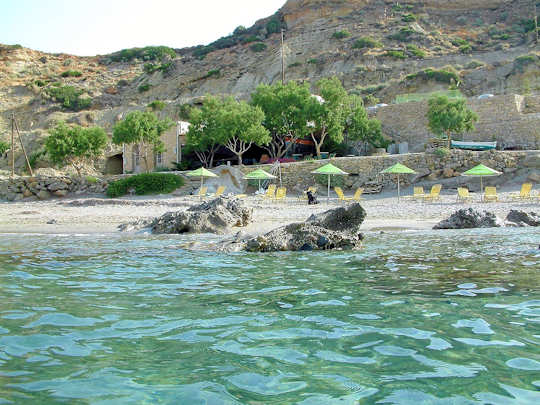 Apanemia Taverna is on small Triopetra Beach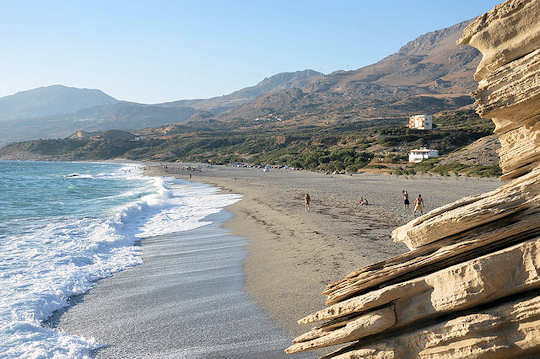 Triopetra is a wide sandy beach in the south of Crete, well worth the drive to get there, it makes a perfect day trip, with lunch at Apanemia
---
In Heraklion
Red Castle Fish Taverna
Kokkinos Pirgos Beach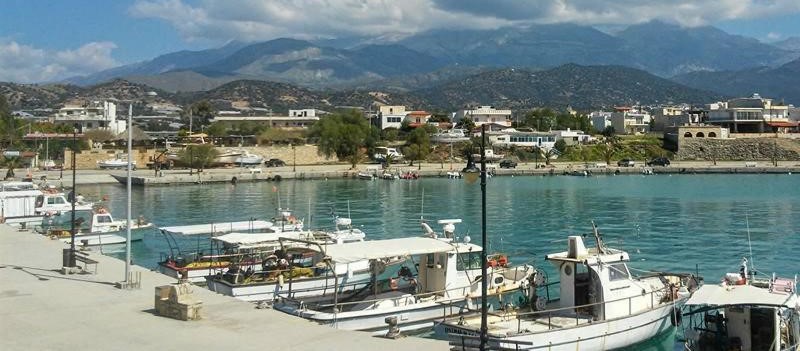 Kokkinos Pirgos has an active fishing harbour

Crete Greece Beaches with Seaside Tavernas - 70 km from Heraklion town in the small seaside village of Kokkinos Pirgos is the Red Castle Fish Taverna.
This is one of our favourite places in the south of Heraklion, where we love to eat seafood with our feet in the sand.
This is a traditional seafood taverna or 'psarotaverna' just minutes from the harbour where the fishermen bring the daily catch. With wood and raffia chairs and blue and white checked tableclothes, you are going to pinch yourself, because you are really in Greece now.
Enjoy the atmosphere under the large shady trees, the gorgeous wide beach and the open spaces, and of course, fresh, fresh seafood.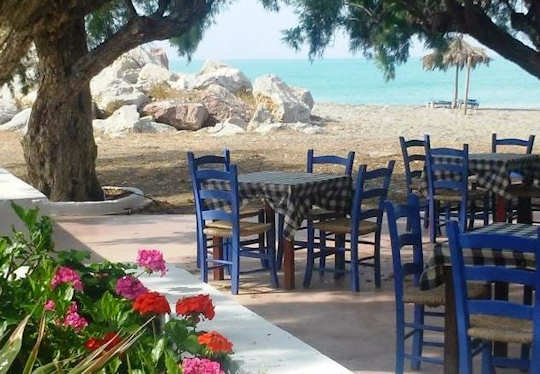 Red Castle or Kokkinos Pirgos Seafood Taverna is right on the beach
---
Scala Fish Taverna, Matala Beach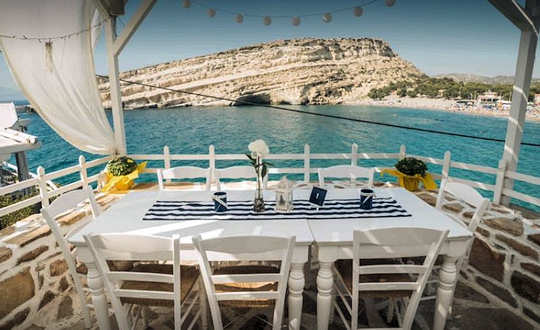 Scala Fish Taverna, looking out over Matala Beach
Crete Greece Beaches with Seaside Tavernas - Matala is famous for its ancient caves and hippy years in the 60s, and now for its music festival. Yet you really need to visit for the fresh seafood and live music at Scala Fish Taverna. This is one of the hippest places to spend your evening in Matala, with plenty of local cuisine with modern touches.
Enjoy Matala Beach for its clear waters, snorkelling, atmosphere and caves, as well as visiting the nearby beaches of Red Beach and Komos Beach.

Manos and Hara will look after you. Ask for the octopus on the grill - stin skara - and you will receive the large tentacles, soft and marinated, then cooked to perfection on the open grill. Mmmm. Just add olive oil, a little dill and lemon juice and you are in heaven!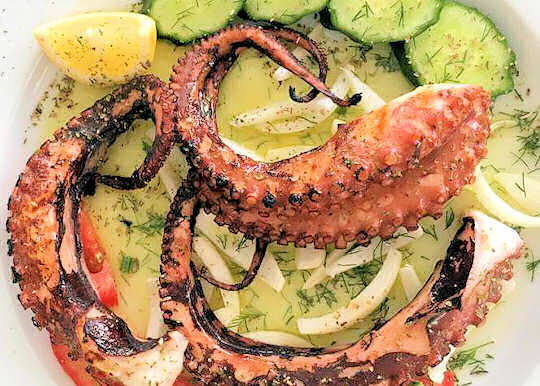 Crete Greece Beaches with Seaside Tavernas - Octopus served at Scala Fish Taverna in Matala
---
In Lasithi

Fish Tavernas
Mochlos Beach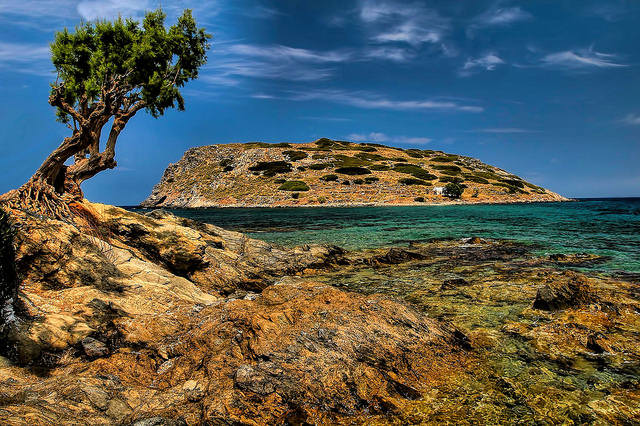 Chill out on the beach, on the rocks or make your way over to Mochlos Island
Eastern Crete is a very beautiful part of the island, full of interest and brimming with history.

A picturesque drive brings one to the small fishing village of Mochlos. It boasts a variety of little tavernas on the seafront with varied menus. Then there are two little bars on the rocks....just perfect for sun downers.
Try the tavernas and fresh seafood, ask for suggestions for 'dopio' or local dishes:

- Akti Taverna
- Mesostrati Taverna
- Ta Kochilia Taverna

There is a small island approximately 150 meters from Mochlos called Mochlos Island by the locals which was at one time part of the town. At the time of the Santorini earthquake, it was separated from the mainland and sunk, hence the ruins. There is a small church on the island, church of Agios Nikolaos, patron saint of seafarers and fishermen plus an archaeological site of Minoan origin. A dig is still in operation there.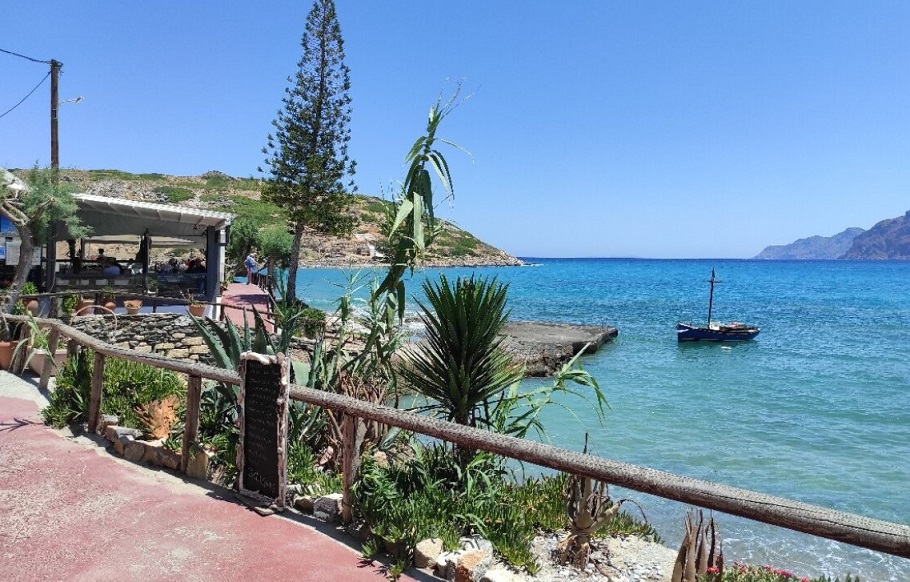 ---
Crete Greece Beaches with Seaside Tavernas
Accommodation

Crete Greece Beaches with Seaside Tavernas - our selections for accommodation right on the beach with a seaside taverna for your complete enjoyment of a Greek summer.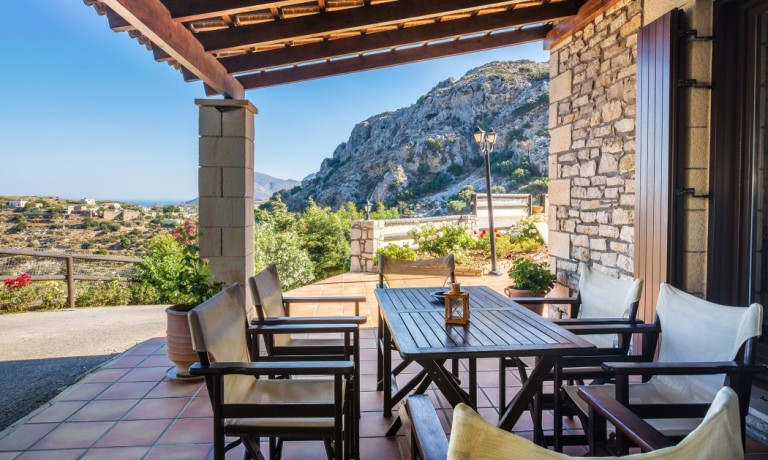 Platanos Villa and many others are close to Sfinari Beach in western Crete - sit with your toes in the sand at Captain Fidias Taverna.

Villa Niki in Loutro allows you to take your pick from many wonderful tavernas every evening, or walk to Marmara Beach for lunch.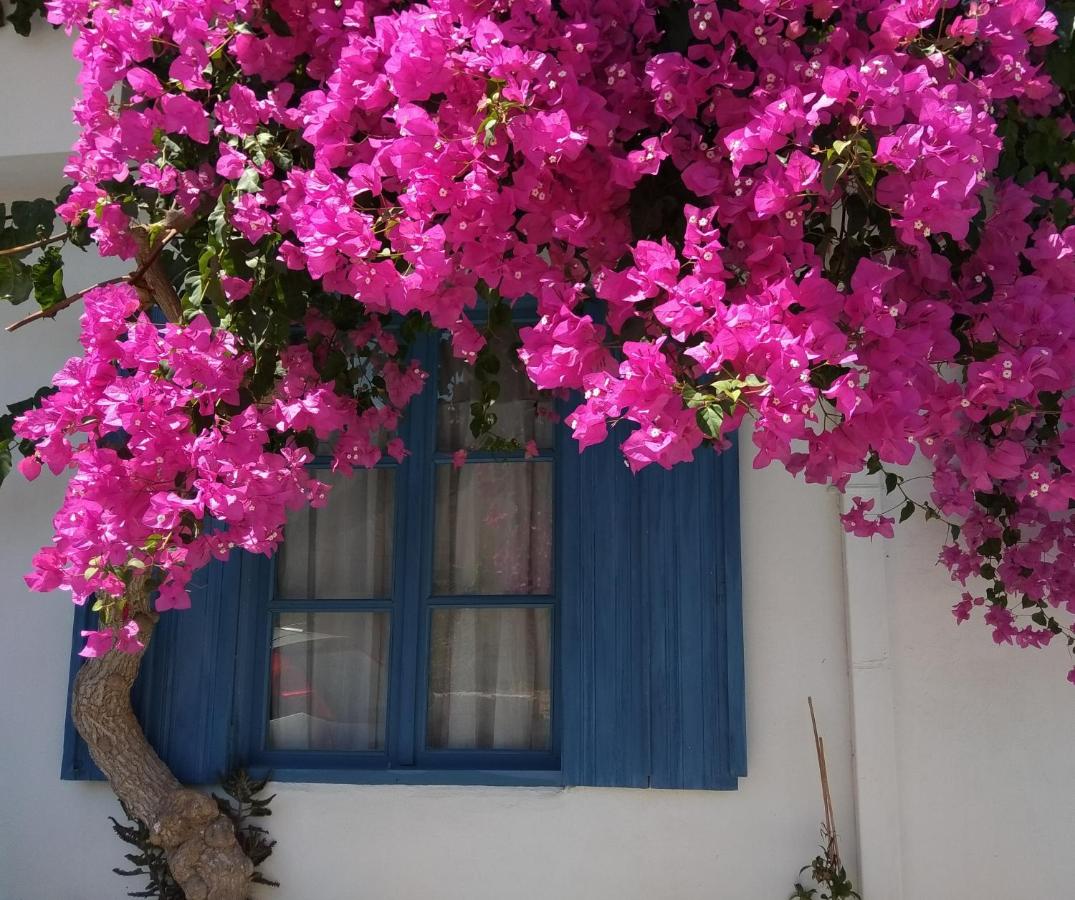 Chez Cécile offers blue and white rooms next to the blue sea of Mochlos beach and close to all tavernas. A small yet charming room for two guests in traditional Greek style. Warm hospitality.

---
Getting to Crete

Take a 1 hour flight from Athens to Heraklion with Aegean Airlines or Olympic Air, with many flights available per day.
Or take a 9.5 hour overnight ferry from Pireaus port of Athens to Heraklion port.
More on flights and ferries below.
Car hire in Crete is a really good idea as it is a large island 60 km by 260 km. There is so much to explore.
When you book with our car rental partners - Rental Centre Crete - you are supporting a local company with excellent service and an easy online booking procedure. We are sure you will be well looked after by the team. Choose from hybrid or non-hybrid vehicles.
---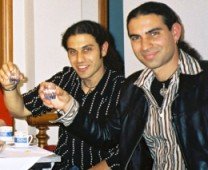 "We trust you have enjoyed these tips from the team at We Love Crete. Evíva!"
Contact us with further questions or feedback. We love to hear about your travels in Kríti and Greece. Let us know of any updates or additions, errors or omissions. Help us make this website the best it can be. Kaló Taxidí!

---
Crete Greece Beaches with Seaside Tavernas