Triopetra Beach, Crete

This page may contain affiliate links, see our disclaimer here.

---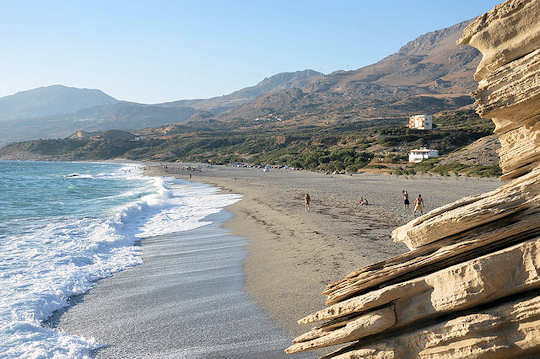 Triopetra Beach - Τριόπετρα - is a beautiful seaside, uncluttered, natural place, located on the southern coast in the prefecture of Rethymnon, just 48 km from Rethymnon Town and 110 km from Chania International Airport in Crete. You can also arrive via Heraklion International Airport which is 106 km to the north.

---
On the Beach

If you are looking for quiet and peaceful surroundings, as well as a family friendly beach, this will suit you. There are shallow, safe and protected waters here for all ages, as well as wave beaches.
This beach has very little in the way of buildings or development or organisation. It is still a place where you can totally relax in nature away from the hustle bustle of life.
Here there is quiet, there are azure clear waters and monumental mountains rolling into the sea. From here you can see the Paximadia islands, you can swim, snorkel and laze on the beach.
At the eastern end of the beach are three unusual rock formations, three big rocks sitting at the end of the point jutting out into the sea. Hence the name trio for three and petra for rocks.

Triopetra Beach is not too far from the city center of Rethymnon. Because it's about 50 km away, so it is a drive through the heart of Crete near the Amari Valley and across the mountians. It is remote and offers wide open spaces for you to unwind and enjoy.


---
Beaches

Triopetra Beach - wide open spaces

Triopetra Beach has two different areas to choose from, a long sandy beach and one smaller cove with a taverna and some umbrellas, which is actually named small Triopetra Beach.

The shallow waters of the cove are ideal for small children and relaxing days at the beach, building sand castles or playing in the shallows.
The area has many other beaches to visit with a car:

After you have lazed on the beach, swum in the clear aqua waters, dozed on the sand and taken a nap, it might be time to visit the forest or Monastery of Preveli or visit some of the inland villages and historic sights in the Amari Valley.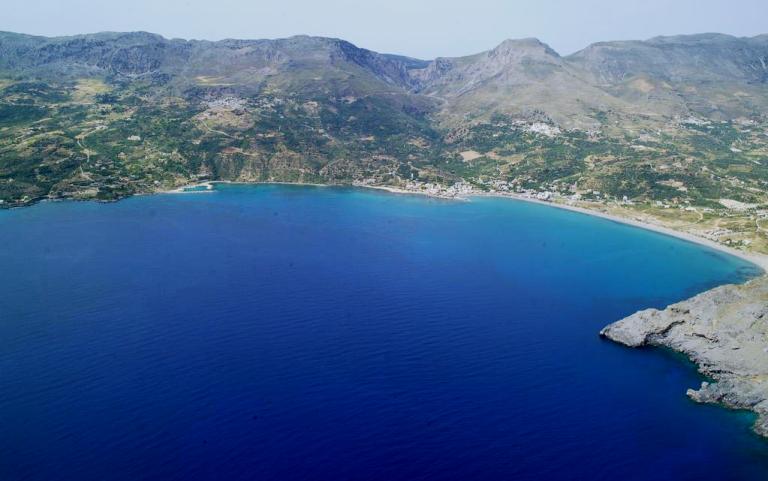 Plakias Beach sits on a wide bay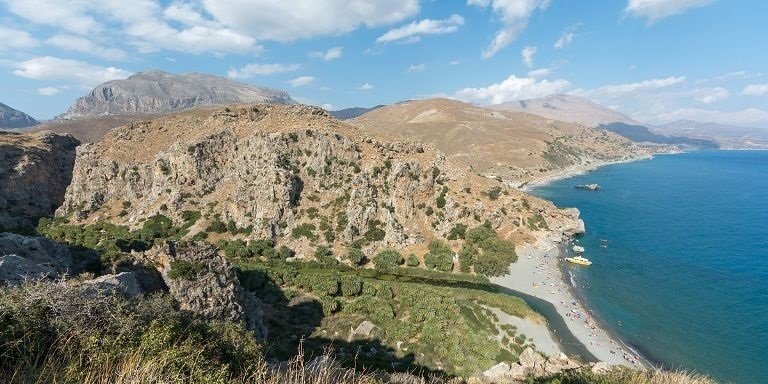 Preveli Palm Forest and Beach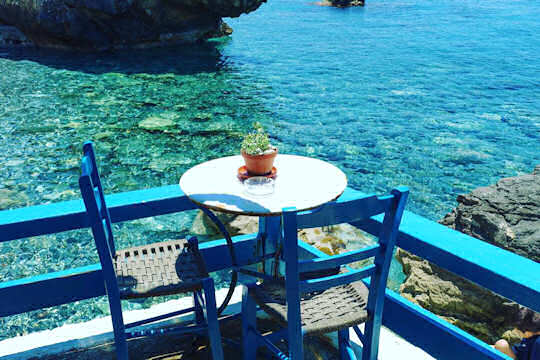 There is a small cove with a cozy local taverna by the sea at Agia Fotini
---
Triopetra Accommodation

There are plenty of choices of accommodation around Triopetra Beach , not directly on the beach but dotted around the area. We have chosen a variety that are locally run, where you will experience the real Cretan hospitality.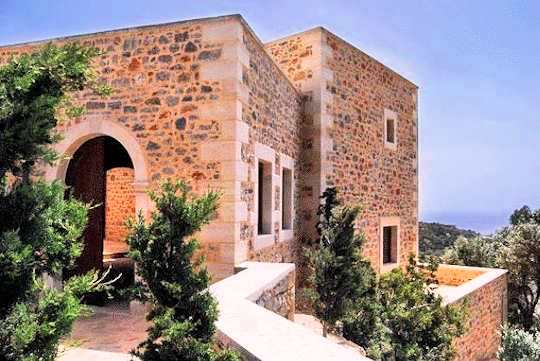 Litiniana Villas - traditional stone villas with exquisite views set on a hillside at the top of a working olive farm 3 km from Triopetra Beach. Very remote and peaceful, with three different villas and a large shared pool.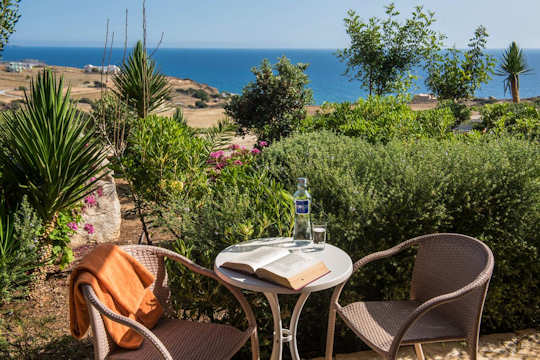 Triopetra Notos Hotel- a lovely small hotel 1 km back from the beach with breathtaking views across the farmland to the sea and over to Paximadia islands.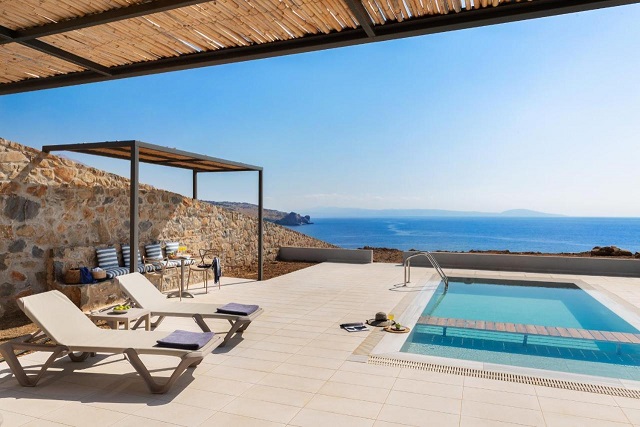 Varkotopi Villas - just 500 metres from the sea these family run villas are modern and comfortable whilst made from local stone and wood. Sitting on Agios Pavlos beach, just a walk from Triopetra beach.

---
Rethymnon Town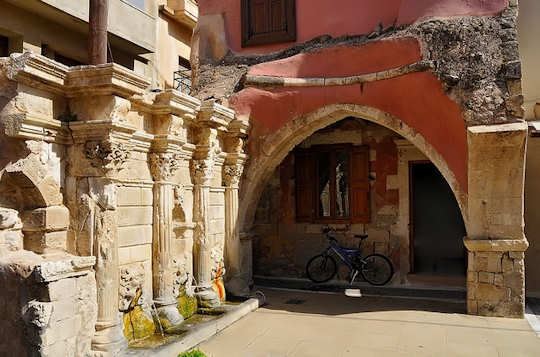 The Venetian Fountain in the centre of Old Rethymnon Town

Rethymnon old town is full of surprises amongst its narrow twists and turns. The little harbour is Venetian, as is the fortezza at the top of the knoll, with a beautiful view over the harbours, rooftops and coastline east and west. There are many fine examples of this beautiful architecture dotted around the township, such as the Rimondi Fountain (above). Ottomans also left their mark as the history of Crete unfolds before your eyes whilst wandering the laneways.
With a high standard of luxury accommodation within the old walls, as well as plenty of beachside or budget accommodation options, Rethymnon suits all sorts of travellers. Lively tavernas with traditional music give a local flavour, whilst there are many modern cafe bars and clubs too.
The University of Crete is located just out of town, while the vibrant cultural life hosts many festivals in the city such as the annual Carnival, the Rethymnon Renaissance Festival, Summer Festivals and The Cretan Diet Festival.
The coast to the west and east of town has many beautiful beaches, inland is the Amari Valley with history at every turn.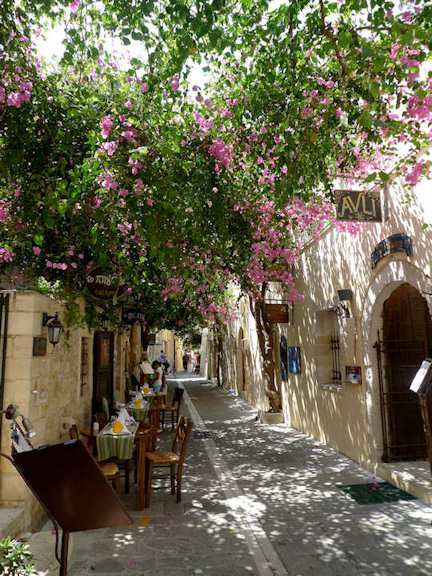 Visit the picturesque streets of the Old Town of Rethymnon for lunch
---
Tavernas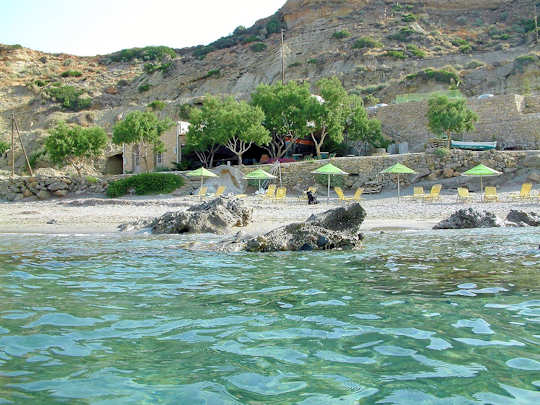 Apanemia Taverna on Small Triopetra Beach

The seafood is so fresh here, and there are plenty of tavernas with local Cretan food

Tavernas close by:

Taverna Apothiki on the eastern end of Τριόπετρα Beach

Apanemia Taverna on small Τριόπετρα Beach

Fotia Taverna on Agia Fotini Cove

Seafood tavernas to try in Rethymnon Old Town:
Zephyros in the Old Harbour

En Plo in the Old Town overlooking the sea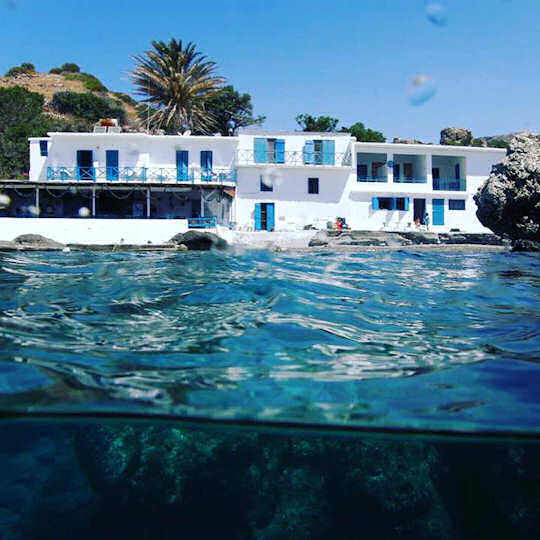 Fotia Taverna on Agia Fotini Beach - get your seafood fresh
---
Exploring Rethymnon Crete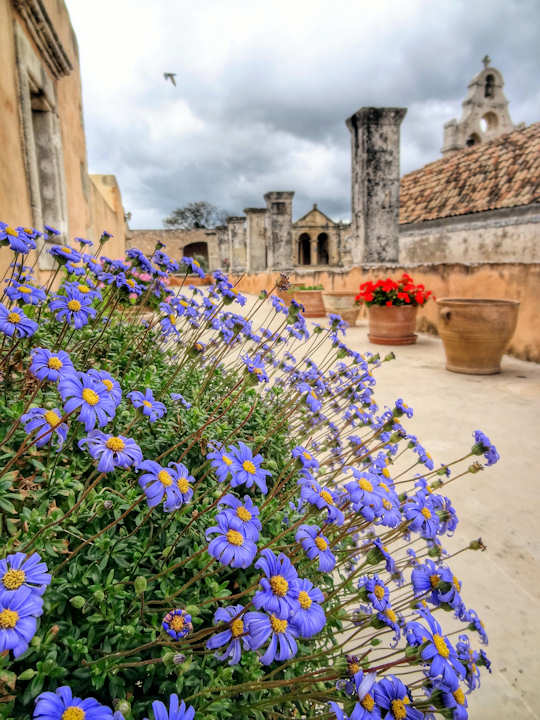 Arkadi Monastery has a story to tell

In the region of Rethymnon, there is just so much to explore:
---
Getting Here

Take a 1 hour flight from Athens to Chania with Aegean Airlines or Olympic Airlines, with many flights available per day.
Take a 9 hour overnight ferry from Pireaus port of Athens to Chania port.

If you arrive into the airport or port of Chania, it is a journey of 50 km to Triopetra Beach

If you pick up your hire car from Chania Airport, it is a very interesting drive through the mountains with views in all directions, stopping at the local village of Spili at a cafe.

Getting here by flights, ferries, bus and hire car below:


Car hire in Crete is a really good idea as it is a large island 60 km by 260 km. There is so much to explore.
When you book with our car rental partners - Rental Centre Crete - you are supporting a local company with excellent service and an easy online booking procedure. We are sure you will be well looked after by the team. Choose from hybrid or non-hybrid vehicles.
---
On the Map
See the location of Triopetra Beach on the central southern Rethymnon coast on the map below:

---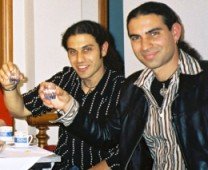 "We trust you have enjoyed these tips from the team at We Love Crete. Evíva!"
Contact us with further questions or feedback. We love to hear about your travels in Kríti and Greece. Let us know of any updates or additions, errors or omissions. Help us make this website the best it can be. Kaló Taxidí!

---
| | |
| --- | --- |
| | Take all your rubbish with you and don't make any of those silly piles of rocks - leave it as you found it and leave only footprints - because We Love Crete! |
---