Agia Fotini Beach
This page may contain affiliate links, see our disclaimer here.

---
A Quiet Paradise in Crete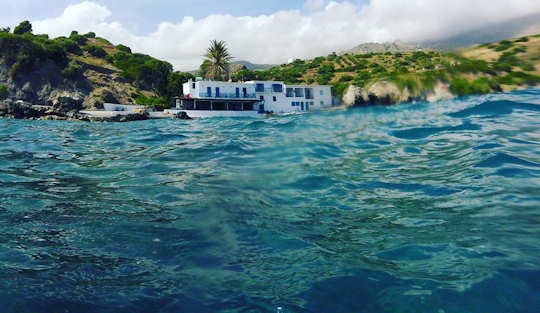 Agia Fotini Αγία Φωτεινή is located in the south of Crete, 52 km almost due south from Rethymnon town.
Explore around the region of Rethymnon or just swim and relax at the beach.

This taverna and rooms is located on a pristine natural beach.
Do you want to be..?
Miles from anywhere...
Gazing over the blue waters of the Mediterranean...
Sitting at a seaside taverna eating delicious Greek food...
Relaxed with no interruptions ...
On this undeveloped spot in the south of Crete you will find a local taverna, run by Stavros & Vicky Perakis with their children Vangeli and Evgenia.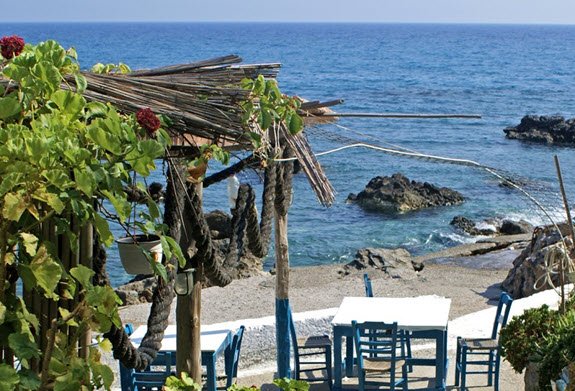 This is a traditional seaside taverna with modern touches of comfort, a simple taverna a stone's throw from the water.

Try the spinach pies, triangles of pastry filled with fresh spinach, horta, dill and fennel, or the fish which is whatever is caught fresh on the day.
Many of the foods from the healthy Cretan diet are available here. Such as fresh local produce, home grown vegetables and herbs, fresh seafood.
Try the Agia Fotia salad, it is a local favourite, or grilled fresh fish like silver bream or red snapper.  The grilled prawns are really good. Don't forget the selection of Cretan bottled wines.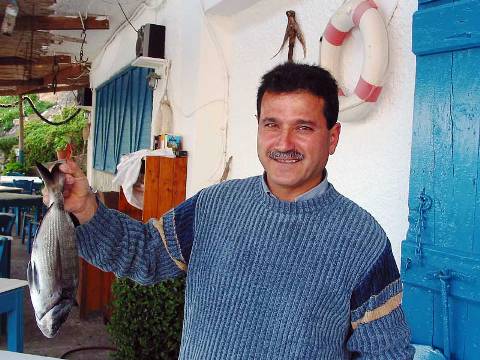 Agia Fotia Taverna - fresh catch of the day
Come here and just stop the world. Doze. Snooze. Float in the sea. Read a few pages of your book then let it fall lazily into your lap and gaze at the day...listening to the summer sounds.
If you really must move from this spot - other beaches nearby are Triopetra, Ligres, and the stunning tropical paradise of Preveli Beach.
If you really must go touring, the villages of Kerames, Drimiskos, and Agalianos are nearby, and the villages of Plakias, Agia Galini, Spili and the beautiful Amari valley, which are all nice to explore.
The historic site of Arkadi Monastery is within a comfortable driving distance.
The beauty is that you can return to this quiet beach and relax the evening away whilst watching the sun set into the sea.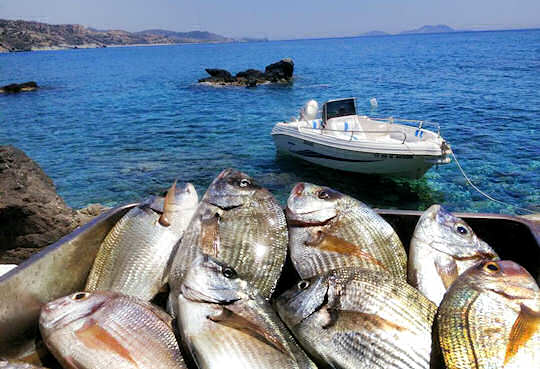 Fresh fish caught today, served tonight at the taverna by the sea near Agia Fotini Beach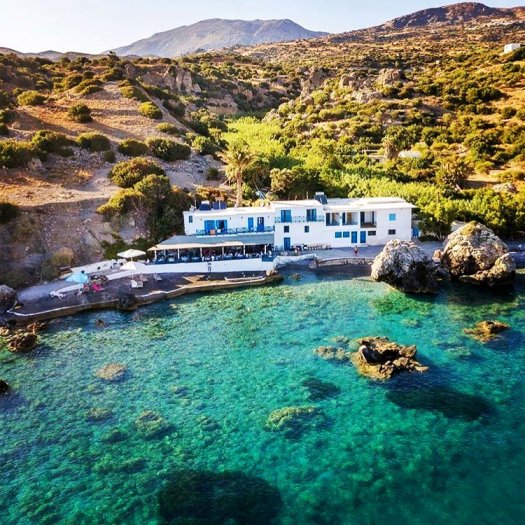 A 'hidden gem' with fresh local fish Αγια Φωτιά Ταβέρνα
---
Getting to Agia Fotini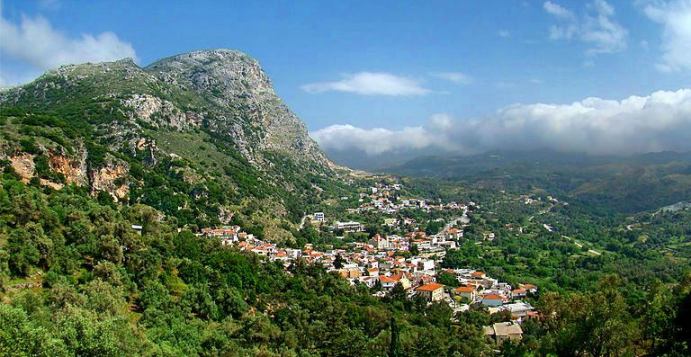 Spili Village is on the way to Agia Fotini
From the town of Rethymnon by car, this is a journey of about 50 km, taking you from the north coast of Crete to the south coast, looking over the Libyan Sea. Leave at least 2 hours for this journey.
From Rethymnon take Kountouriotou Road and turn at the Municipal Gardens south for 'Agia Galini and Plakias'. Then follow markers to Spili, going under the national road, continuing south.

Drive to Spili, this is a good drive of about 28 km. Don't miss the opportunity to stop as it is a very beautiful village (pictured above). Refresh and get more petrol if you need it. Take the signs to Mourne and do not follow signs to Agia Galini. Then follow signs to Kerames.
Keep following the sign posts to the taverna, going through Drimiskos to Kerames. Here you will find a couple of local kafenions, the traditional place for locals to have a coffee, and a small shop for simple needs. Turn right after the sign 'Kerames' and head down the hill towards the sea, this is a tarmac road which forks near the beach, turn left at the fork.
The village of Kerames has cafes and mini marts, but where you are going, you probably won't need them :)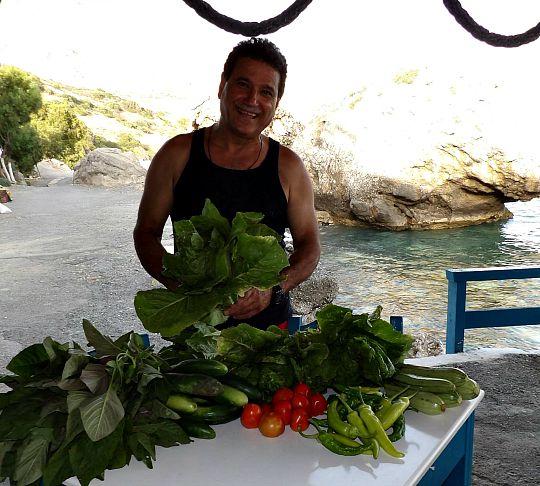 Freshest produce - Stavros and Vicki will look after you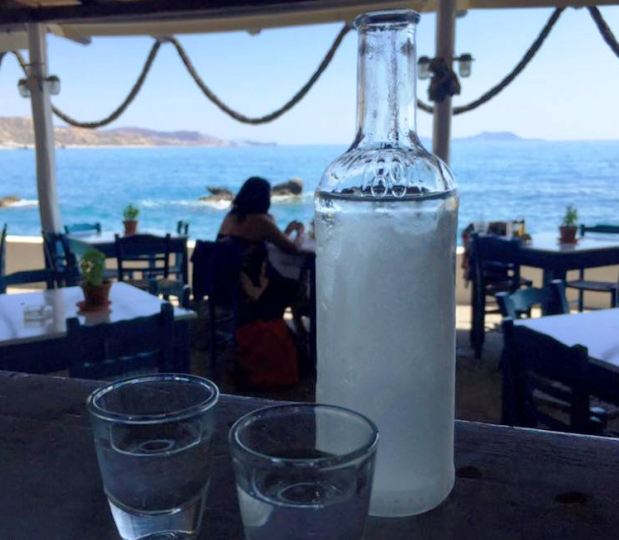 Cold raki by the bay - life is good
---
Accommodation Here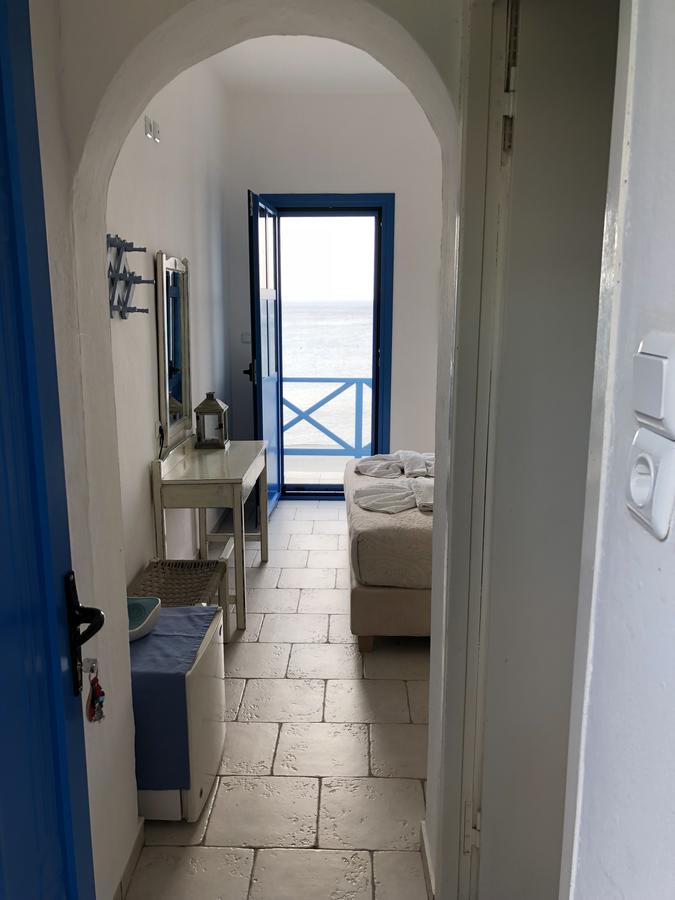 Rooms at Agia Fotia Taverna - real and simple, comfortable double rooms with sea views and just a few footsteps to your breakfast, lunch, dinner and beach. Fall asleep with the sound of the sea. Relax in a tiny hamlet away from everything. Let the blue and white get into your soul. Here you will find the kindness of the Perakis family, a warm welcome, great food, peace and quiet and free wifi. 4 km from Preveli Beach. This location is good for hiking and swimming, snorkelling and being alive.

The small complex of Kionia Apartments are a short walk from the beach, on the hillside overlooking Agia Fotini Beach. These are good self-catering studios and apartments. In this peaceful and remote location the only sound will be the waves on the beach. Uninterrupted sea views from your lovely big terrace. Fresh air and lots of beaches to explore on the south of Crete.

---
Getting to Crete
Take a 1 hour flight from Athens to Heraklion with Aegean Airlines or Olympic Air, with many flights available per day.
Or take a 9.5 hour overnight ferry from Pireaus port of Athens to Heraklion port.
More on flights and ferries below.
When you book with our car rental partners - Rental Centre Crete - you are supporting a local company with excellent service and an easy online booking procedure. We are sure you will be well looked after by Harry and his team. Choose from hybrid or non-hybrid vehicles.
---
Looking Around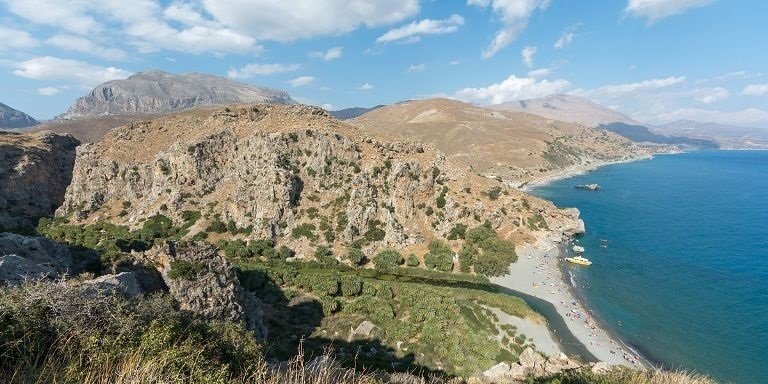 Preveli Beach - nearby you can visit one of the most beautiful remote beaches of Crete, a magical place where the river Megalopotamos comes to the sea, where a natural palm forest has grown, where you can explore and swim and enjoy the expansive views.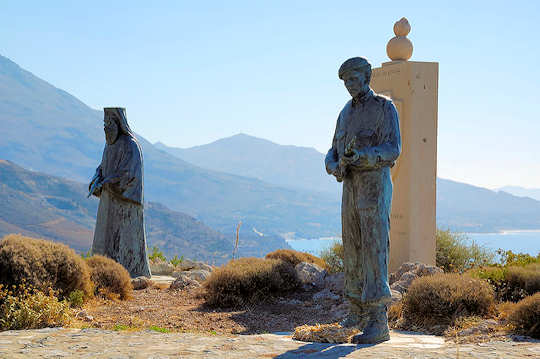 Preveli Monastery & Monument - the history of Crete is wrapped up in the stories at the nearby Monastery of Preveli, and the bravery of Allies and the brotherhood between Cretans and Allies is remembered at this peace monument situated between the monastery and the beach.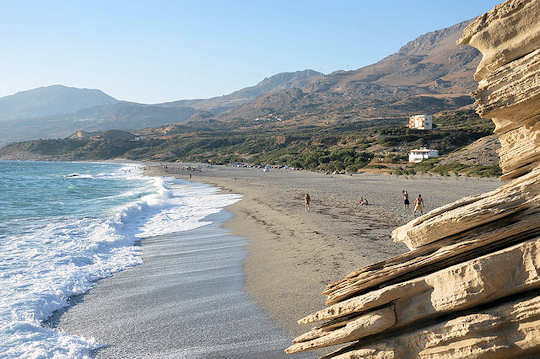 Triopetra Beach - 8 km to the east of Agia Fotini you will discover this wide long sand and pebble beach with its landmark of 3 large rocks - hence the name trio three and petra stones. Try some different tavernas by the beach.

---
On the Map
See Agia Fotini Beach, Triopetra and Preveli Beach in Crete marked on this map:

---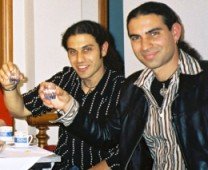 "We trust you have enjoyed these tips from the team at We Love Crete. Evíva!"
Contact us with further questions or feedback. We love to hear about your travels in Kríti and Greece. Let us know of any updates or additions, errors or omissions. Help us make this website the best it can be. Kaló Taxidí!

---