Spili Village Crete

This page may contain affiliate links, see our disclaimer here.

---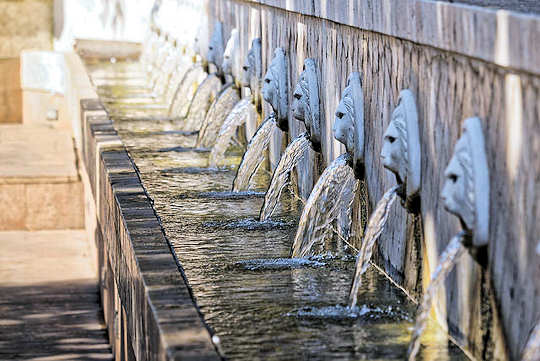 Spili Village Crete - this small village in the is 27 km from Rethymnon town in the region of the same name in the central west of Crete, Greece. The word 'spili' in Greek means 'cave' and it is thought that the village gets its name from local caves.

Spili Village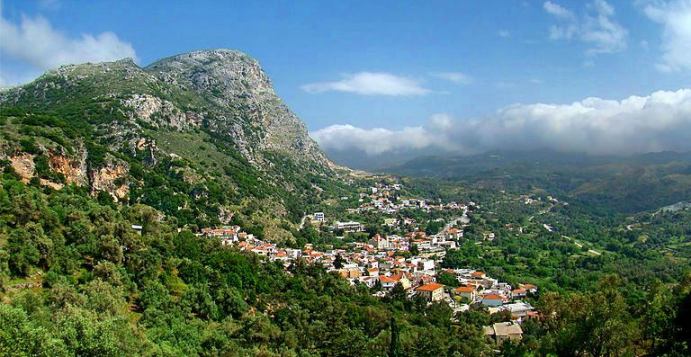 Σπήλι is known for its cooling shady plateias and running waters. The focal point of the village is its 'kefalovrissi' or Lions Fountain, a series of lion heads with lovely cool spring water trickling out of them. On a dry and harsh Mediterranean island such as Crete, you have to understand what a miracle running water is, and natural springs are mothers nature's gifts.

This village of around 800 locals is a crossroads between the north and south coasts, between the beautiful Amari Valley and the beaches of Preveli, Plakias, Agia Fotini,Triopetra and Agia Galini in the south.
Also to the south is the Kourtaliotiko Gorge which leads to Preveli Beach.

Those taking the local buses may need to stop to change buses here, definitely make time to sit beneath the flowing plane trees and drink a local coffee, perhaps a raki and some mezedes next to the gurgling waters.


---
The E4 Walk in Crete Includes Spili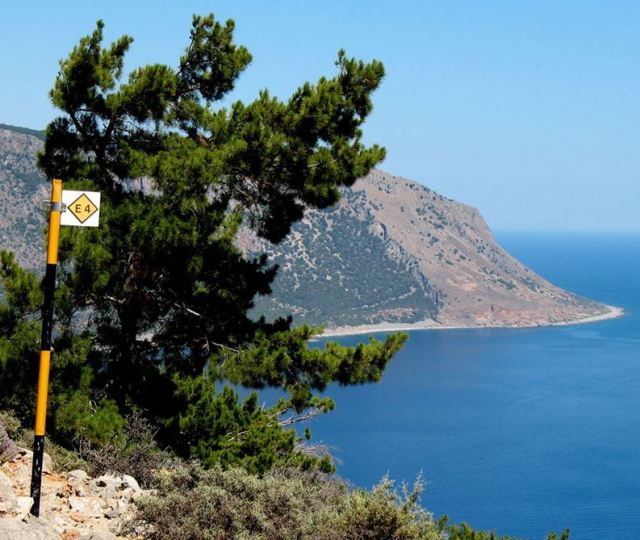 The E4 Walking Path passes through Spili

The E4 Walking Path in Crete is a long path starting at Kastelli-Kissamos in the north-west and ending in Kato Zakros in the south-east of the island, covering 320 km in total and taking in some of the most breathtaking scenery on the island.
The path comes through this village with a 14.3 km section starting in Agouseliana along local roads to Koxare and ending in Spili.
The next day, starting in Spili, walkers hike 18.5 km to Kissos, climb Mount Kedros and walk down Gerakari village.

Remember these tips for walking the path:
take a good hiking map with you
get a good guidebook (see below)

always talk to the locals about the upcoming path

share notes with your fellow walkers
only experienced hikers should tackle the high mountain route

take all your rubbish with you and leave only footprints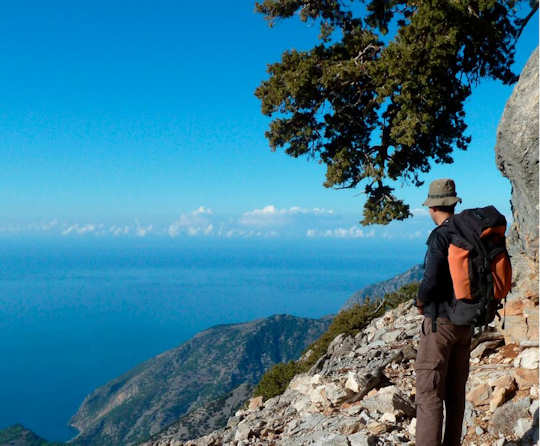 E4 Guide Book - 'The Cretan Way' by Luca Gianotti
This comprehensive guide includes detailed descriptions, maps, travelogue, GPS paths, accommodation information and hiking tips for trek, written in east to west by a world walking expert hiker with a passion for paths.
---
The Amari Valley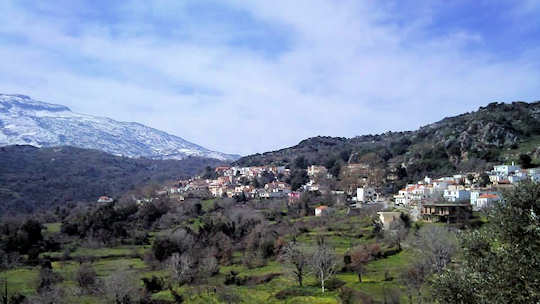 The abundant Amari Valley lies at the heart of Rethymnon in the centre of Crete

If you take the main road from Rethymnon to Spili then on to Agia Galini on the south coast, you will miss this valley.
To see the valley, turn at Spili towards Gerakari and make your way through the various small villages with interesting discoveries at every turn. Leave a full day to expore.
The green Amari Valley runs west to east along the Platys river at the foothills of Mount Ida and Mount Kedros. Mt Ida is also known as 'Psiloritis' or 'the tall one', and is the highest mountain in Crete. The run-off from melting snow on these mountain ranges causes streams and rivers to run with fresh water and springs also feed the waterways in many locations.
This area is to the east of Spili and Patsos and contains the villages of Apostoli, Vistagi, Apodoulou, Gerakari, Thronos and Kamares. The water rich area means plenty of agriculture, fruit trees and all sorts of berries and nuts, as well as sheep pastures, goat runs and bee hives. 
As a rich land, it has been inhabited since ancient times, and history lovers will find many, many sites to visit of different epochs and cultures including Minoan, Roman and Byzantine. These sites, as well as the stunning mountainous scenery, as reason enough to visit the area.

Springtime is wonderful here as the wildflowers are plentiful and the pastural fields are abloom with flowers.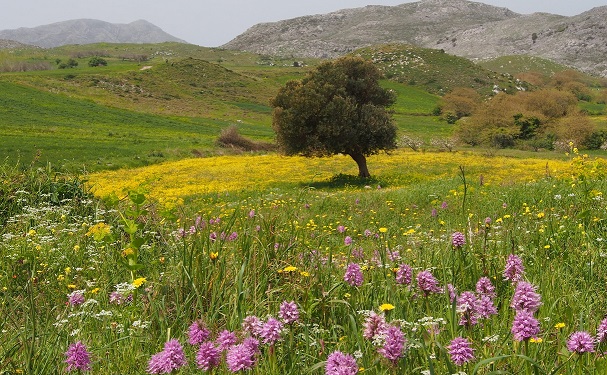 The Amari Valley is covered in wildflowers in spring
---
Accommodation

There is good accommodation in the village itself, as it is a completely natural traditional village. Other accommodation is available in the countryside and at Rethymnon and villages dotted around the Amari Valley.

Aoritis Villas in Lampini village, 5 km from Spili, are made of traditional stone and set amidst olive trees, cyprus and vineyards overlooking the Amari Valley.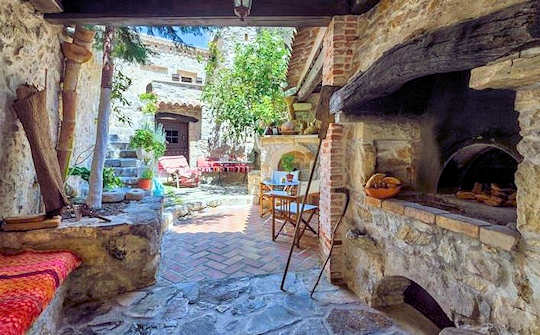 Meronas Eco House is located 15 km from the village on the outskirts of Meronas. Manolis and his family have restored this old village home with loving care and invite guests with the same love and care to share their way of life and village seasons. With beamed ceilings, large open fireplaces and rustic courtyard, you will be relaxing and drinking the local wine in no time.

The Kyveli Villas 30 km north of the village are wonderful traditional buildings spaciously designed as accommodation for 7 guests in each villa. Surrounded by cyprus and oak forest and green spaces, this is a tranquil retreat close to Prines village and Rethymnon town, perfect for exploring the region, or enjoying the organic herb and vegetable gardens.

---
Tavernas & Restaurants


Dine looking over the bay of Plakias

There are quite a few tavernas here serving traditional Cretan food for the many travellers on the road from Rethymnon to beaches on the south coast.

Restaurants in or near Spili:
To Sideradiko - traditional food
Yiannis Taverna
Cafe Plateia - next to the water fountain

Tavernas near the coast:
Taverna Mariou - a great view over the bay of Plakias
Taverna Plateia in Mirthios - another great view and meal

Agia Fotia Taverna - great for fresh seafood in a quiet setting

Paligremnos Taverna by the beach
Gioma Taverna on the seafront at Plakias

Taverna views over Plakias Bay on the south coast
---
Exploring Central Crete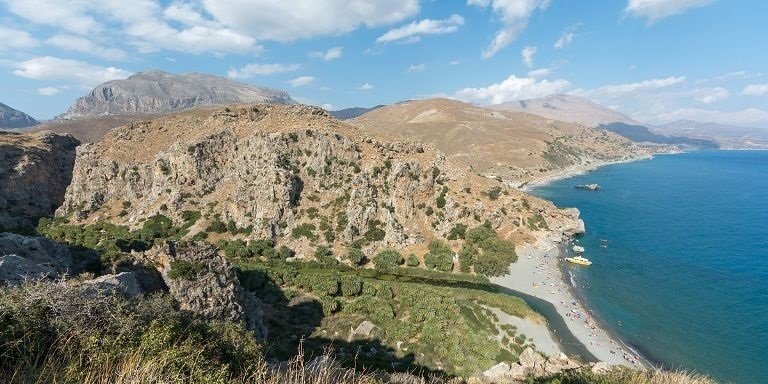 Preveli Beach has a hidden palm forest where the mouth of the gorge meets the sea

The region in the central west of Crete is named Rethymnon and holds some of the most historic sites of Crete, with so many mountains, gorges and beaches to discover. There are rocky cliffs and crevasses, forests to walk in and beautiful beaches to lie on, as well as the Venetian historic old town of Rethymnon.

Some highlights of the region, not mentioned above, include:
Melidoni Cave

Preveli Beach (pictured above) and Preveli Monastery

---
On the Map

See the location of this village on this map, in the central-west of Crete.


Pre-Book your day tour to Preveli Beach here
---
Getting Here
The easiest way to get here is to take a hire car and drive from the town of Rethymnon on the island of Crete.

Information for car rental in Crete here

To get here more independently, fly from Athens to Chania, hire a car and drive for about 1 and a half hours, a total of 89 km. If you would like to drive to Rethymnon town first, the road takes you very close, and the trip would be 96 km.
Car hire in Crete is a really good idea as it is a large island 60 km by 260 km. There is so much to explore.
When you book with our car rental partners - Rental Centre Crete - you are supporting a local company with excellent service and an easy online booking procedure. We are sure you will be well looked after by the team. Choose from hybrid or non-hybrid vehicles.
---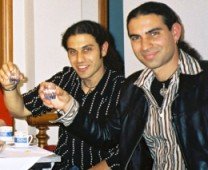 "We trust you have enjoyed these tips from the team at We Love Crete. Evíva!"
Contact us with further questions or feedback. We love to hear about your travels in Kríti and Greece. Let us know of any updates or additions, errors or omissions. Help us make this website the best it can be. Kaló Taxidí!

---