Dakos

This page may contain affiliate links, see our disclaimer here.

---
Cretan Rustic Salad

Κρητικός ντάκος - one of our favourites. Dakos, whether you eat it for breakfast, lunch or as a snack any time of the day, is always wholesome and filling.
To make dákos you start with bread rusks. We like the traditional barley krithári or wholemeal olikís alésios rusks with their chunky texture and wholesome flavour.
The word ντάκος comes from the way the bread is prepared. This is slicing the bread loaf three quarters of the way through and then baking.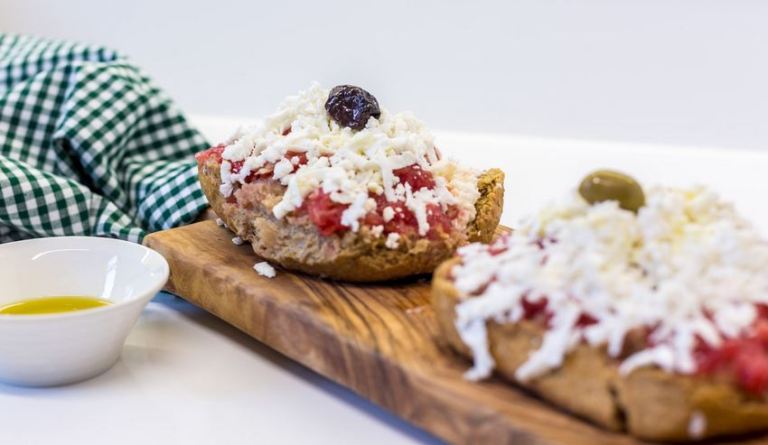 Dakos Rustic Salad - Crete
Bread rusks paximádia are enjoyed throughout Greece. Traditionally in Greece paximádia are made by cutting slices from a loaf of fresh home-made bread and then baking them again in the oven till crunchy.
As you can see dako and paximádia are very similar, the difference being how they are cut before they are cooked.
Drizzle a little water on the rusks to soften, then pore plenty of Cretan olive oil over them. Grate fresh garden tomatoes directly onto the rusks and add crumbled feta cheese and onion rings.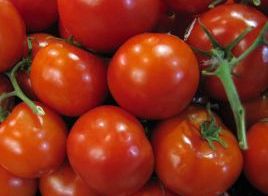 This is one way to make ντάκος. Another is ντάκος salad. Use the same ingredients; however, place them all in a nice big salad bowl. Of course, adjust the ingredients to the number of people that you are entertaining.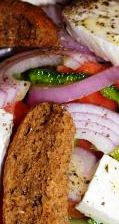 Once baked, the rusk can be broken from the loaf and used as desired. A basic favourite is water drizzled ντάκος rusk dowsed with olive oil and sprinkled with fresh oregano picked from the garden, accompanied with olives on the side and of course a glass of dópio local wine or icy cold ouzo.
Kali Orexi !! Καλη 'Ορεξη !!
Ingredients:
paximádia - rusks
tomatoes
feta cheese
onion
oregano, salt and pepper to taste

extra virgin Cretan olive oil 
If you can't find rusks... use nice thick rye bread or wholemeal bread or get the authentic Cretan rusks online here
To get your beautiful Cretan olive oil shop online here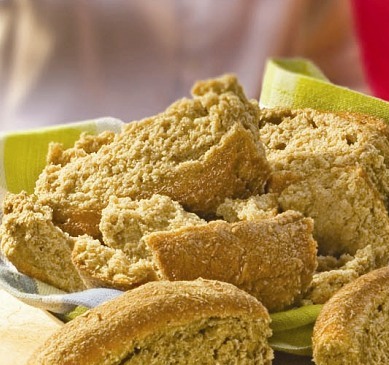 ---
Where to eat Dakos in Crete
The best dakos in Crete is ...everywhere! We cannot choose just one! The best dakos in Crete is eaten with friends on a beautiful day when life is flowing, food is flowing and yes! the wine is flowing. Of course you will want to be happy and healthy and have some great conversations as well, isn't that so?
So we thought we would point you in the direction where all these elements might come together, in a really great taverna in Kriti!
Chania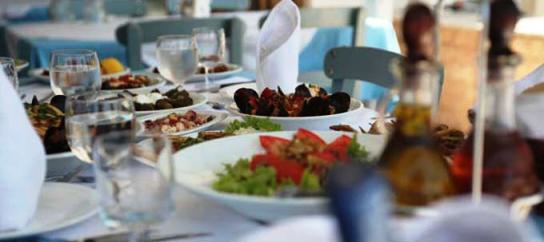 Dakos is yummy at Akrogiali Taverna in Chania, especially as this is the view you will see and the beach you will be on...see below...hang on...we are going to need a bigger table please!
After walking around the narrow streets of the old town of Chania and enjoying the Old Harbour, walk west around the point past the Maritime museum and promenade past the sailing club around to Akti Papanikoli. Here you will find this wonderful spot to sit looking over the sea, away from the hubbub of the centre of town and the Old town.
There is a narrow road between this taverna and the beach, however there are some beach side tables, so book ahead.

Enjoy your dakos salad with other mezedakia - fried whitebait, taromosalata, tzatziki, dolmadakia, gemistes, sardines and octopus.
Dont forget to choose a local wine from Crete - best to chat to the locals and ask their suggestions.
Kali orexi! Καλή όρεξη!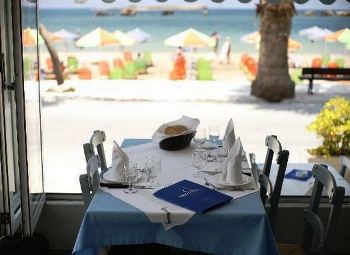 ---
Rethymno
For a fresh dakos from locally grown ingredients...we mean grown in the fields around you...and a true organic farm experience, we can suggest the romantic and beautiful farm restaurant at Agreco Farm in the countryside in Rethymnon.
There is so much to see here, it is a real earth to plate experience, with local guides, and involvement in all the processes such as bread making and grain milling.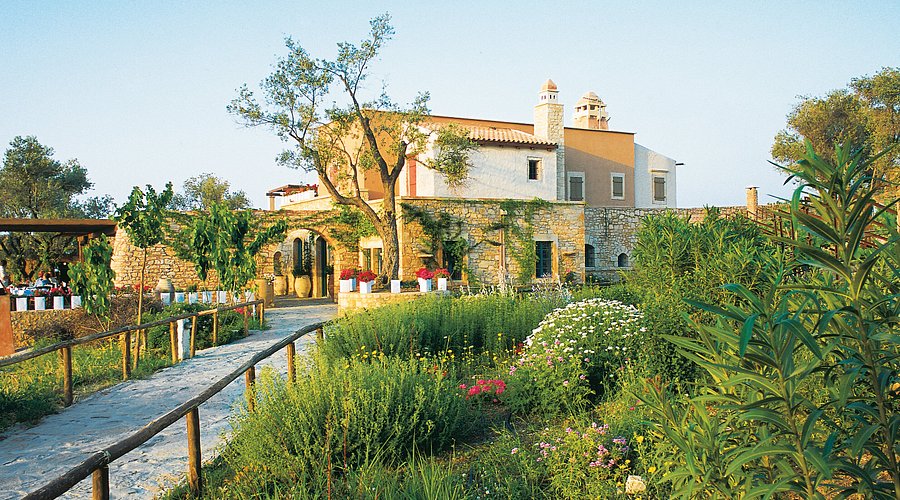 The farm is located just 7 km east of Rethymnon town and we cannot say enough how beautiful it is to see so much traditional culture and emphasis on locally grown ingredients. This farm is the source of inspiration and produce for the luxury Grecotel accommodation houses, they have invested in the creation of a 'fairytale farm' (above).
The taverna is open from May to October and it is best to phone ahead to make a reservation.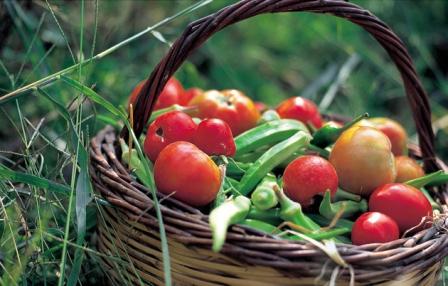 ---
Heraklion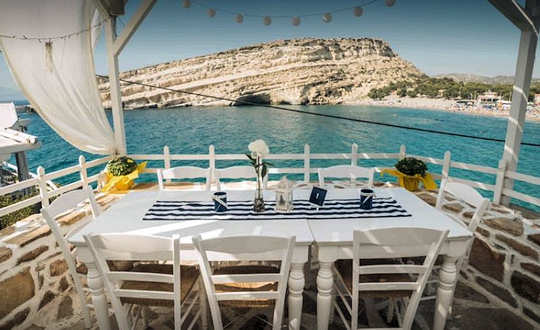 Head down to the south coast of Heraklion to Matala Beach where you will find Scala Fish Bar Restaurant. This lovely taverna has a beautiful wide view of the bay, the caves of Matala and the beach and serves local food with a modern touch, great seafood and plenty of entertainment.
Matala is located 65 km south of Heraklion by the national road, take your time to visit Knossos, Phaistos and Gortyna on the way to work up an appetite for Scala.
Swim in the clear waters of Matala Bay, or at nearby Red Beach, Kommos Beach, Kalamaki Beach or Kokkinos Pirgos Beach.
Snorkelling, boating and swimming are great here and all along the south coast, the waters are chrystal clear and the local fish are delicious. Start your meal with dakos while choosing the freshest fish of the day and your local Cretan wine. Heaven.
Phone ahead for a reservation in summer season.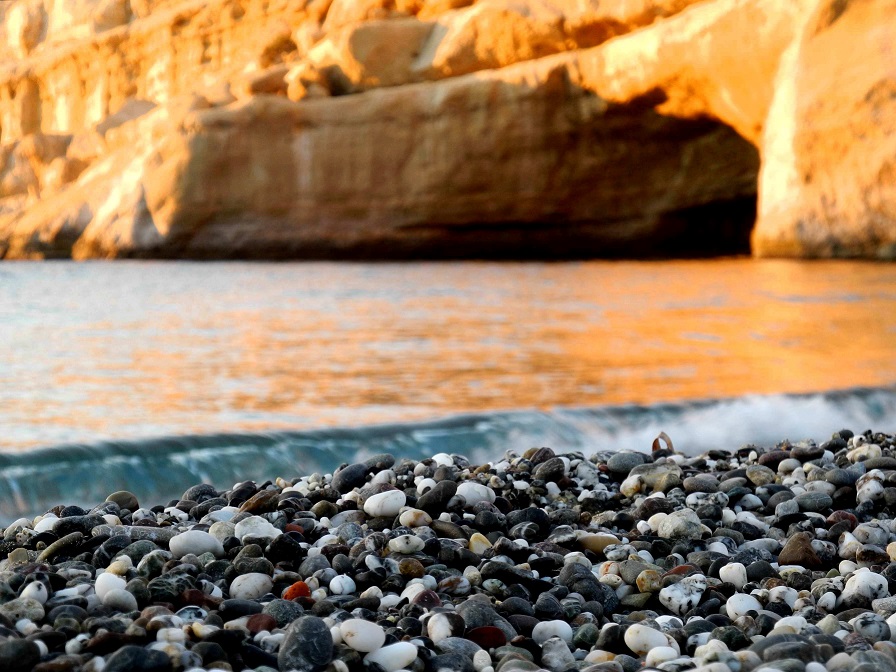 ---
Lasithi Plateau
The ντάκος is delicious at Seli Ambelou taverna which overlooks the Lasithi Plateau in the central-east of Crete. The taverna is named after the pass which must be traversed when climbing up from the coast over the hills to get to the plateau.
This plateau is remarkable for its fresh produce, being one of the 'food baskets' of Crete for centuries, and famous for its white windmills which in times past were used to pump water through the irrigation channels for the crops.
On this site are the ruins of 24 windmills and a couple of restored windmills, and of course the taverna which serves traditional Cretan food, including dakos salad.
Visit this taverna before or after you visit the Psyró cave, for sustenance and energy for exploring the ancient sites of the Dikti Mountains and breathing in all that fresh air!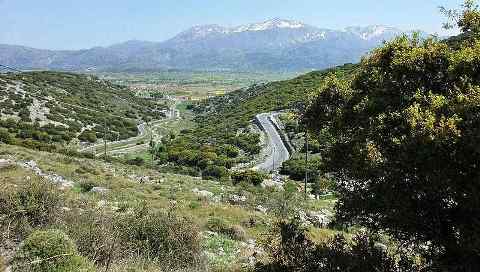 ---
Getting Here
Take a 1 hour flight from Athens to Heraklion with Aegean Airlines or Olympic Air, with many flights available per day.
Or take a 9.5 hour overnight ferry from Pireaus port of Athens to Heraklion port.
More on flights and ferries below.
Car hire in Crete is a really good idea as it is a large island 60 km by 260 km. There is so much to explore.
When you book with our car rental partners - Rental Centre Crete - you are supporting a local company with excellent service and an easy online booking procedure. We are sure you will be well looked after by the team. Choose from hybrid or non-hybrid vehicles.
---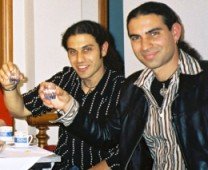 "We trust you have enjoyed these tips from the team at We Love Crete. Evíva!"
Contact us with further questions or feedback. We love to hear about your travels in Kríti and Greece. Let us know of any updates or additions, errors or omissions. Help us make this website the best it can be. Kaló Taxidí!

---