Heraklion Area
Beaches & Ancient Sites

This page may contain affiliate links, see our disclaimer here.

---
Crete Travel Questions & Answers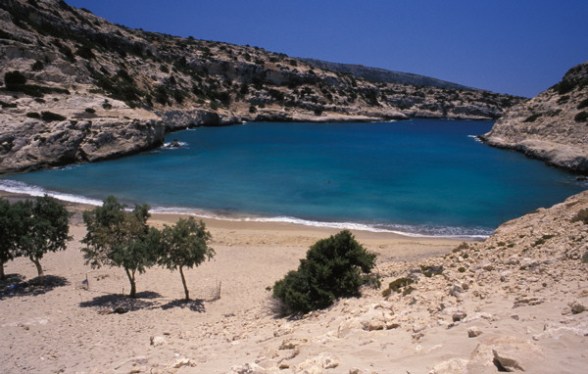 Heraklion Area Beaches in central Crete, Greece. Easy to get to, close to the international airport at Heraklion in the centre of the island, the beaches in this part of Crete are spectacular.  Ancient sites, mountains, trekking, walking, history and exploring are all on the menu in this diverse region.
---
---
On the North Coast
| | |
| --- | --- |
| | To get to the sights and beaches on the north coast of Crete, take the relevant bus from Bus Station A which is near the port on the north side of town. |
Ammoudara Beach - 7 km to the town beach, west of Iraklion, with many cafe bars and good swimming.
How to Get to Ammoudara Beach - we answer our visitor's question.

Kato Gouves Beach - a town beach to the east of the city,  18 km from town.
Anissaras Beach - a busy resort beach 25 km east of the city.

Agia Pelagia Beach - just 23 km from Heraklion town on the north-west coast, a busy seaside village with many beautiful bays, crystal clear waters good for diving and many hotels, tavernas and cafe bars right by the water.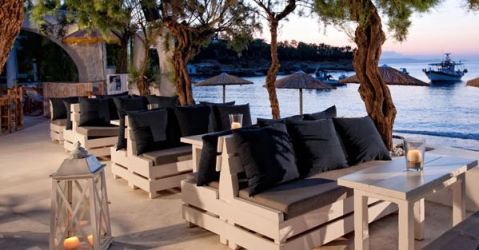 Almyra next to Agia Pelagia Beach
---
On the South Coast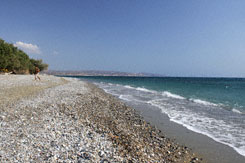 Heraklion Beaches
To get to Heraklion beaches on the south coast of Crete, take a local taxi for less than 3 Euros to Bus Station B, at Chanio Porta, on the south side of town. Some buses change at the market town of Mires. Take care to listen to instructions about which side of the bus station you bus leaves from. Of course, a car is very handy to make the most of exploring.

Instructions re bus stations here...

Kokkinos Pirgos - 70 km - a pebbly beach at the south of Heraklion near Timbaki, close to Matala and Agia Galini, there is a great seafood taverna right on the beach

Matala Beach - 75 km - a very unusual rock formation makes this beach special, as well as its history. Hippies came here in the sixties and seventies, living rough in the sandstone caves. In modern times, a music festival has enlivened that same feeling - held every summer on the beach. Nearby are the beaches of Kommos, Red Sand Beach and Vathi Beach.
Keratokambos Beach - 100 km - a wild beach to find some air and get the wind in your hair.
---
Explore Heraklion Area
Beaches & Ancient Sites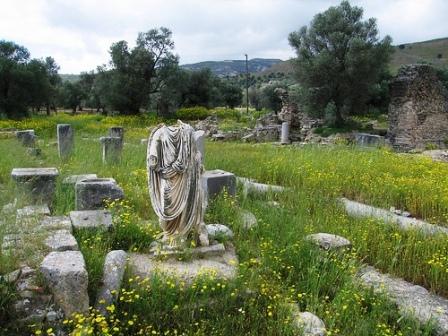 Heraklion Area
Minoan Palace of Knossos - just 5 km from town, the most spectacular historical sight on the island, dating from around 2000 BC...
Minoan Palace of Malia - 40 km east of town on the north coast, one of the four principal Minoan palaces on Crete...
Mountain Village of Zaros - 44 km south of town, relax in the fresh air in the foothills of Psiloritis mountain range...

Ruins of Gortyna - 50 km south of Heraklion near Agioi Deka, Roman ruins which are exciting to explore and much less crowded than Knossos...
Minoan Palace of Phaistos - 62 km south of Heraklion, south of Mires in the Messara Valley, take the bus from bus Station B and Mires, be sure to check opening times as they vary from season to season, this site is also much less crowded than its sister Knossos Palace...
How do I get the bus to Matala Beach for the Sea Turtle project?...we answer this question for a volunteer...


---
Hire Car Itineraries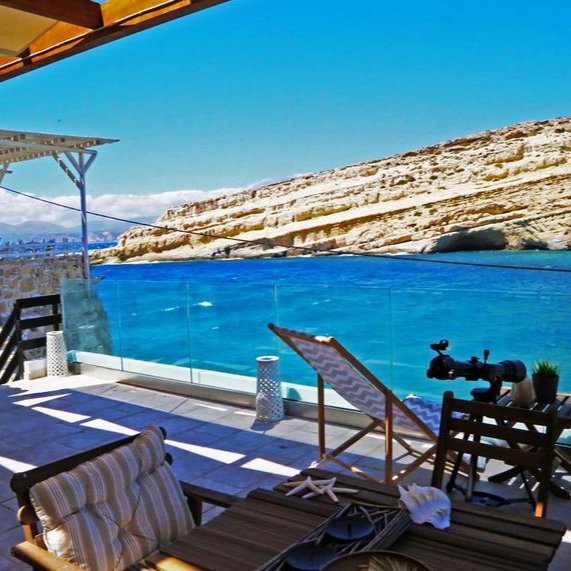 Q&A for independent travellers visiting the Heraklion Area beaches and ancient sites.

Ancient sites in Heraklion - pick up at airport or town

Pick up in Heraklion and Drop off in Chania - a short itinerary by car in Crete, see Rethymnon, Arkadi Monastery, Amari Valley, Lake Kournas, Georgioupolis Beach...
A Meditation Trip to Crete - a group of 7 explore the ancient sites of Crete, especially Gortyna, Phaistos and Knossos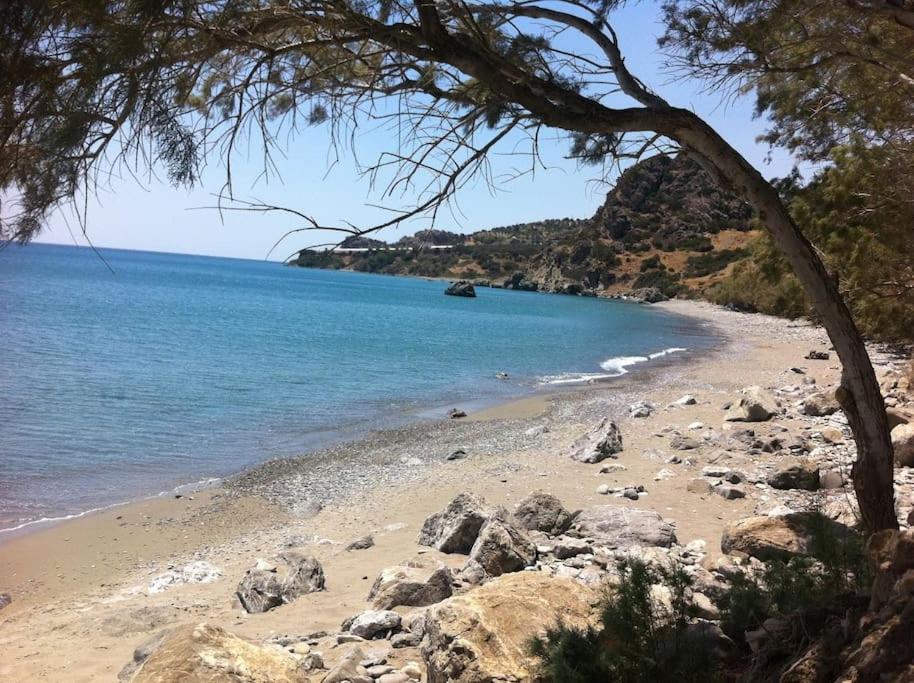 ---
Do you have Tips or Questions for Travel in Heraklion, Crete?
Do you have a secret about beaches in Heraklion, or a tip for other travellers? Or perhaps a question that is not answered here?
What Other Visitors Have Said
Click below to see tips and questions from other visitors to this page...

---
Getting Here...
Heraklion Area Beaches and Ancient Sites - arrive from European capitals or via Athens into Heraklion International Airport with code HER.
Or take an overnight ferry from Pireaus Port of Athens, a 9 hour trip.
Fast ferries also arrive from Santorini in the evenings, the trip takes less than 2 hours, details below...

---