Meditation Trip to Crete

This page may contain affiliate links, see our disclaimer here.

---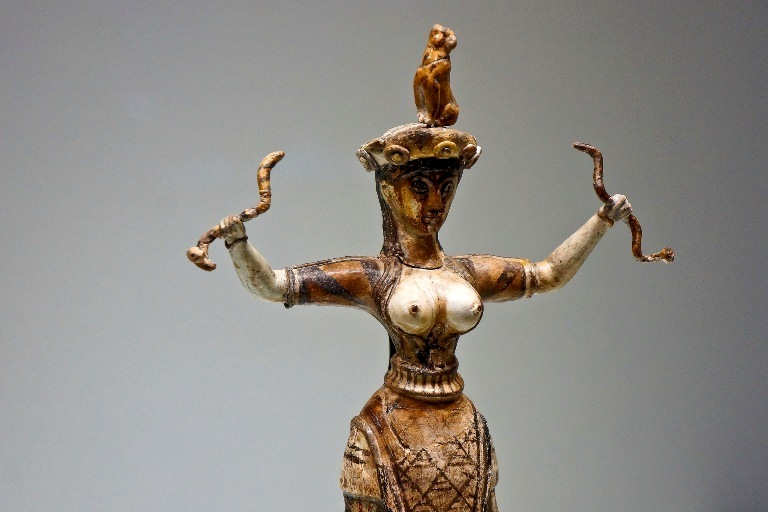 The ancient Minoan snake goddess of Crete
Meditation Trip to Crete – a Question from Cherry in Australia

Hi, what a fantastic site!! I wish you well with this. I'm really hoping you can help me, I've never been to Crete before and I am bring a small group of meditators with me in May this year.
I would like some help with my itinerary that I am putting together for my meditation group. I would really appreciate the help as I normally only take groups to Egypt, but this year is it is important to be in Crete at this particular time. A driver would be a godsend too.

There won't be more than 7 of us and I am expecting it is going to be a bit of an adventure.

I have booked accommodation from May 1 to May 8. Not a lot of time, but I can extend it. The thing is I am now realising that to stay in one place might be a bit of a problem so looking for suggestions.

The places we will be focusing on are - Lissos in Chania, Gortys, Knossos, Levina and Phaistos, with some nice walks and beaches in between as well as time to enjoy the beauty of the old towns etc.

With a group this size, what is the best way to travel, is it possible to hire a mini-van and is there good transport system? Dates are not concrete yet, so we are flexible with time-frame.

I hope you can help,
Thank you in advance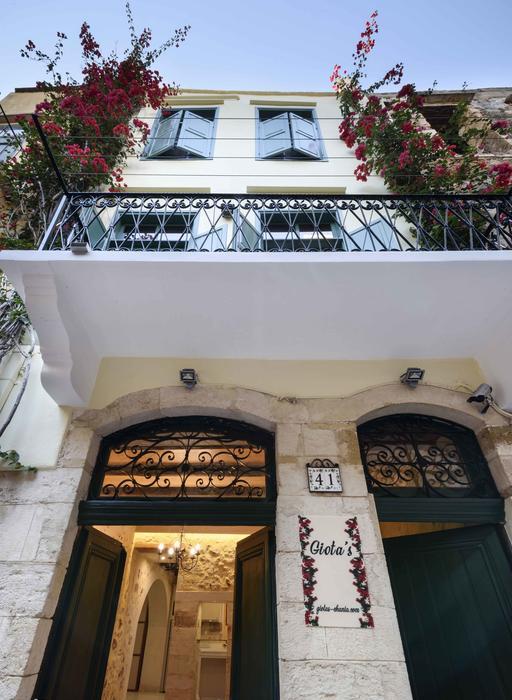 Giotas Studio in the charming old zone of Chania
---
Trip Summary

Yiasas Cherry,

Thanks for writing to the team at We Love Crete.

We are glad you have asked for a detailed suggestion and we are happy to suggest a guide for your meditation trip to Crete.

With a group we suggest it is best to make all the arrangements via one travel agent as this can be very detailed and if something goes wrong and flights and accommodation need to get changed, it is best if they can do it all for you. Of course it is up to you and you may have your own local travel agent.

We have a suggested itinerary below, which takes you off the beaten track to nice quiet places with nature and greenery, and enjoy the history and the beach...and all the meditation spots you mentioned. This is just a suggestion and you may vary it as you might feel.

Our solution is to hire a driver-guide, as this will enable you to see the rural and mountain roads without worry. To arrange a driver please speak to George, a private guide in Crete.

Yes, for a small group such as this a mini-van would make sense. In this way the guide could talk to you all, if you took two taxis each time, half the group would miss out on the narration and information.
Meditation Trip to Crete, Greece - Flights
For this idea of an itinerary we suggest you fly with your group from Athens directly to Chania airport as this will put you closest to Lissos, your first destination. Then on the way back, fly from Heraklion to Athens.

From Athens ATH to Chania CHQ in May flights depart 4 times per day with Aegean and the flight duration is 50 minutes.

From Heraklion HER to Athens ATH in May flights depart 8 times per day with Aegean Airlines and the flight duration is 50 minutes.
Accommodation
The two villas featured below will fit your group, however, depending on the make-up of the party, you may need to utilise both so that everyone can have their privacy. Both houses are on the outskirts of Pitsidia Village, a traditional village which will provide a wonderful base for your meditation trip to Crete.
---
Lissos is a quiet, beautiful natural place to meditate (image credit: Mark Latter)
A Specialised Itinerary

Meditation Trip to Crete
Day One - 1 May
Arrive Chania Airport
Transfer to Sougia (75 km) at least 2 hours
Meditation at the beach/ancient site
Stay in Sougia
Stay at Santa Irene pension - right on the beach

Day Two - 2 May
Walk to Lissos (1.5 hours each way)
Meditation at Lissos
or arrange a local boatman to take you there (Captain George)
Picnic at Lissos or lunch in Sougia
Drive back to Chania town
Stay in Chania Old Town
Stay at Giotas Studio

Day Three - 3 May
Drive from Chania to Pitsidia 140 km
Take the route through the Amari Valley
Lunch in Amari valley
It would be optional to stop in Rethymnon and see the beautiful old town
Meditation in the mountains en route
Allow 3 hours for this drive without stops
Stay just outside Pitsidia
Stay at Villa Orelia or Koronio Villas

Day Four - 4 May
Visit and meditation to Gortys archaeological site
60 km round trip
Beach nearby at Matala
Stay just outside Pitsidia
Stay at Villa Orelia or Koronio Villas

Day Five - 5 May
Visit and meditation Phaistos archaeological site
18 km round trip
Beach nearby
Or visit Gortys and Phaistos on one day and create a rest day
Stay just outside Pitsidia
Stay at Villa Orelia or Koronio Villas

Day Six - 6 May
Visit and meditation Levina archaeological site behind Lentas Beach
70 km round trip
Stay just outside Pitsidia
Stay at Villa Orelia or Koronio Villas

Day Seven - 7 May
Visit and meditation at Knossos Palace
135 km round trip
Stay just outside Pitsidia
Stay at Villa Orelia or Koronio Villas

Day Eight - 8 May
Drive to Heraklion Airport 70 km
Depart from Heraklion airport


All the meditation locations in Heraklion can be reached from Pitsidia and this could be your base, however you could choose to stay near the beach at Matala (a bit busier). A cheaper option is a small pension there; Nikos Hotel and the family will look after you.

This would be a nice quiet location (leafy garden) in Matala which is a little built up, but is still an extraordinary beach with a very special energy, in May it is unlikely to be overcrowded.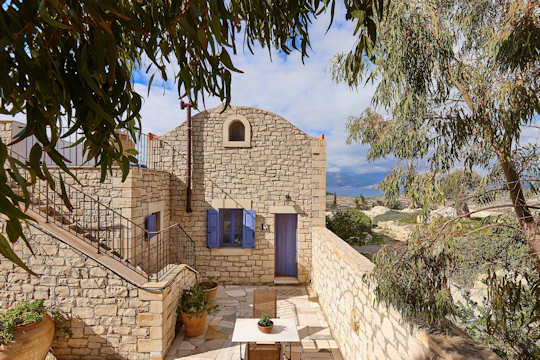 Orelia Villas in traditional style
Koronio Villas - garden
Koronio Villas - view
---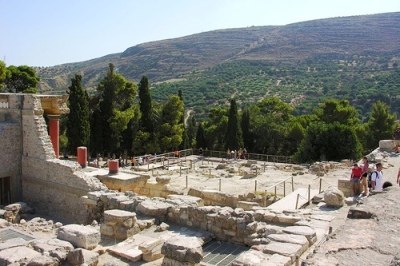 Meditation Trip to Crete - Knossos Crete
Meditation Trip to Crete
More Information

Lissos is a breath-taking sight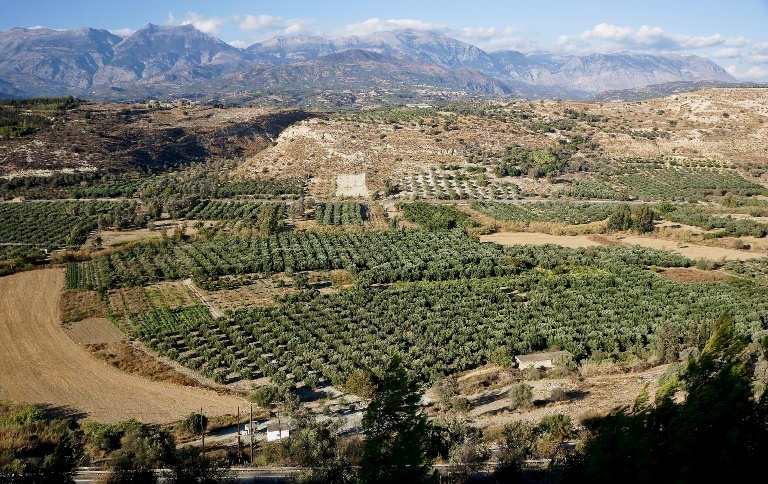 The view from Festos or Phaistos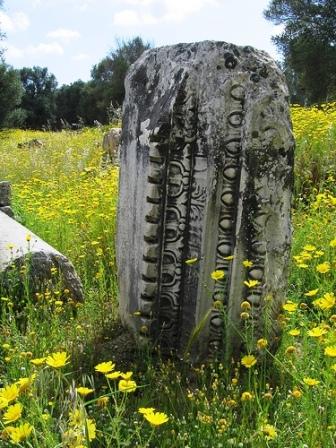 Feel the history here at Gortyna on a meditation trip to Crete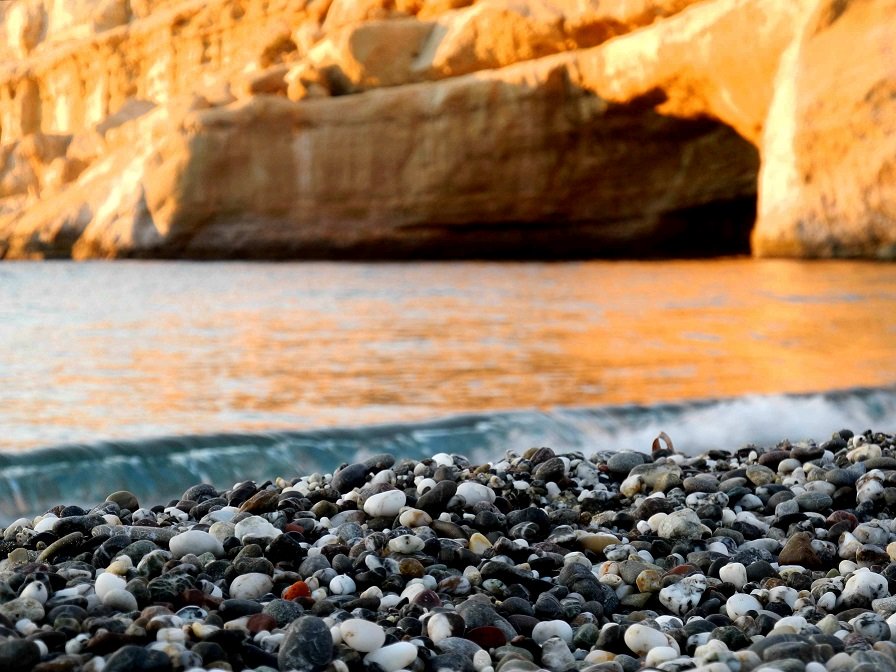 Matala Beach with its caves attracted hippies in the 60s (image by Mark Latter)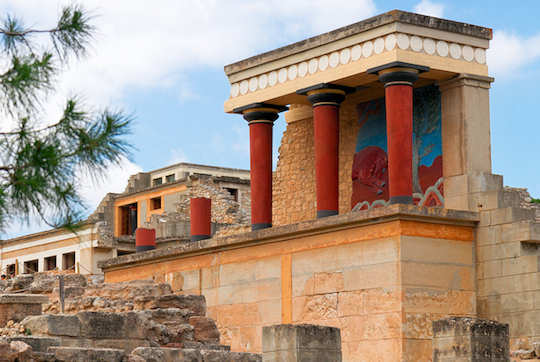 The Knossos propylaeon or entrance gate with reconstructed fresco