Where to Stay in Chania

This page may contain affiliate links, see our disclaimer here.

---
Enjoy the Old Town

Where to Stay in Chania - if you are planning to stay in town, we recommend the old zone, where you will find many pensions and studios with character - oozing with history. You will be a stone's throw from the harbour and can explore the tiny lane ways.
Find your accommodation with an easy-to-use search box which brings back great deals and has a safe booking system.
---
Where to Stay in Chania
We have chosen beautiful small guesthouses in the old town for every budget.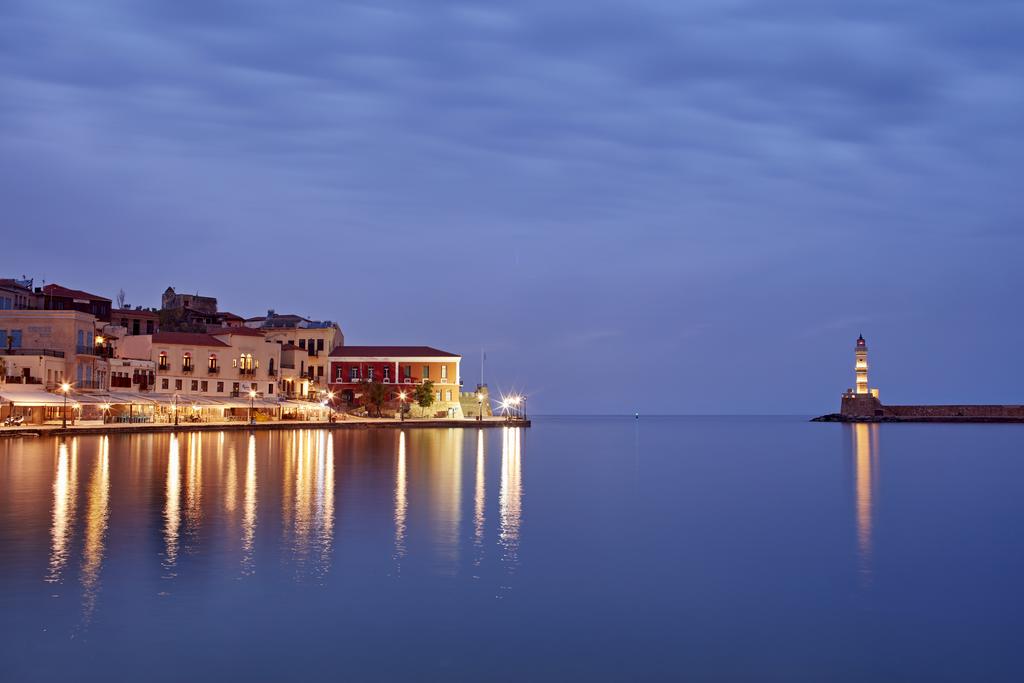 The romance of the Chania harbour at dusk
---
Where to Stay in Chania

Where to Stay in Chania - Villa Venezia, with a fantastic location directly overlooking Chania harbour, this small family-run pension represents good value for the old quarter of Xania, with cafes and shopping at your doorstep.
The sounds from the outdoor cafés and tavernas can be a little loud in summer, and this is a very heavily booked part of Chania in the busy season, so book ahead. There are only four rooms available, so you get individual service.
36 Akti Koundouriotou St, Old Town
---
Where to Stay in Chania - Madonna Studios are located behind the Maritime Museum, close to the beautiful Venetian harbour yet in the quiet back streets.
This is a homely place that is comfortable to come back to after a long day's exploring and walking.

A small, family-run place with only 5 rooms, you will certainly get personal service here from the friendly owner, Thomais. The original building dates back to 1252, rooms have balconies and plenty of light. An excellent budget choice in the old zone, with tips and local knowledge from your warm hosts who know the town well, and tasty home-made treats! A home away from home!

33 Antoniou Gamba St, Old Town
Hotels Chania - Pension Eva is tucked into the quieter back streets of the old quarter, a little away from the hustle and bustle, yet surrounded by interesting art and jewellery boutiques. You can see it here in the little lane way... with the dark blue door, and the snake in the garden of Eden on the sign.
This is a lovely little pension with only four rooms and a relaxing rooftop lounge, in a beautifully renovated characteristic building. Pension Eva represents very good value for the popular old quarter of Xania. In walking distance from the limani, the maritime museum and located right on Zambeliou Street. Voula and her family will look after you, this is a very clean and character-filled pension in an ideal location, on one of the best pedestrian shopping streets in the old zone.
60 Theotokopoulou St, Old Town


Hotel Helena is a small hotel of seven rooms with views over the harbour in old Chania town. The owner is very helpful and these rooms are clean and comfortable. The location is sublime, the blue harbour twinkles so close and the cafés beckon. This hotel again represents very good value in Chania and local character. Good accommodation in Crete.
1A Parodos Theotokopoulou St, Old Town
---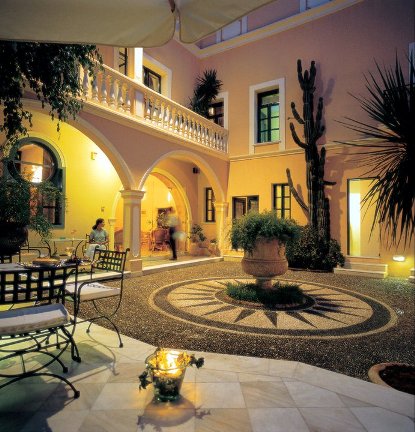 Casa Delfino - this former mansion dates from 17th century. It has been restored and converted into an exclusive hotel with exquisite taste. From the mosaic in the courtyard, to the rooftop terrace with beautiful view over Chania harbour, everything is quality at Casa Delfino.

Tucked in behind the harbour amongst the narrow streets of old Chania, the Delfino is a twist and a turn only from the harbour with its endless ribbon of cafes and tavernas by the waterfront. With only 24 rooms and suites, this really is a peaceful piece of paradise, so stylish it has been visited by royalty such as Queen Sofia of Spain.
---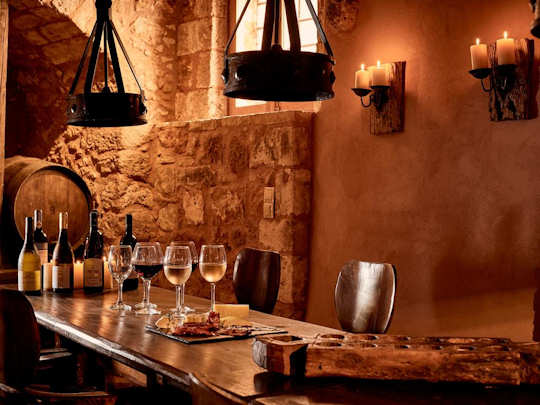 Relax at the bar inside the Domus Renier Boutique Hotel
The luxury of the 9 suites of the Domus Renier Boutique Hotel is by design. It is also a function of the location, art, architecture and atmosphere of this gorgeous small hotel.
Allow yourself to feel the years of history intertwine in this restored old-now-new town house, previously owned by the Renier family of Venice. Ask for a harbour view room.

41-42 Akti Kountourioti, Old Town



---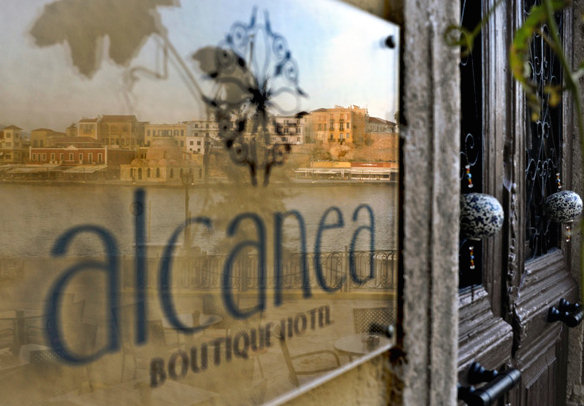 Alcanea Boutique Hotel, Chania Harbourside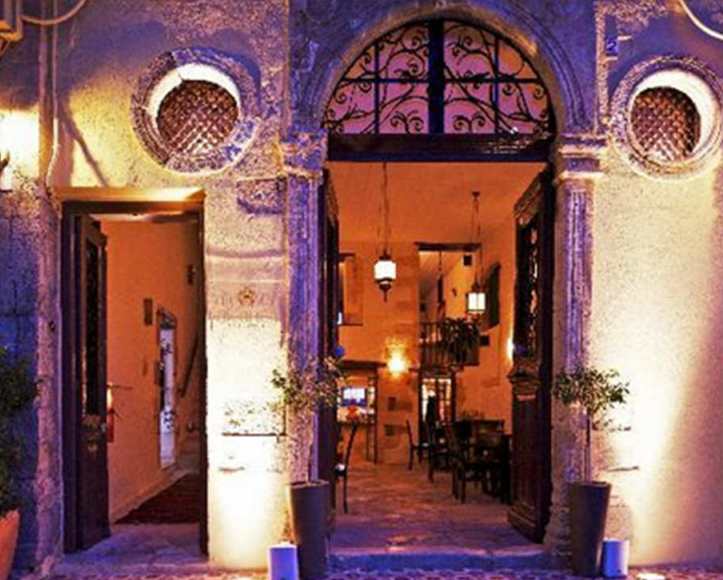 Alcanea Boutique Hotel - with its own restaurant and bar, this makes for a romantic place to stay by the bayside of the old port of Chania. Gaze at the reflections on the water over a slow drink and a long conversation.
A convenient location along the promenade of the limani, close to all tavernas, clubs and cafe-bars of the old town, this historic building is over 400 years old and a delight to the eye. Views over the harbour and the lighthouse are perfect from here. If you don't like the hustle bustle of the port-side night life, don't worry as the double glazed windows keep the noise down.
Receive a delicious continental breakfast every morning and good advice on what to see in Chania town and region from friendly staff. Wow. What a find in Chania.

2 Aggelou Street


---
On the Map

See locations of all these guesthouses in the old zone of town here
---
Getting to Crete

Take a 1 hour flight from Athens to Heraklion with Aegean Airlines or Olympic Air, with many flights available per day.
Or take a 9.5 hour overnight ferry from Pireaus port of Athens to Heraklion port.
More on flights and ferries below.
Car hire in Crete is a really good idea as it is a large island 60 km by 260 km. There is so much to explore.
When you book with our car rental partners - Rental Centre Crete - you are supporting a local company with excellent service and an easy online booking procedure. We are sure you will be well looked after by the team. Choose from hybrid or non-hybrid vehicles.
---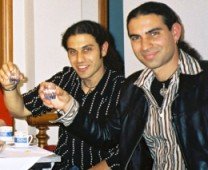 "We trust you have enjoyed these tips from the team at We Love Crete. Evíva!"
Contact us with further questions or feedback. We love to hear about your travels in Kríti and Greece. Let us know of any updates or additions, errors or omissions. Help us make this website the best it can be. Kaló Taxidí!

---