Matala Bay, Crete
This page may contain affiliate links, see our disclaimer here.

---
Relax Under the Matala Moon

Matala Bay, Crete
Matala Bay Μάταλα is 75 km from Heraklion, south by the national road, on the island of Crete in Greece.
Here is a beautiful sand beach; see our Matala Beach page. The village has an interesting history and plenty to explore in addition to the gorgeous beach. Of course one of the beautiful things about staying here is watching the sunset over the Libyan Sea, looking out over the islands towards Africa. Sometimes the wind blows hot and sandy from Africa.
The impressive formations of sandstone rock cliffs slide into the sea at an odd angle into Matala Bay, creating one of the most unusual beachscapes on the island. Inside these cliffs have been carved tombs and caves over the centuries.
The village on Matala Bay served as the port town for the Minoan palace of Phaistos between the ages of 2000 BC and 200 BC. Then the Romans took over and built the town of Gortys, also in the centre of the fertile Messara valley, but not on the same site as Phaistos. Hence the caves and tombs here were used by Minoans, Romans and later by Christians.
In the early part of the 20th century this was a quiet fishing village nestled into the corner of Matala Bay. As a safe natural harbour on the bay of Messara, the waters are clean and abundant with fish life.
How to get to Matala Beach by bus and all about the turtle conservation projects here.



---
Matala Bay History
Beatnics stayed in the caves in the 50's. Hippies lived a simple and natural life here in the 60's and 70's. They kinda took over the caves and lived there for free, the air tingled with free love and pot. Famous singers such as Cat Stevens and Joni Mitchell hung out there. Don't forget that in 1967 a military coup occurred in Greece and oppression of free speech was very serious all over the country. The hippies have moved on. No one is allowed to stay in the caves any more. Today the camp ground still offers very good value accommodation, right next to those famous caves on Matala Bay.
Below you can see the video and words of the song Carey from 1971 where Joni Mitchell sings of her experiences in Matala.

An atmosphere of freedom still exists, not only in this village, also in much of Crete and Greece. The combination of the blue, blue Mediterranean and the unusual bright white light is typically conducive to metaphysical thinking and philosophising. That is why there exists a philosopher in every Greek, without the need for transcedental music or pot. And the sunsets are just as poetic over Matala Bay.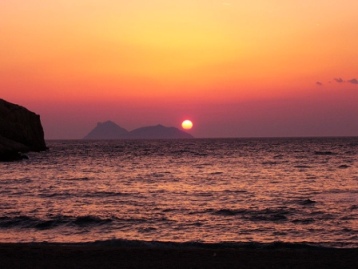 Matala Bay Sunset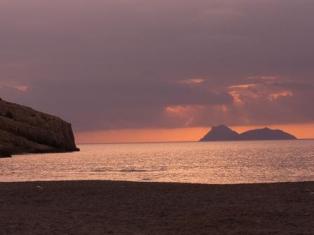 View over towards Africa at sunset - little islets named 'Paximadia'

The beginning of the 21st century has seen Matala develop its services for its growing population and ever-increasing overseas visitors, however it is still a small place with a relaxed pace.
Half Matala beach is fringed by tamarisk trees, a casual masseuse sets up a tent on the beach, some of the cafés now have terraces built up overlooking the beach.
Here is our selection for Matala beachside accommodation.
---
Carey by Joni Mitchell

The wind is in from Africa
Last night I couldn't sleep
Oh, you know it sure is hard to leave here Carey
But it's really not my home
My fingernails are filthy, I got beach tar on my feet
And I miss my clean white linen and my fancy French cologne


Oh Carey get out your cane
And I'll put on some silver
Oh you're a mean old Daddy
But I like you fine


Come on down to the Mermaid Café and I will
Buy you a bottle of wine
And we'll laugh and toast to nothing and smash our empty glasses down
Let's have a round for these freaks and these soldiers
A round for these friends of mine
Let's have another round for the bright red devil
Who keeps me in this tourist town


Come on Carey get out your cane
I'll put on some silver
Oh you're a mean old Daddy
But I like you


Maybe I'll go to Amsterdam
Maybe I'll go to Rome
And rent me a grand piano
And put some flowers 'round my room
But let's not talk about fare-thee-wells now


The night is a starry dome
And they're playin' that scratchy rock and roll
Beneath the Matala Moon


Come on Carey get out your cane
I'll put on some silver
We'll go to the Mermaid Café
Have fun tonight


The wind is in from Africa
Last night I couldn't sleep
Oh you know it sure is hard to leave here
But it's really not my home


Maybe it's been too long a time
Since I was scramblin' down in the street
Now they got me used to that clean white linen
And that fancy French cologne


Oh Carey get out your cane
I'll put on my finest silver
We'll go to the Mermaid Café
Have fun tonight
I said, Oh, you're a mean old Daddy but I like you
But you're out of sight
---
Of course, you are not as likely to hear this music here in Matala Bay now. Much more likely you will hear Cretan music. Except for once a year, when the new hippies come to hear three days of music, with all accompanying expressions of freedom, at the Matala Beach Festival.
---
Matala Beach Festival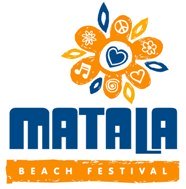 In summer, you may hear some hippy music as the revival festivals have taken off since 2011, during June local and international visitors and musicians create a vibrant entertainment buzz in the village...with over 100,000 visiting...things get very interesting.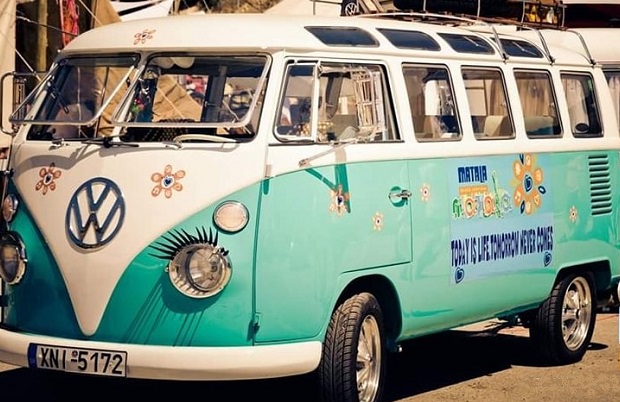 Camping Matala - new hippies are in town for the festival!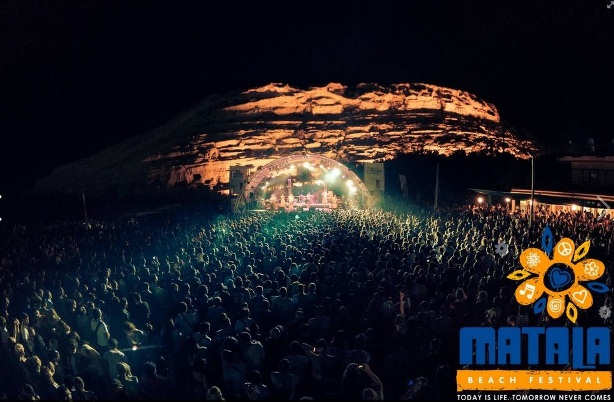 Festival time!

---
On the Map
See the location of this village on the map of Crete below
---
Images
More beautiful images below.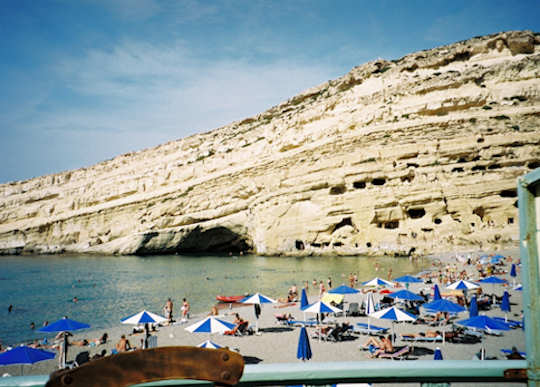 Have lunch on the deck of a taverna gazing over the beach towards the caves.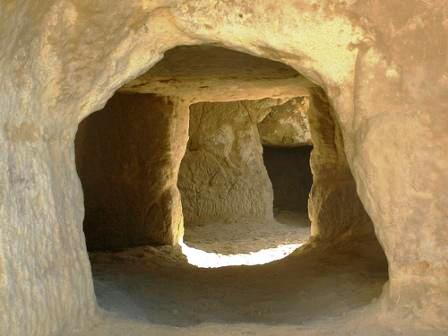 The famous caves.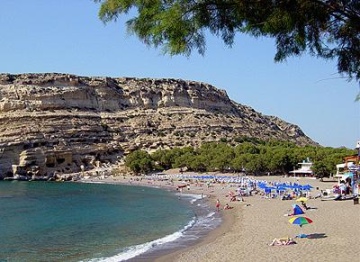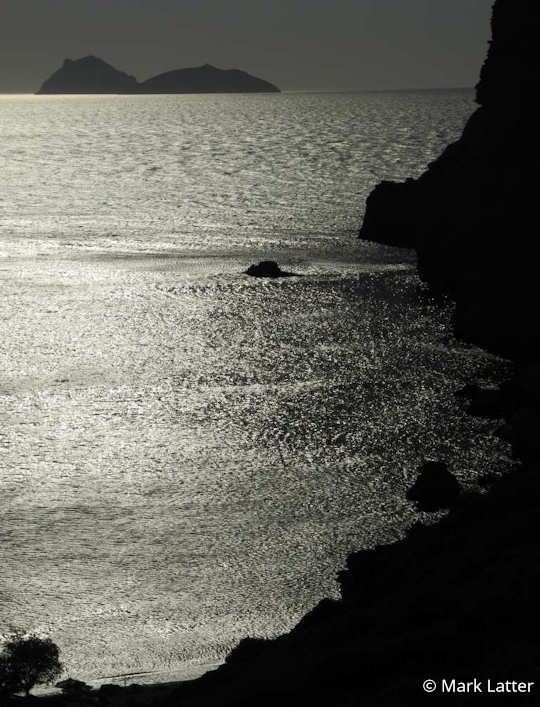 Relax under the 'Matala Moon'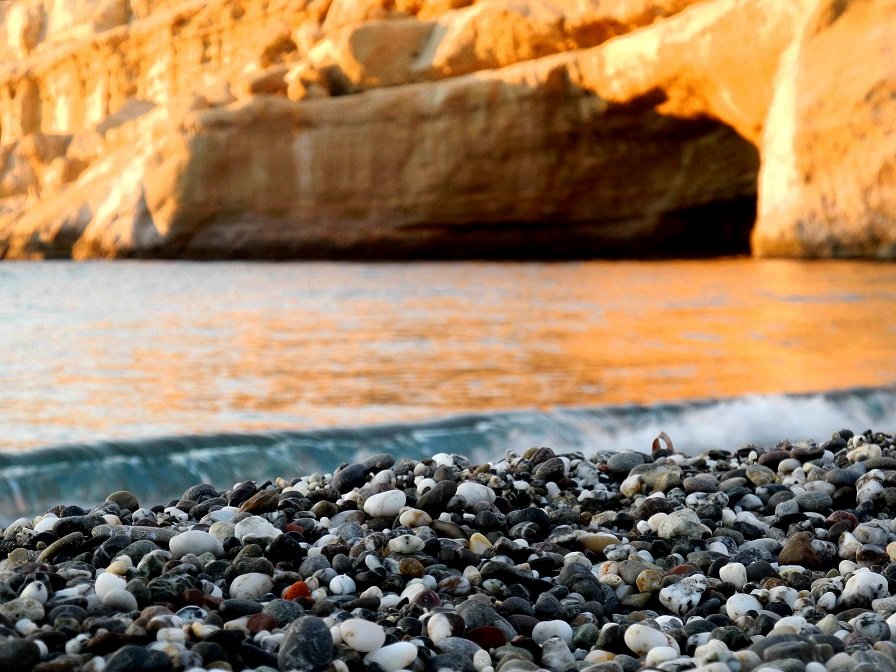 Matala Beach and cave

---
Getting Here
Take a 1 hour flight from Athens to Heraklion with Aegean Airlines or Olympic Air, with many flights available per day.
Or take a 9.5 hour overnight ferry from Pireaus port of Athens to Heraklion port.
More on flights and ferries below.
Car hire in Crete is a really good idea as it is a large island 60 km by 260 km. There is so much to explore.
When you book with our car rental partners - Rental Centre Crete - you are supporting a local company with excellent service and an easy online booking procedure. We are sure you will be well looked after by the team. Choose from hybrid or non-hybrid vehicles.
---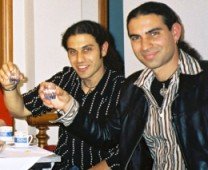 "We trust you have enjoyed these tips from the team at We Love Crete. Evíva!"
Contact us with further questions or feedback. We love to hear about your travels in Kríti and Greece. Let us know of any updates or additions, errors or omissions. Help us make this website the best it can be. Kaló Taxidí!

---