Kerasia Village
This page may contain affiliate links, see our disclaimer here.

---
In Central Heraklion, Crete

Kerasia Κεράσια ~ Kerasia village is 25 km south from Heraklion.
Kerasia is a small proud Cretan village in Heraklion region, surrounded by other villages Venerato, Avgeniki, Dafnes and Siva.
The dimos local government is Paliani Παλιανή, named after the nunnery on the outskirts of Venerato.
There are different ideas as to how Kerasia gets it name. There are also two spellings. Kerassia and Kerasia. Some believe it comes from the word for cherry tree – which is the same word. Others say it comes from the Greek verb keraso which means 'to offer'.
After living here, we firmly believe it comes from the second meaning, as the hospitality in the village is incredible. People are always offering. Giving, sharing. The generosity of Kerasiani is beautiful and touching and absolutely natural. Anyway, our papou, who comes from Kerasia village, says the second meaning is the real meaning.
There are quite a few villages in Greece called Kerasia, and there is a very popular beach village in Corfu called Kerassia, so don't confuse them.
Kerasia in Crete sits at the foothills of Mt Psiloritis, in a gently sloping valley. It is a small agricultural village busy producing sultanas, grapes and olive oil. The olive groves and vineyards are interspersed with each family's perivoli orchard or garden, with mandarinia, lemonia, walnuts karidia, lots of other fruit and vegetables. Yards with pigs and goats are dotted about.
With about 40 families, some of Kerasia's houses are closed up, their owners in Iraklion or further such as Germany, USA or Australia. This creates odd pauses in the village as you walk through the narrow streets, strange crumbled buildings and forgotten, trashy corners. This is slowly changing as people return from the diaspora.
The village sits just up from the national road and with close access to both Iraklio and the thriving cornucopia of Messara, it has been on the trade routes of the island for many years. The first notation of the village dates back to 1583.
---
Looking Around Kerasia Village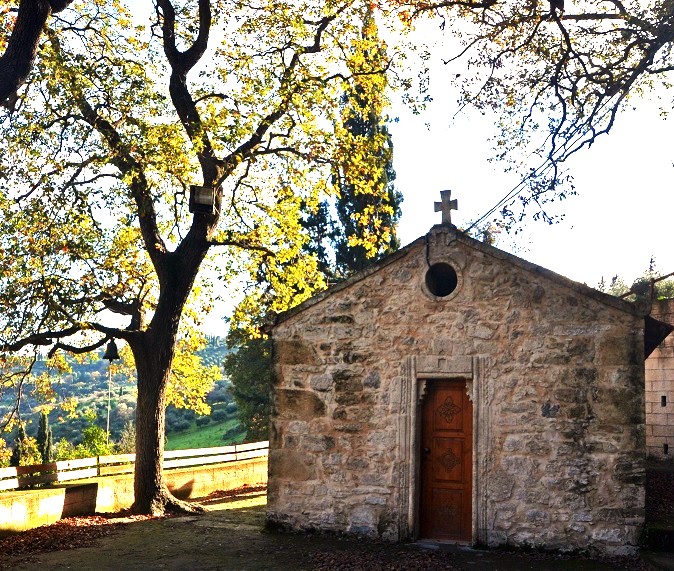 Kerasia village has two churches, Agios Giorgos in the lower village near the kafenion, and Agios Sillas Άγιος Σύλλας higher on the hill. These are both well loved churches, worth a visit and are fully-functioning churches.
The small country roads around Kerasia will lead you to another church, in a glorious, inspiring setting, I Panayia i Faneromeni, H Παναγία η Φανερωμένη, meaning roughly The Apparition of the Virgin. This is a tranquil and relaxing setting, with many large trees and picnic tables to enjoy the view of the little gorge with cypress pines. There are some very old gnarled olive trees on the way to this shrine, making it worth the short 10 minute walk from Kerasia village.
It is lovely to sit looking over the valley with the rocky hill behind. Goats roam up there. Sometimes the only sound will be acorns falling on the roof of the church. Other times you will hear the loud interruption of a motorbike, as the lad from the village comes to look after the shrine and light the candles.
This gorge is part of the European walking trail E4.

The hub of village life is the kafenion. The kafenion in Kerasia village is a very simple affair. Life flows slowly and quietly by, however if you sit awhile and allow yourself to slow down, you will find the parade of life passes by the doors of the kafenion. Our deputy mayor, a resident of Kerásia, put it this way "the kafenion is the university of life".
Discussions start slowly, at times you can walk in and believe no one is talking to each other. Sometimes the room is full of smoke and shouting. Sometimes there are card games; sometimes the TV is turned up very loud. Each village kafenion will be different. We encourage you to seek out your village kafenion and sit awhile. Get to know the way of things and always, always respect the old people in your village. They will teach you more than you will know.
When you enter a home or kafenion in the village, you will be offered a coffee kafe or a raki, in Cretan known as tsikoudia.

Accept. Enjoy. In Kerasia you will be treated with the most wonderful hospitality.
Life is sweet in Kerasia village.
---
Accommodation

Casa Benevista - located in Kerasia village, this beautifully restored traditional home is a joy to visit, like a second home. This 2 bedroom home accommodates 6 guests, with 3 bathrooms, a fully equipped kitchen, restful courtyard and terrace. Be part of village life and explore Heraklion, Knossos and Phaistos.

House in Nature - this free standing home just on the outskirts of the village is ideally located for exploring Crete. Just seconds from the national road, 20 km from Knossos and yet quiet and private. Ideal for self-catering family groups, all modern comforts, welcoming 5 guests.
Villa Kerasia - a delightful bed and breakfast in a restored traditional farmhouse dating from 1883. Its looks over the valley of the four villages in a peaceful rural setting just 15 km from Heraklion town. Sumptuous and elegant with exquisite service.

Villa Kerasia has an elevated aspect and looks out over the valley of vineyards
---
Villages of Crete on the Map
See the location of the village on the map below
---
Images of Kerasia Village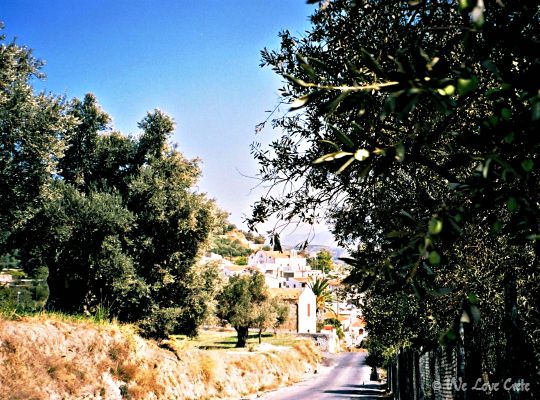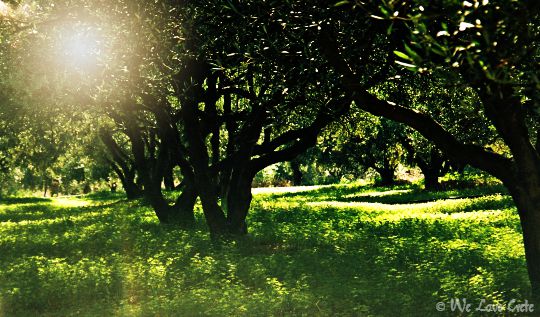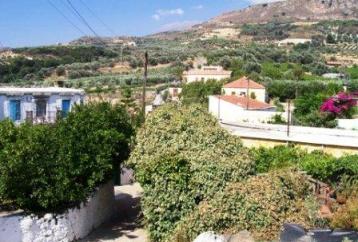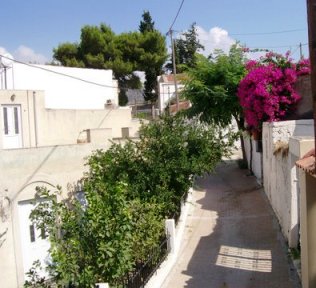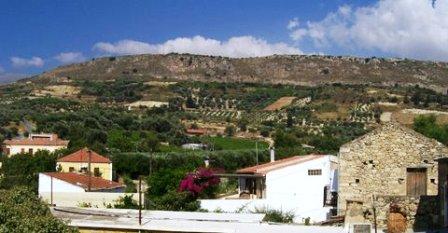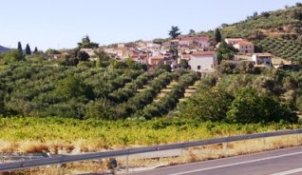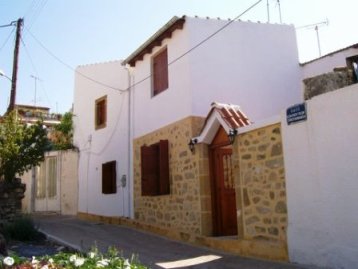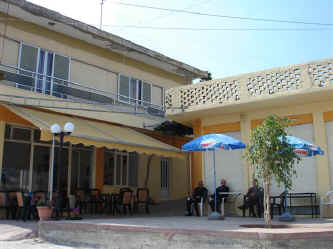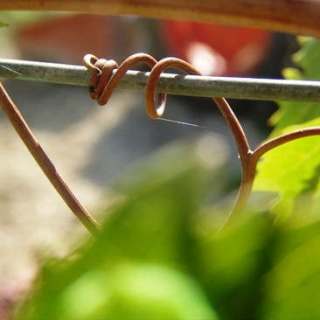 ---
Getting Here

Take a 1 hour flight from Athens to Heraklion with Aegean Airlines or Olympic Airlines, with many flights available per day.
Or take a 9.5 hour overnight ferry from Pireaus port of Athens to Heraklion port.
Take a bus from Heraklion Bus Station B near the Old Walls known as 'Chanioporta' and travel 25 km south on the main national road.
More information on flights and ferries below.
Car hire in Crete is a really good idea as it is a large island 60 km by 260 km. There is so much to explore.
When you book with our car rental partners - Rental Centre Crete - you are supporting a local company with excellent service and an easy online booking procedure. We are sure you will be well looked after by the team. Choose from hybrid or non-hybrid vehicles.
---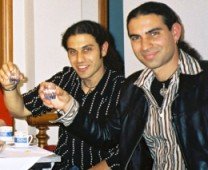 "We trust you have enjoyed these tips from the team at We Love Crete. Evíva!"
Contact us with further questions or feedback. We love to hear about your travels in Kríti and Greece. Let us know of any updates or additions, errors or omissions. Help us make this website the best it can be. Kaló Taxidí!

---