Tris Ekklisies Crete

This page may contain affiliate links, see our disclaimer here.

---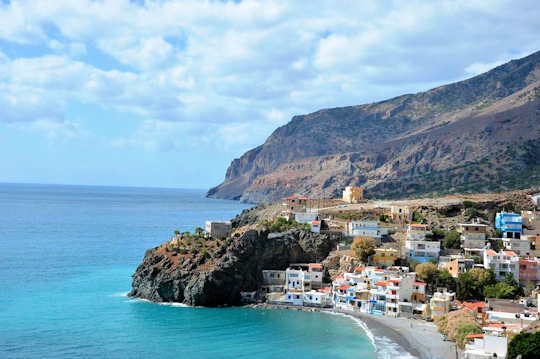 Tris Ekklisies Crete - Τρεις Εκκλησιές - is a beautiful seaside village with an uncluttered, sand and pebble beach, located on the southern coast in the region of Heraklion, just 60 km from Heraklion Town and 59 km from Heraklion International Airport.

---
On the Beach

Tris Ekklisies Crete - if you are looking for quiet and peaceful surroundings, as well as a family friendly beach, this will suit you. There are shallow, safe and protected waters here for any age of swimmer, as well as wave beaches.
This beach has very little in the way of large, high buildings or development or organisation. It is still a place where you can totally relax in a small Greek village, away from hustly bustly modern life.

Here there is quiet, there are brilliant turquoise clear waters and monumental mountains rolling into the sea. From here you can see the Asterousia Mountains, you can swim, snorkel and laze on the various beaches.
At the western end of the beach is the peninsula of black rock formations, said to look like a face.
There are three small churches in the village, hence the name tris for three and ekklisies for churches, they are Metamorphosisis, Agios Antonios and Evangelismos all Byzantine churches.


Tris Ekklisies Crete - this beach is not too far from the city center of Heraklion. Because it's about 60 km away, so it is a drive through the heart of Crete through the Messara Valley and via the Asterousia Mountains. It is remote and offers magical scenery for you to unwind and enjoy.


---
Beaches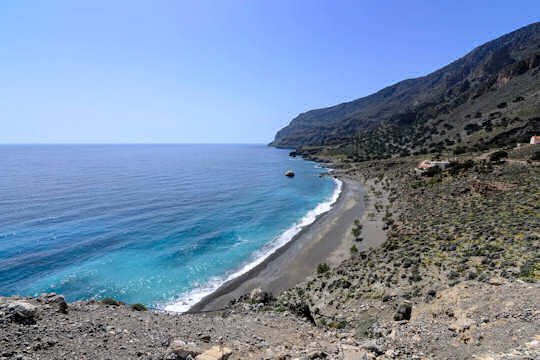 Pachia Ammos Beach, west of Main Beach
Tris Ekklisies Crete - the main beach is a long, wide sand and pebble beach with the village sitting directly on the beach, and some shady tamarisk trees.
To the west of the village, over the headland is Pachia Ammos Beach, which means 'big sand' beach, this is a magnificent wide grey sandy beach with pebbles, no buildings and just pure seaside and wide open spaces for your heart to run wild.
Also to the west is Koudoumas Beach which sits in the natural park of the Asterousias, which can be reached by boat or walking and hiking from Tris Ekklisies or by a steep and scenic dirt road from Sternes village, via Paranymphi hamlet.

Along main beach and to the east continues a natural coastline, first you will find the cove of Kolovretis then Volakas Beach and Glikia Vlyhada, and Voidomatis Beach, which sits at the end of Mesosofini Gorge and then tiny unadorned Plysimo Beach. All of these beaches are best to be reached by car along the dirt track or by small water craft.
The stunning Kaminaki Beach can be reached by hiking or boat, it lays at the end of the high sided Periovoliano Gorge. Rich and rocky mountains fall down into the sea.

See this tiny remote beach of Kaminaki visited by boat on the video below...


Tris Ekklisies Crete - the area has many other beaches to visit with a car:

After you have lazed on the beach, swum in the clear aqua waters, dozed on the sand and taken a nap, it might be time to do some serious canyoning and rock climbing with ropes, to hike down from Paranymphi through the Ambas Gorge, back down to Tris Ekklisies,
Or if that is not quite your skill set, just visit the top of the Ambas Waterfall from Paranymphi hamlet. Or perhaps get out of the area and visit the mountain village of Kapetaniana.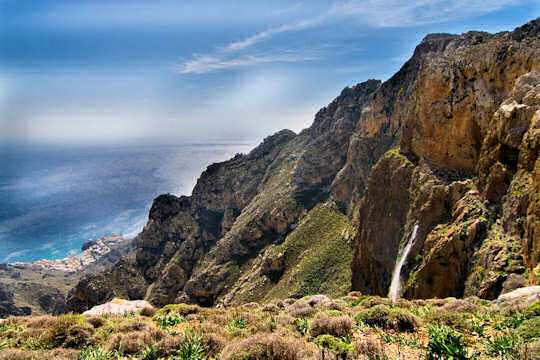 The view of Ambas Waterfall looking down Ambas Gorge to Tris Ekklisies Village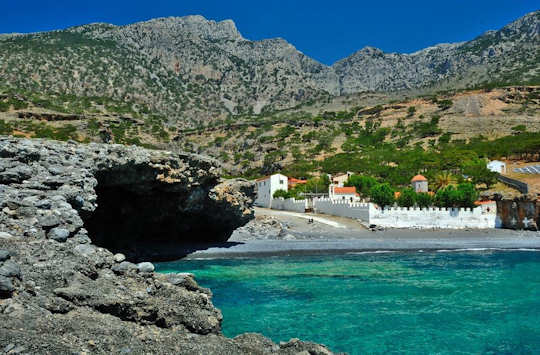 Koudoumas Beach and Koudoumas Monastery are very remote and secluded
Matala Beach is 60 km west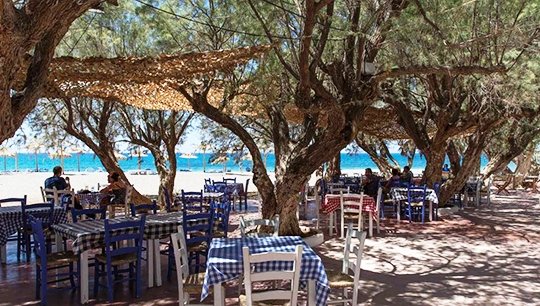 The Red Castle fish taverna on the beach at Kokkinos Pirgos
---
Tris Ekklisies Crete
Accommodation

There are a few choices of accommodation around Tris Ekklisies Beach , in the little village at the beach and higher up in the mountains. We have chosen a variety that are locally run, where you will experience the real Cretan hospitality.


This family home Aeriko House is set back just a short walk from the beach, accommodating 6 guests in 3 bedrooms, 2 bathrooms and a full kitchen. All comforts in a very Cretan lifestyle, the owner Adamis is close by to help with all your needs.

In the hills behind the coast you will find Thalori Resort in the village of Kapetaniana. Get away from it all in the fresh air and open spaces, feel the pulse of the land and mountains here, in this beautifully restored mountain village, 34 km by mountain roads from Tris Ekklisies beach.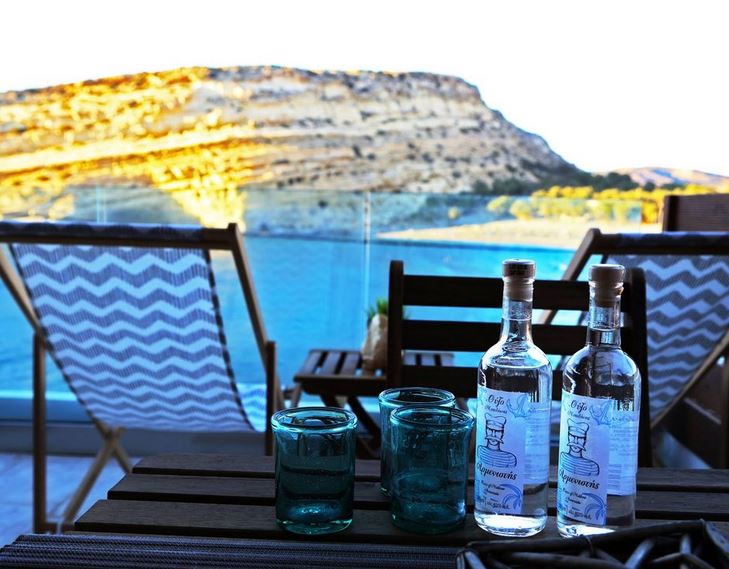 Matala Caves Seaside Apartment - this shoreline holiday home has prime position in Matala and is perfect for any time of the year, especially May to June which is spring and not too crowded or too hot. With views across to the sandstone prehistoric caves across the water, and just a step away from the tavernas, cafes and nightlife of Matala, this is a sea change in up gear, suitable for a couple, this is a 1 bedroom home with 1 bathroom.
Enjoy the spacious shade-covered patio, the outdoor dining table, the crystal clear views of the azure waters, deck chairs and the energetic atmosphere above the local taverna, watch the lights play on the water and see the promontory lit up at night. Enjoy the traditional stone-work of the recent renovation and the sandy, rustic boho beachside style of the apartment.
57 km from Tris Ekklisies beach.

Please note that due to the remote location, you will need to think ahead about groceries. Perhaps stock up in the market in Charakas or Pyrgos. There is one small mini market in Tris Ekklisies, and one or two tavernas.
The village is very much a seasonal village, most things open from April to October. Some services only open in June for summer.


---
Heraklion Town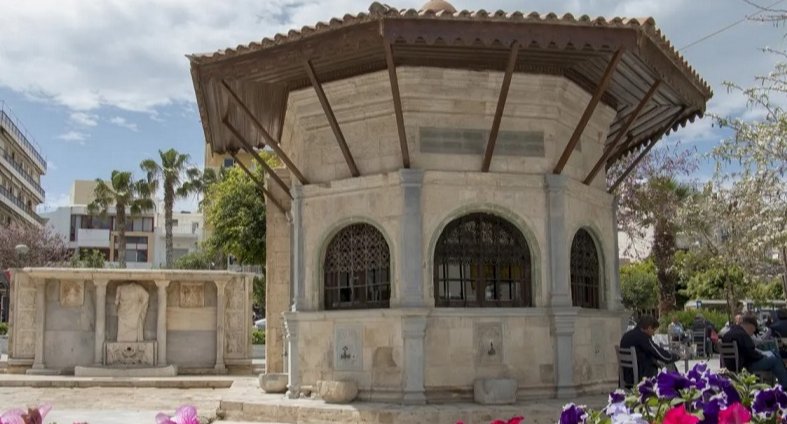 The Venetian ruin and old Turkish coffee house in Kournaros Square, Heraklion

If you do fly into Crete via Heraklion Airport, you may want to stay a while to enjoy the highlights of Heraklion town, which include:
Liondaria Fountain
Heraklion Archaeological Museum
Old Venetian Harbour and Koules Fortress

Agios Titos Church and Square

Pedestrian Shopping Streets
1866 Local Market
Koraii Cafes and Bars
Memorial to Eleftherios Venizelos
Kournarou Square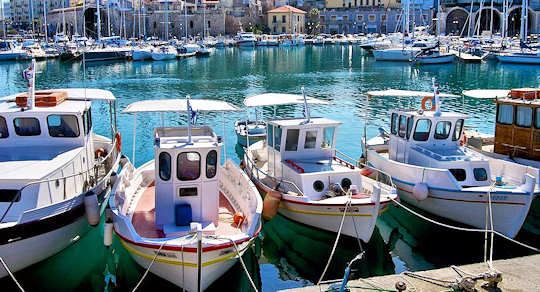 Visit the Old Port of Heraklion, see the Venetian Fortress, the fishing fleet and the Venetian Arsenal, have coffee down by the bay
---
Tavernas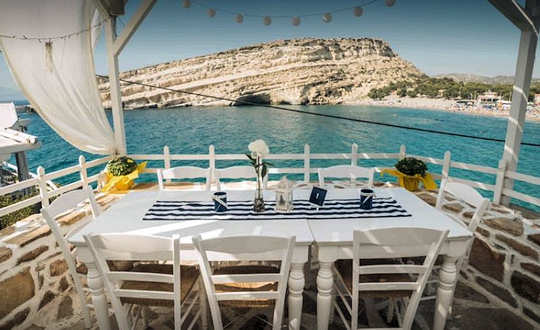 Scala Taverna on Matala Beach

The seafood is so fresh here, and there are 2 tavernas with local Cretan food. Marilena Taverna under the tamarisk trees on the beach.
Within driving distance try these seafood tavernas
Scala Taverna in Matala
Red Castle Taverna in Kokkinos Pirgos
Seafood tavernas to try in Heraklion Town

Paralia near the Old Harbour

Kastella near the Old Harbour
---
Exploring Heraklion Crete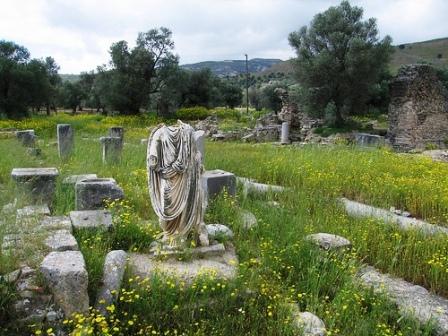 Gortyna Roman ruins have a story to tell

In the region of Heraklion, there is just so much to explore:
---
Tris Ekklisies
Birds of Crete
Birding and nature lovers will be interested to know that the peaks and gorges of these mountains are home to some of the rarest birds in Crete, the vultures. With populations of these magnificent birds dropping all over Europe, it is rare to find safe breeding areas, the remote cliff sides of these steep gorges and mountains provide secure nesting sites for the birds.
You may be on the lookout for Bearded Vultures, Griffin Vultures and Golden Eagles, particularly from the lookout for Ambas Waterfall just outside Paranymphi hamlet.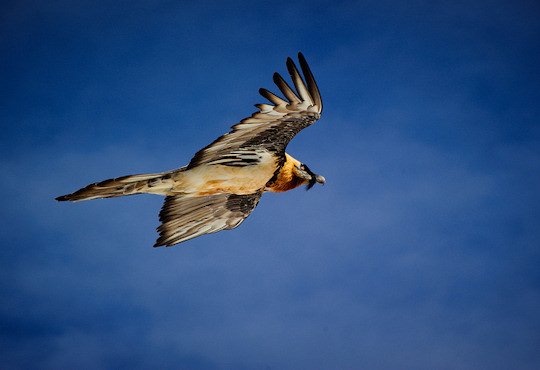 Bearded Vulture
Gypaetus barbatus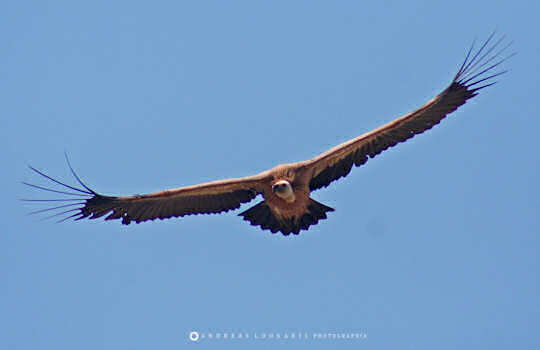 Griffon Vulture
Gyps fulvus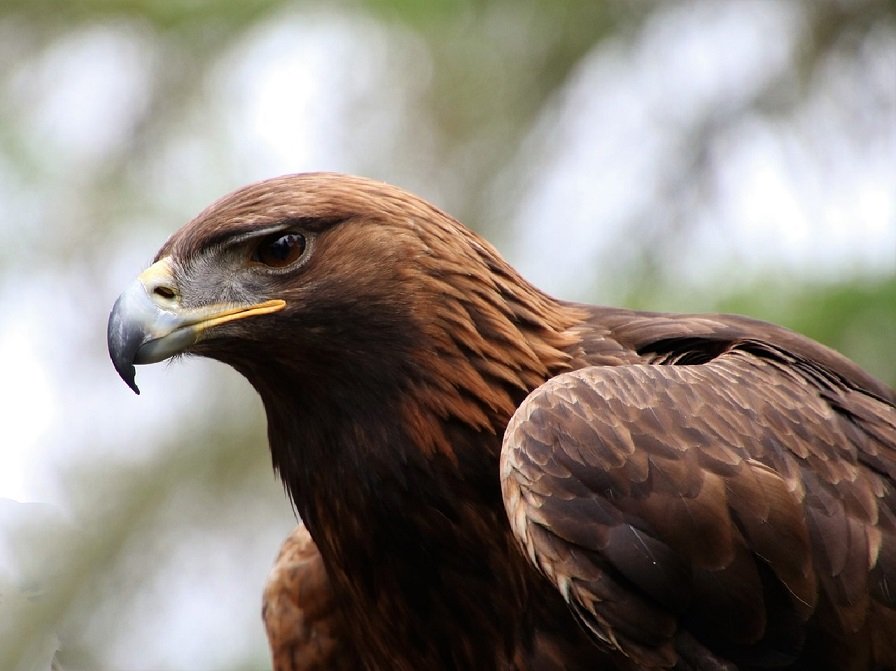 Golden Eagle
Aquila chrysaetos
---
Getting Here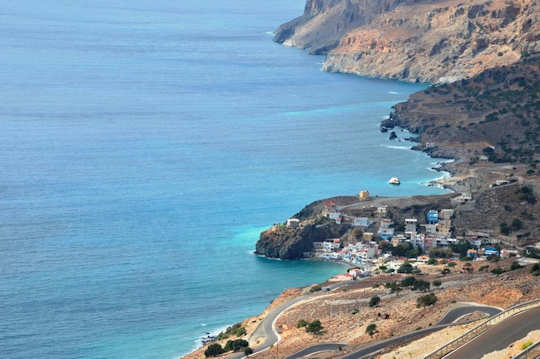 Take a 1 hour flight from Athens to Heraklion with Aegean Airlines or Olympic Airlines, with many flights available per day.
Or take a 9.5 hour overnight ferry from Pireaus port of Athens to Heraklion port.

If you arrive into the airport or port of Heraklion, it is a journey of 60 km to Tris Ekklisies Beach.

If you pick up your hire car from Heraklion Airport, it is a very interesting drive to Knossos Palace and then through the vine regions of Archanes and then south to Choudetsi, Tefeli, Pretoria and Charakas.
When you get to the small hamlet of Paranymphi, you will begin the dramatic descent via the snaky switchback road down to the sea. Be careful and make sure you arrive in daylight to navigate this road safely. With views in all directions, sometimes you might see water coming down the high waterfall, a dramatic sight against the green.
The local bus stops at the inland village of Pyrgos which is 16 km from this beach.

Getting here by flights, ferries and hire car below:


---
On the Map
See the location of Tris Ekklisies Beach on the central southern Heraklion coast on the map below:

---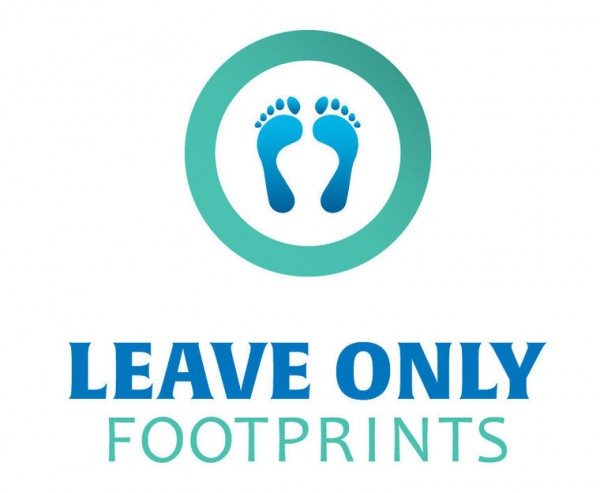 Take all your rubbish with you and don't make any of those silly piles of rocks - leave it as you found it and leave only footprints - because We Love Crete!