Agia Pelagia Crete
This page may contain affiliate links, see our disclaimer here.

---
Crystal Clear Waters
Agia Pelagia Crete - Αγία Πελαγία - this beautiful beach and surrounding coves are 23 km west of Heraklion in Crete. Crystal clear azure waters, great snorkelling and great for a Greek island holiday.

Beaches
Agia Pelagia Crete - this little cove is gorgeous for swimming and has everything you would expect in a little Greek harbour town; glimmering turquoise waters, sandy and pebbly beaches, and a string of tavernas right on the beach.
On the western end of the beach is exclusive access for the Out of the Blue Capsis Resort, a large resort set in beautiful gardens, that also has access to another beach on the other side of the point, inside Ligaria Cove.
It is worth the walk up the hill to visit the resort for a meal or a drink or a coffee, as it is very beautiful and you can walk around the lush green gardens to the point.
There are a series of beautiful coves to visit within the immediate area including:
Agia Pelagia Beach
Filakes Beach
Kladissos Beach
Mononaftis Beach
Psaromoura Beach
Mades Beach
There is plenty of parking in Agia Pelagia or it can be reached easily by bus from Heraklion. Various rooms, domatia and hotels are dotted about, be careful when booking as some are up the steep hills behind the bay.
This is a busy little resort town with nightclubs and bars, tourist souvenir shops, a supermarket, pharmacy, ATM and boutiques.
Back from the beach, the hills rise up quickly and most hotels and rooms have good views over the bay, which is a picturesque sweep of water.
The beach is well inside the surrounding peninsulas and so is quite a protected spot, good for swimming, with calm seas. It is a good spot for snorkelling or diving, and water bikes can be hired. Mononaftis Bay is to the west.

With all these facilities, the little cove has not lost its cosmopolitan charm and the promenade is romantic day and night.
We visited during a full moon, and swooned whilst looking at the fishing boats in the harbour, and seeing the pebbles through the clear, clear water.

---
Experiences

If you can tear yourself away from your beach towel, take a look around the region...discover ancient sites and local food.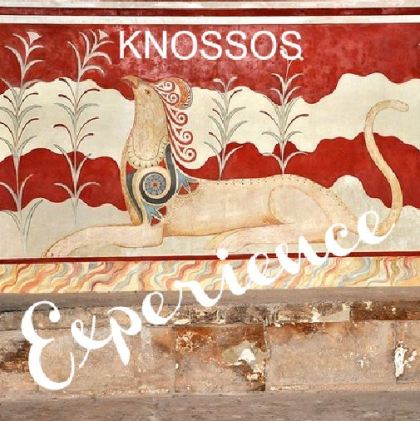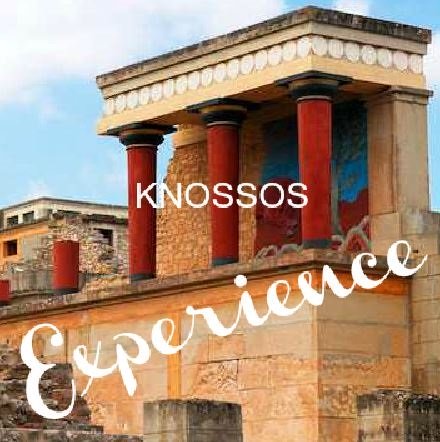 Full-Day Knossos Ancient Site visit - experience the hinterland and heartland of Crete. See the palace site with an experienced guide, and visit Lasithi Plateau and the Psychro Cave. 11 hours.
Heraklion - Olive Oil and Wine Tasting in the Peza and Archanes wine regions. Taste the local terroir in our beautiful wines and olive oils, experience it all with a passionate local guide, and enjoy a gourmet lunch.

---
Diving in Clear Waters
Scuba Diving is very good in Agia Pelagia, due to the clear waters and underwater rock shelves, and there are beginners classes, advanced classes and night dives offered here.
There are beach dives, boat dives and snorkelling trips just for fun. For the more experienced, certificate courses PADI, CMAS and NITROX are offered.
Diving locations include El Greco Reef and Cave, Mononaftis, Daedalos and even Dia Island.
A rich marine life can be experienced including stingrays, squid, octopus, moray eels, salemas, banded and saddled bream, sea rabbits, scorpion fish, sponges, sea anemones, conger eels, cuttlefish, shrimps, groupers, snappers, crabs, beautiful sea horses and jellyfish like the Mediterranean Jellyfish pictured above. This is good diving in Crete.
---
Agia Pelagia Crete
Accommodation
The main thing to keep in mind when selecting your accommodation here is the distance from the beach. There are steep hills which start just beyond the beachfront, so we recommend being no further than 300-400 metres from the seaside.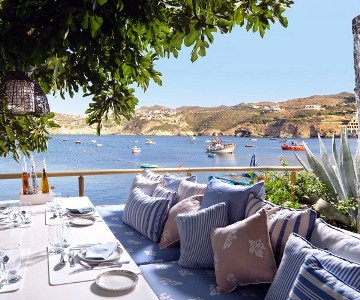 This resort offers privacy, style and luxury with stunning views over the Med in a lush garden setting.
Offering health retreats with full detox programs, spa, massage, the Dukan diet and a variety of experiences to choose from, with 9 restaurants, 3 bars, 5 pools and access to its own private beach.

The beautiful, leafy, green, luxury Out of the Blue Resort in Agia Pelagia Crete.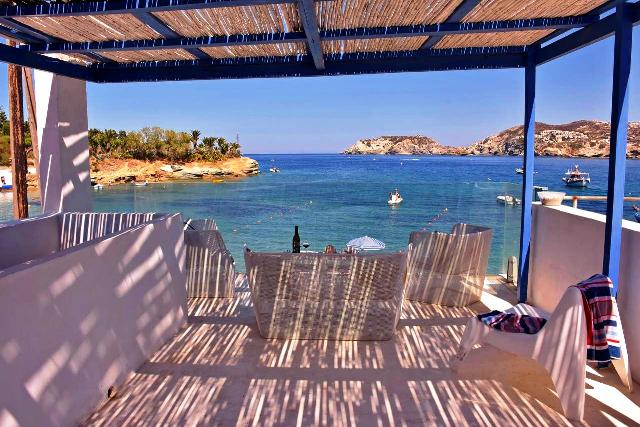 Mpitzarakis Studio is right on the beach. We mean beachfront. 5 steps to the beach. Swim before breakfast, swim until sunset. Enjoy one of the most beautiful views in Crete. Such a gorgeous studio in a perfect position on one of our favourite beaches in Kriti.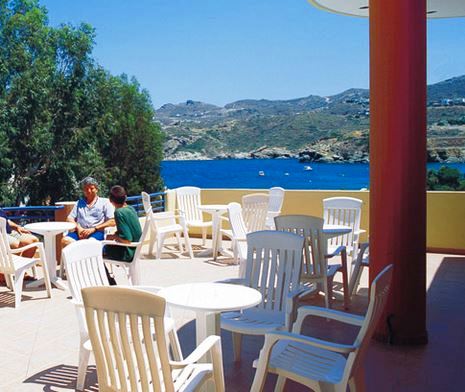 Andy's Plaza is close to the water and not up a steep hill. This budget accommodation won't break the bank. Convenient to the seaside, cafes, tavernas and to Almyra Cafe Bar (below).

---
Cafe Bar by the Water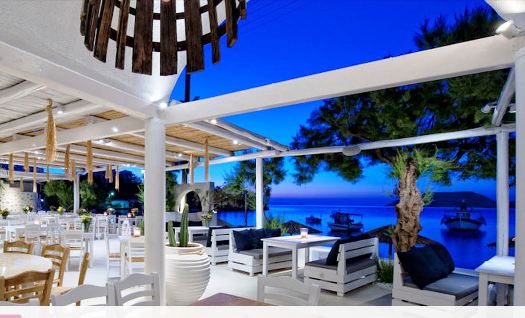 An excellent spot is Almyra, which has a bar, café and restaurant, all just a heartbeat from the water, and serves fresh local food, with great service.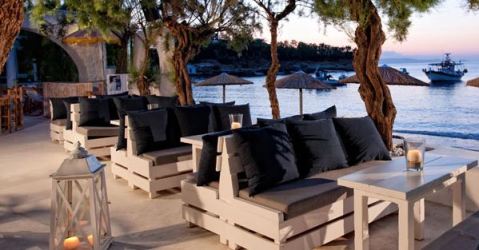 Agia Pelagia Crete is one of our favourite beaches in Kriti. It is still very Greek and charming. 
---
Heraklion Town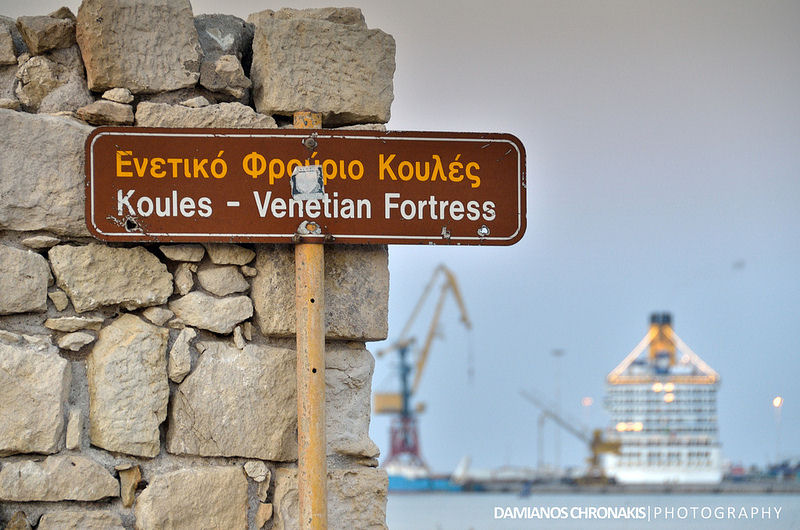 If you do fly into Crete via Heraklion Airport, or arrive by ferry into the port, Agia Pelagia is only a few minutes away. You may want to take a day trip to enjoy the highlights of Heraklion town, which include:
Knossos Palace
Liondaria Fountain
Heraklion Archaeological Museum
Old Venetian Harbour and Koules Fortress

Agios Titos Church and Square

Pedestrian Shopping Streets
1866 Local Market
Koraii Cafes and Bars
Memorial to Eleftherios Venizelos
Kournarou Square
---
Heraklion Region
From here you can explore the hills and valleys of Heraklion region, visit Knossos Palace and you are only 20 km from Heraklion town and 60 km from Rethymnon town, with its charismatic Venetian architecture.
In the region of Heraklion, there is just so much to explore:
---
Agia Pelagia Images
Some more beautiful images below of Agia Pelagia - a most enchanting bay - enjoy your Crete travel images and come and visit soon!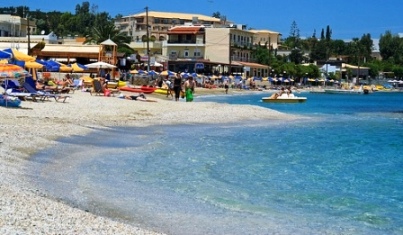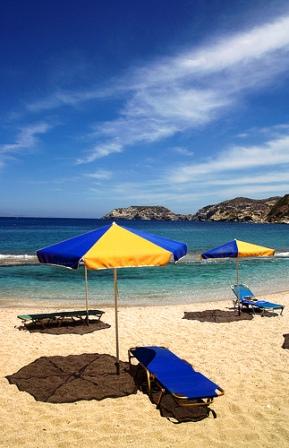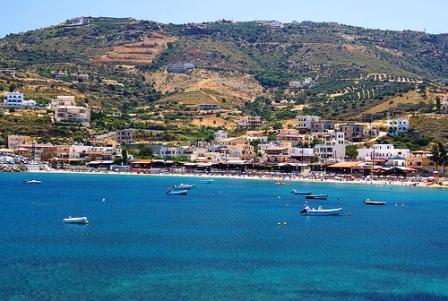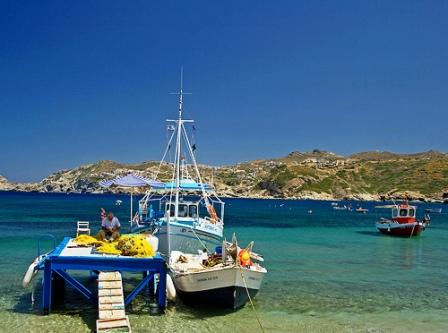 The captivating colours of Agia Pelagia Crete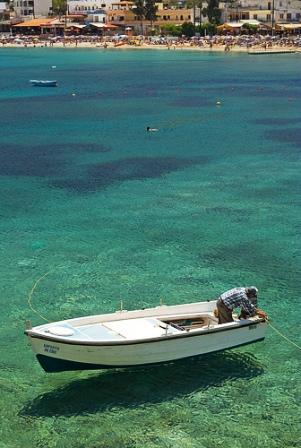 Agia Pelagia Crete - those crystal clear waters!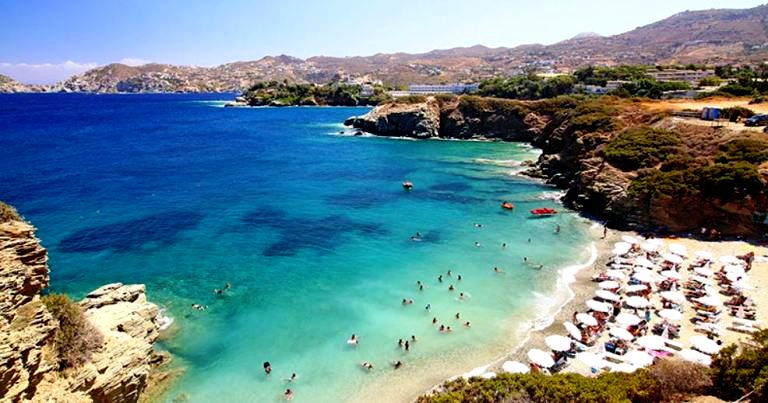 ---
Getting Here
Take a 1 hour flight from Athens to Heraklion with Aegean Airlines or Olympic Air, with many flights available per day.
Or take a 9.5 hour overnight ferry from Pireaus port of Athens to Heraklion port.
More on flights and ferries below.
Car hire in Crete is a really good idea as it is a large island 60 km by 260 km. There is so much to explore.
When you book with our car rental partners - Rental Centre Crete - you are supporting a local company with excellent service and an easy online booking procedure. We are sure you will be well looked after by the team. Choose from hybrid or non-hybrid vehicles.
---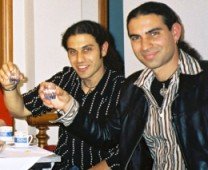 "We trust you have enjoyed these tips from the team at We Love Crete. Evíva!"
Contact us with further questions or feedback. We love to hear about your travels in Kríti and Greece. Let us know of any updates or additions, errors or omissions. Help us make this website the best it can be. Kaló Taxidí!

---