Palace of Knossos
Frescoes from the Minoan Civilisation
Palace of Knossos
The ruins of the palace were discovered in 1878 by the Cretan Minos Kalokairinos who began excavations.
Beautiful frescoes were discovered on the site, showing us the nature of the society of the earliest Cretans.
Below you will see the Bull Leaping Fresco which is one of the most famous of all. It brings into question the nature of the relationship of the earliest inhabitants with the bull. Of course it seems that the young boys or girls are jumping the bull...is this part of a display of skill or a bull-fighting sequence?
Also below you will see the fresco name Minoan Lady which shows beautiful blue colours and the distinguished profile of a beautiful woman.
In the throne room of Knossos you will see the striking Griffin Fresco, with stunning red colours. There are two griffins facing the throne, these mythical creatures had the body of a lion and the head and wings of an eagle.

See more information about the history of Knossos on this page...
Also see tips for visitors to Knossos on this page...
Find a map for Knossos on this page...

---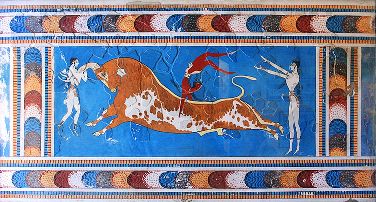 Bull Leaping Fresco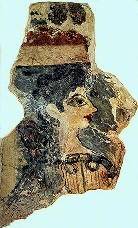 Minoan Lady Fresco
Griffin Fresco from Throne Room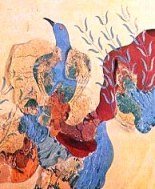 Fresco of the Blue Birds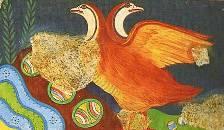 Fresco of the Partridges
Statuettes and jewellery were found on this site giving us questions about the role of women in the Minoan civilisation, such as the Snake Goddess (see below).
Theories abound about the rituals and the type of society of the Minoans. The art shown here is enough to set historians on myriad paths of interpretation.
Were they a Goddess-based culture? Were they peaceful and nature-loving? Did the women hold power and lead the spiritual life of the island? Was the this the home of the Queen instead of King Minos?
The British archaeologist that excavated the site was an interesting character named Arthur Evans, see more about him here; a full biography which shows his life's work in uncovering the Minoan history of the island. He controversially reconstructed many features of the site according to his own imagination. 
---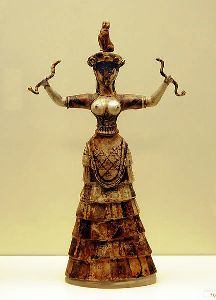 Snake Goddess Figurine
---
Palace of Knossos Video...
Below is a video of the archaeological site as it stands today:
Below is a video which gives more context of the history of Minoan culture in the Aegean.


---
Below is a map of Crete showing the location of the Minoan palaces:
Knossos Palace
5 km from Iraklion - central Crete

Phaistos Palace
62 km from Iraklion - central Crete

Malia Palace
40 km from Iraklion - central Crete

Zakros Palace
50 km from Sitia - eastern Crete


---