Knossos Map & More

This page may contain affiliate links, see our disclaimer here.

---
Don't Get Lost in the Labyrinth

A Knossos Map to find and explore this most popular attraction in Crete. This ancient Minoan civilisation holds many secrets and mysteries.
Below you will see a map of the Palace of Knossos, one of the main centres of civilisation of the Minoan people on Crete. The site dates from earlier than 2800 BC and is the famous home of myths about the Minotaur, King Minos and the Labyrinth.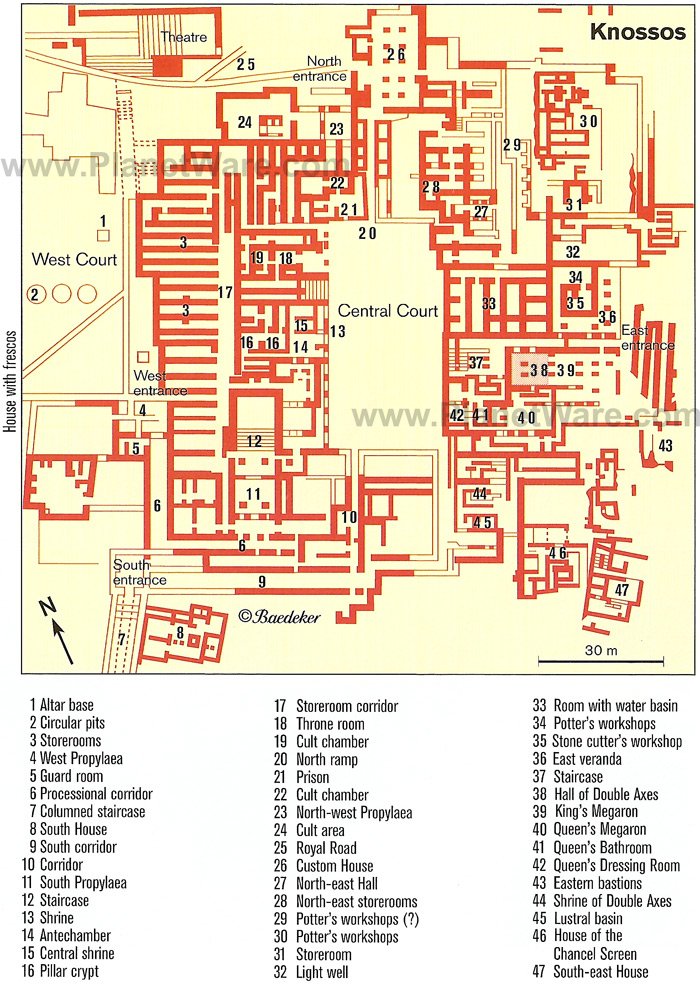 ---
Tips for Knossos on our video below.

Options for Maps

As you are exploring the site, it will be handy to have a Knossos map with you. This was a complex citadel or village sanctuary with many different avenues, courtyards, buildings and rooms.

Buy your map at a bookstore – see below.

Or purchase your map at the entrance to Knossos Archaeological site.

Would you like a guidebook for the site as well? See below.
Perhaps you would like to hire a private guide to interpret the site for you.
or hire an Augmented and Virtual Reality tablet at the site.


All about Knossos

Tips for Visitors to Knossos

Artwork of Knossos Palace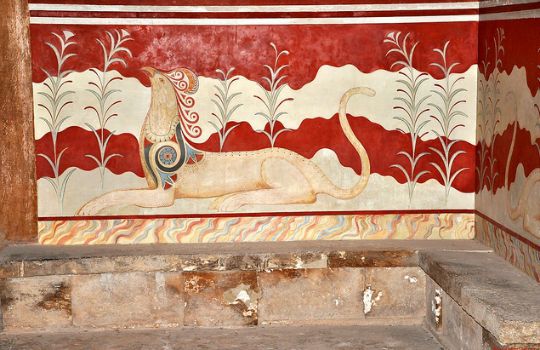 Griffin Fresco - Knossos Palace
---
Navigating Knossos

As you walk from the ticket gate to the site of Knossos, one of the first structures you will see in the west court (noted at 2 on the map above) are circular stone-walled pits. These were discovered in 1903 and nick-named 'kouloures', or koulouria after the circular bread-like snack so beloved by Greeks (pictured below).

Kouloura or rounded pit in the west court of Knossos Palace archaeological site, Crete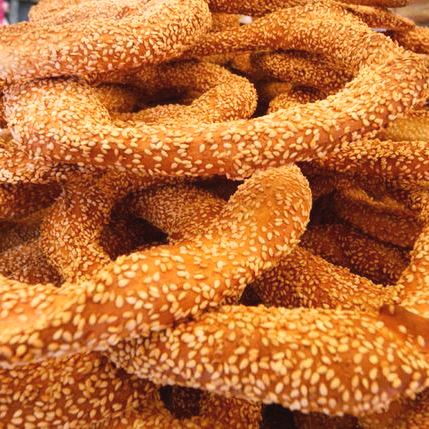 Koulouria bread snacks on a street corner in Greece
The rich history of this site takes some time to unravel. Excuse the pun. You will need to leave at least 2 hours to visit this site. The Greek myths of King Minos, the Minotaur, Ariadne, Daedalus and Ikarus have grown from here. The long history of the peoples that have lived on this site emerges from the Neolithic Ages around 6000 BC. The structures that you will see on the site today include those excavated by 1878 led by Minos Kalokairinos. Exciting excavations at that timeincluded the western storerooms of the Palace and large storage jars pithoi.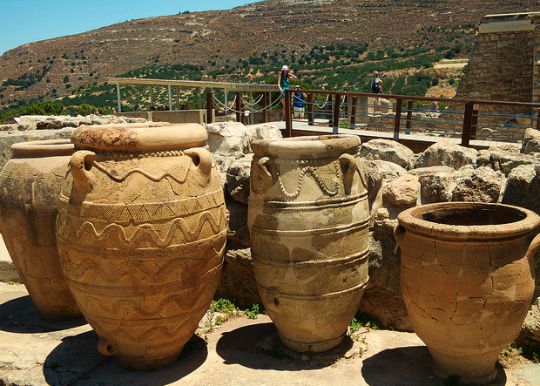 Knossos Palace site showing some large ancient storage jars 'pithoi' and the valley
Knossos Map - British archaeologist Arthur Evans purchased the site of the digs from the Turkish owners in 1900 after many years of negotiations and after much interest from historians all over the world. That was when the site really opened up and the revelations that you can see today were shown to all.
The site was then excavated by Evans and his team from approximately 1900 to 1931, with extraordinary artifacts, jewellery and frescoes discovered and restored. These are now professionally displayed at the Heraklion Archaeological Museum.

Evans made some very unusual choices in restoration of the site. These artistic impressions show how the buildings might have looked in Minoan times. The modern methods of archaeology might be very different, yet this has left a unique site and one which  you may find ugly, or beautiful, or interesting, or ridiculous, or fascinating. Everyone has their own reaction. This is part of the reason to visit Knossos.
Skilled local overseers and craftsmen worked on this site including Manolis Akoumianakis, Manolis Markogiannakis, Spyros A. Vassilakis and Antonis Zidianakis, and restorer Petros Petrakis.
Many modern archaeologists and specialists have also worked on the site which is now managed by the Ministry of Culture and Sports.
---
See Knossos Come To Life

Knossos Map - take a hand-held tablet on site with you to use the technology of augmented and virtual reality - contact http://moptil.com/sites_knossos
Experience the West Porch, South Propylaeum, West Magazines, Central hall Lightwell, Theatre, Sanctuary Hall, Central Court, Grand Staircase, Queen's Megaron, Hall of Colonnades, School; Throne, double Axes and Giant Jar rooms;  Prince of the Lillies, Corridor of the Procession and Bull Frescoes with a spooky real-life feel!
[These tablets are currently available only for group bookings.]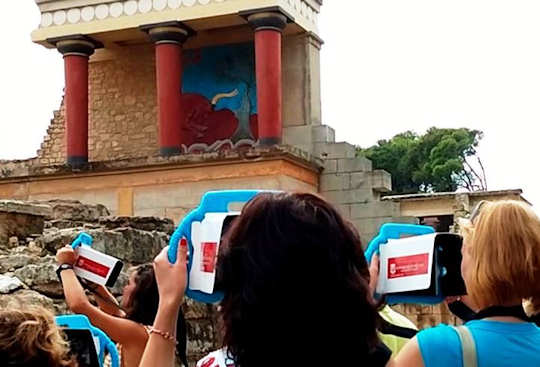 Augmented reality tablets by Moptil at Knossos Palace, Crete
---
Buy a Guide Online
The Lonely Planet Crete Guide contains a good chapter and Knossos map.
Buy Chapter 7 as a PDF and this is all you need as an independent traveller to Knossos Palace.

---
Buy A Map Offline

To purchase a Knossos map or guide book whilst in Athens on your way to Crete, visit Travel Bookstore at 71 Solonos Street in Athens for a wide range of maps, guides and publications about Greece.

If you would like to purchase a Knossos map or guide upon arrival in Crete, visit Taxidiotiko Bibliopolio - Travel Bookstore on 48 August 25th Street in Heraklion. You can find road maps, walking maps and hiking maps with good detail. Here is also a good map of Iraklion town. At Chandakos 73 is Planet International Bookshop (just walk down between the trees from the Liondaria), which has a wide range in many languages. These maps and guides will give good help for getting around in Crete.


---
Location of Knossos Map

Knossos Palace site is located on Knossos Avenue or Leoforos Knosou approximately 5 south-east of Heraklion in central Crete.

There are four major Minoan palace archaeological sites in Crete, see the location map below for:
Knossos Palace - 5 km from Heraklion in central Crete
Phaistos Palace - 62 km from Heraklion in central Crete

Malia Palace - 40 km from Heraklion in central Crete

Zakros Palace - 50 km from Sitia in eastern Crete
More about the Minoan Palaces here

---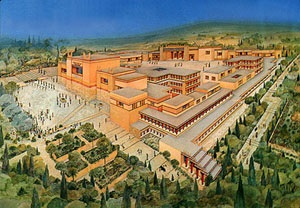 Knossos Palace - an artistic impression
Knossos Archaeological Site

The Knossos Palace site is managed by the Greek Ministry of Culture so check here for opening times and dates of closure.
The ticket €15 to this site includes entry to the Heraklion Archaeological Museum located at 2 Xanthoudidou Street, close to the centre of town. The value of this is extraordinary as it houses some of the most compelling history of European civilisation in well-kept condition and both sites are managed for thousands of visitors.
It is improbable that every one will find favourable the restoration of Knossos as it is very controversial. See more about Arthur Evans and excavation and reconstruction of the site here...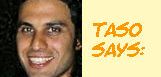 We find the site very peaceful and verdant. It is located in a softly sloping valley and would have been a very tranquil setting for a village so many years ago. The views all around are lovely and you can spend over two hours exploring the site.
Our biggest tip is to visit as early in the day as you can - to avoid the crowds. Much better if you can visit the island and the site in spring or autumn, not in summer, as it gets really too hot to enjoy with all the noisy crowds in the hot summer months of July and August.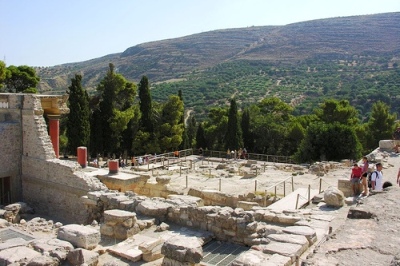 Knossos Palace is set in a natural valley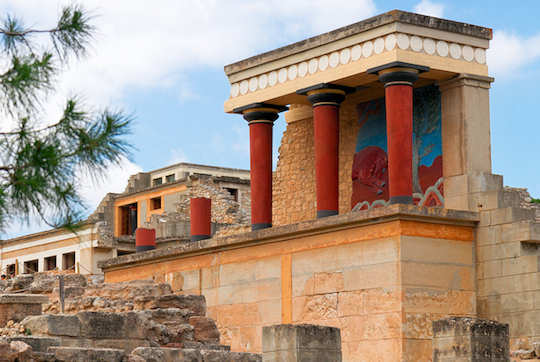 Knossos propylaeon or entrance gate