Nida Plateau
Psiloritis Range, Crete

This page may contain affiliate links, see our disclaimer here.

---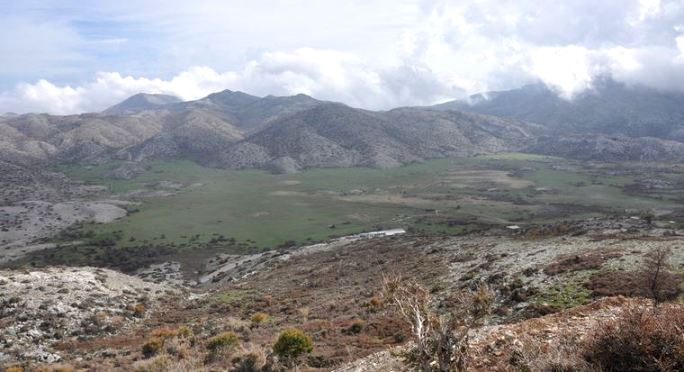 Nida Plateau Οροπέδιο Νίδας - high in the mountains of Crete in Greece, this valley is found in the mountain range known as Psiloritis, this spot is located is 1500 meters from sea level and has a place in Greek mythology.
The plateau is located 24 km higher up in the mountains from Anogia and totally unpopulated, this is a high grazing ground for sheep in spring. At many times of the year it is cut off; completely snow-bound.
From here you can visit:
Mount Psiloritis Ψηλορείτης

Psiloritis Geopark

Anogia Village
the ancient site of Zominthos Ζώμινθος
the protected monumental Hawthorn tree

Agia Marina Chapel
Analipsi Chapel

Rouvas Forest and Gorge
the plateau of Livadia
Livadia, Krana, Zoniana and Axos villages
Zoniana Gorge

the Shepherds' Hut


The highest peak in Crete is Mount Ida (above). The nick-name for this mountain is Psiloritis, meaning 'tall one'. See more about the Psiloritis range.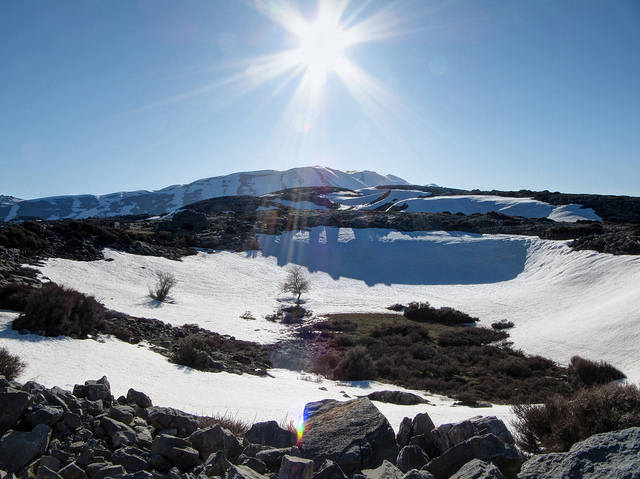 ---
Nida Plateau - Zeus Cave
The Ideon Andron or Zeus Cave is located just a few kilometres from Nida Plateau. These days a paved road leads all the way from the village of Anogia to the plateau, and it is a short walk to the most famous of all Cretan caves, the Ideon Andron. For more about the cave, please see our other page Zeus Cave.

Mythology tells us that Zeus was raised in this cave. This is a bit of a debate because many people say that Zeus was raised in the Dikteon cave in Lasithi. Perhaps he was born in one and raised in another? Either way Kriti has been woven into the mythology to give safe haven to this powerful God.
On our visit, we wandered as if we were the only ones ever to discover this lush hidden plateau. It is so refreshing to see so little development of such a famous place.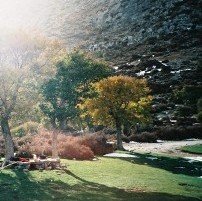 There is a little chapel on a hill overlooking the Nida Plateau with its back to Zeus Cave. It has a lovely garden ideal for a picnic and some oak trees.This chapel is named Analipsi.

Otherwise it is just the mountain range, the sky, cliffs and mountain air. We found complete and utter peace on the plateau. The air was clear, our breath sharp and crisp.

More here on the hike from Nida Plateau to Zeus Cave and Psiloritis Mountain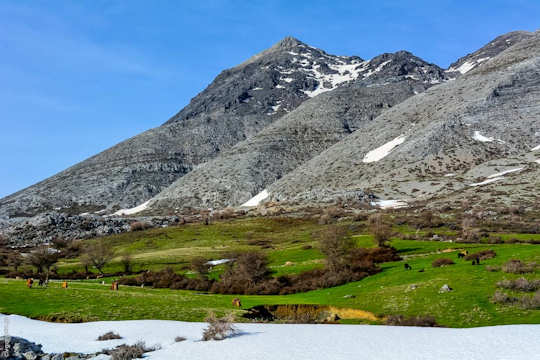 Spring colours (image by Vasileios Garganourakis)
---
Shepherds' Shelters

Shepherds in these hills have built stone huts, for there is very little else in these forbidding hills. One hut is called a mitato Μιτάτο, plural is mitata, as seen below. Today you can visit a working shepherd's hut near the hamlet of Krana, west of the Nida Plateau.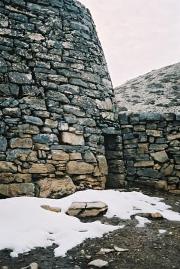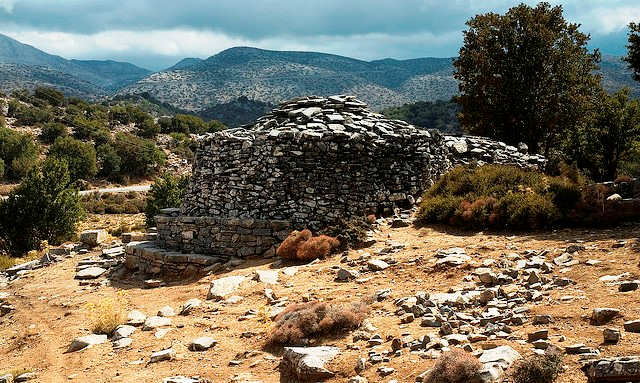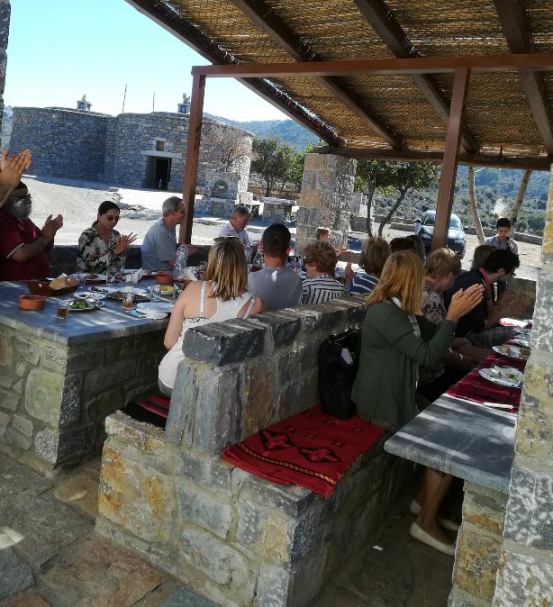 Visit the Shepherds Shelter at Krana near Anogia on Psiloritis. Experience the work and life of the mountain shepherds of Crete first hand - To Spiti tou Vouskou
In a hand-built 'mitato' or traditional stone hut, depending on the season, you have the unique opportunity to view sheep milking, join the cheese-making, sheep shearing or the raki distillation. Join the collection of herbs and traditional cooking, and indulge yourself with the local delicacies and wine on offer.
---
Ancient Zominthos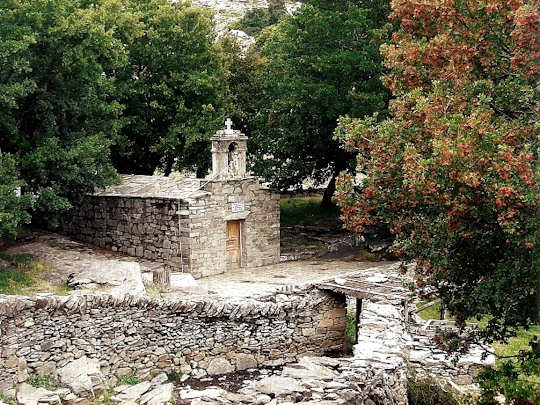 Just 7.5 km from the village of Anogeia you will find the ancient Minoan site of Zominthos, one of the most important archaeological discoveries in these mountains.
Next to the site, you will find a tree that is so old and beautiful, it has been declared a 'monumental tree' and protected. It is a hawthorn tree of the species Crataegus monogyna.
Also near here you will find the beautiful small chapel of Agia Marina (pictured above).
---
Nida Plateau
E4 European Walking Path


Of course walkers come here very often as it is part of the E4 European walking path.
Nida Plateau to Rouvas Forest - this trail is 6.6 km to reach the chapel of Agios Giorgos, or you can continue down the Rouvas Gorge and come to Lake Zaros for a total of 16 km.

Nida Plateau to Zominthos to Anogia - this trail is 20 km.
---
Accommodation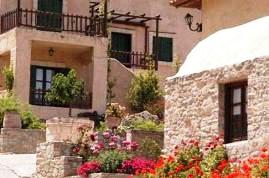 Enagron Traditional House will give you quality accommodation and an authentic Cretan experience, it is located near the village of Axos in the Psiloritis range. A stunning hidden gem in the fresh mountain air. 29 km from Nida Plateau by car.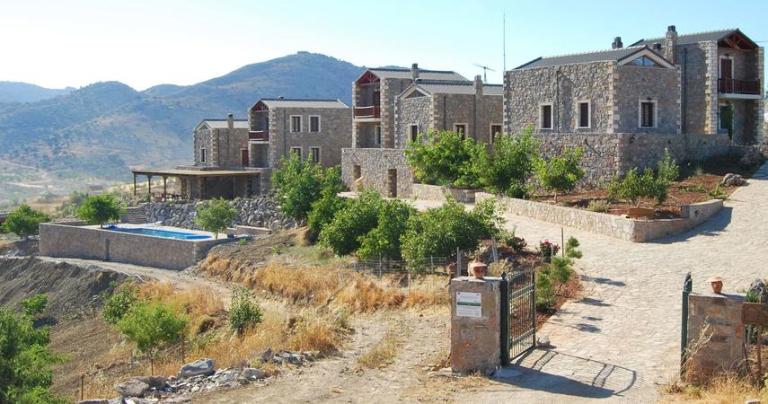 Arodamos Guesthouse is located on the plateau of Livadi close to Nida Plateau in the foothills of Psiloritis. Visit in summer or winter for a completely rural escape.20 km from Nida Plateau. You will need a car to enjoy this accommodation.
Eleni's Stately Home would be a wonderful base for a family who loves hiking to stay whilst exploring the Nida Plateau and the Psiloritis range and Rethymnon in central Crete. Two families could gather here very comfortably, as the home welcomes 9 guests with 3 bedrooms, 3 bathrooms and a private pool. 42 km from Nida Plateau.
---
A Very Sad Donkey
The only company we had, on the day of our visit in early winter, was this sad donkey who seemed to be on his last legs. Indeed, he was probably let go without food because he was old. Lack of care of donkeys was once quite common in Crete. But things are changing now. If you see an old donkey, you can seek the help of the sanctuaries below.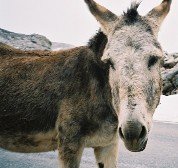 Agia Marina

Donkey Rescue

Sanctuary near Mires in Heraklion
Walk with Donkeys Rescue Sanctuary in Lasithi
---
Getting Here
Nida Plateau - visitors arrive into Chania International Airport CHQ or Heraklion International Airport HER from Athens on a 1 hour flight with Olympic Air or Aegean Airlines.
Many flights arrive into these two airports from hubs in Europe.
Ferries depart Pireaus port of Athens and arrive into Souda port at Chania or Heraklion port with a trip duration of around 9 hours.
Drive 60 km south-west from Heraklion, stay at the notorious mountain village of Anogia to get the flavour of these wild mountains.
Or drive 66 km south-east on mountain roads from Rethymnon.
See more details about flights and ferries below.
Car hire in Crete is a really good idea as it is a large island 60 km by 260 km. There is so much to explore.
When you book with our car rental partners - Rental Centre Crete - you are supporting a local company with excellent service and an easy online booking procedure. We are sure you will be well looked after by the team. Choose from hybrid or non-hybrid vehicles.
---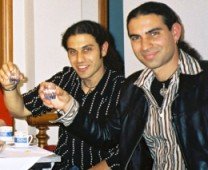 "We trust you have enjoyed these tips from the team at We Love Crete. Evíva!"
Contact us with further questions or feedback. We love to hear about your travels in Kríti and Greece. Let us know of any updates or additions, errors or omissions. Help us make this website the best it can be. Kaló Taxidí!

---