Zeus Cave - Ideon Andron
This page may contain affiliate links, see our disclaimer here.

---
Crete, Greece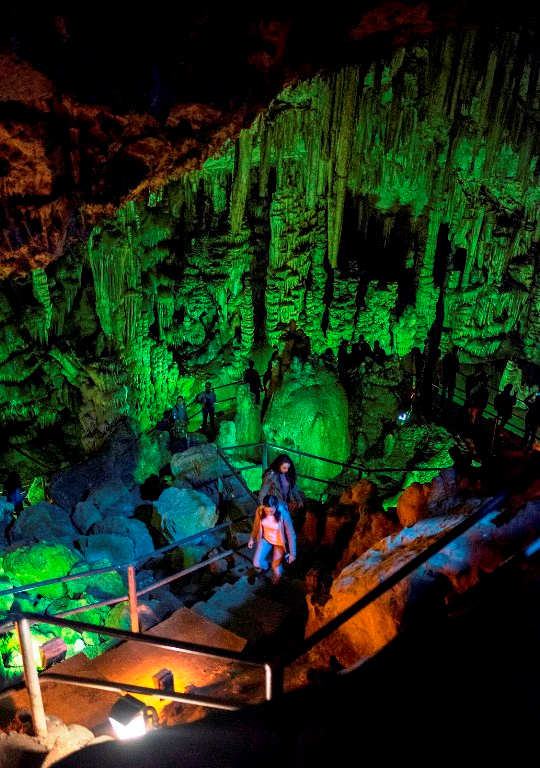 Zeus Cave, known as the Ideon Andron Ιδαίο Άντρο, is nestled into the side of Mt Idi, looking over the Nida Plateau. This remarkable cave is 55 km from Heraklion in the Psiloritis mountain range in Crete, Greece. The cave has a main chamber 40 by 50 metres. 
---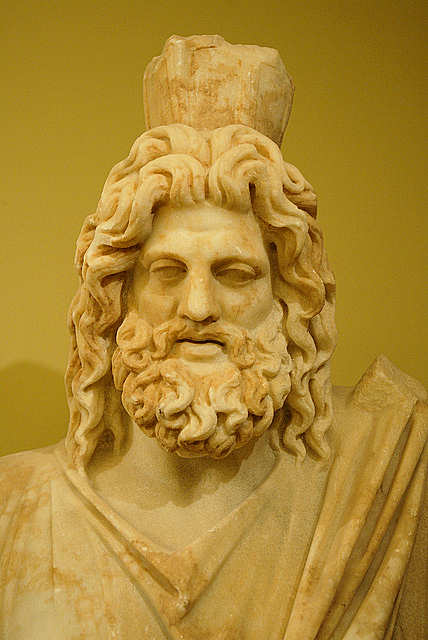 Marble statue from the Temple of Isis-Persephone with Zeus-Serapis, Gortyn, Roman (180-190 CE). Currently displayed at the Heraklion Archaeological Museum
Mythology tells us that  Ζεύς was born or raised in this cave, by the Goddess Rhea, to hide him from his father Κρόνος , who had eaten all his children.
The tales tell that special warriors known as Kouretes danced with shields and metal weapons protected  Ζεύς, making a clashing noise so that his father would not hear him cry. Perhaps these were the original Cretans?

Ζεύς, of course, went on to become one of the most powerful Gods, he was the God of Mt Olympus, ruler of all the Gods, God of Thunder and God of the Sky.
---
Getting to the Cave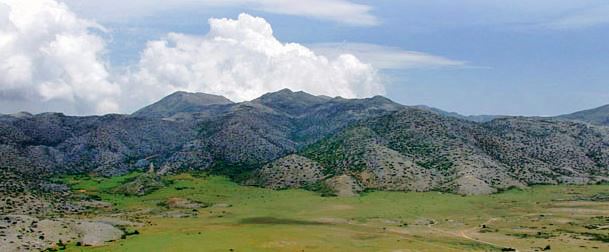 To reach Zeus Cave, drive south-west from Heraklion to the mountain town of Anogia.
From Anogia it is a further 22 km up steep mountain roads. The road ends at Nida Plateau, with one or two small buildings and a little chapel. Behind the church, named the Church of Analipsi, which looks out over the plateau and the mountain range, is a lovely picnic spot. Of course in winter it is very cold and there is snow, sometimes this area is inaccessible.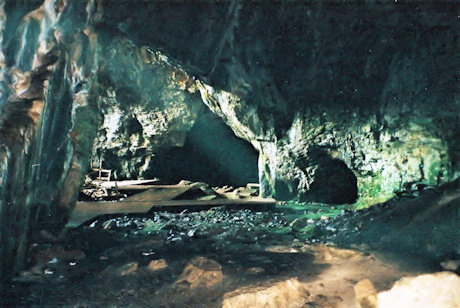 A couple of hundred metres behind the church is the entrance to the Zeus Cave. It sits at 1540 metres above sea level. It is slippery and wet, with a very large cavern to expore, and an inner sanctum. Sometimes it is closed for archaeological excavations, so it is best to check before you visit. There are steps down into the cave. Reasonable fitness is required to visit this site.
See further details on getting to Zeus Cave here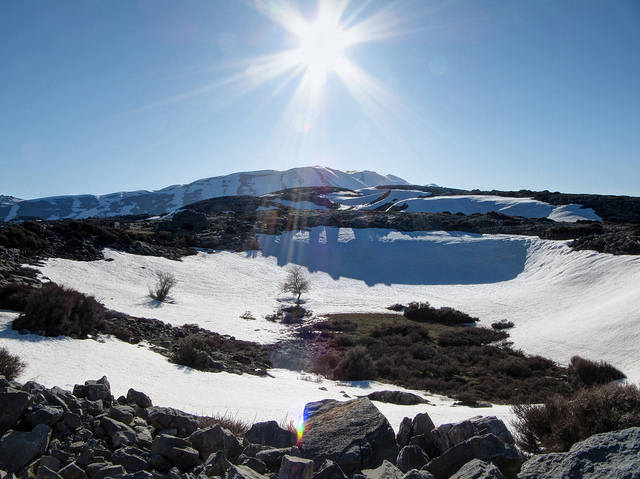 Psiloritis Mountain Range - Crete
---
Mountain Birdlife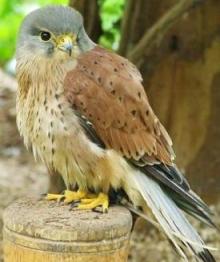 From this high point you might spy the European Kestrel (pictured),  a rare Bearded Vulture, the Golden Eagle, Bonelli's Eagle or the Griffin Vulture.

Also be on the look out for Peregrin Falcon, Lanner Falcon and the Hooded Crow, Alpine Chough and the Red-Billed Chough in these mountain regions.
More on birds of Crete
---
Zeus Cave - Finds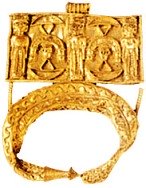 The Ideon Andron has been excavated by Giannis and Efi Sakellarakis, respected Cretan archaeologists. Mr Sakellarakis is the former director of the Archaeological Museum of Iraklion and has authored the books on Cretan archaeology; Digging for the Past and Archanes: Minoan Crete in a New Light.
There have been many archaeological finds in Ideon Andron cave, some of them are mentioned below and can be seen at the Heraklion Archaeological Museum.

Numerous examples of the infamous double axe (diplo peleki διπλό πέλεκυ), so widely found throughout Crete. Inside Zeus Cave were also found:
• Bronze figurines

• Beautiful rings and brooches

• Bronze statuettes

• Seal stones

• Tools and other metal objects

• Gold jewellery

• Ivory pieces including jewellery

• Elegant ceramics

• Figurines
Intricately illustrated bronze shields (Ασπίδα) have been unearthed here (see this shield below). It depicts a figure (Zeus) standing between two winged and helmeted men (Kouretes Κουρῆτες) , holding an animal (a lion) overhead, while standing over the sacred bull of Crete. Other shields have dramatic birds or human heads protruding from the centre.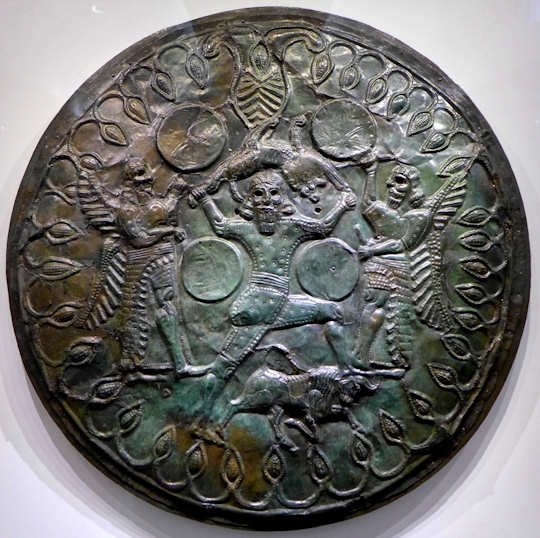 Found in Zeus Cave
---
History of Zeus Cave
Ideon Cave ( Ideon Andron - Ιδαίο Άντρο) is reputedly the birthplace of the God of Gods - Zeus. The birthplace of Zeus is confusingly contested by the Dictaean Cave in the Mt Dicti  range in the east of Crete. Our ancient tellers of tales such as Hesiod failed to specify the exact location of Zeus' birthplace; which means Rhea surely did her job well considering Zeus' birthplace was always meant to be a mystery. 
Rheas' partner and Zeus' father, Cronos Κρόνος, had a history of consuming his offspring, so as to avert the prophesy of his death at the hands of his offspring coming true. As such, Rhea tricked Cronos by giving him a rock wrapped in a swaddling cloths, and escaped with the baby Zeus.
Zeus' cries were then kept from being heard with the assistance of the Kouretes. Melissa the nymph (who fed Zeus honey) and the goat Goddess  Amalthea (who suckled the baby). 

These Diamones  were rustic spirits/gods of the pastures, forests and countryside. On the day of Zeus' birth, the Kouretes danced their wild and noisome dance, banging weapons on shield.

The cave of Ideon has long intrigued us. It is a short distance from the mountain village of Anogia, famous for dilikani, andartes, musicians and mantinadologie.

Among the legends associated to Ideon Andron is the tale of Pythagoras of Samos. He tells of an ivory throne that once sat in the cave in honour of Zeus, yet sadly there are no signs of this throne today.

The Ideon Andron is said to have a history that goes as far back as 4000 BC. Just as Knossos was long forgotten and accidentally discovered due to the seal stones Arthur Evans was so intuited by; so the cave at Ideon was discovered by chance. The shepherds staff (katsouna) found and with it attention directed to the site. 

The site was excavated by Frederico Halbherr, an Italian archaeologist,  in 1885. Many archaeologists since have worked this site, such as Stephanos Xanthoudides (1917), Spyridon Marinatos (1956), and Yannis Sakellarakis (1982).

What was this site used for? Was it just the birthplace of the God of Gods, The Alpha of all males? Like many caves throughout Crete, this was used as a site of worship and as such many votive offerings left in the cave. Among these are the ornate bronze shields with their stories told in their incised and hammered images. The cave was used until the late Roman era.

The findings tell us not only that the ancient inhabitants of Crete were a refined and skillful people, versed in many crafts, metal work, pottery and engraving among them, but that the peoples of Crete were traders and mariners due to some works being made of Syrian ivory.

As recently as 1982, the ancient town of Zominthos was discovered, said to date back to 1800 BC. The head archaeologist Yannis Sakellarakis and in recent years his daughter, Effi Sapouna-Sakellaraki, discovered a luxury building spanning 120 square meters. This is thought to have been used by the priestess' and priests of Ideon Andron particularly during the winter months.  
Bronze idols, cencers, copper cups and rock-crystal carved artefacts. This building is on the path leading from Knossos to Ideon Andron. The walls of the many-storied building reach up as high as 3 metres, with the ground floor housing more than 100 rooms alone. 


---
Getting Here
Take a 1 hour flight from Athens to Heraklion with Aegean Airlines or Olympic Air, with many flights available per day.
Or take a 9.5 hour overnight ferry from Pireaus port of Athens to Heraklion port.
More on flights and ferries below.
Car hire in Crete is a really good idea as it is a large island 60 km by 260 km. There is so much to explore.
When you book with our car rental partners - Rental Centre Crete - you are supporting a local company with excellent service and an easy online booking procedure. We are sure you will be well looked after by the team. Choose from hybrid or non-hybrid vehicles.
---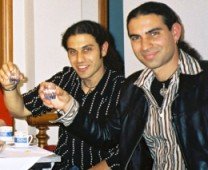 "We trust you have enjoyed these tips from the team at We Love Crete. Evíva!"
Contact us with further questions or feedback. We love to hear about your travels in Kríti and Greece. Let us know of any updates or additions, errors or omissions. Help us make this website the best it can be. Kaló Taxidí!

---