Palaiochora Beaches
This page may contain affiliate links, see our disclaimer here.

---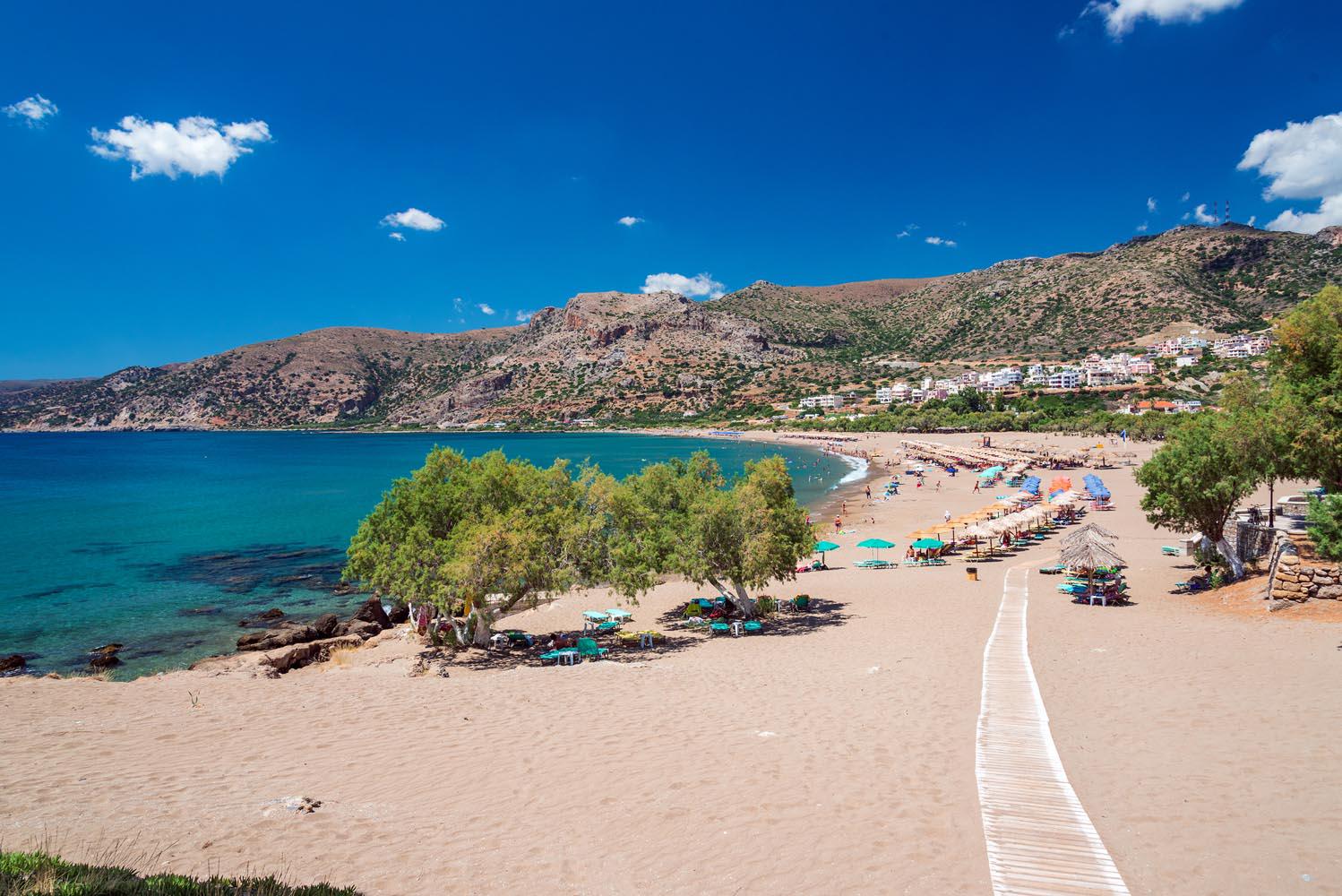 Palaiochora beaches are popular in summer. Palaiohora Town Παλαιόχωα is 75 km from Chania on the south coast of Crete. There are a number of beaches close by. Sandy Beach (above) is to the west of the town.
When we visited Palaiochora in winter, the snow was on the mountains and a storm was brewing, a rainbow broke out over the mountains. The light was remarkable and we were mesmerised by the rugged beauty of the south coast. This landscape is beautiful in any season.


A beautiful beach that runs east of the township is Chalikia or Pebble Beach, with its outlook over the Libyan Sea and the beautiful White Mountains, and a back drop of tamarisk trees, it is a lovely beach.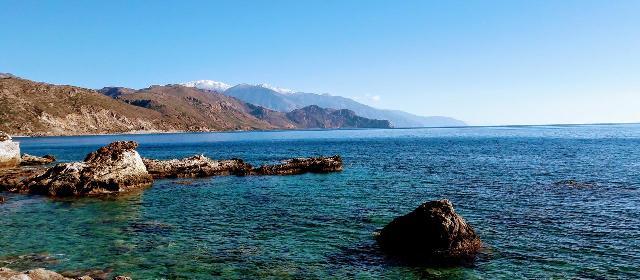 Enjoy the sunsets over the Libyan Sea with uninterrupted views - as the golden orb sets way over the water behind Africa - relax by the lapping waters.
Wake up to another sunny day with clear skies, clear waters and the views across to the White Mountains dipping into the sea of the Palaiochora beaches.
Trek into the mountains or stay in town and relax over a coffee, try a different beach every hour, take the boat to Elafonisi or just relax at one beach... you choose...then watch the sunset over Palaiochora beaches and head to the taverna for a drink and delicious local food.
---
Palaiohora Beaches
Pahia Ammos Beach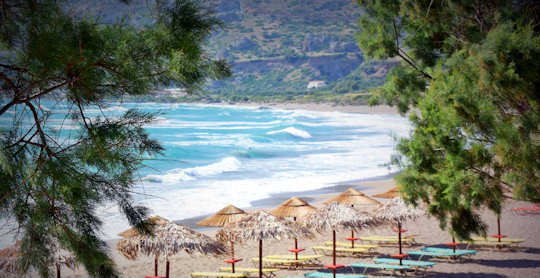 Pahia Ammos is the main town beach

Palaiochora beaches - the main town beach, Pahia Ammos, to the west is a popular, nice sand and pebble beach. There are plenty of rooms and domatia in the town, within strolling distance of the beach, near a new promenade that overlooks the ocean. It is wise to book ahead in the busy season.
Windsurfing conditions are excellent here, and many visitors come for the windsurfing across the safe bay with optimal winds, enjoying the cafe and restaurant atmosphere and nightlife.


---
Chalikia or Pebble Beach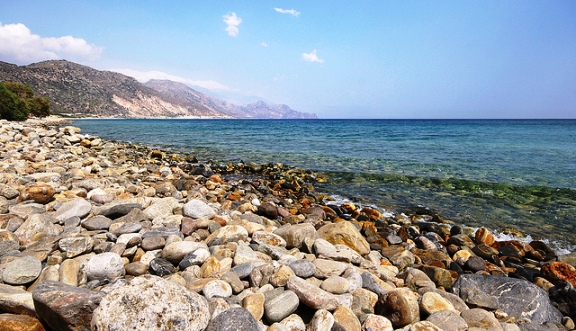 Pebble Beach is to the east of town

Palaiochora beaches - along the eastern esplanade of town is Chalikia Beach, a pebbly beach leading to tamarisk trees and the walking paths to the south coast villages.
This beach starts at the harbour next to the village, and there is a road and an esplanade alongside it, with large pebbles like the ones above. The views to the mountains are sublime, the water water is crystal clear. As you walk along towards the east, the pebbles get smaller and there start to be a few trees, and this is where it is most common to swim. This is also called Oriental Bay beach.

This beach continues eastward, the river comes out here, and becomes Keratides Beach, it is here that the Palaiochora Camping is located behind the beach.
---
Gialiskari Beaches
Palaiochora beaches

Gialiskari Beach (above) also known as Anydri or Anidri Beach is a lovely beach 4 km to the east of the town, actually a cluster of three beaches reached by a dirt track in vehicle or on foot.

This beaches can be reached by trekking the E4 European walking path in Crete, see some images of this route below.



---
Other Beaches Nearby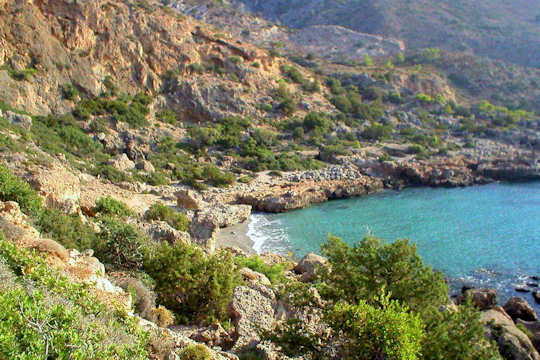 Small coves lie east and west of Palaiochora

Explore the surrounding Palaiochora beaches:
Volakas Beach
Karavopetra Beach
Plakaki Beach
Grammeno Beach
Krios Beach
During summer boats leave daily for the beautiful beach and islet of Elafonisi, and the island of Gavdos with its lovely beaches.
Take a private boat to visit Elafonisi and other smaller beaches.

Walk the beautiful Samaria Gorge or Agia Irini Gorge.
Ferries depart from Palaiohora to other beaches of the south coast. Ferries stop at Sougia, Agia Roumeli, Loutro and Sfakia, making exploring the south coast possible without a vehicle.
Palaiohora is a very Greek village, it is retaining its character, despite being very popular with tourists in summer, see more about it in our Palaiochora village page.
---
Accommodation
There are all types of accommodation near the Palaiochora beaches, including camping, domatia, budget and mid-level hotels and villas or holiday homes in the outlying hills and mountains. Our suggestions are below which include beachfront and budget options.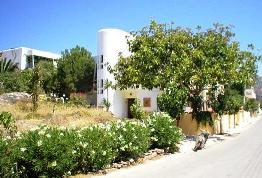 The Aris Boutique Hotel is a small family-run hotel close to the Kastro in Palaiochora. An arty hotel with a garden patio and good sized rooms.

If you prefer to be right on the beach, Pal Beach Hotel is a simple budget affair within slouching distance of main beach.
---
More Info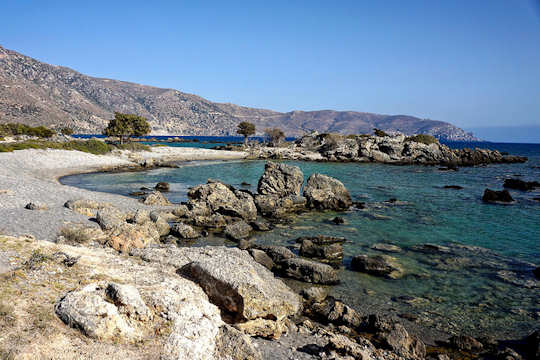 Elafonisi to Palaiochora
More information about Palaiochora:
---
Palaiochora Beaches On the Map
See the location of Palaiochora Beaches on the map below.
---
Getting Here
Fly from Athens to Chania International Airport CHQ.
Palaiochora is 75 km from Chania town. To drive there on the national road and southern road is a stunning, scenic drive which takes about 1 and a half hours, or 2-3 if you leave time for stops and wonder along the way.
To drive from Chania Airport, join the national road A90 following signs to Katelli-Kissamos. Do not go into Chania town. After about 25 km you will need to turn south, following signs to Palaiochora/Tavronitis.
Drive another 60 km or so. It is beautiful to make a stop in Palia Roumata Παλαιά Ρούματα for food, is a very traditional village. The drive to get to Palaiochora really is amazing. When you reach Mesavlia village with the gorge the view is wonderful. In Mesavlia they make very good cheese. After that perhaps stop in Kandanos Κάνδανος, a village with a huge history. It destroyed by the Germans in WWII and it was the first time in the new world history that in a war the enemy killed innocent people. Take some time on this route and you will be in the heart of Chania; this is a very scenic part of Kriti.
See the map of this route below.


To take the local bus, go to the Chania Bus Station at 1866 Square in Chania town. The journey is 90 to 120 minutes depending on stops and costs less than EUR10.
More information about flights, ferries, car hire and buses below.

Car hire in Crete is a really good idea as it is a large island 60 km by 260 km. There is so much to explore.
When you book with our car rental partners - Rental Centre Crete - you are supporting a local company with excellent service and an easy online booking procedure. We are sure you will be well looked after by the team. Choose from hybrid or non-hybrid vehicles.
---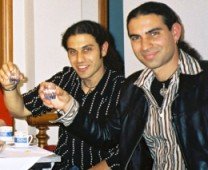 "We trust you have enjoyed these tips from the team at We Love Crete. Evíva!"
Contact us with further questions or feedback. We love to hear about your travels in Kríti and Greece. Let us know of any updates or additions, errors or omissions. Help us make this website the best it can be. Kaló Taxidí!

---