Bus from Palaiochora to Omalos
This page may contain affiliate links, see our disclaimer here.

---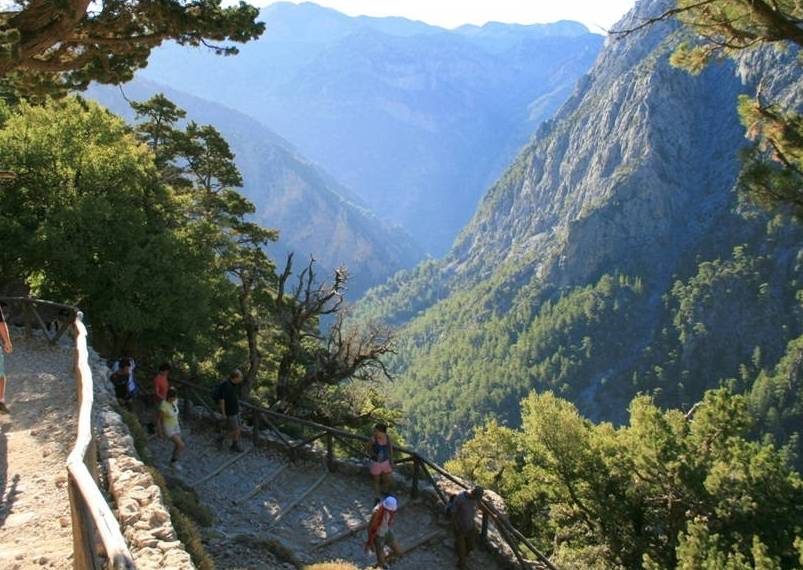 Bus from Palaiochora to Omalos
by Monika
Hello, we are planning a round trip on Crete from 25 May to 7 June. On this trip we also want to walk the Samaria Gorge.

So we are thinking of taking a room in Palaiochora and take a bus to Omalos to walk the gorge.

To make the hotel reservation we need to know if there is a daily bus from Palaiochora to Omalos. Does it run on 1 June, or how we can handle the trip?

We have a rental car but the beginning of the trip is Omalos and the end is Palaiochora, so this is not possible to do by car.

Have you any tips?

Thank you for your help.
---
Local Bus to Samaria from Palaiochora

Yiasas Monika,
Yes, you can take the local bus from Palaiochora to the northern end of Samaria Gorge which leaves each morning at 6.15 am.

The Samaria National Park is open from May to October every year, so that the bus will depart during these times. However to be sure, it would be best to check the timetable with KTEL, the local bus company, or email or phone them to be sure that this bus will leave on the date you require. Then again check with your hotel when you arrive in Palaiochora, to be sure.

Local Buses in Crete – Info

KTEL Chania and Rethymnon

Timetables are seasonal, so you must always check.

You can then take the 16 km walk from north to south which starts at Omalos and ends at the village of Agia Roumeli on the south coast. Then you can take a ferry back to Palaiochora.

There is another option on how to do this walk – which may mean you cannot do the whole 16 km track, but you will still experience the south of Crete, and walk 16 km if you choose.
The idea is to take the ferry from Palaiochora to Agia Roumeli in the morning, walk the gorge from south to north for part of the way, then return to Agia Roumeli before the evening ferry to Palaiochora. Or you could stay overnight in Agia Roumeli, which is a nice calm place after all the day walkers have left on the last ferry.

Be sure to check the ferry schedules with Anendyk SA - the company that runs the ferries along the south coast of Crete, or check with your hotel in Palaiochora.

---
About Palaiochora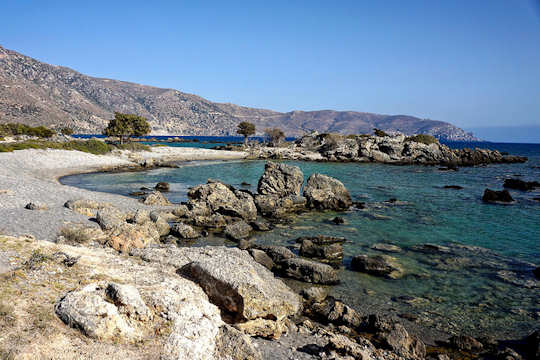 See our info about Palaiochora here:
---
About Samaria Gorge
The Samaria Gorge - Φαράγγι Σαμαριάς - WOW this scenery is magnificent and makes the early morning wake-up call worth it for this awe inspiring walk.
More information here
---
Accommodation

Bus from Palaiochora to Omalos

Palaiochora is a sizeable village with all ranges of accommodation from budget to villas for a week-long holiday for a large family. See our accommodation suggestions below.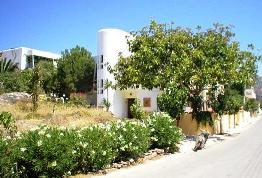 In Palaiochora we suggest the Aris Boutique Hotel run by a local family, it is very central, close to everything and easy for enjoying the cafes and restaurants of Palaiochora. Close to the Selino Kasteli historic site.


The affordable Eftihia Studios are close to the bus stop and convenient to everything in the village, with friendly staff and clean, simple rooms near to the beach. With happy flowers everywhere, you will be looked after by the locals in this family-run, homely place.
Agia Roumeli is a small, remote seaside village that has grown a little because it is situated at the end of the Samaria Gorge walk. Or at the beginning, depending on your point of view. There are quite a few small hotels, no over-sized sprawling resorts and no villas. See our suggestions below for budget and mid-range accommodation.
We suggest that you book well ahead as the walk is one of the most popular activities on the island.

In Agia Roumeli we suggest the Gigilos Hotel with its own taverna overlooking the beach.


Pachnes Bed and Breakfast is a lovely place just a little bit back from the main beach at Agia Roumeli, quiet and small. Get away from it all here, rest after your long walk.

Another alternative is to take the bus to Omalos Plateau the day before you want to hike, and stay on the plateau, so as to get a good early start before the heat and the coaches arrive.

The Neos Omalos Hotel welcomes hikers of Samaria Gorge and has a shuttle bus service to the start of the walk, provided at no cost. Learn great local knowledge from your friendly host. Great taverna food and fresh orange juice at breakfast.

---
Bus from Palaiochora to Omalos
Information Pages
Bus from Palaiochora to Omalos - the information pages you might need are below.

---
Getting Here
Bus from Palaiochora to Omalos
Getting to Palaiochora - take a 1 hour flight from Athens to Chania with Aegean Airlines or Olympic Air, with many flights available per day.
Or take a 9.5 hour overnight ferry from Pireaus port of Athens to Souda port of Chania.

If you arrive into the airport or port of Chania, it is a journey of around 90 km to Palaiochora. Drive west on the national road for about 20 km until Tavronitis where you take the road south with signs to Palaiochora Παλαιόχωρα, then it is a further 70 km south.

Getting here by flights, ferries and hire car below.
Car hire in Crete is a really good idea as it is a large island 60 km by 260 km. There is so much to explore.
When you book with our car rental partners - Rental Centre Crete - you are supporting a local company with excellent service and an easy online booking procedure. We are sure you will be well looked after by the team. Choose from hybrid or non-hybrid vehicles.
---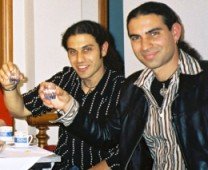 "We trust you have enjoyed these tips from the team at We Love Crete. Evíva!"
Contact us with further questions or feedback. We love to hear about your travels in Kríti and Greece. Let us know of any updates or additions, errors or omissions. Help us make this website the best it can be. Kaló Taxidí!

---
Bus From Palaiochora to Omalos