Balos Lagoon
Western Crete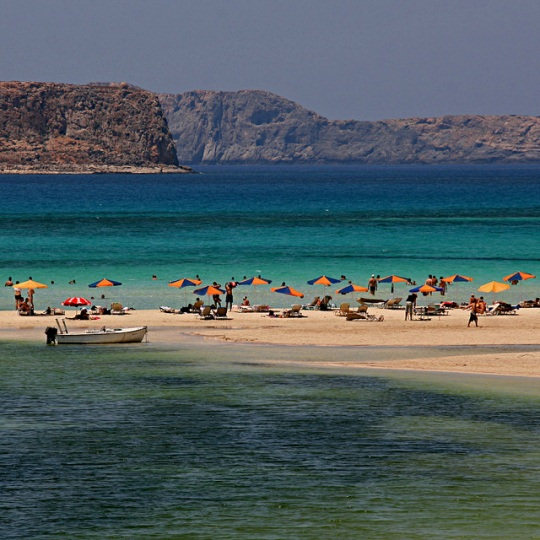 Balos Lagoon - Λιμνοθάλασσα του Μπάλου
On the rugged, unspoiled north-west coast of Crete sits a thin strip of moon-white sand surrounded by crystalline waters, looked upon only by craggy cliffs and darting swallows.

This is little-known paradise lagoon; opposite the windswept, unsettled headland of Mount Geroskinos sits the rocky islet of Gramvousa. Beyond are craggy, tiny islets named Agria and Imeri, wild and tame respectively.

Reaching this beach is an adventure in itself and well worth the effort to escape into the nothingness of nature.

A yacht or boat is the ideal way to visit, skimming quietly over the clear waters and enjoying the dancing angels on the water. Boats leave Kastelli-Kissamos daily.


Day Trip from Chania to visit this lagoon ...

Overland, it is best to take a four-wheel drive vehicle as the road is unpaved and rocky. Drive from Kastelli-Kissamos town further west to Kaliviani village, just 7 km. Then take the road to the lagoon for about 8 km on unpaved roads, leave plenty of time.

The car park is about 1.5 km from the beach, you will need to walk down from there, there is low scrub and not much shade so take hats, umbrellas and everything you will need for the day and walk down the path with exquisite views to the lagoon.
Day trippers arrive by boat in the summer season to enjoy the bay, so you may not have this nirvana all to yourself, but there is so much space here it is easy to enjoy the crisp white sand, the expansiveness and the sense of peace.
Also in the west of Crete are the magnificent beaches of Falasarna and Elafonisi, mountains, villages, olive groves and plenty to explore. Nearby is the cosmopolitan and historic capital Chania, and inland are farming communities, the White Mountains and dramatic ranges and gorges such as Agia Irini and Samaria Gorge.
The images below speak for themselves. Take the time to explore this untouched corner of Crete; you won't be disappointed.


Day Trip from Chania to this lagoon & Gramvousa
---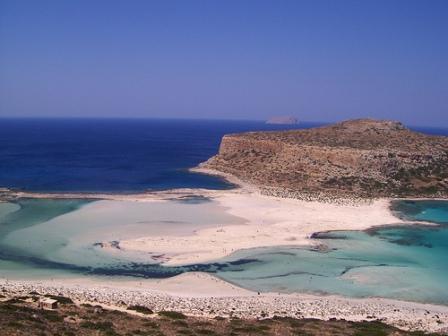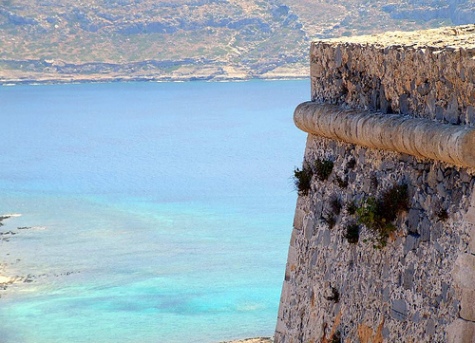 ---
Balos Lagoon - where to stay...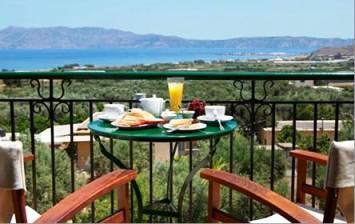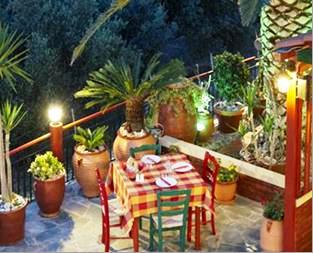 The Kaliviani Traditional Hotel (above) is close to Balos Lagoon and perfect for those with a vehicle, those travelling by bus are better off staying in Kastelli Kissamos town...
This traditional hotel, located on the outskirts of Kaliviani village, has a wonderful tasty breakfast, which is half the reason for staying here, serving all the best local produce very fresh.
This is a three star place, it is relaxed and quiet in the evenings. A small guesthouse with only 5 rooms, where the focus is on personal service, the rooms are a good size with lovely decor, the view from the terrace bar is very relaxing after a hard day's relaxing at the lagoon, and you just don't want to leave...
It is close to the beaches of Balos, Falasarna and Kissamos.
More information and bookings at Kaliviani Traditional Hotel...
---
---