White Mountains Crete

This page may contain affiliate links, see our disclaimer here.

---

The White Mountains Crete - Λευκά Όρη - the large, high range in the west of the island, centred in the region of Chania, is know as the Lefka Ori due to the white granite rocks on the treeless peaks, which show glaring pale during summer and are topped with snow in winter.
This impressive mountain range divides the island north and south and is dotted with peaks, rugged ravines and gorges and rough terrain leading to sudden plunging hillsides on the southern coastline. This Cretan landscape gives the character to the island and its people.
The area is also known in local dialect as Madares Μαδάρες which means 'bald, without coverage and bare of vegetation for high mountains'.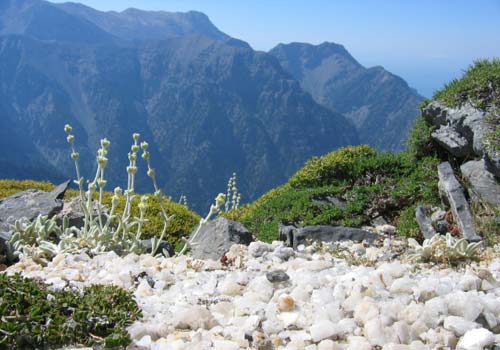 The granite rocks of the White Mountains in Crete (image by Aori Walks)
---
The White Mountains Crete

The highest mountain in the range is Pachnes Παχνες at 2452 metres. The shortest route to climb this peak is from the south. There are over 50 other peaks above 2000 metres in this range. Walking in these ranges is for experienced hikers and climbers. See our section below about guides for these mountains.
In these steep hillsides and gorges are popular activities:
trekking
climbing
caving
birdwatching
More about these mountains and gorges here on our pages: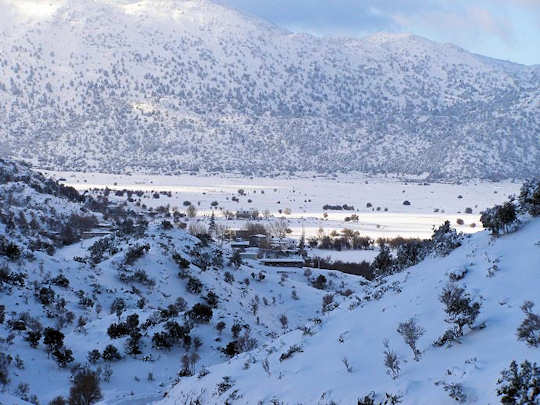 In the centre of the White Mountains is Omalos Plateau - here in snow in winter
---
The White Mountains Crete
Videos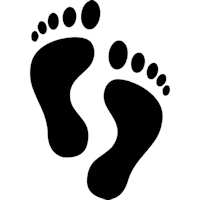 Warning to hikers! These videos will have you packing your bags (and your hiking boots) for Crete!
The true beauty of the mountains has to be experienced to be understood. These videos come close.
The video below was created by the Greek Mountaineering Club of Chania. They say 'The film comes alive with beautiful footage, narration and music, the splendor of the White Mountains, presenting the viewer almost every corner of the mountains of Chania'.
Crossing the White Mountains, Crete by Christos who says 'Here is a video of us practicing yoga while hiking the white mountains of Crete in Greece. April 2016.' accompanied by the music of Mavri korfi by Giorgis Xylouris.
This video features Christos and Felicita on their own unique journey, with yoga practice and philosophy which was inspired by the mountains on that trek on that day, guided by Nektarios Mitritsakis.

George Films have created this outstanding documentary about the White Mountains. They note 'The coast, gorges and mountains of South West Crete create one of the most dramatic landscapes of the Mediterranean. Using the latest maps we follow ancient paths to venture into the magical White Mountains whilst exploring dramatic gorges and caves'.
Taking their walk at the end of May, the spring flowers and bright sun accompany George and his companion from Anopolis to the peak at Pachnes. They spot a Golden Oriel and a Blue Rock Thrush, amongst other bird life and enjoy the magnificent scenery of the high mountains.


---
The E4 Walking Path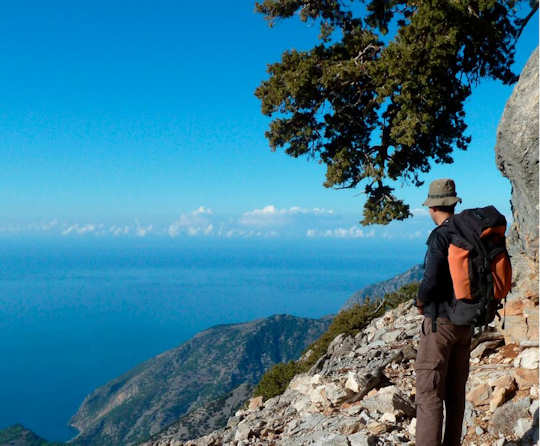 The Cretan Way Guidebook by Luca Gianotti

The E4 Long Distance Path of Crete passes through these mountains. This hiking trail starts at Kastelli-Kissamos in the west of Chania and makes its way to the south-west of the island, passing along the southern coast at the foothills of the White Mountains Crete until it splits at Sougia and hikers can choose between an alpine route through the White Mountains and a coastal route via Agia Roumeli, Loutro and Chora Sfakion .
This walking path is known as The Cretan Way or Η στράτα της Κρήτης
and Luca Gianotti has created a wonderful guide with excellent maps here.

E4 walking path in Crete - follow the black and yellow markers
---
The White Mountains Crete
Caves

Exquisite quiet in the White Mountains Crete (image by Dromolatis)

Many of the caves of Crete are kept secret. This is because they were used many times by freedom fighters against invaders over many centuries. The most recent example of this is during the Battle of Crete and the Resistance during WWII. The caves are part of the patrimony of Crete.

Cavers are also curious about the deep caves in these mountains. The deepest cave in Greece Gourgouthakas Γουργούθακας is located in the White Mountains Crete. It is of interest only to experienced cavers due to its dangerous depth in a vertical shaft. It has an explored depth of 1208 metres.
The Cave of the Lion or the Trou de Leon is the second deepest cave in Greece and is yet to be fully explored, measured at 1110 metres, it too is a dangerous cave.
The Tzani Cave is 1.6 km from the Plateau of Omalos, however it too is a very deep and dangerous cave and you can only look inside a couple of steps.


---
Mountain Guides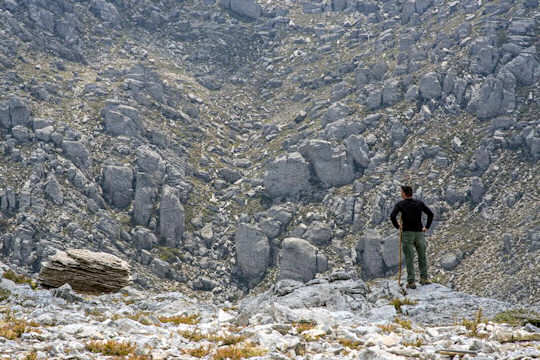 Dromolatis will guide you through the White Mountains of Crete

Choose from different local experienced guides who will give you an unforgettable experience in the heart of Crete. Adventurous and curious travellers will appreciate their authentic approach which is respectful to the natural environment and the local Cretan culture.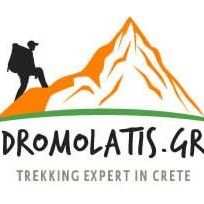 Dromolatis will take you on personal hiking and mountaineering routes through the White Mountains Crete , starting in Paleochora. Take a 7 day small group tour with Manolis or arrange your own custom tour with him. He knows these mountains well and is a passionate local, sharing his place and his culture with heart.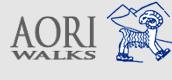 Aori Walks take treks into the White Mountains Crete, choose from your own private custom tour or 1-7 day treks with Anne, who is fluent in Greek, French, English and German and a very experienced, licensed trekking guide.
Tours by Locals hooks you up with locals taking their own tours around their beloved home town or region. Take a tour of Agia Irini Gorge with George and get the insider track on his home town on other local tours he offers.


---
Getting to Crete

Take a 1 hour flight from Athens to Heraklion with Aegean Airlines or Olympic Air, with many flights available per day.
Or take a 9.5 hour overnight ferry from Pireaus port of Athens to Heraklion port.
More on flights and ferries below.
Car hire in Crete is a really good idea as it is a large island 60 km by 260 km. There is so much to explore.
When you book with our car rental partners - Rental Centre Crete - you are supporting a local company with excellent service and an easy online booking procedure. We are sure you will be well looked after by the team. Choose from hybrid or non-hybrid vehicles.
---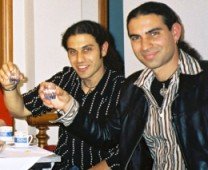 "We trust you have enjoyed these tips from the team at We Love Crete. Evíva!"
Contact us with further questions or feedback. We love to hear about your travels in Kríti and Greece. Let us know of any updates or additions, errors or omissions. Help us make this website the best it can be. Kaló Taxidí!

---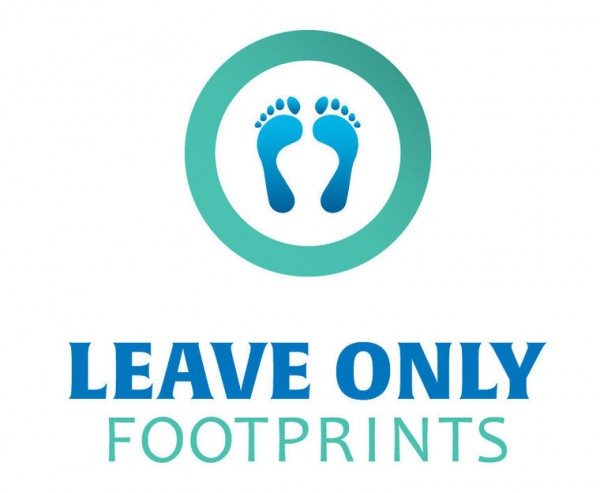 Take all your rubbish with and don't build any of those silly piles of rocks. Leave it as you found it and leave only footprints because We Love Crete!
Trekking in the White Mountains