Beaches Close to Chania Town

This page may contain affiliate links, see our disclaimer here.

---
Beaches Close to Chania Town - travellers ask us their questions about Crete and we are more than happy to help. Tips from the team at We Love Crete.


by Trine
from Norway
Are there beaches in Chania town?
I would like to stay in or close to Chania but in a place where it's easy and fast to get to the beach.
What do you recommend?

---
Beaches Close to Chania Town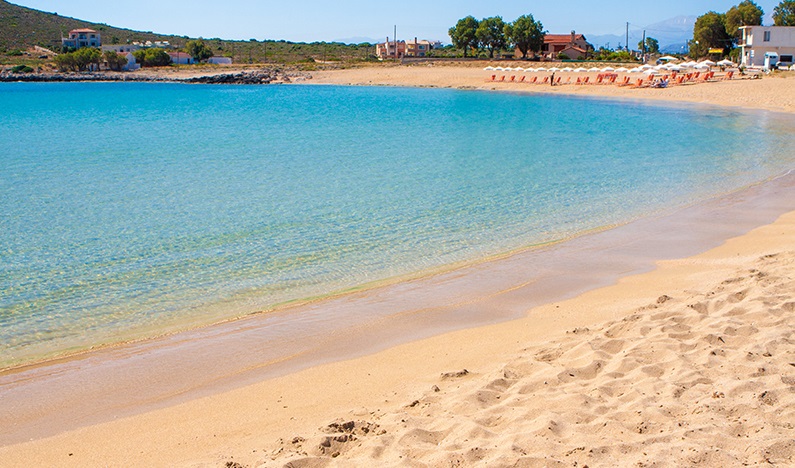 Yes, there are beaches within walking distance of Chania Town and easily accessible by taxi or local bus. There are beaches everywhere, so just take your pick, east or west there are lovely sandy beaches.
There are busy beaches with bars and cafes and music and tavernas or quieter beaches. There are active beaches with sports or other ones for just lounging around, or protected bays for childrens' fun.

You can see all about them below and more on our beaches page.
---
Chania Town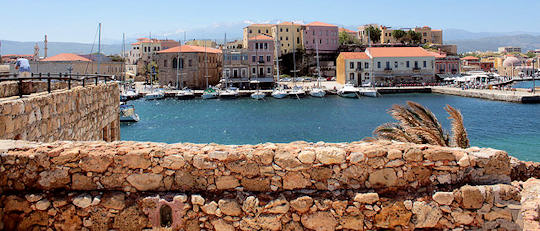 Beaches Close to Chania Town
The Old Town of Chania is the place to stay in the west of Crete for unending fascination of layered history and style. Highlights include:
Venetian Harbour

Venetian Lighthouse

Narrow historic laneways


Boutiques, art studios and jewellers

Cretan knife-makers and 'stivanadika' or boot makers workshops


The buzz of tavernas and cafes by the water

Fort Firca, The Maritime Museum and the Archaeological Museum

The Town Market and Trimartiri Cathedral

Local Cretan traditional cuisine
And yet, as you will see below, you can also enjoy the beach very close by. Here we show you the closest beaches to Chania town and some very close, within a comfortable bus or taxi ride.
---
Beach by Beach
Beaches Close to Chania Town
You could stay just to the west of Chania at these beaches:
Nea Chora
Agioi Apostoloi
Or try Kouloura Rockpool or Stavros Beach to the east (where the movie Zorba was filmed).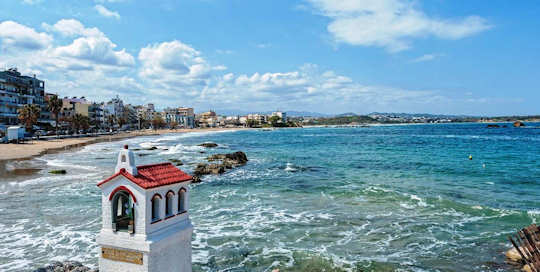 Nea Chora - this beach is just to the west of the Old Harbour and Old Town of Heraklion. You can walk from the Maritime Museum of the Old Harbour to this beach which is 800 metres. This is a sandy city beach with many good fish restaurants. Less than 1 km west of Chania town.

Agioi Apostoloi - here you will find pretty protected coves with sandy beaches and a chapel (Saint Apostoli) on the peninsula. Visit Notis beach cafe and sit back and relax in the Greek summer vibe. 5 km west of Chania town.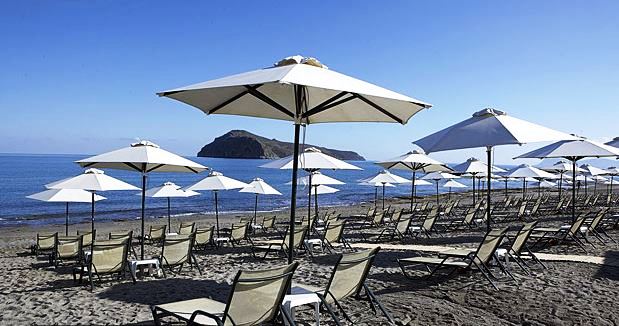 Agia Marina Beach - a busy long sand and pebble beach with many bars, cafes and tavernas, as well as hotels, apartments and restaurants. Enjoy comfortable visits to the beach and lots of water sports. 10 km west of Chania town.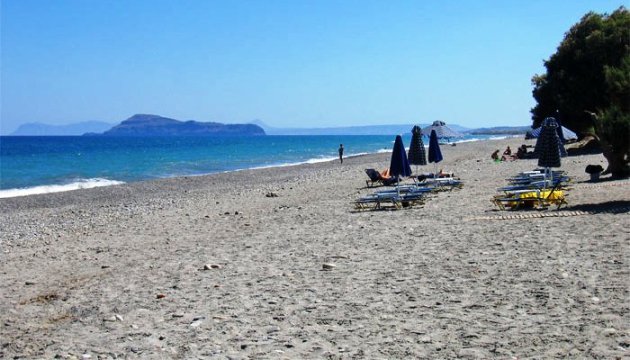 Maleme Beach - the western continuation of the same beach, long and wide and sandy with pebbles. Find some space here as well as cafes, beach bars and tavernas. 20 km west of Chania town.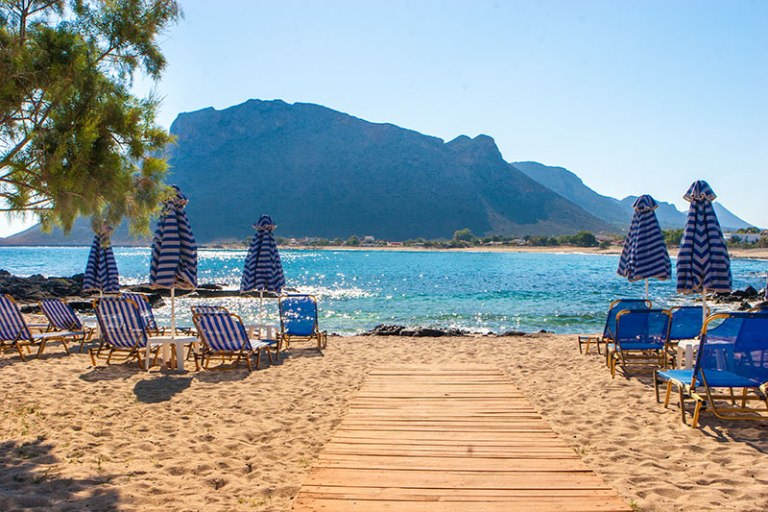 Stavros Beach - a dramatic scenic setting with a quaint cove and steep mountain, this is a collection of beaches with something for everyone. A safe shallow harbour for the kids and waves for the adults. A relaxed seaside village with a sandy beach. 15 km east of Chania town.

---
Which Bus?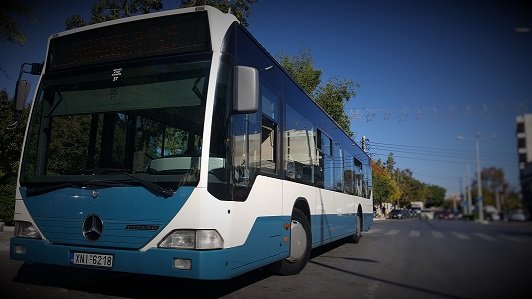 Take the local Chania Urban Buses (blue) for Agioi Apostoloi, take bus 21 from the town, departures are frequent.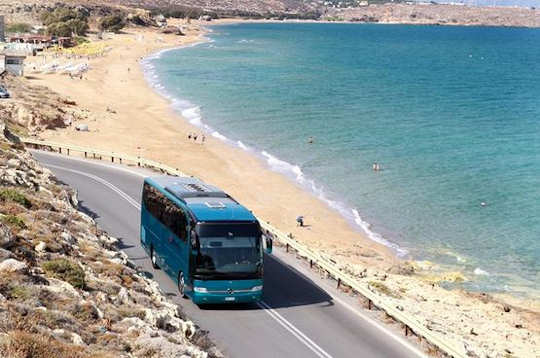 For Agia Marina, Maleme and Stavros Beaches take KTEL (green) buses.
---
Accommodation
Beaches Close to Chania Town
Nea Chora - why lose the character of the Old Town when you are so close? Walk less than 1 km to the beach from these historic Fagotto Art Residences located at the western side of Old Chania.

Agioi Apostoli - here you will be 3 minutes walk from the beach and enjoy the shady courtyard, comfort and hospitality at Katerina's Sea Apartments. With a kitchenette for self-catering this is a wonderful summer holiday place with double or triple studios. Lovely gardens and close to everything.


Agia Marina Beach - stay directly on the sandy beach at Vergina Beach Hotel - beach front access and sun loungers. The hotel restaurant serves breakfast, lunch and snacks. The cocktail bar serves cocktails, drinks and pizzas. Close to shops and restaurants. Kitchenette in your room, if you decide to self-cater. Swimming pool. Gorgeous, small and friendly accommodation on a funky, fun beach.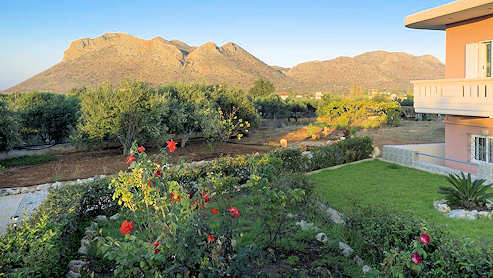 In Stavros Beach be welcomed by true Cretan hospitality by Giorgos and his family at Skamagkas Apartments. Set back from the beach within easy walking distance, you will find affordable accommodation here with fresh local food from the family vegetable garden. Stavros Beach has plenty of taverns and cafes to enjoy, and you can go into town in half an hour.

---
On the Map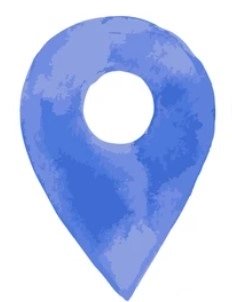 Beaches Close to Chania Town  shown on our map.
---
Getting Here
Beaches Close to Chania Town
Fly directly into Chania Airport from many hubs in Europe, or with a 1 hour flight from Athens. The airport is 15 km north-east of Chania town.

Take an overnight ferry 9 hours from Pireaus Port of Athens to Chania Port. The port is 9 km south-east of town.
Bus travel and taxi services are frequent and easy from both locations, see details below.


Car hire in Crete is a really good idea as it is a large island 60 km by 260 km. There is so much to explore.
When you book with our car rental partners - Rental Centre Crete - you are supporting a local company with excellent service and an easy online booking procedure. We are sure you will be well looked after by the team. Choose from hybrid or non-hybrid vehicles.
---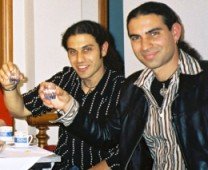 "We trust you have enjoyed these tips from the team at
We Love Crete. Evíva!"
Contact us with further questions or feedback. We love to hear about your travels in Kríti and Greece. Let us know of any updates or additions, errors or omissions. Help us make this website the best it can be. Kaló Taxidí!

---
Beaches Close to Chania Town