Stavros Beach, Crete

This page may contain affiliate links, see our disclaimer here.

---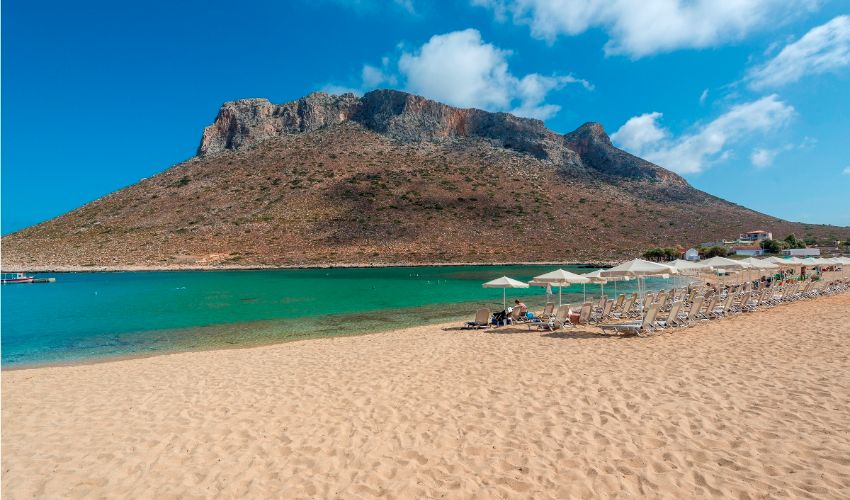 Stavros Beach is a beautiful seaside village, located on the northern side of Akrotiri, in the prefecture of Chania, just 19 km from Chania town and only 9.5 km from Chania International Airport in Crete.

---
On the Beach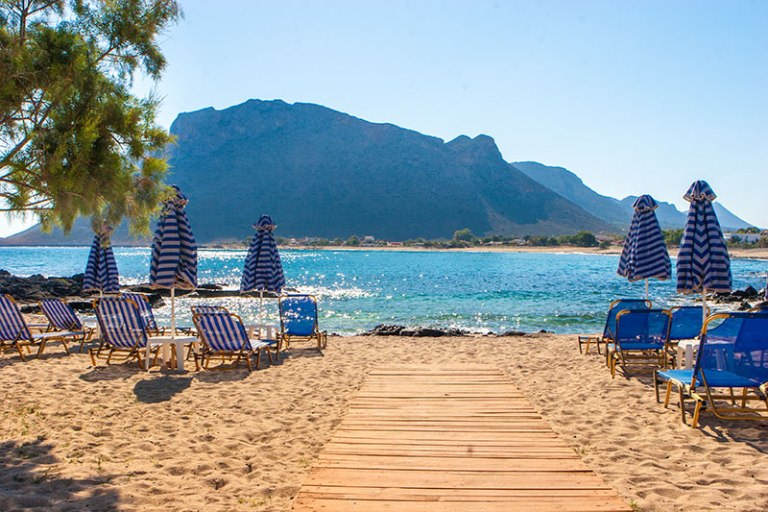 If you are looking for quiet and peaceful surroundings, as well as a family friendly beach, this will suit you. There are shallow, safe and protected waters here for toddlers.
The village started becoming more and more famous around 1964, when the beach scenes from the famous movie Zorba were filmed. Anthony Quinn is dancing the well-known Greek Syrtaki dance, composed by Mikis Theodorakis, against the backdrop of the picturesque Stavros Mountain.
See that romantic scene in this video clip below.

Stavros Beach is considered to be both close and far away from the city center of Chania. Close because it's only 19 km away, so a 30 minute drive at the most, or 40 minutes if you use the public bus service. Far away, because it's remote enough for you and your family to relax and enjoy.


---
Beaches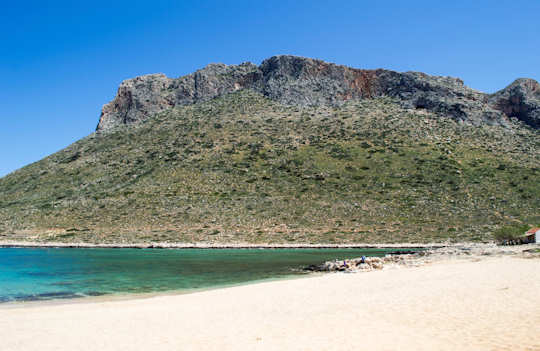 Stavros Cove has two beaches to choose from

Stavros Beach has two different areas to choose from, one tight cove right in the corner of the bay underneath the mountain, and one beach just a little further around the point to the west.
The shallow waters of the cove are ideal for small children and relaxing days at the beach, building sand castles or playing in the shallows.
The waters at the beach towards the point tend to get a little more swell, yet they make a nice change from the other beach and it is a little less organised.

The peninsula of Akrotiri has many beaches to visit in a short distance from Stavros Beach. They all have their own character and many good local tavernas too. Visit with a car:

Kalathas Beach - a lovely sandy beach
Loutraki Beach - a sandy beach

Marathi Beach - 2 sandy beaches

Stephanou or Seitan Limani Beach - fine sand and pebbles

After you have lazed on the beach, swum in the clear aqua waters, dozed on the sand and taken a nap, it might be time to climb Mount Vardies, which all the locals know as the mountain of Stavros, to a small cave, with a magnificent view of Stavros Beaches and coves to the north, all the way across to Chania town and the old port.
From these images below, you can see Akrotiri beaches only.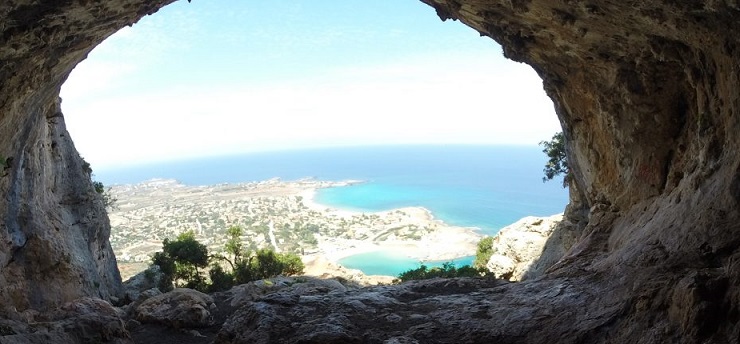 Lera Cave is a short hike from the beach
Looking out from Lera Cave to Stavros Beaches and west
---
Accommodation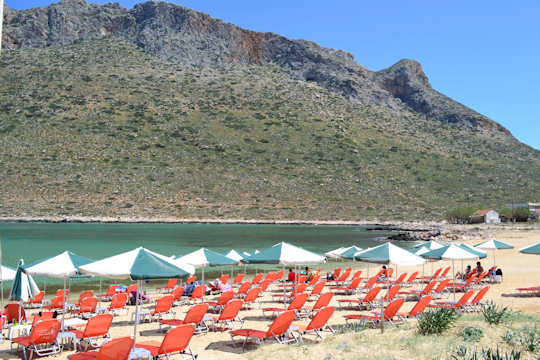 There are natural and organised areas to enjoy

There are plenty of choices of accommodation on Stavros Beach and dotted around the area. We have chosen a variety that are locally run, where you will experience the real Cretan hospitality.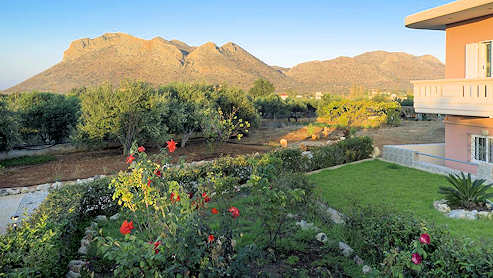 Skamagkas Apartments - a friendly, family-run place, this is a 'home-away-from-home' with lovely views to the mountain, this is a great choice for all the family. Best to visit with a car, this is a short walk to the beach. Ideal for self-catering and good for the budget. George will look after you, he knows the area really well and speaks English. The family grow vegetables right on the property, so you know they are fresh! Peaceful and quiet.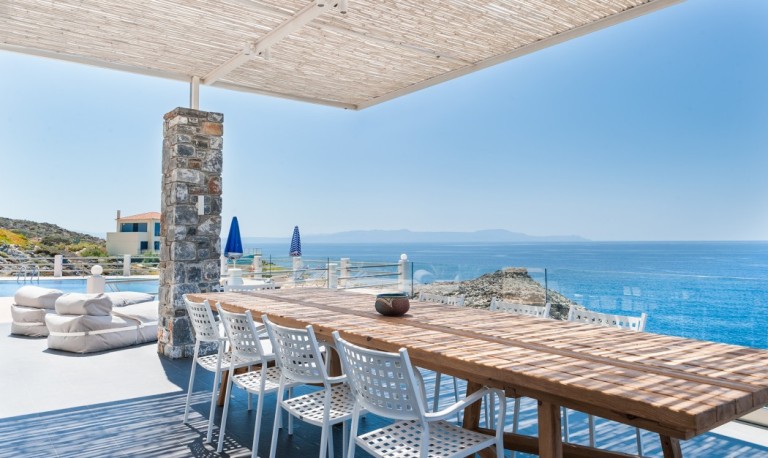 Villa Penelope - this is a large luxury villa situated just outside of Stavros Beach with immaculate sea views. This villa accommodates 12 people with 6 rooms and 4 bathrooms. Great for your family reunion.
Villa Dimi - this gorgeous villa is a mixture of traditional and modern design with all the good things in life provided for you. This inspiring local architectural home sleeps 10 guests in 4 bedrooms with 3 bathrooms. Located 1 km from Kalathas Beach. Ideal for a large family gathering.

---
Chania Town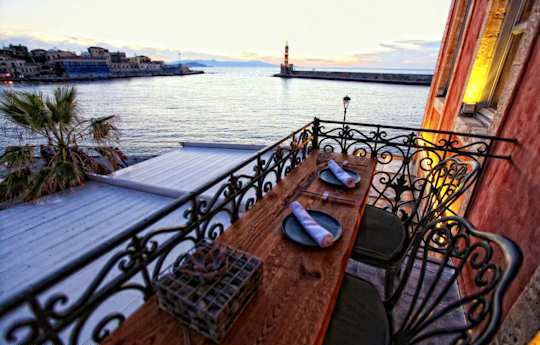 The Venetian Harbour at Chania Old Town is full of romantic laneways and atmospheric views all around the sea

Chania is a thriving modern town with a cosmopolitan pulse. We suggest heading directly to the Old Town and wandering through the narrow streets. The town has a mixed history of Ottoman and Venetian periods, ancient sites of Minoan settlement, and is packed with museums, great boutiques, jewellery studios and of course, cafes and restaurants.

Leave time to discover this beautiful town.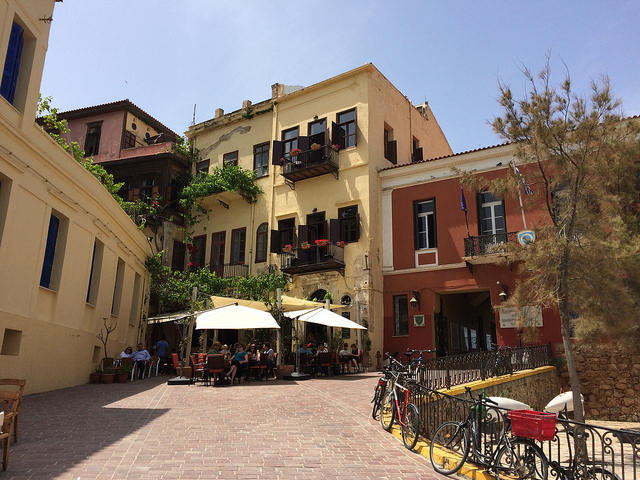 Visit the picturesque streets of the Old Town of Chania for coffee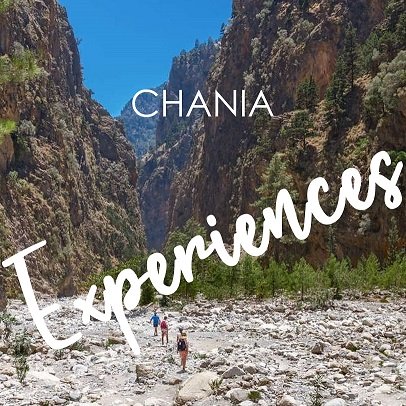 There are so many beautiful experiences to choose from within Chania region and in Chania Old Town.
Perhaps take a 3 hour walking tour of the old town tasting Cretan cuisine.
Or take a 4 hour guided stroll through the markets with raki and mezedes tastes.
Or a sunset wine tasting tour, in the bars by the harbour.
---
Tavernas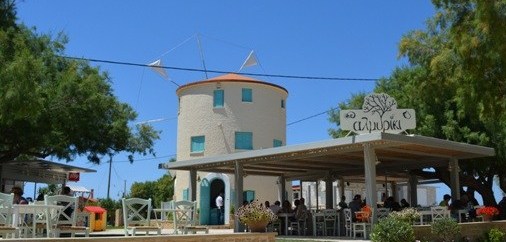 The seafood is so fresh here, and there are plenty of tavernas with local Cretan food

Tavernas close by:

Almyriki Taverna in the old windmill
Koulieris Taverna, just back from the beach

Irene Taverna in Chorafakia specialising in traditional Cretan food, 2.5 km from Stavros Beach

Seafood tavernas to try in Chania Old Town:
Palazzo Al Mare Taverna, which is right in the middle of the Old Harbour

Apostolis Taverna,  which is at the eastern end of the Old Harbour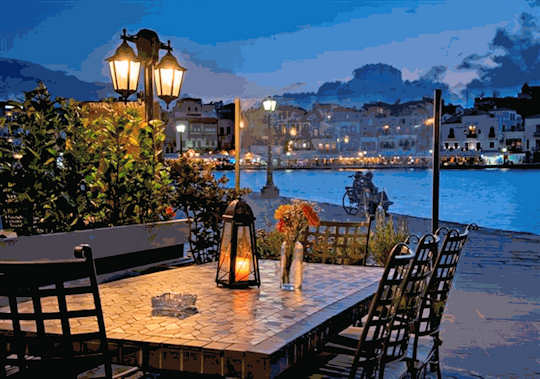 Palazzo Al Mare Chania Taverna by the waterside in Chania Venetian Harbour
---
Exploring Chania Crete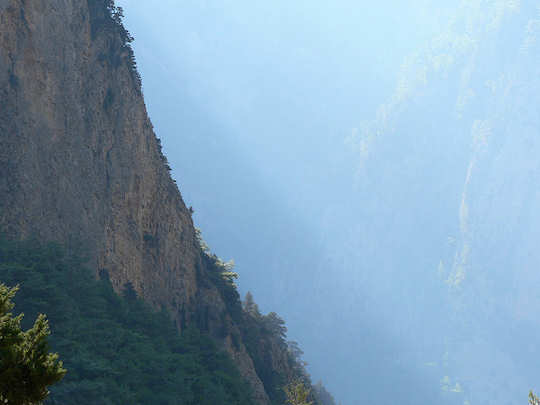 Samaria Gorge in the south of Chania region

In the region of Chania, there is just so much nature to explore:
There are great beaches nearby to explore:
And further in the west of Chania, some extraordinary places:
---
Getting Here

Take a 1 hour flight from Athens to Chania with Aegean Airlines or Olympic Airlines, with many flights available per day.
Take a 9 hour overnight ferry from Pireaus port of Athens to Chania port.

If you arrive into the airport or port of Chania, it is a short taxi ride to Stavros Beach, a distance of less than 20 km for each.
If you pick up your hire car from Chania Airport, it is a short drive under 10 km with very little traffic, directly north from the airport without having to go into Chania town.
Getting here by flights, ferries, bus and hire car below:


Car hire in Crete is a really good idea as it is a large island 60 km by 260 km. There is so much to explore.
When you book with our car rental partners - Rental Centre Crete - you are supporting a local company with excellent service and an easy online booking procedure. We are sure you will be well looked after by the team. Choose from hybrid or non-hybrid vehicles.
---
On the Map
See Stavros Beach to the north-east of Chania town on the map below:

---
Stavros Beach in Pictures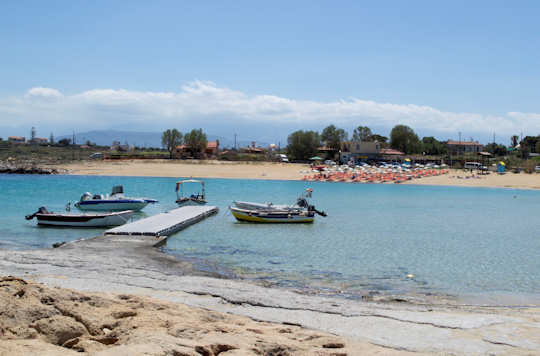 The safe harbour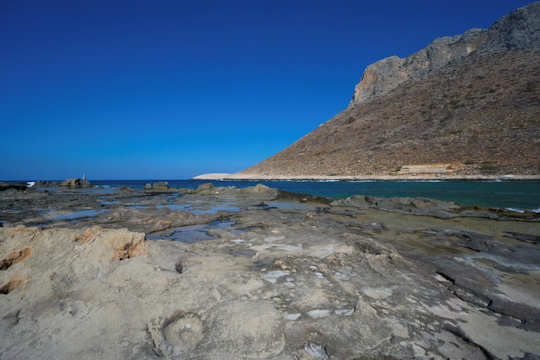 The rock pools, looking over the bay to Stavros or Vardies Mountain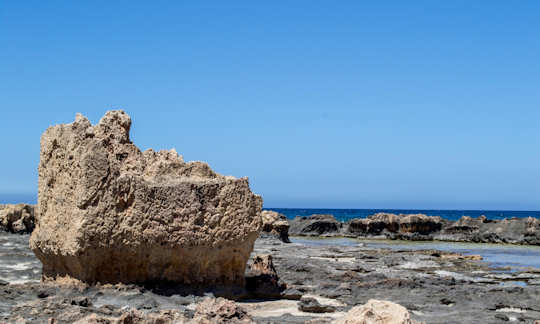 The rock pools, hours of fun for young explorers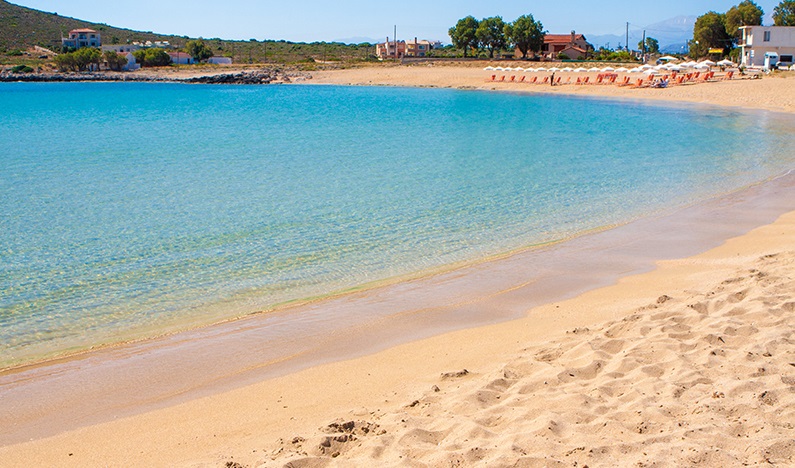 Looking back to the small seaside village

You can find some wide open space at Stavros Beach in Crete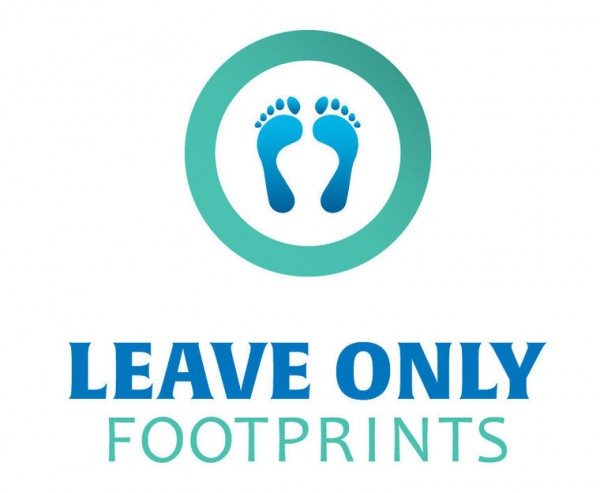 Take all your rubbish with you and don't make any of those silly piles of rocks - leave it as you found it and leave only footprints - because We Love Crete!

---