Falasarna Beach

This page may contain affiliate links, see our disclaimer here.

---
Western Crete, Greece

Falasarna Beach Φαλάσαρνα, also spelled Phalasarna, is a beautiful sandy beach on the very north west tip of Crete. This long, wide beach with luscious, fine sand is located 15 km from Kastelli-Kissamos and 52 km from the regional capital, Chania.
Falasarna Beach

Falasarna Beach - this used to be a wild, deserted beach. Today it shows a few modern signs of the twenty-first century, as it is dotted with small hotels, rooms and greenhouses. It still remains relatively untouched, and the beach, cliffs and wide open spaces are glorious.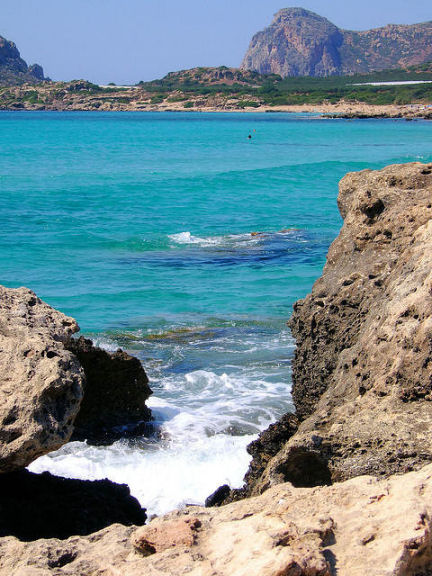 If you want swanky resorts and DJ's, don't come here, if you are after art galleries and jewellery studios, head off to Chania, if you need a different taverna for every night of the week, then stay away.
If you want peace and quiet, Falasarna is the spot... if you enjoy gazing over the azure waters, scrunching your toes in the sand, dipping into bright clear waves then snoozing in the sun, this is the spot...if you like the feeling of the wind in your hair, open spaces, rocky cliffs, no clatter or buzzing of mobile phones, no traffic noise and no rush hour...this is the spot! If you like sitting quietly watching the sun melt slowly into the sea...this is the place.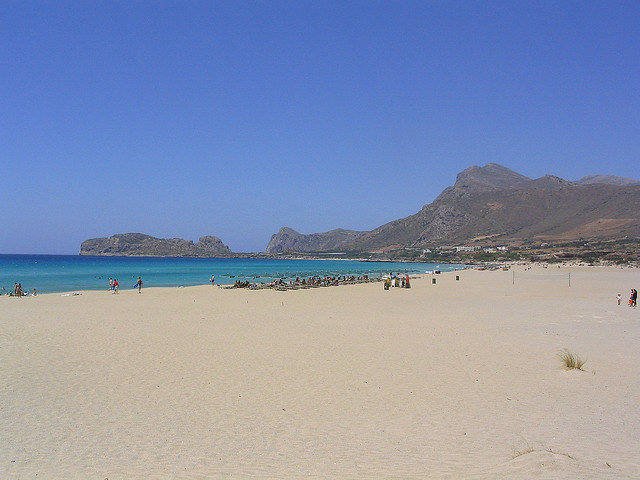 In summer there are lots of water sports here, the clear waters are perfect for scuba diving. With perfect visibility at this big safe beach, this is a great taste for first timers.


Scuba lesson in the clear waters
---
Ancient Falasarna

Ancient Falasarna with Falasarna Beach in the background

Ancient Falasarna or Αρχαία Φαλάσσαρνα - the historic ruined port of Phalássarna, dating from 330 BC during the Hellenistic period, is located 300-400 meters inland from the beach, as the sea line has fallen away over the centuries.  At that time the village was the sea port for a town located further inland, known as Polyrrinia. This site can also be explored today, as a reminder of the ancient life in this part of Crete.
The site can be visited easily on foot or by car. The site is located at the northern end of the beach of Falasarna. To get there by car, drive from the carpark and taxi rank next to the supermarket towards the northern end of the beach. You will see a little white chapel nestled against the rocky promontory at the end of the beach, Cape Koutri. This is Agios Giorgos church, the site is at its feet, and includes the 'throne of Phalassarna', ruined tower fortifications, sea walls, quays, baths, a public road and excavation sites. Artifacts are located in the Archaeological Museum in Kissamos on Stratigou Tzanakaki Square, including silver and copper coins.

Below is a fascinating video of the site, using technology to inspire our imagination as to what the port would have looked like, at the height of its powers and witness a reconstruction of the attack by Rome's forces in 67 BC.


---
---
Local Restaurants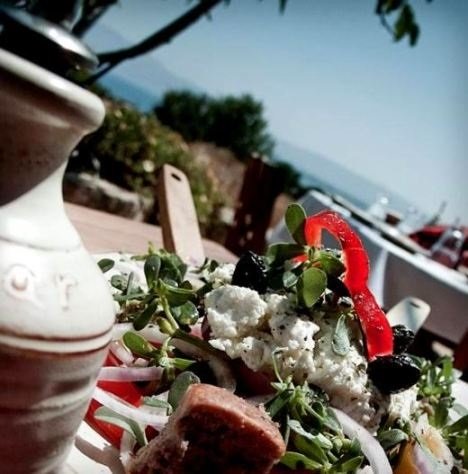 Falasarna Beach - seafood is the order of the day, make sure you try the local traditional style food and fresh fish or seafood at one of the following nearby tavernas:
Taverna Spilios - high up for a view of the sunset for dinner
Taverna Vassilis - relaxed dining with Cretan food
Orange Blue - for drinks by the beach
Gramvousa Taverna - inland at Kaliviani village
---
Exploring Around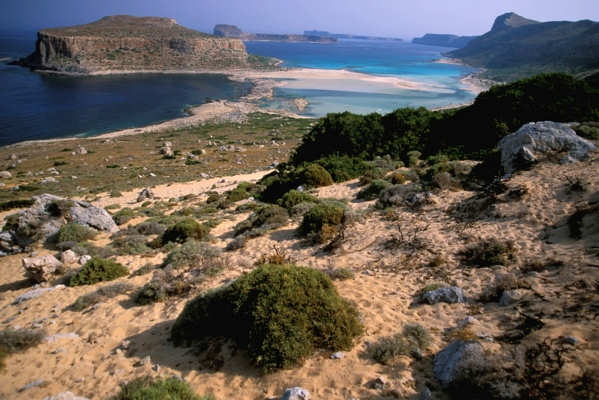 Gramvousa Islet and Balos Lagoon

In summer there are daily cruises to Balos Lagoon, run by private boats which are a little less crowded than those large tour boats leaving from Kissamos.

Nearby by are the small villages of Platanos and Kavousi, to the south lies the beautiful beach of Pahia Ammos.Close by is the village of Kaliviani and the small town of Kissamos.

Other beautiful beaches to drive to in this region are Gramvousa, Balos, Elafonisi and the southern beaches near Palaiochora. Inland are olive groves, farming communities, hiking trails and the extreme heights and rocky crevasse gorges of the White Mountains at Agia Irini Gorge and Samaria Gorge.
From Kissamos you can access the start of the E4 European Walking Path in Crete, perhaps take the first day's trek from Kissamos to Polyrrinia, which is an easy 7 km walk, or 14 km return.

---
Accommodation
Falasarna Beach - there are a few small hotels and rooms dotted about, in spring or autumn you may be able to find something without a booking, however in the busy seasons of July and August, it would be best to book ahead.
Just 30 metres from the beach is the small beach side cottage named Mera Beachfront House, which sleeps two in rustic yet modern apartment with a beachy garden and views across the sea. This very affordable accommodation, with its own laid back quirky charm, is very popular and sells out quickly.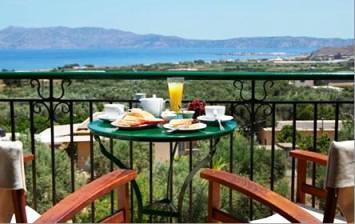 Kaliviani Traditional Guesthouse (left) is a short drive from this beach, in the village of Kaliviani. It is a warm, hospitable place to stay with a good taverna, sea views and only five rooms, ensuring a traditional experience. This is a family-run guesthouse with plenty of character and relaxed country style. Giannis will look after you with real Cretan hospitality.

Sokaki House is located within the village of Kaliviani. This beautifully restored village home is ready to welcome 4 guests in a 1 bedroom home. This entire holiday home provides a full kitchen, terrace and sea views in the most convenient location. Live like a local in this character-filled home. 11 km to Falasarna Beach.

---
Phalasarna Beach Videos
This is the first beach filmed in this beautiful video all about the Kissamos region.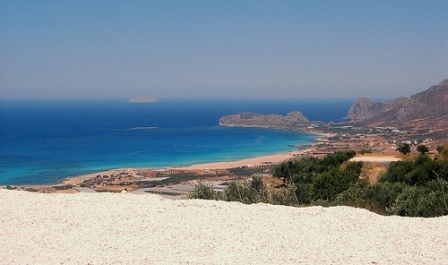 View from the south looking north
There are five coves to explore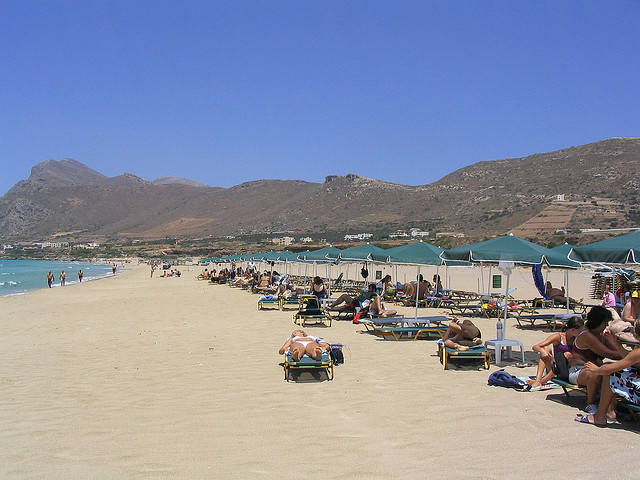 Lots of space on this wide beach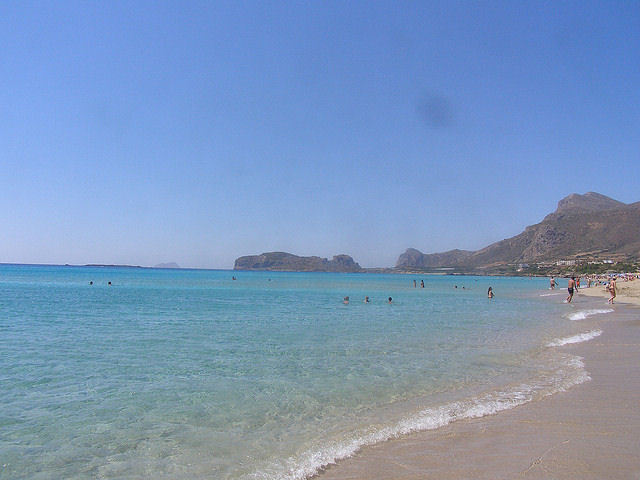 A big wide beach with fine sand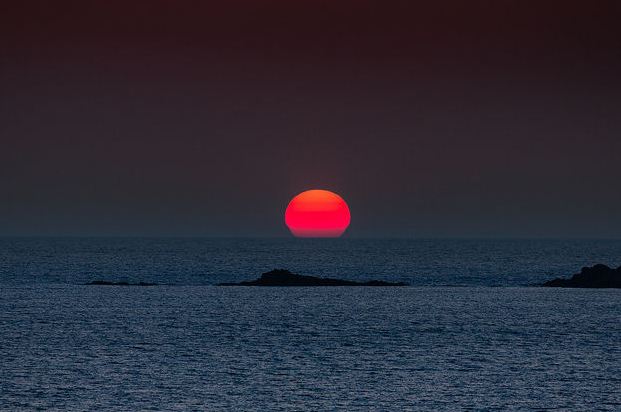 Sunsets are beautiful here as the beach faces west
---
On the Map

See the location of Falasarna Beach on the north-western tip of Crete on this map:

---
Getting Here

Take a 1 hour flight from Athens to Heraklion with Aegean Airlines or Olympic Air, with many flights available per day.
Or take a 9.5 hour overnight ferry from Pireaus port of Athens to Heraklion port.
More on flights and ferries below.
When you book with our car rental partners - Rental Centre Crete - you are supporting a local company with excellent service and an easy online booking procedure. We are sure you will be well looked after by Harry and his team. Choose from hybrid or non-hybrid vehicles.
---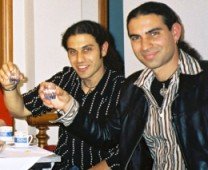 "We trust you have enjoyed these tips from the team at We Love Crete. Evíva!"
Contact us with further questions or feedback. We love to hear about your travels in Kríti and Greece. Let us know of any updates or additions, errors or omissions. Help us make this website the best it can be. Kaló Taxidí!

---