Kaliviani Village Crete

This page may contain affiliate links, see our disclaimer here.

---
Kaliviani Village Crete - this small village in the very north-west of Crete retains its natural character and daily rhythms. Discover the warmth of friendliness in this traditional village, and explore around western Crete.

Kaliviani Village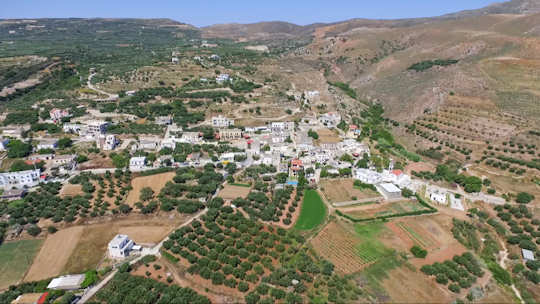 This is a farming village surrounded by olive groves and vine fields
Καλυβιανή is a small village of 300 or so people with traditional and modern buildings located in the north-west of Crete, just 44 km from Chania town.
In the village, there are some old falling down houses, some restored houses, apartments and some villas. This is a traditional farming community surrounded by olive groves, just a 10 minute walk to the beach, which is wild and undeveloped, with sandy and pebbly rocky coves.
The village has an elevated aspect with lovely views over the Bay of Kissamos. Many visitors come to this region of Crete to visit the exquisite white sandy beaches and lagoons just 8 km from here at Balos Lagoon. Indeed, this village makes an excellent choice of accommodation to visit several lovely beaches and other beautiful natural places in western Crete.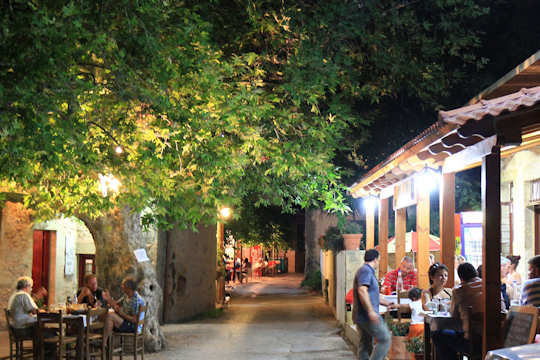 The village street with tavernas at night
---
Gramvousa & Balos Lagoon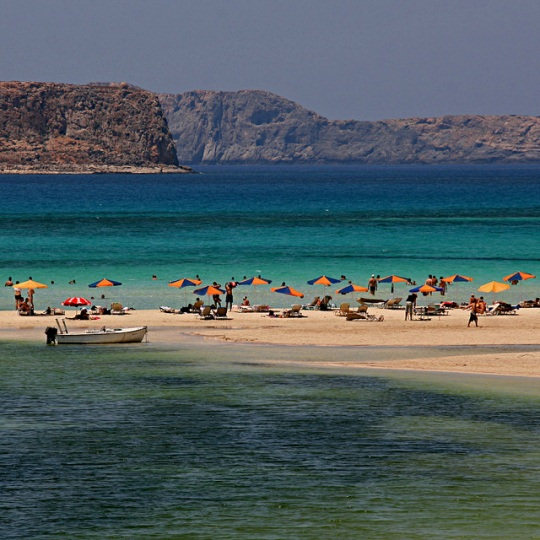 Balos Lagoon makes a perfect day trip from Kaliviani Village, get there by cruise boat for a half day or full day from Kissamos, or drive on the dirt track along the peninsula
The boat trip from Kastelli-Kissamos to Gramvousa and Balos Lagoon is no doubt one of the highlights of visiting Crete.
Remember these tips for visiting the lagoon:
Cruises operate from May to October only
The boat trip could be rough if the wind is up
The boat trip duration is between 1 hour to 1 hour and 15 minutes, depending on the vessel
Take some good shoes as you will walk up to the top of Gramvousa Islet to see the ruins of the Venetian fortress and the view of the lagoon with its turquoise waters

There is not much shade on the island or at the lagoon, take a hat and be prepared for sun
There are no shops on the island, take a picnic and plenty of water
The day tour will mean that you have 4-5 hours to relax at the beach

Take some money to hire a sun bed and umbrella if you wish
Lunch and snacks on the boat cost money too
Take all your rubbish with you and leave only footprints
This is a popular tour so it is a good idea to book ahead. Book a ticket here online or with Cretan Daily Cruises, or at ticket offices in Kissamos:

the main offices are located at a distance of 1 km from the town square, on the main street Iroon Polytechniou, which leads to the port, next to the supermarket
a ticket office is at the port of Kissamos (Kavonisi), in front of the Cretan Daily Cruise boats
See a video overview of the cruise day tour below:


---
Kastelli-Kissamos Town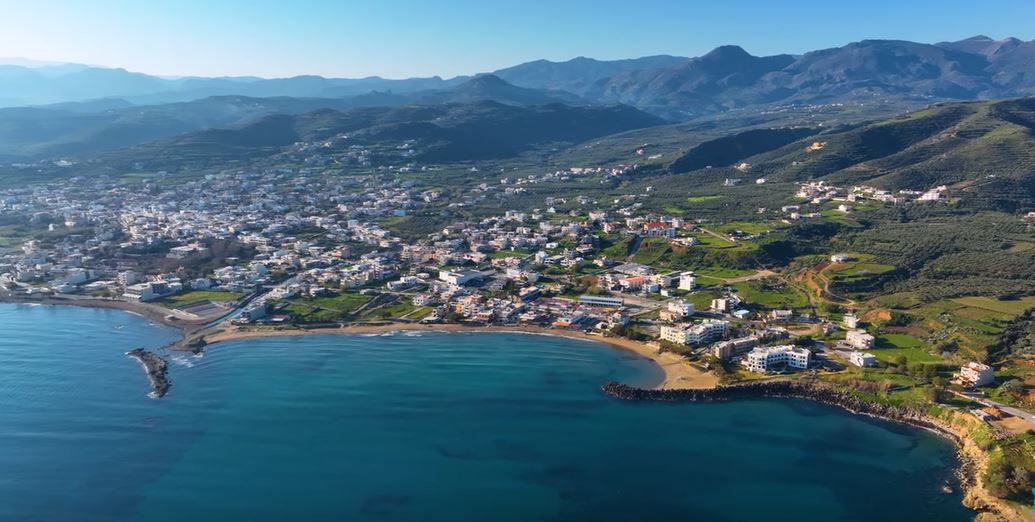 Kissamos is your departure point for a boat cruise to Balos Lagoon
The town of Kissamos is your embarkation point for Balos Lagoon cruises and the closest town to Kaliviani, and a well-loved holiday destination itself, with many fine beaches, a ruined fortress, a seaside esplanade, historic museums and a beautiful aspect on the wide Kissamos Bay.

Located just 44 km from Chania in the region of the same name, this town is easy to access via the national roads and on the very handy KTEL local buses.
This town is 61 km from Chania airport, and again can be reached easily with a hire car via the national roads, or on KTEL buses.
If you are driving from Chania to Kissamos over 44 km, leave about 1 hour to enjoy the journey.
Once in Kaliviani, this small village provides everything you need for a break. Do visit the local tavernas for a fresh seafood dinner whilst watching the sunset down over Kissamos Bay, gazing at the soft evening colours.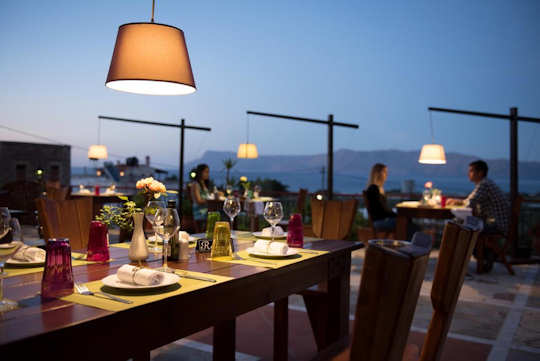 Uninterrupted views to the Bay of Kissamos from the taverna at the Kaliviani Traditional Guesthouse
---
Accommodation

There is good accommodation in Kaliviani village itself, as it is a completely natural traditional village. Other accommodation is available in the countryside and at Kissamos and beaches dotted around.

Sokaki House is located within the village. This beautifully restored village home is ready to welcome 4 guests in a 1 bedroom home. This entire holiday home provides a full kitchen, terrace and sea views in the most convenient location. Live like a local in this character-filled home.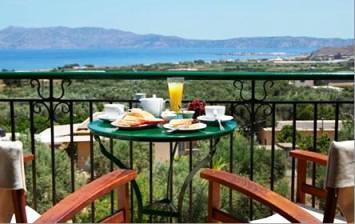 The Kaliviani Traditional Guesthouse is in the edge of the village with easy access to the port for a day trip to Balos Lagoon. This small, quiet guesthouse is elevated with sea views, a taverna and the charm, hospitality and atmosphere of old Crete.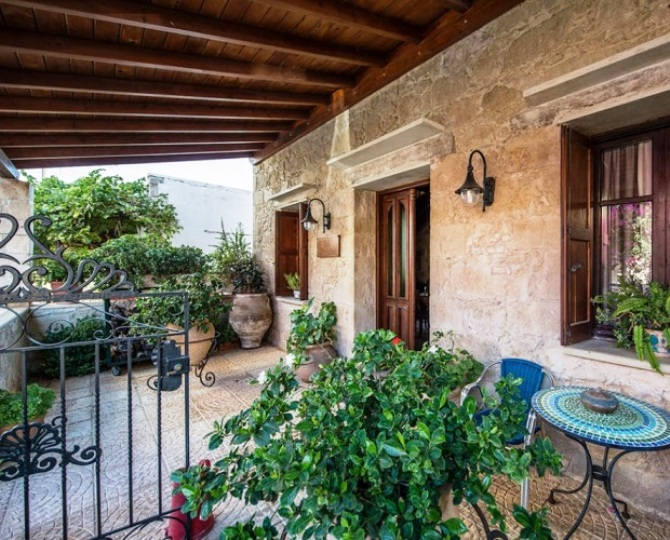 The restored mansion in the village which is named Villa Archontariki has 5 bedrooms, 4 bathrooms, private gardens and a pool, as well as relaxing private courtyard areas. Sleeping 10 guests in comfort, this is luxurious accommodation in Kaliviani.
---
Tavernas & Restaurants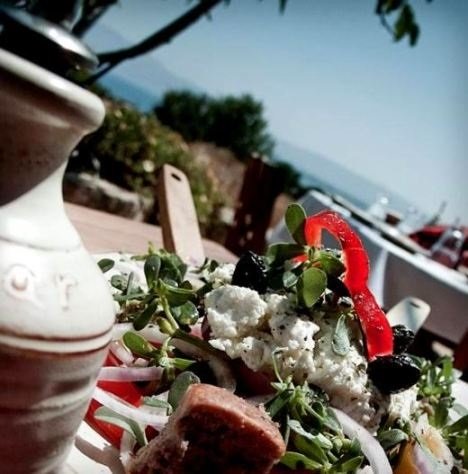 Gramvousa Taverna in Kaliviani - traditional Cretan food overlooking the bay

The seafood is so fresh here, you must make a beeline for the fish tavernas strung along the harbour side in Kissamos and the inland villages of the west coast.
Restaurants in or near Kaliviani:
Gramvousa Restaurant - great views and traditional food

Mamas Dinner - fine Cretan gastronomy

Agarathos Mezedopoleio - for mezedes

Erofili Taverna - food from the wood oven and clay pots

Tavernas along the water side:
Limani - fish taverna at the port

Stimadoris Taverna - the old harbour

Mavros Molos Beach Taverna - right on the beach
Stelios and Katina Taverna - also on Mavros Molos Beach

Maria Beach Taverna - right on the beach

Kouzoumama - on the esplanade

The Cellar Taverna - on the esplanade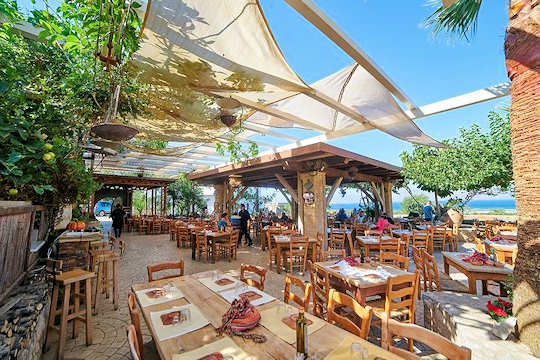 Enjoy a traditional atmosphere at Gramvousa Restaurant in Kaliviani
---
Exploring Western Crete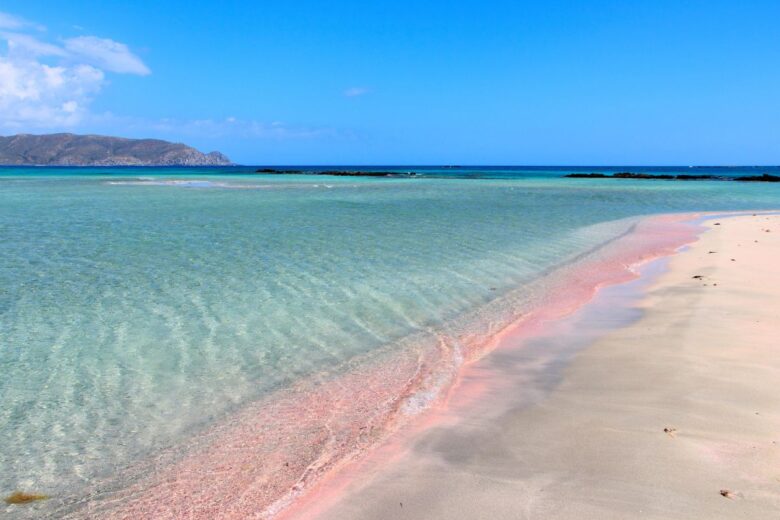 Elafonisi Beach is famous for its pink sand
The region in the west of Crete is named Chania or Xania and holds some of the best-kept secrets of Crete, with so many nooks and crannies to explore. There are rocky mountains and gorges, forests to walk in and beautiful beaches to lie on, as well as the towns of Chania, Kissamos and Palaiochora.

Some other highlights of the region include:
Topolia Gorge

Ancient Olive Trees at Ano Vouves

---
On the Map
See the location of this village on this map, in the west of Crete in the north.
---
Getting to Kaliviani

Take a 1 hour flight from Athens to Heraklion with Aegean Airlines or Olympic Air, with many flights available per day.
Or take a 9.5 hour overnight ferry from Pireaus port of Athens to Heraklion port.
More on flights and ferries below.
Car hire in Crete is a really good idea as it is a large island 60 km by 260 km. There is so much to explore.
When you book with our car rental partners - Rental Centre Crete - you are supporting a local company with excellent service and an easy online booking procedure. We are sure you will be well looked after by the team. Choose from hybrid or non-hybrid vehicles.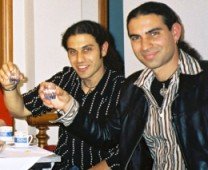 "We trust you have enjoyed these tips from the team at We Love Crete. Evíva!"
Contact us with further questions or feedback. We love to hear about your travels in Kríti and Greece. Let us know of any updates or additions, errors or omissions. Help us make this website the best it can be. Kaló Taxidí!

---