Lake Kournas

This page may contain affiliate links, see our disclaimer here.

---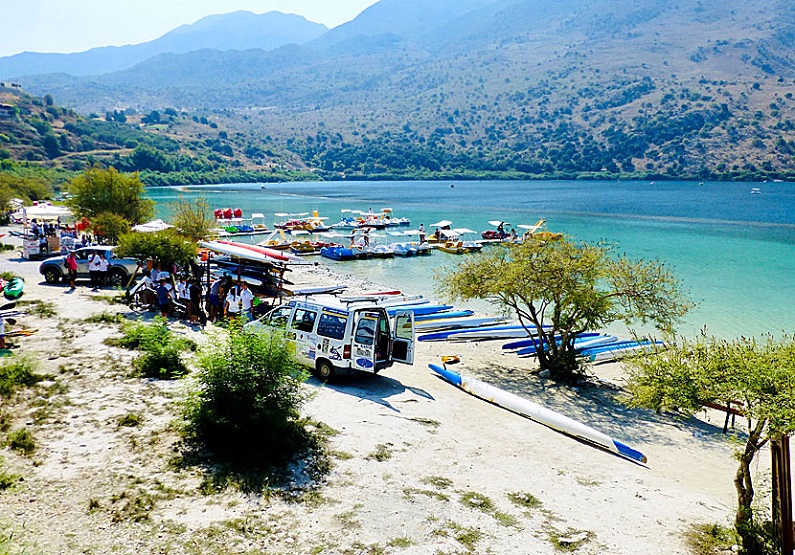 Lake Kournas - Λίμνη Κουρνά- is a beautiful natural lake in the north west of Crete, Greece. This lake sits at the base of the Lefka Ori or White Mountains of Chania, its waters coming from snow run-off and natural springs. The lake has water all year round and is especially popular in summer. You have to understand how important water is on this dry island of Crete to know how really miraculous this sight is - of clear sparkling fresh water!

Some people say it is the only fresh water lake on the island but that is not true as there is a lovely lake at Zaros in Heraklion, and a pretty Lake Agia 10 km south-west of Chania, located south of Agia Marina Beach, as the crow flies. There are other lakes and certainly other wetlands for bird life all over the island. What is true is that it is the only largish natural lake on Kriti.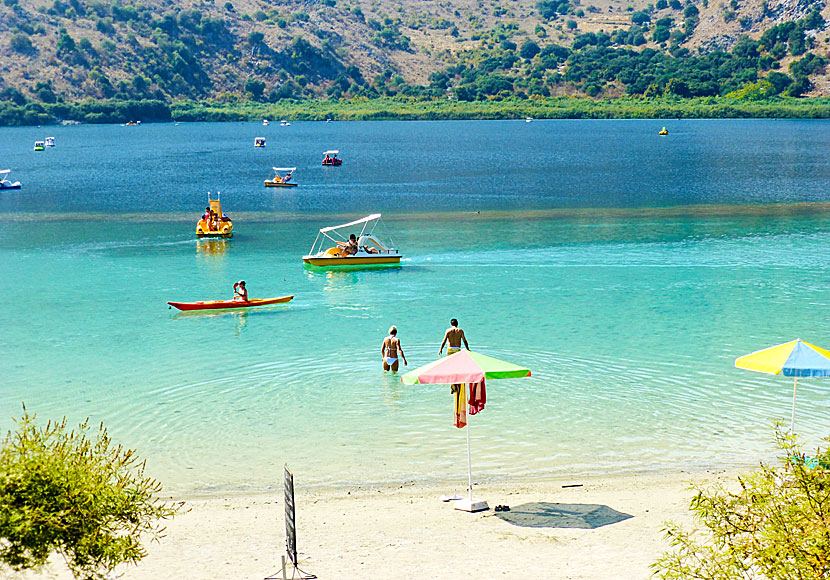 ---
Getting to the Lake

Lake Kournas is 45 km from Chania town and 25 km from Rethymnon town. Drive east from Chania along the national road A90 for 39 km then turn off just after Georgioupolis, the lake is 4 km from the national road. From Rethymnon drive 17 km west along the national road and turn off before Georgioupolis.

Public transport is via KTEL buses from both towns to Georgioupolis then you would need to make your own way to the lake. This is a walk through the countryside along country roads and across the national road. You could take a taxi to and from the lake which would cost 10 Euro.

Klados Travel offers a photo excursion from Rethymnon to the White Mountains and to Lake Kournas, this is offered only one day per week during the season, and covers some of the most dramatic scenery in Crete. Off the beaten track.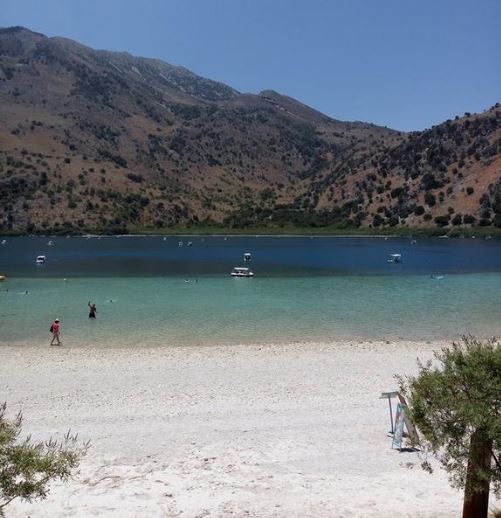 ---
Activities at the Lake

Visitors can relax at the white sandy beach, or explore the lake with a pedalo or kayak, both of which can be rented from the beach. Look out for a sudden flash of colour as a Kingfisher darts into the water, try and spot a Squacco Heron, Greylag Goose, Mallard or Little Grebe. The lake is fed by fresh water springs and is refreshing on a hot summer's day. You can also rent sun lounges and umbrellas.

Most visitors like to relax at a taverna after their water activities, there are plenty to choose from both down on the beach and higher up with great views over the water. Save some energy for exploring further inland after lunch!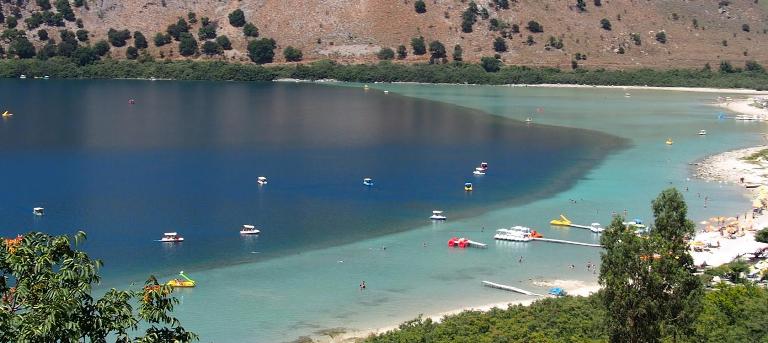 ---
Tavernas
You will have your choice of tavernas within short radius of the lake...

Omorfi Limni Taverna run by Fragiadakis family (on the lake)

Oniro Taverna (on the lake)

To Mati Tis Limnis (set back with a view)

Taverna Cafe Kavallos (set back with a view over the lake and the sea)

Taverna Ambrosia (set back with a view)

Giorgias Traditional Taverna (set back from the lake)
---
Wildlife & Ecology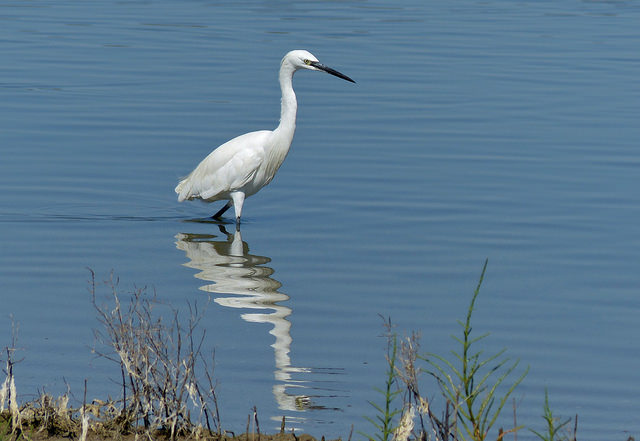 Little Egret Egretta garzetta

The biosphere formed by the lake, the wetlands and the creek, which runs to the sea, have a diverse and abundant wildlife. For this reason the area is protected by the EU environmental program.

The program states "The whole freshwater system, including the lake, the marshes and Almyros stream and estuary in Georgioupolis, is one of the most important in the east Mediterranean region."

On and around the lake is excellent for bird watching. Breeding migrant birds nest here over winter, making it an important part of the Mediterranean biosphere, including Little Egrets Egretta garzetta  and White Eye Duck  Aythya nyroca. As usual in Crete, keep your eyes peeled for raptors. Around the lake, away from the beach are Elm and Chasteberry trees and Tree Spurge bushes.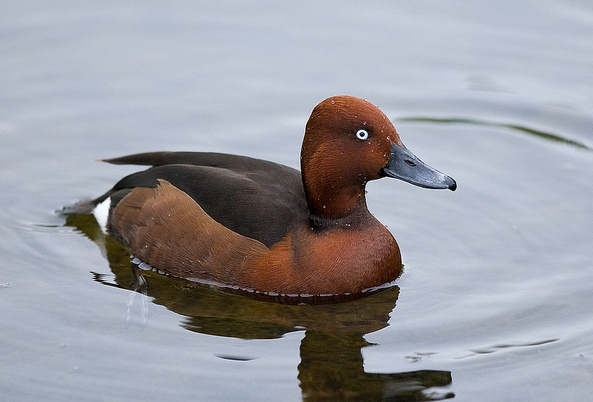 White Eyed Duck
---
Kournas Village

After lunch you might like to keep driving 5 km inland to the village of Kournas, or you could choose this village for lunch, try the 'Kali Kardia' taverna,  the name which means 'Good Heart' sitting under the mulberry trees in the shade.
This traditional village has a high vantage point over the lake and views all the way to the sea. Try the local fresh greens, most likely gathered from the hillsides during the morning; ask for 'horta'.
In the village is the Church of Agios Giorgos (pictured below).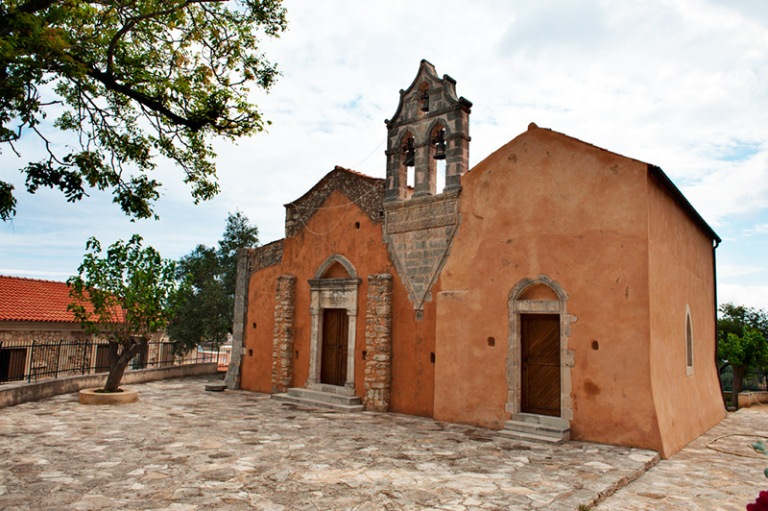 ---
Lake Kournas Accommodation
Rooms, hotels and villas are dotted all about the lake, in Georgioupolis and in the surrounding hills and villages. Here are a few of our personal selections.
Blue Fairy Villa (above and below) has a lovely position close to Lake Kournas, which is only 4 km from Georgioupolis and 25 km from Rethymnon.
This well-appointed modern villa is convenient to the beaches of the lake and northern coasts of Crete, whilst being very central to the whole island, to use as a wonderfully relaxing base for exploring the island by car. A vehicle is recommended for this accommodation.


---
Alexis Villa

Alexis Villa (above and below) sits just outside of the village of Episkopi in the hills behind the sea, close to a fully active traditional village, the beautiful lake, your choice of beaches and the towns of Chania and Rethymnon. A vehicle is recommended for this villa.

The traditional villa Alexis sits on a hill with extraordinary views across the rolling hills of olive groves to the sea.
This home-away-from-home villa accommodates 8 guests, with 3 bedrooms and 2 bathrooms, the villa has a pool and many other amenities.
Visit the taverna in the village of Episkopi or pick organic food from the garden - enjoy sitting on your balcony with a magnificent view.Or visit beaches within minutes drive.

12 km from Lake Kournas and the many beaches of Rethymnon's north coast.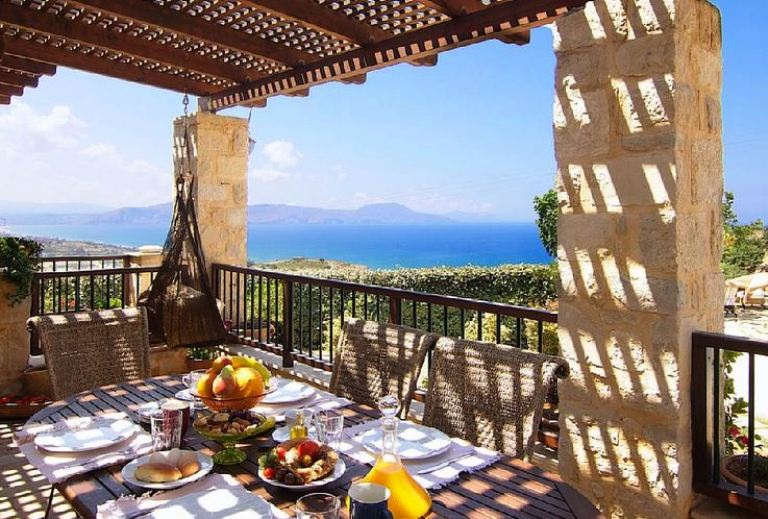 Sea Views
---
Grand View Villa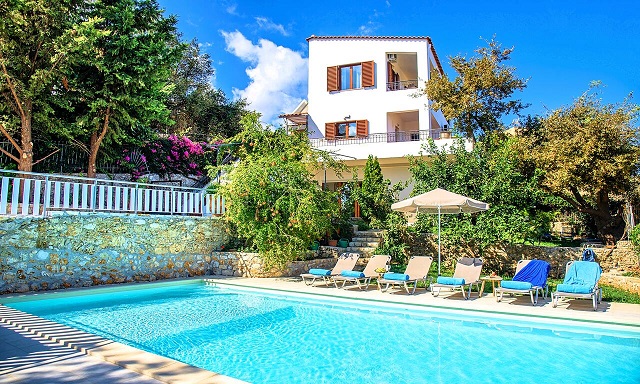 Grand View Villa (pictured above and below) just outside Lake Kournas village in the countryside of Rethymnon, is 1.2 km from Lake Kournas. Its location is really very close to the centre of Crete which makes it a good choice for day touring.
You will experience the tranquility and privacy of a rural home whilst still very close to great beaches, Lake Kournas, the Amari Valley and Rethymnon town.
This beautiful home sleeps 12 with 4 bedrooms and sofa beds, and 3 bathrooms. Beautifully cool in summer, with a private courtyard and pool, this accommodation is located in the countryside with working olive groves and agricultural lands all around.
Gather the family in style here in Rethymnon.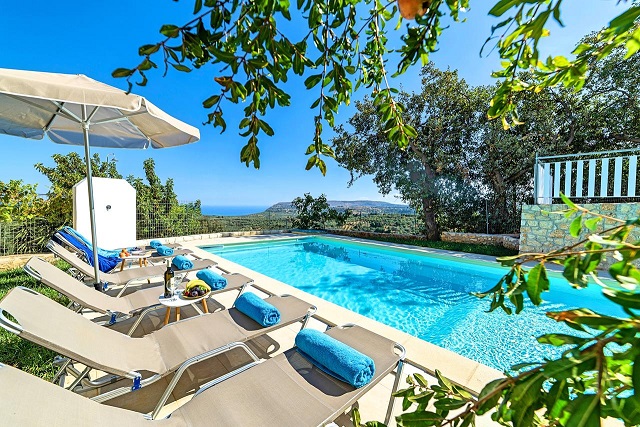 The Grand View Villa really does have a wonderful view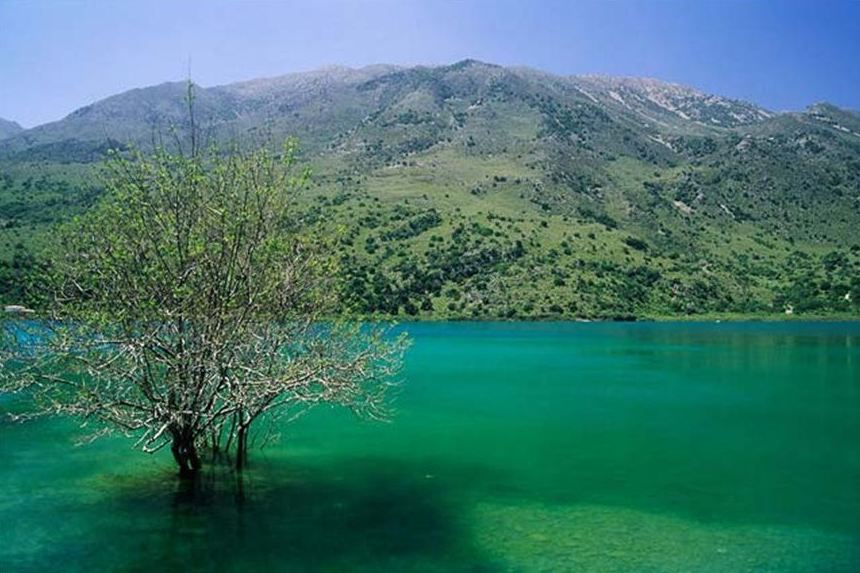 Distinct colours of the fresh water lake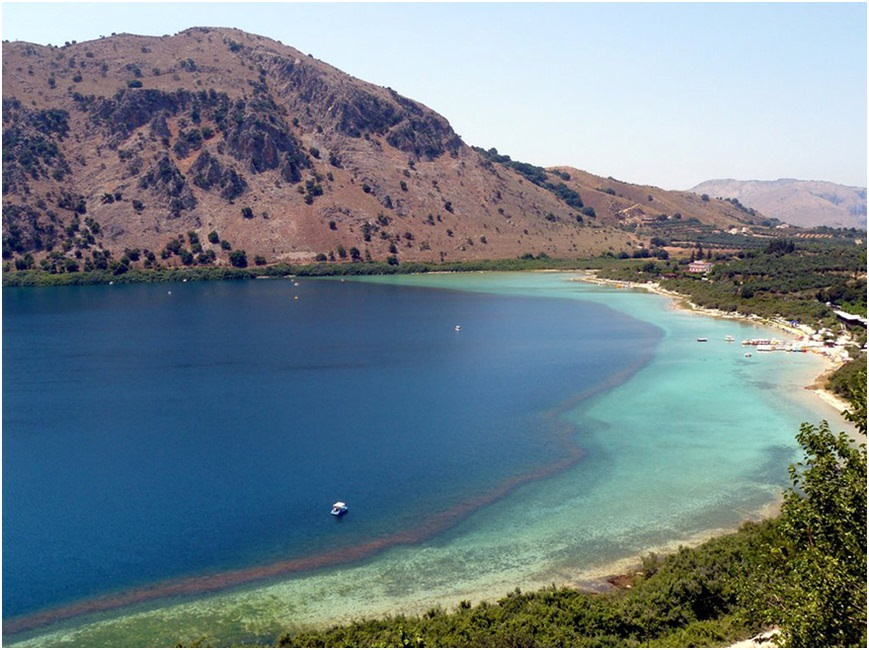 Lake Kournas showing the colours and white sandy beaches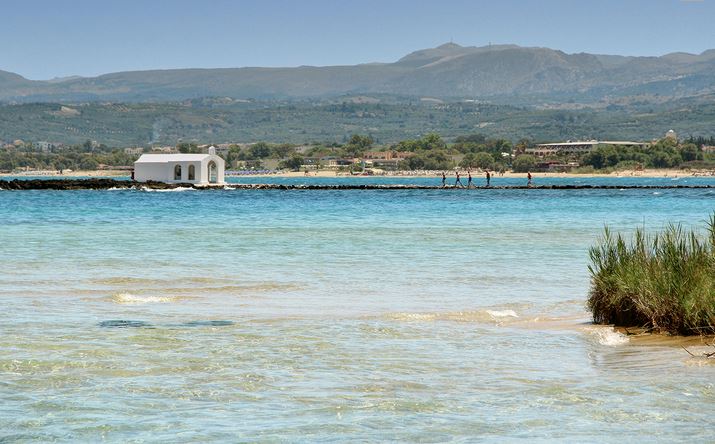 Georgioupolis Beach with its lovely seaside chapel is 5 km from Lake Kournas
---
Getting Here
Take a 1 hour flight from Athens to Heraklion with Aegean Airlines or Olympic Air, with many flights available per day.
Or take a 9.5 hour overnight ferry from Pireaus port of Athens to Heraklion port.
More on flights and ferries below.
Car hire in Crete is a really good idea as it is a large island 60 km by 260 km. There is so much to explore.
When you book with our car rental partners - Rental Centre Crete - you are supporting a local company with excellent service and an easy online booking procedure. We are sure you will be well looked after by the team. Choose from hybrid or non-hybrid vehicles.
---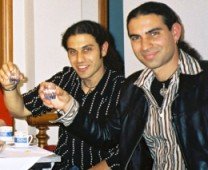 "We trust you have enjoyed these tips from the team at We Love Crete. Evíva!"
Contact us with further questions or feedback. We love to hear about your travels in Kríti and Greece. Let us know of any updates or additions, errors or omissions. Help us make this website the best it can be. Kaló Taxidí!

---