Maleme Beach
This page may contain affiliate links, see our disclaimer here.

---
Northern Chania, Crete

Maleme Beach Μάλεμε
Located just 16 km west of the historic old town of Chania in Crete, is this small village and this lovely, long and wide beach with sand and pebbles. It is a quieter beach than many of the busy ones nearer to town. This is a continuation of the same long beach which runs from Chania to Kolymbari, a distance of 16 km, next to it is Tavronitis, Gerani and Agia Marina Beach.

Maleme Beach - located here are a few shops, bars and a disco in summer. Off the coast is Agioi Theodori Island, which is very close and can be seen in daily walks along the beach, also there are lovely views to the peninsula of Rodopou. There are many frequent buses that come to this village and beach daily from  Chania.

There is plenty of night life on this beach to enjoy in summer.

In summer days this beach is also known for a big beach party, held every year towards the end of July, known as the Máleme Beach Party, with DJs, laser lights and the music pumped up loud.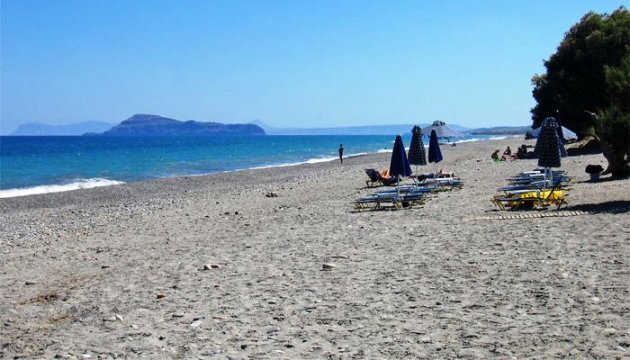 ---
Accommodation

Along the beach there are dotted hotels such as the Louis Creta Princess with pools, restaurants, many activities and all inclusive resort style accommodation. There are tavernas such as Wave Taverna, which is set on grassy lawns right by the beach, and budget accommodation such as Summer Lodge. Inland cottages cottages set a different tone, with authentic renovated village homes providing cosy accommodation.

Electra Pension is a small home-style place where Electra herself and Minos will look after you. Just 200 m from the beach and with only 8 rooms, this really is a home away from home with great Cretan hospitality and personal service. 
Close to the supermarket and tavernas, it has a pool, courtyard and garden area for relaxing after visiting the beach. The bus is just a hop skip and a jump away which makes it a perfect spot from which to explore the island.
Just 5 km inland you will find Athina Villas, stay in privacy 1.7 km from a village named Xamoudochori, set outside the village with views across the countryside.
These modern-built luxury villas are constructed of traditional materials of stone and wood, each including an expansive terraced garden and pool.
The villas Rodia, Myrtia and Kissos accommodate 4, 5 or 7 people with each maissonette including delicious decorations and design, privacy and a pool.
Once you choose your villa, you will have the perfect location from which to explore the west of Crete, remember that a car is necessary for this accommodation.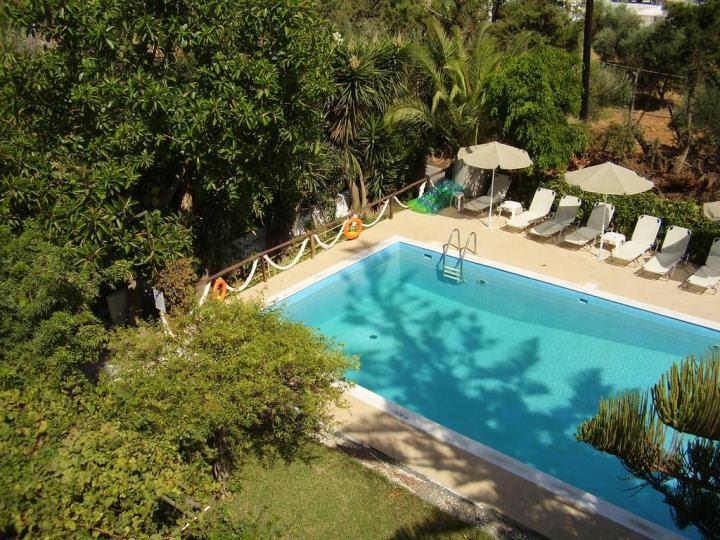 Summer Lodge is a small family-run holiday spot just 5 minutes walk from the beach with hospitality from the Stamatis family.
Simple rooms, a quiet comfortable place with gardens and pool that doesn't break the budget, allowing more for tours - take them from your doorstep - and taverna meals by the sea.

---
Where to Eat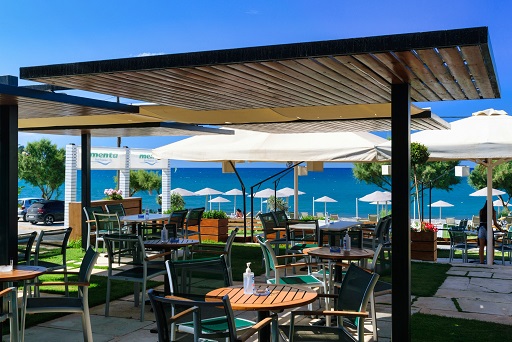 Maleme Beach - lovely places with great food and atmosphere on the beach front:
Wave Restaurant - a local favourite, the first taverna in Maleme, operating for over 30 years, great local traditional food, try the yemista or stuffed peppers and tomatoes

Menta Cafe Bar - this modern renovated cafe bar is open for breakfast with free sunbeds, meals, snacks and here you can enjoy your wine and cocktails. Try the dakos Cretan salad for breakfast.

Mythos Restaurant & Bar - with seaside views, wood fired pizza, free sunbeds and a children's playground, try the kolokithokeftedes or fried zuccini balls


---
Maleme Beach History
The Battle of Crete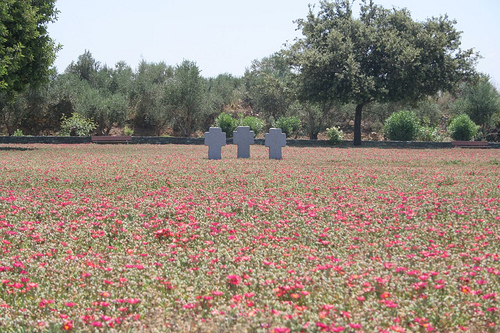 German War Cemetery by Konstantinos Mavroudis
A little bit back from the beach, is the cemetery for German soldiers killed during the Battle of Crete during the Second World War, in 1941. The paratroopers landed here on this beach to capture the airstrip nearby. The site was defended by Greek, Australian and New Zealand troops. Many men died on both sides before the Germans captured the airstrip and the hill known as 'Height 107' which was a crucial strategic vantage point. Every year on the 20th of May there are remembrance ceremonies held here, as they are elsewhere on the island.
---
Explore Chania

Chania is a widely diverse region with extraordinary history, culture and ecological diversity to explore. Explore the coastal areas and inland areas of Chania by bus or by car.
All around this magnificent land covered with rolling hills, high mountains, rugged gorges, high plateaux and everything in between, there are tiny villages to explore, each rich in local customs and history. 
---
Explore the Beaches of Chania
Chania Greece is the most western prefecture of Crete, the capital is located on the north coast. All around this beautiful region of Crete you will be able to discover many beaches, from busy town beaches next to Chania, to wild beaches with no permanent development. 
---
Getting Here
Maleme Beach can be reached by flying into Chania Airport code CHQ, directly from Europe or via Athens. Flights from Athens are frequent and the duration is 1 hour.

Ferries leave Pireaus the port of Athens daily for Chania Port in Crete, the crossing duration is 6.5-9 hours.

Take a hire car, local bus or taxi to Maleme, see the details below. The distance from Chania to Malme Beach is 16 km.
Car hire in Crete is a really good idea as it is a large island 60 km by 260 km. There is so much to explore.
When you book with our car rental partners - Rental Centre Crete - you are supporting a local company with excellent service and an easy online booking procedure. We are sure you will be well looked after by the team. Choose from hybrid or non-hybrid vehicles.
---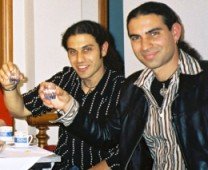 "We trust you have enjoyed these tips from the team at We Love Crete. Evíva!"
Contact us with further questions or feedback. We love to hear about your travels in Kríti and Greece. Let us know of any updates or additions, errors or omissions. Help us make this website the best it can be. Kaló Taxidí!

---