Crete Travel Stories
This page may contain affiliate links, see our disclaimer here.

---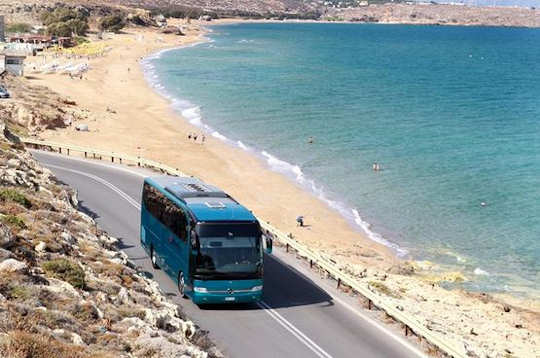 Did you hear the one about...?

Share your Crete Travel Stories here with fellow lovers of Kriti on the internet. Share with us your photos, journeys and videos, your recommendations and track warnings, special experiences in Kriti.
Tales for those thirsty for adventure, exploring the mountains and beaches, the hidden corners of Kriti.
Tell us a little about yourself and the type of trip you had in Greece.
---
Taverna Stavrakakis

Taverna Stavrakakis in Exo Laconia
An article for Crete Travel Stories - by Steve and Rosie Baker
The tavernas in Crete are mostly of a very good standard. However, good as they are, local knowledge can lead one to discover gems that most holiday visitors never find.
This article is about one such place. The village in question, is Exo Laconia in the Lasithi region.
It is reached quite easily from Agios Nikolaos if you have transport. Whilst there is a road from the national highway, its not easy to spot the turning. Much better, take the Sitia road out of Agios, then turn right at the Kritsa crossroads. Then, turn left after about 100 meters through Mesa Laconia. Follow the road past the football ground, and just keep going.
As you reach Exo Laconia, rounding a bend to the left, you will see possibly the biggest bougainvillea you ever saw! This is what you are looking for!
This is Taverna Stavrakakis.
Taverna Stavrakakis is where the locals go for something special! You will not find menus and set meals there, rather Manolis the owner will suggest various items you may chose from.
Whatever you choose will be a true Greek meze, where everyone takes whatever they fancy, but be warned - your taste buds will be taken to new heights!
Also, in true Cretan fashion, the meal may well last several hours, but as we know, time marches to a different beat in Crete! A recent stop for coffee there at 3pm saw us finally leaving at 1am next morning!
Below I include a pic of myself with TWO Manoli! On the left, the owner of Stavrakakis, while on the right, Manoli, the father of my friend Vangeli Lyrakis, a huge gentle giant of a man of tremendous warmth.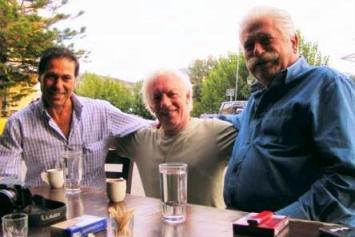 So for those who want to experience true Cretan style and hospitality, I cannot recommend this too highly!
All I can say is: Kali Orexi! At Crete Travel Stories we welcome your stories.
---
Crete Travel Stories
Beaches
Crete Travel Stories By Elisabeth from Bavaria
Crete Travel Stories

Here I am again with some photos of last summer on Crete, when we got to learn to love the Eastern coast, too: Palekastro, where we first planned to stay only one or two nights - and then we stayed there 6 nights, and Kato Zakros, where we only have been one afternoon, but knew, that we will come there this May again and stay for a longer time, and Xerokampos, where it is wild and rather "lonesome".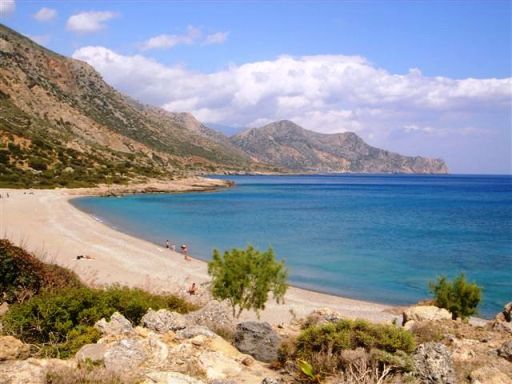 Last June we spent our first days in Diskos/Lentas, where we had been 10 years ago and loved it a lot, but this time we didn't feel so well there. There are so many tents all over the beach, where ever there is a little bit of shadow, a tree or a bush - somebody put his tent there, but the owner of the tents don't stay there, but live in Athens or Heraklion or Germany, and only come twice or maybe three time in the summer to spend their hoidays there.
People like me and my husband, who stay in the very nice small hotel/apartments "Tsapakis" don't know where to put their sunchair without being burnt by sun. This time we liked more Lentas, on the other side of the big rock.
I'll write more for Crete Travel Stories about Paleo Chora, about Falasarna, Chora Sfakion, Agia Galini, Kalamaki at Kommos-Beach and Mochlos the next days.
It's nearly midnight, so I say Kali nixta from Elisabeth in Bavaria.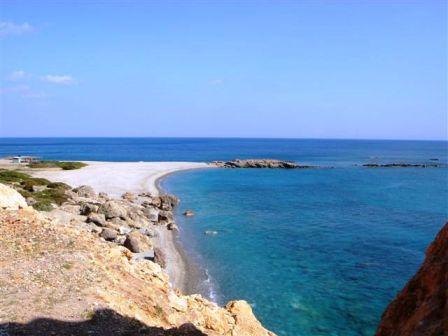 Crete Travel Stories - Book Review by Elisabeth

I'm sure, many people know the "old" book "Winds of Crete" (1974) by David Mac Neil Doren. There is a rather new one, written by the English Author Victoria Hislop, (meanwhile also translated to German): "The Island" - The novel is a romantic page-turner, but I found it a little shallow. For example, the Nazi occupation of Crete becomes a plot device to turn the boy next door into a hunk, and, after much tribulation, the good are rewarded and the bad punished."
It's not so bad to read this book, to understand what happened just half a century ago there, where now so many tourists enjoy the beaches!!! Remember, it has been just a few years ago. Reading this book I've been touched deeply!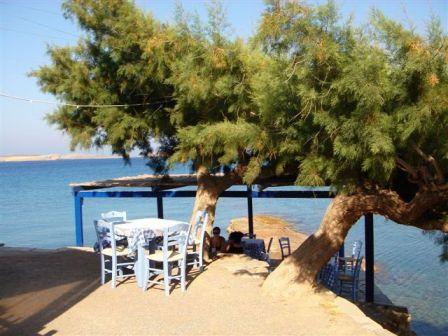 I've promised to write about Paleo Chora - be sure - I'll do so!!! 3 days ago I booked our flights for me and my husband for these summer-vacations: from Munic to Karpathos (first time that we will visit this island! I wonder, how we'll like it) and the flight back from Heraklion - that means, that we will spend a few or more days on Karpathos to see how we'll feel there, take the ferry-boat to Sitia and then spend the next time at the Eastern Coast of Crete. Starting at 20 of May - only a little bit more than 2 months, I look forward!
From Elisabeth in Bavaria
Crete Travel Stories
Wow - just by accident I discovered your beautiful page "We love Crete". I do so, too!
Since I've been first time on your page, I come here daily, often twice or more, and - of course. I now get your love-letters! Every year my husband an me spend the holidays on Crete, sometimes twice, always we only take a flight from Bavaria to Heraklion - once we arrived in Chania - and take a car, and then we travel around. Mostly we have been in the South, the Northern and the West-South, our favorite village is Paleochora.
Last June we discovered the Eastern coast: Palekastro and Kato Zakros and Xerokambos, and there we plan to go again this coming May. Last year we have had a look to Stella's Appartments in Kato Zakros, I think we will spend some days and nights there. What we also liked very much last year, some days in Mochlos. It is a good, quiet place to stay and to make excursions from there. I love reading your love letters and all the reports you've written on your page and looking to all the pictures etc.
I started learning Greek, oh! That's so difficult, but I'm happy to can read and write the Greek writing, and I know to pronounce, so I hope I will be a little bit successful more and more...
I look forward to your loveletters every day and now say
Kali nixta
From Elisabeth in Bavaria
---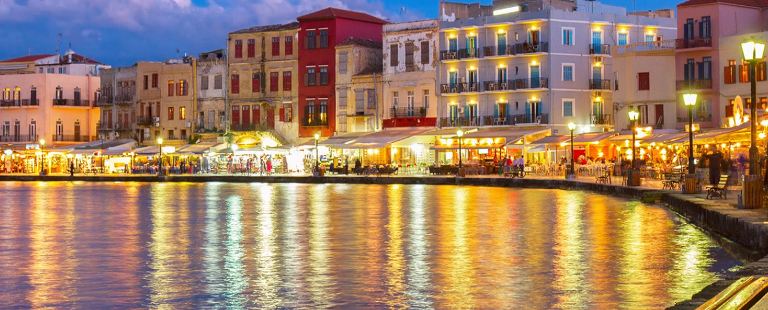 Chania harbour at dusk, Crete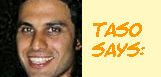 One of my favourite things is looking at the reflection of taverna lights on the limani at night. Especially in Chania it evokes a senses of innocence and vulnerability.The lights reflect the Greeks' desire to gather with friends.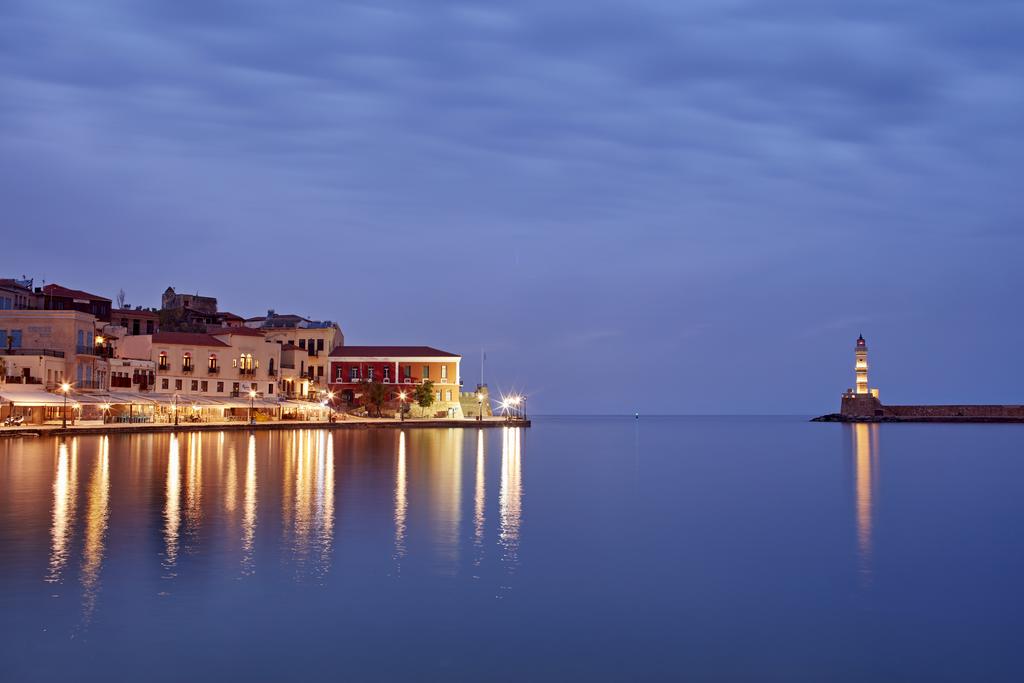 ---
Crete Travel Stories. Do you have a story to share? Some photos to share? Contact us here at We Love Crete on our secure Contact Form.
We look forward to hearing from you and publishing your stories and photos on Crete Travel Stories.
---
Getting to Crete

Take a 1 hour flight from Athens to Heraklion with Aegean Airlines or Olympic Air, with many flights available per day.
Or take a 9.5 hour overnight ferry from Pireaus port of Athens to Heraklion port.
More on flights and ferries below.
Car hire in Crete is a really good idea as it is a large island 60 km by 260 km. There is so much to explore.
When you book with our car rental partners - Rental Centre Crete - you are supporting a local company with excellent service and an easy online booking procedure. We are sure you will be well looked after by the team. Choose from hybrid or non-hybrid vehicles.
---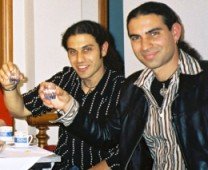 "We trust you have enjoyed these tips from the team at We Love Crete. Evíva!"
Contact us with further questions or feedback. We love to hear about your travels in Kríti and Greece. Let us know of any updates or additions, errors or omissions. Help us make this website the best it can be. Kaló Taxidí!

---