Crete Travel Answers
This page may contain affiliate links, see our disclaimer here.

---

Crete Travel Answers - for all your travel questions about Kriti.

For top tips and travel answers, go to

•  Ferries to Greek Islands from Turkey Q&A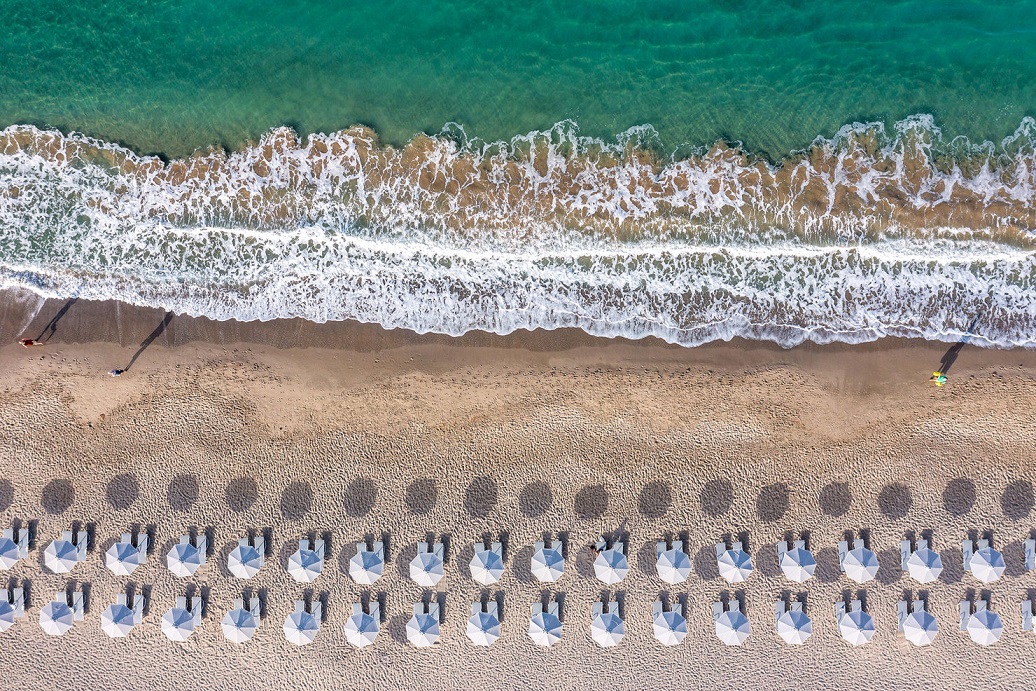 Top Questions About Crete
1.     Why choose Crete for my Greek holiday?

2.    When is the best time of year to visit?

3.    What is the weather like?

4.    Which airport should I use?

5.    Do I need to hire a car?

6.    Where is the best place to stay?

7.    What is the food like and where are the good restaurants?

8.    How can I enjoy a beach holiday in peace and quiet?

9.    Should I stay in the west or the east of the island?

10.    What is a good itinerary for five days on the island?
---

Where are the airports in Kriti?



Airports in Crete are located at :
---

How do you get to Crete by ferry?

There are many ferries a day to Kriti. See our detailed information at our Getting to and from Crete page.


---

Crete Travel Answers 
Taxis and Transfers
We are three friends travelling to Greece, Santorini and Crete in September, arriving in Iraklion on a Friday evening and would like to travel to our hotel in Chania. How can we do that?

Thank you for writing to us at Crete Travel Answers. The fastest and easiest way to get to Chania that evening would be by transfer - whether it is with a mini-bus or a taxi. A good way is to pre-book and then you do not have to worry about it after your long flight. See our section on Taxis and transfers at our Getting around in Crete page.
Click on the link that says "Check prices and pre-book a transfer in Crete" This will show you the options. The distance between Heraklion and Chania is 150 km and takes about 2 hours driving. This transfer will cost you approximately €50 in shuttle bus and €155 in taxi.
The other option is to take the local coach service. This means taking a taxi from Heraklion airport to Bus Station B. See our section on coaches at our Getting to and from Crete page.
This trip may cost you €15 if you and your luggage can fit in a taxi. Then you need to take the KTEL coach to Chania. Click on the link that says "timetable at KTEL Cretan Bus Service" and this will show you your options.
The trip to Chania is via the town of Rethymnon. The last two coaches depart at 20:00 and 21:00 and it will take about 2 and a half hours and cost you around €13 each.
So considering your options the shuttlebus really does sound the best most convenient way for you and your friends.
Another option is to stay in a lovely hotel in Heraklion on your first night. Heraklion is a wonderful town and we have a page about Heraklion here and we show you some good hotels.
We at Crete Travel Answers and We Love Crete sincerely welcome you to our island and wish you a wonderful journey and experience in Kriti.
---
---

Crete Travel Answers - Taxis
Is the cost per person or per trip? Can the taxi pick us up from the port in Iraklion?

You will have a beautiful journey in Greece in Santorini and Crete. Go to our page Getting around in Crete. Please click on the link that says "Check prices and pre-book a transfer in Crete" as it will show you all your options with transfers...and whether the service is from the port and cost is per person or per journey.
You need to change the number of adults in the top section near where you change your dates. I suggest you e-mail to check if you are not sure. Yes, the transfers can pick up from port for you and your friends.
The taxi price of €150 is per one taxi car only - so only if you can all fit with your luggage this will be for everyone. But again - check if you are concerned.
---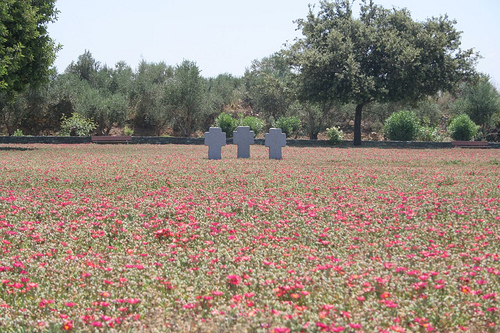 Crete Travel Answers - Battle of Crete Remembrance Ceremonies


I am taking my father who is nearly 90 to Crete next year and hope to be there for the celebrations in May regarding the Battle of Crete 1941. This will be my father's first time back to Crete since he fought near Rethymnon. What exactly are the celebrations and can you suggest somewhere to stay for 2 weeks in Rethymnon?

Firstly thank you for your email. This sounds like a momentous trip for your father. The Cretans should treat you with respect and reverance during your visit. The Cretan people are very proud of their resistance fighters and would have been glad of the support defending this beautiful island from invading forces. Our great uncle was a respected resistence fighter, and to this day his grave is visited by the Cretan army in remembrance.
Activities to remember the Battle of Crete are held every year between May 21-24 in each part of Crete, especially in each capital and at the key battle memorials at Souda Bay, Stavronas and Prevelli. There are athletic competitions and folk dancing as well as official ceremonies with representatives from Commonwealth nations.
Depending on where you are in Australia – try contacting your local Cretan association or indeed Rethymnians association such as www.rethimnian.com based in Melbourne, Victoria. You could even visit some gatherings and start to learn your Cretan dancing before your trip!! A lot of fun!
During your stay you may wish to visit the British and Commonwealth War Cemetery at Souda Bay, near Chania town. You may wish to make a day trip to Heraklion and visit the Museum for the Battle of Crete and National Resistance, which is situated at cnr of Doukos Beaufort and Chatzidaki in Heraklion, and can be contacted on +30 (0) 2810 246554. The Museum is open daily from 8am-3pm.
For buses and transfers from Rethymnon to Heraklion, look at Getting around in Crete, this page will give you car hire options as well, which is suggested.
For background about the Battle of Crete, there are many good books such as:
• The Road to Prevelly by Geoff Edwards (Australian)
• The Cretan Runner by George Psychoundakis
• The Fall of Crete by Alan Clark
• Crete, The Battle and the Resistance by Anthony Beevor
For accommodation, we do list some nice villas in Rethymnon town.
We would recommend staying in a small family run pension, villa or rural accommodation so you get a true feeling for Crete, below are a few we have found for you near Rethymnon. Also see our rural accommodation page
At Crete Travel Answers and We Love Crete, we always look for quality establishments with authentic dedication to the Cretan traditions and hospitality. Please note each of these are driving distance from Rethymnon town.
• House of Kourites or Kouriton House
• Villa Estia - a historical stone built mansion in Armenoi

Of course you may also need to stopover in Athens – see our Athens Stopover page

We would be very glad to be of further service for your planning and wish you and your father a very memorable journey.
---
Crete Travel Answers - Kerasia

I have just bought a house in Kerasia and would like to know if there are any tavernas or places for an evening meal within walking distance. Would I be welcome in the kafenion?

There should be a nice stone place in Venerato on the right as you face Iraklion, just up a bit from the bank. It has a fireplace. Best to go to Koraii in Iraklion for a night out. In the villages is a slow pace. Yes, women are welcome in the kafenion, just remember it is like their living room, so be respectful. Do you speak Greek? Just be prepared to answer questions all about yourself. It is just that the women tend to have coffee dates in their own houses, not in the kafenion. It is not taboo, just habit.
Stin Yiasou!! & Welcome to Kriti!
---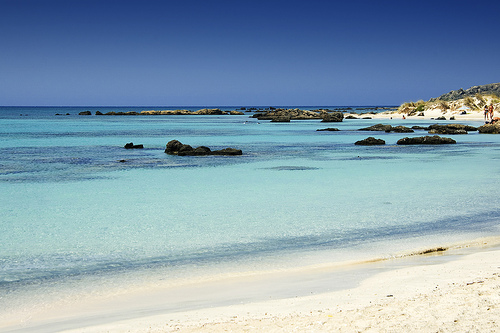 Crete Travel Answers - Elafonisi

I have really enjoyed reading your website. We will travelling to Crete and have hired a car. Can you tell how to get to the beaches of Elafonisi on our own with a car? I realize it's an island, so what are our options beside an organized bus tour.

Yiasas, Thank you for your comments and your question. We are glad you enjoyed our website and encourage you to contribute your stories of your trip when you get back home.
We are compiling a page on visitors trip stories so yours will be one of the first! Feel free to contribute photos too.
To answer your question, remember Elafonisi is a small islet and a lovely beach. So there is no road to the islet, but there is a road to the beach and we give you directions below.
Here at Crete Travel Answers and We Love Crete we have a map page here - look at the very south-west tip of the island and you will see Elafonisi - Ελαφονήσι - not to be confused with the island of the same name off the mainland at Peloponnisos.
From Iraklion drive west to Rethymnon
From Rethymnon drive west to Chania
From Chania drive west to Drapanias
From Drapanias drive south to Voulgaro (this is the only turn to the left)
The turn is between Drapanias and Kastelli-Kissamos
From Voulgaro drive south to Topolia (beautiful country)
From Topolia drive south to Koutsomatados
From Koutsomatados drive south to Myli
From Myli drive south to Elos
From Elos drive south to Perivoli
From Perivolia drive south to Kefali
From Kefali drive south to Vathi
From Vathi drive south to Elafonisos - now there will be plenty of signs to get there
Stop at one of the mountain villages - maybe Topolia - for a kafe to enjoy the view.
There are no developments allowed at the beach so there is a tiny hamlet with some small accommodations just behind - maybe 1 km from the beach. Better to stay somewhere nearby and visit, such as Kastelli Kissamos or Chania as it is driving distance from there - or if you would like us to find rural accommodation nearby for you let us know.
Get yourself a good road map in Iraklion when you arrive - information on our map page, and get good maps from 'Travel Bookstore' on Handakos 29 in Iraklion.
---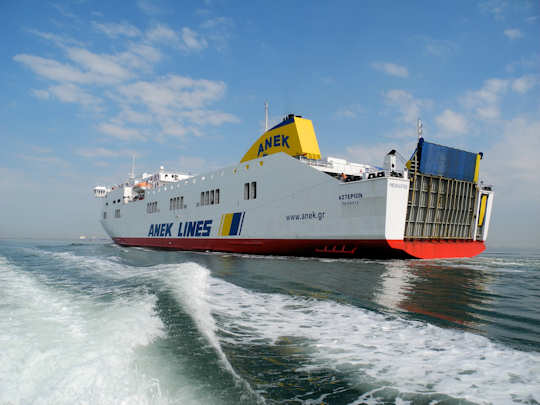 Crete Travel Answers - Ferries

How do you get to Crete from Turkey?

There are many ports in Greece that lie opposite ports in Turkey such as Kos and Bodrum, which have many ferries daily. See our Ferries to Crete from Turkey page
---
Crete Travel Answers
Accommodation Near Kissamos

Hey! I got here because of your answer on thorntree. I'm looking for a neat accommodation type apartment near to beach in Kissamos. Do you have a suggestion? I would also like to go sailing for a day or two, but couldn't find a trip on here... Any ideas? We're flying in to Athens so we could also sail down. Thanks for your help! Cheers, Yvonne

Yiasou Yvonne, We are so glad to hear from you from Thorntree...we love independent travel too... welcome to Kriti!
At Kissamos you can stay at the Delfini Apartments right by the water, see about this at Kastelli Kissamos
Or try this beautiful rural pension a little inland from Kissamos - Elia Guesthouse

Sailing to Kriti, we have sailing tours and charters listed on this page...just scroll to the bottom of the first page and click the link that specialises in sailing, then search for a specific sailing to Crete.
We love Athens and have put together our tips and suggestions on our Athens Stopover page.
Write us again if you have any more questions. Bon voyage!
---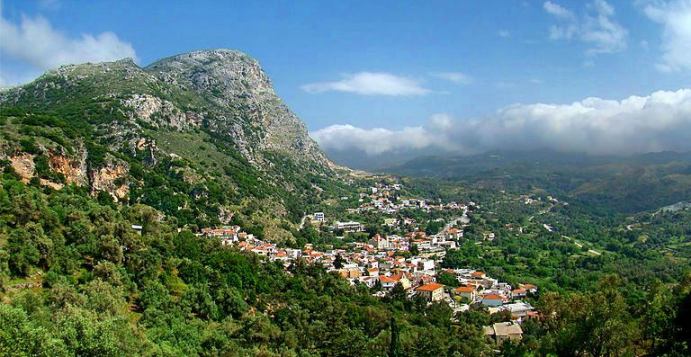 Crete Travel Answers - The Amari Valley

I'm bicycling through the Amari valley in April & getting a bus from Rethymnon to ? Apostoli or Thronos. Any advice or information would be gratefully received. David

Yiasou David, Thank you for writing to us here at Crete Travel Answers. Your bicycle trip in such a beautiful place will be a wonderful time.
The towns you can explore on this trip include Apostoli, Agia Fotini and Thronos as well as Amari, Gerakari and Meronas. Further out but still close by are Spili, Moni Arkardi & Margarites.
The buses leave from Rethymnon for Amari at 0530, 0700 and 1400 Monday to Friday and 0700 1415 Saturdays and only one bus at 0700 on Sundays.
You can see more about the bus service here.
The Amari valley sits between Mt Psiloritis and Mt Kedros, and is a fertile agricultural area with many fruits growing. With over 40 villages in the area you will never want for company. Go to the kafenio and have a kafe (or just a glass of water), and ask the locals about their place.

Apostolis is 25 km south east of Rethymnon town, through a very dramatic gorge. In Thronos you can see Agia Panagia church with frescoes from the 14th century, and you will find Aravanes Rooms, and Agios Onoufrios Church. In Agia Fotini (which means Saint of the Light) you will also see the beautiful church and find a big shop for groceries. There you will find rooms and Cretan food at Dramitinou Rooms.
See also our page about Margarites here

And about Arkardi Monastery here
Info about Spili Village here

And Getting around in Crete here
Eleftherna, a Dorian and later Roman settlement, is 5 km from Margarites. This historic site is spectacular and surrounded by hills and gorges. There are remains of a fortified tower from Hellenic and Byzantine eras. Not well known on the tourist routes, you will be able to wander with plenty of space and time to enjoy nature and history.
See more on our Cretan Mountains and Nature pages.
---
Crete Travel Answers - Trip Planning

I am planning a trip in September arriving approx. 6 Sep. Can you give me price for the following:

Arrive Chania airport
Transfer to the Portoveneziano Hotel 3 nights
Transfer to Rethymo
Hotel Ideon 2 nights
Transfer to Stalida
Hotel Zephiros 2 nights
Transfer to Airport
Can you also forward be a list of day tours in Crete
Thanking you and waiting your reply in anticipation. Yiona.

Yiasou Yionna, Thank you for writing to us at Crete Travel Answers.
Here we have some details for your journey planning.
More information can be found at:
Here are approximate prices for your planned holiday

Arrive Chania airport
Transfer to Chania Hotel €25
Portoveneziano Hotel @ €86 3 nights €258
Transfer to Rethymnon by bus €6
Hotel Ideon @ €57 2 nights €114
Transfer to Heraklion by bus €6.50
Transfer to Stalida by bus €3.50
Hotel Zephiros 2 nights ?unknown price
Transfer to Airport €26.90

Day tours in Crete, we suggest:

From Chania a day tour to Elafonisi or Gramvousa
From Rethymnon a day tour to Samaria Gorge
From Stalida a day tour to Archaeological Museum in Heraklion and Palace of Knossos
From Stalida a day tour to the Palace of Malia
See more information at:
There are many other day tours available for you to choose.

Naste kala! Welcome to Kriti!
---
Crete Travel Answers - Where to Stay

Hello, Friends, from rural Scotland.
First, thank you for your beautiful website, which confirms our eagerness to visit Crete for the first time.
We are two reasonably fit oldsters (late 60- early 70) couple with our 10-year-old granddaughter, visiting from Shambhala Mountain Center in Red Feather Lakes, Colorado. We like rural, but not too far from a beach (or swimming pool) for our grand-daughter. We all will bring our hiking boots (hoping it won't be excessively hot for us to hike in July).
We love to meet and laugh with the locals, love Greek cuisine (and if organic, magic). We might want to make our own breakfast and pack lunches, but we definitely want to enjoy the cooking of our host for dinner.
We hadn't thought to rent a car, but if we have to, I suppose we could.
We want to come for 7 - 10 days in July, starting about July 5.
I would be very grateful if you could recommend a place for us. Thank you!! Diana

Hello Diana, thank you for writing to us about your holiday in Crete. What a special time to spend with your grand-daughter. I guess she has lovely mountains there in Colorado, so a focus on beaches as a contrast will probably excite her.
From Crete Travel Answers, we suggest a holiday in Chania prefecture in the west of Crete. Beginning with two nights in Chania town, staying in the old Venetian quarter in an affordable homey pension such as Villa Venezia or Pension Eva...the old quarter is brimming with life, history and culture on one of the prettiest harbours of the Mediterreanan.
See the following pages about Chania town:
Accommodation in Chania Old Town
Then we offer two options, the first one without a hire car. We suggest a local coach ride to the lovely small town of Kastelli Kissamos and base yourselves there. There in a big bay and beaches and access to many other beaches. Here you will find a hospitable town, and day trips available, one a boat trip to the beautiful Gramvousa Islet and Balos Lagoon, and one to stunning Elafonisi beach on the south west coast. Here we recommend the Argo Hotel and Papadakis Taverna.

The second option would be to hire a car once leaving Chania town and drive to the beautiful village of Ano Vouves (near Kastelli Kissamos). From here you still can explore the whole of Chania, do the day trips mentioned or drive to Palaiohora and take a dolphin boat trip, or the ferry to isolated southern beaches and the southern end of Samaria Gorge.
As you are active walkers, you may wish to explore Samaria, however we suggest doing a partial walk only from the southern end, do not try the whole walk, it is a serious day walk not for you or your grand-daughter. A ferry from Palaiohora, a short walk into the gorge from the south, and a ferry back, will be a great adventure. The ferry trip on the water is also a good idea as July is very, very hot.
The guest house we suggest for you from Crete Travel Answers, to enjoy all the interaction and hospitality, meals and Cretan way of life, is Elia Guesthouse just outside the village of Ano Vouves. The combination of the guesthouse and the little village will no doubt give you a relaxing and real experience of Kriti.
We would also suggest driving from here to Elafonisi for the day, a trip with excellent scenery and a very special destination.
Please see the following pages about the above suggestions:
Getting around within Crete, including ferries
Kalo Taxidi - Bon Voyage Welcome to Kriti!


---
Crete Travel Answers - Hire Cars in Crete

Dear Katia and Anastasi,
I can hardly believe your kindness in sending us such a long email with complete and varied suggestions.
In the meantime, I booked one of the apartments offered by Kamares Houses mentioned on your site. It looks wonderful. I realise it is a bit further than the others, but we will rent a car. Any suggestions about that? So that we can explore some of the sights you offer.
Thank you very much! What a fine service you offer to visitors!
Regards, Diana

Yiasas Diana, We are glad to have shared our love of Kriti with you here at Crete Travel Answers.
So glad you have found a lovely place - Kamares will suit you very well too...
For hire car we have a service linked to our site - you can book before you arrive which is always easier. see Hire Cars in Crete.
Reservations for hire cars can be made here.
There are also transfers available which can be good upon arrival, then hiring the car on the second day of your holiday once you and your party feel oriented.
See "Taxis in Crete" section on the this page.
Enjoy a wonderful visit to Kriti.
Kalo Dromo! Kalo Taxidi! Upon your return, please tell us here at Crete Travel Answers how you found your holidays, any comments or stories about special places or quality of accommodation are always appreciated.
From the Crete Travel Answers Team
---
Yiasas
Yiasas and we wish you 'kalo taxidi' from Crete Travel Answers and We Love Crete.
Do you have a question about travelling in Kriti? 
Write to us at Crete Travel Answers and We Love Crete using the Ask Your Question page ...and we will do our best to answer your question.
We Love Crete is not a travel agent.
For all bookings and schedules, always check with your agent or provider.