Crete Holiday Villas

This page may contain affiliate links, see our disclaimer here.

---
Greece Villa Rental

Crete Holiday Villas - we have chosen some special luxury villas in the Cretan countryside for a quiet, relaxing and stylish home from which to visit this most beautiful island. We present some of the most beautifully situated villas for your private Crete vacation.
Below we present more Greece travel information; getaways on some of the most stunning islands in the Mediterranean.
---
Crete Holiday Villas
Beach Front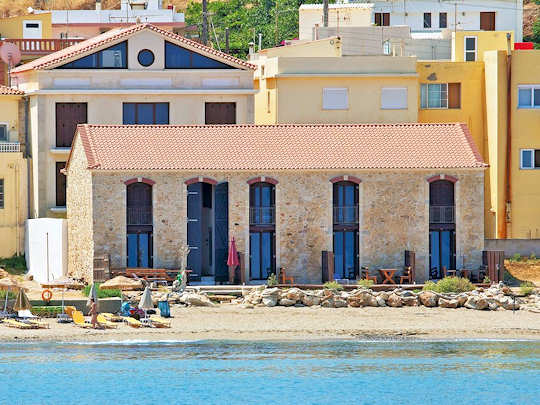 Seafront Residences - these traditional villas are built of stone and wood and furnished in traditional style, yet provide all modern amenities.
Just one step from the beach at Rethymno and close to the characteristic old town of Rethymnon, this location gives you the best of both worlds. Surrounded by tavernas, cafes and shops, you are just 1 km from the historic winding streets and narrow lane ways of the old quarter.

The crystal clear waters with shallow seas are perfect for families.
Each villa accommodates 5 guests with one double bed and three single beds, has air conditioning and a fully-equipped kitchen.
As there are four villas close together, they can be used in conjunction for family events, retreats and reunions.
---
Crete Holiday Villas
Almond Tree Villa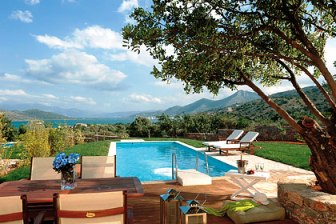 In the east of Crete lies the paradise of Elounda, surrounded by a picturesque bay and peninsulas, azure waters and sandy beaches. Nestled on a hillside, next to a beautiful stretch of sun-drenched coastline, the attractive Domes of Elounda resort affords stunning views over the gulf of Elounda across to the famous island of Spinalonga. One of the most luxurious private villas located inside this world-class resort is the Almond Tree Villa.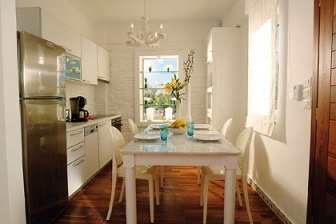 The pretty Almond Tree Villa enjoys wonderful views of the neighbouring countryside, out to sea and the stunning mountain back drop. Sleeping four comfortably, with two bathrooms, luxury styling, private pool and jacuzzi, this is a perfect lure to escape and relaxation. The resort has endless facilities including tennis courts, gym and divine spa services.


---
---
Crete Holiday Villas
Merope Villa
Merope Villa - exterior with view
On the north-east coast of the island beside the waters of the Mirabello Bay, the cosmopolitan resort of Agios Nikolaos enjoys a beautiful lake with an open air theatre, as well as a wide selection of shops, tavernas, restaurants and museums, a fabulous marina, large harbour and numerous beaches.

Merope Villa - interior - lounge room
Set within the luxurious Pleiades villa resort, just 2.5 km from Agios Nikolaos, is the beautiful Merope Villa with exquisite views across Mirabello Bay. With its own private pool, modern styling and luxuriant furnishings, this is a soft place to call home for an exclusive time-out. Sleeps 4 with 2 bedrooms and 2 bathrooms.


---
Villa Maya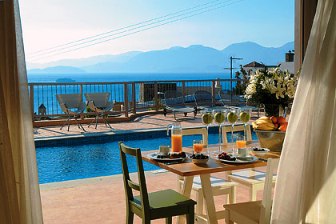 Villa Maja - view across Mirabello Bay
Set within the exclusive Pleiades villa resort, just 2.5 km from Agios Nikolaos and 5 km from Elounda, is the beautiful Villa Maja with views across the bay to the island of Spinalonga, overlooking the sunken ancient ruins of Olous. Mythology tells of the mermaid Goddess Vritomaris who swam in this bay.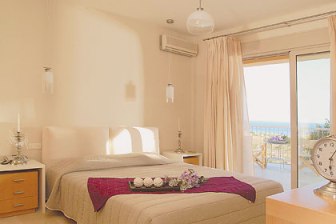 With a private pool, two bedrooms and warm, subtle styling this villa sleeps 6 comfortably with 3 bedrooms and 3 bathrooms in complete privacy. Guests have access to all facilities of the Domes of Elounda Resort with creche, kids club and teenager club. Nearby beaches include Elounda, Almyros, Ammoudara, Havania and Ammoudi.


---
---
To choose your villa by location – see the interactive map below - with markers for our specially selected villas in Crete:
---
| | |
| --- | --- |
| | Greece Travel Information - our personal tours of Santorini, Mykonos, Karpathos, Rhodes and many more islands - plenty to explore with stunning accommodation recommendations for each island. |
---
Crete Holiday Villas - Disclaimer - We Love Crete does not rent villas and cannot be held responsible for individual decisions or transactions made from the information contained on this site. Please ensure to double check all details and arrangements.
Every care has been taken in compiling the contents and details presented on this web site. However, all information about the properties has been provided by the advertisers and provided by We Love Crete  in good faith. Enhance Living Synergy will not be held liable for any errors, omissions, misunderstandings or claims arising from the advertisement or any arrangement or booking made with an advertiser.
When booking a property we would simply recommend that you ensure all details, including any booking conditions, are confirmed by e-mail or in writing with the owner.
---