Weather Chania

This page may contain affiliate links, see our disclaimer here.

---
Weather Chania Crete - shows the current temperature and 7 day forecast below, just click on the bottom of the display 'get 7 day forecast' and it will show not only the forecast but hourly weather reports.
---
Spring in Chania

Spring Weather Chania - The spring months of April, May and June in Crete are blissful and ideal for exploring nature, walking in the mountains and gorges, sightseeing and swimming. With high temperatures averaging 20 °C or 67 °F, the nights can be cooler with averages of 14 °C or 58 °F. Sea temperatures warm quickly after May and June is perfect for swimming. The average sea temperatures  are 19 °C or 66 °F.
A charming countryside experience in spring, nearby to the airport, is Irida's House just 6 km from the airport, away from town, on the Acrotiri peninsula.

This 3 bedroom house, with a spectacular view on the edge of a quiet village, is in between the five most popular beaches of Chania city; Stavros, Loutraki, Marathi, Seitan Limani and Kalathas.
This charming house combines luxury, elegance and fairy tale touches.

This accommodation is best visited with a car, you will be 8 km from Chania Old Town and in a good position to explore the west of Crete.
Irida's House is full of charm and includes a terrace with this magical view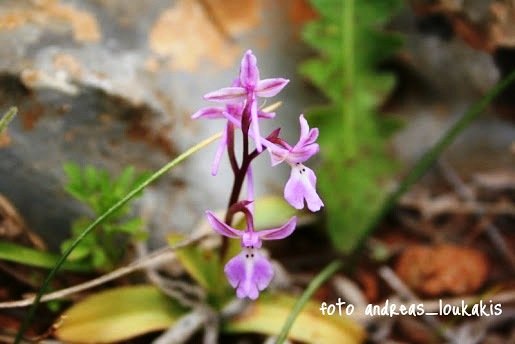 Four spotted orchis - Orchis quadripuntata - which flowers in March and April in Crete
Tip - use Chania Airport CHQ

---
Summer Weather Chania
Shack Up Together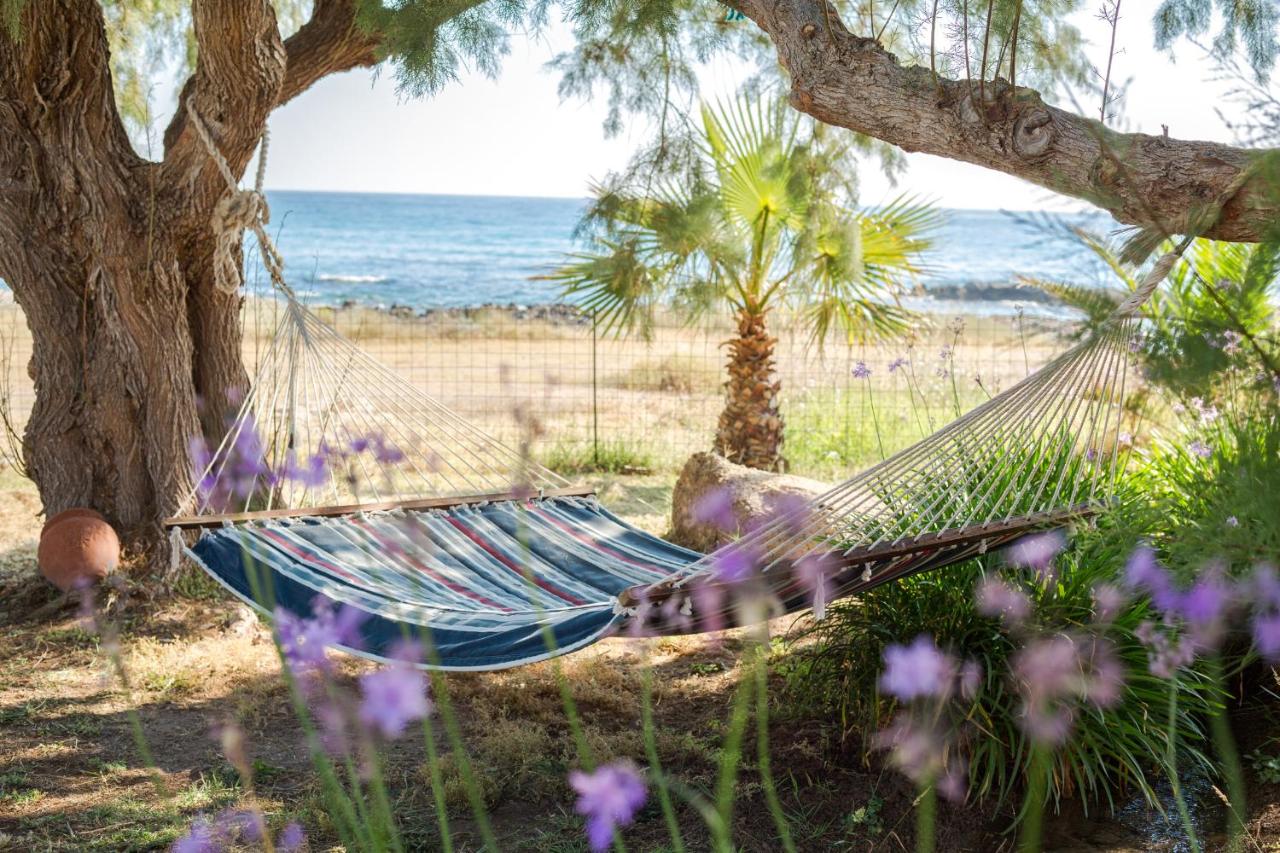 Beach Accommodation Crete

Summer Weather Chania - Summer months of July and August are hot in Crete, with high temperatures averaging 26 °C or 78 °F and night time temperatures of 20 °C or 69 °F. Sea temperatures are 24 °C or 76 °F. There is little or no rain and wonderful sunshine each and every day, all the better to enjoy the hundreds of beaches in Chania and the west of Crete.
Just 30 metres from Falasarna Beach is the small beach side cottage named Mera Beachfront House, which sleeps 6 in rustic yet modern apartment with a beachy garden and views across the sea. This very affordable accommodation, with its own laid back quirky charm, is very popular and sells out quickly.
---
Autumn in Chania

Autumn Weather Chania - the autumn months of September and October are a little cooler than the hottest months of summer yet still great for beach activities, all water activities and nature walks, hiking and exploring all over Crete. We do prefer autumn as the busy months of tourism are over and locals are more relaxed.
High temperatures average 21°C or 70 °F and night temperatures average 17 °C or 62 °F. Water temperatures average 23 °C or 74 °F, completely enjoyable for snorkelling, diving or just lazing around by sea. Hiking and walking are wonderful in these warm months.
Gianni's House is a cozy stone-built holiday home situated on the plateau, virtually in the middle of nowhere, surrounded by mountains. Just enjoy peace and quiet and hiking from here. 1 bedroom and 1 bathroom, traditional style with modern comforts. Ideal for nature lovers. It would be best to visit with a car as this house is 40 km from Chania town and 7 km from the entrance to Samaria. Perfect for hiking in autumn.


---
Weather Chania Winter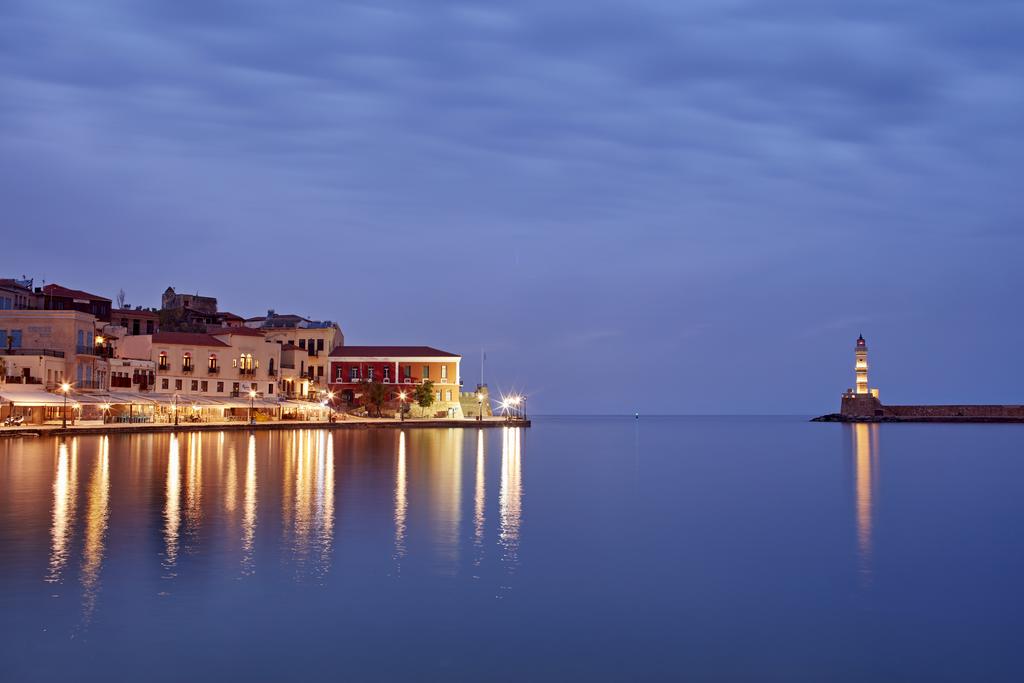 Chania Harbour at Dusk - view to the lighthouse and the Domus Renier Boutique Hotel

Winter Weather Chania - from December to March is cold in Crete and it is time to head to the town to explore the history, tavernas and musicianship.
Locals are out harvesting olives, taking them to the press and bottling. Snow comes to the mountains and life slows down. In contrast to the rest of Europe, days are still sunny and relatively warm.
Without the crowds of summer it is refreshing to visit places all over Crete without the press of humanity on your shoulders. Ancient sites can be explored in an unhurried way, and really the most pleasant thing is that you can meet locals who have more time to talk and who will treat you as a valued visitor with true Cretan hospitality, rather than just a face in the milling throng of summer haze.
Of course the touristic resorts based on beachgoing do close down during this season, yet there is so much more to experience in Crete during this wonderful time, we cannot say strongly enough that you really must experience Kriti in winter.
Nea Chora Beach remains open and you will find plenty of villages with good tavernas fully operating, such as Armenoi, Drapanos, Kefalas, Kalives and Vamos.
Stay within the walls of the Old Town of Chania to experience the atmosphere of histories interwoven through the stones and pebbles, laneways and byways. To soak up the energy of the old zone, ensure you stay within the Venetian walls that mark the edges of the old town, and choose a room with a view over the small Venetian harbour and its lighthouse landmark.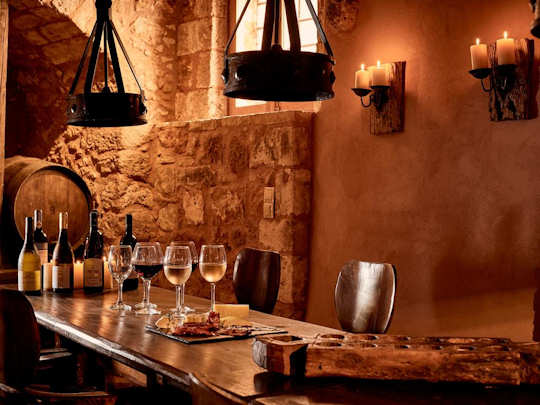 The bar of the Domus Renier Boutique Hotel

The charm of the Domus Renier Boutique Hotel is its exacting attention to detail in the restoration of an old home to create an exquisite character-filled experience for the visitor. The Venetian dominion over Crete lasted from 1204 to 1699 during which time the people of Crete rebelled and much blood was spilled. These were not peaceful times, yet it cannot be denied that the architecture remains with hints of the lives of doges and diplomats, counts and contessas, traders and corsairs.
The Venetian Renier family lived in this town house which has lain dormant for many years, now beautifully re-crafted with impeccable design features and touches of art in each space.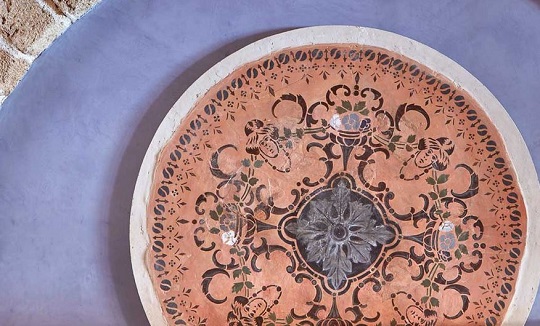 Experience art at every turn in this exceptional small hotel in Chania Old Town

With only 9 rooms, this is your sanctuary in Crete in winter - enjoy the privacy and intimacy in quality surroundings. Just steps from the limani, the Maritime Museum, the Chania Market, the Fort Finca and other landmarks, your days will be filled with exploration on foot through the tiny alleyways. Dine by the water in the evenings and stroll home comfortably.
---
Weather Chania Detail

Weather Chania - see below the details of weather in Chania to help you plan your next visit.

Annual Averages Chania

Weather Chania - see below the annual average climate information for Chania Crete.

Getting Here
Take a 1 hour flight from Athens to Heraklion with Aegean Airlines or Olympic Air, with many flights available per day.
Or take a 9.5 hour overnight ferry from Pireaus port of Athens to Heraklion port.
More on flights and ferries below.
Car hire in Crete is a really good idea as it is a large island 60 km by 260 km. There is so much to explore.
When you book with our car rental partners - Rental Centre Crete - you are supporting a local company with excellent service and an easy online booking procedure. We are sure you will be well looked after by the team. Choose from hybrid or non-hybrid vehicles.
---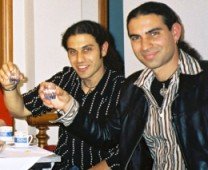 "We trust you have enjoyed these tips from the team at We Love Crete. Evíva!"
Contact us with further questions or feedback. We love to hear about your travels in Kríti and Greece. Let us know of any updates or additions, errors or omissions. Help us make this website the best it can be. Kaló Taxidí!

---