Apartments, Homes and Hotels in Sitia

This page may contain affiliate links, see our disclaimer here.

---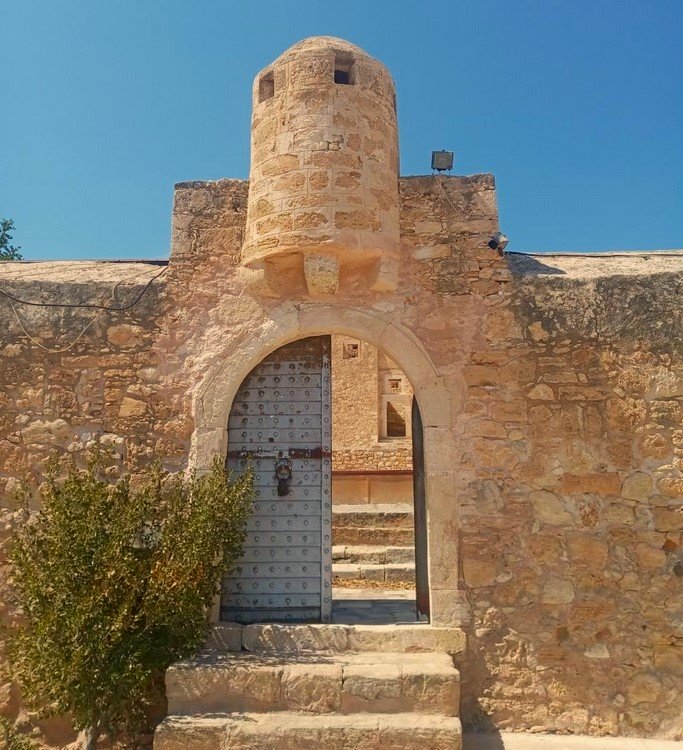 Hotels in Sitia - stay in hotels or stylish apartments overlooking the bay, beachside or in a converted windmill to enjoy the hum of this quintessential Greek bayside town and explore the east of Crete.


Discover Sitia Σητεία 70 km from Agios Nikolaos and 130 km from Heraklion Airport, in eastern Crete, in the beautiful region known as Lasithi.

See the Kazarma Καζάρμα on top of the hill above the town, the ruins of an old fortress or 'Casa di Arma' built in the 13th Century (above). Visit the Archaeological Museum and the Folklore Museum as well as the Minoan site of Petras.

Sail by ferry from Sitia port east to Kassos and Karpathos Island or onwards to Chalki and Rhodes Island.
Explore the beaches of eastern Crete such as Sitia Beach itself, Agia Fotia and Itanos as well as the Palm Forest and Beach at Vai.
Enjoy the large bay and beach in the town, stroll along the esplanade and choose from a large number of seaside tavernas, cafes and restaurants. This is a wonderful place for fresh seafood, and the region's main activity is olive growing, so be sure to try the local olive oil.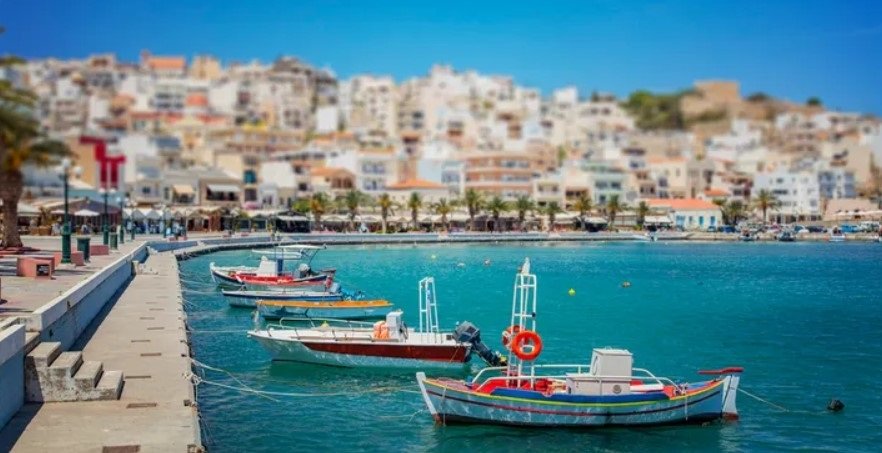 Sitia has a wide esplanade next to the harbour
In the region are endless distractions and enjoyments including wineries such as Toplou Monastery and Econoumou Winery.
Visit Richtis Gorge for a short walk rewarded by a lush green rock pool and waterfall, visit Zakros Gorge also known as the 'Gorge of the Dead'.
The ancient Minoan site of Zakros Palace is just next to the pretty beach of Kato Zakros.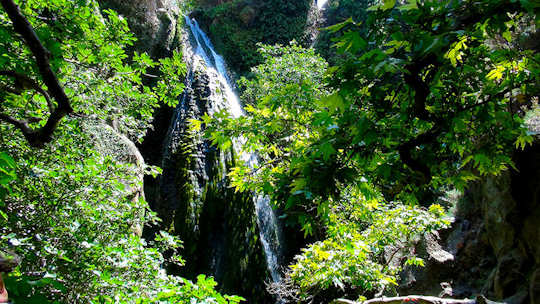 Richtis Gorge is a beautiful 3 km walk just 20 km from Sitia
---
Porto Kaza Studios

Porto Kaza Studios offer lovely views over the bay as they are situated high on the hill close to town.


Enjoy a friendly welcome in these family-run studios, choose from a 1 bedroom studio for 2 guests to a 3 bedroom apartment for 6 guests and many other combinations all with modern styling and the conveniences of town.


---
Nereides Apartments

Apartments and Hotels in Sitia
The Nereides Apartments are located right next to the beach with a cafe right opposite the beach, just 1 km from town.


Modern, sparkling clean apartments just 30 m from the sandy beach make for a relaxing summer holiday padding back and forth to the sea, across a quiet road.

With a fully equipped kitchen, this is a great choice for self-catering families. Enjoy the sunset views across the bay.

---
Sitia Windmill
Accommodation, Homes and Hotels in Sitia, Crete
The Sitia Windmill is located 5 km from town and is a real restored windmill, the modern touches creating a wonderful, unique atmosphere in which to enjoy your stay in eastern Crete.

With plenty of indoor and outdoor space, patios and terraces, full kitchen and dining areas, as well as extensive gardens and olive groves, this is a private, relaxing homey place to stay.


---
Homes and Hotels in Sitia
Jasmine House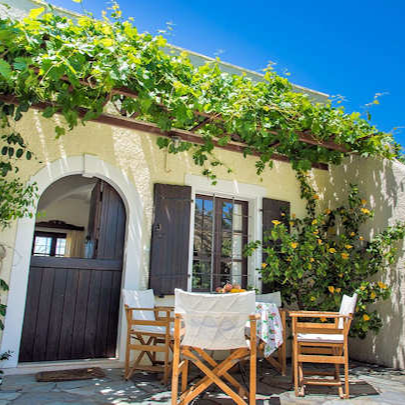 The cozy and charming home Jasmine House is located about 5 km out of town, near the beach, so it is best to stay here with a vehicle.
Accommodating 4 guests in 2 bedrooms with 2 bathrooms, this home is ideal for self-catering with a full kitchen and expansive patios for relaxing meals outdoors in summer.

---
Sitia Beach Resort

Apartments, Homes, Villas and Hotels in Sitia


Sitia Beach City Resort and Spa - enjoy a mud mask or a foot massage, a body scrub, an olive oil wrap or a aloe vera body mask or seaweed wrap or perhaps a massage in the modern spa.

This is a large hotel resort and spa just 300 metres from the centre of town, located on the beach with a pool, restaurant, bar, gym, tennis courts, kids club  and more.


---
Getting to Crete

Many of our UK and European visitors fly directly to Heraklion International Airport, if you are coming from further away, please see our flight pages with options for long-haul flights.
Flights from Athens ATH to Heraklion HER are frequent and take only 1 hour flying time.
Seasonal flights from Athens ATH to Sitia JSH are regular and duration is also 1 hour.

Ferries to Chania Port or Heraklion Port from Pireaus Port in Athens leave every evening in the summer months with the crossing taking 9 hours.
See timetables and booking options below.


---
Getting to Sitia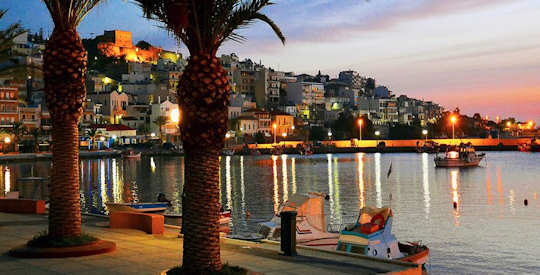 Sitia from the esplanade at dusk
Hotels in Sitia - fly direct in summer from Athens ATH to Sitia JSH with both Olympic and Aegean Airlines.

Or drive east from Heraklion Airport for 130 km, leave 3 hours for this journey or stop on the way at Agios Nikolaos.

There are frequent local buses by KTEL bus lines which are very convenient, buses depart from Bus Station A near the port.

See the location of Sitia town on the map below.


---
Beaches
Sitia has its own town beach which is wide and sandy, east along the bay is Agia Fotia Beach.
Located on the eastern tip of the island is Ermoupolis Beach, just 25 km from Sitia. This is a wide sandy beach

Just 20 minutes or 17 km away is the undeveloped beach at Itanos with clear, clear waters good for snorkelling, and the ancient site of Itanos to explore.
One of the most unusual and stunning locations in Crete is just 24 km drive to the east - do not miss out on a visit to the only palm forest in Europe and enjoy a day at this incredibly beautiful beach, under the palm trees. You might think you are dreaming and have woken up in the tropics!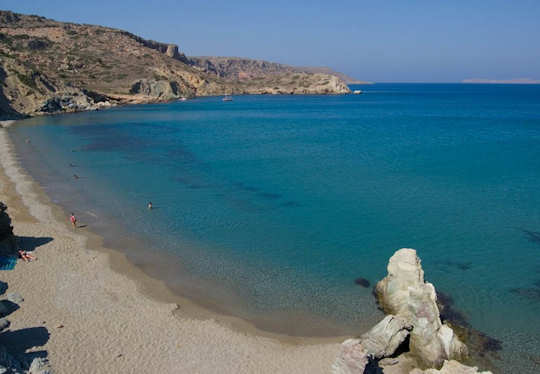 Erimoupolis Beach on the far eastern tip of Crete
Itanos is an idyllic untouched beach 17 km from Sitia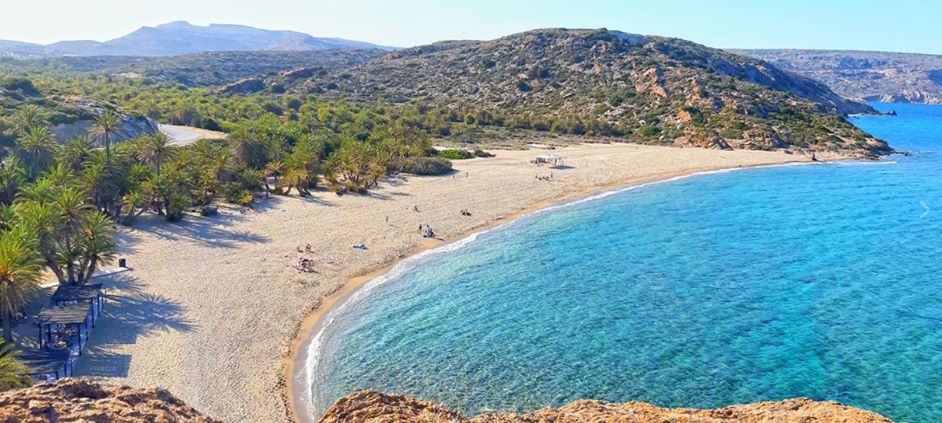 The wonderful, large palm forest and a wide sandy beach at Vai are just 24 km from Sitia
---
Beach Accommodation in Eastern Crete...
---