Crete to Karpathos
This page may contain affiliate links, see our disclaimer here.

---
Crete to Karpathos Κάρπαθος - this is a large and rugged island to the east of Kriti. Exploring from Kriti is easy by regular flights or by ferry from Crete on the way to Rhodos and the Dodecanissa.


About the Island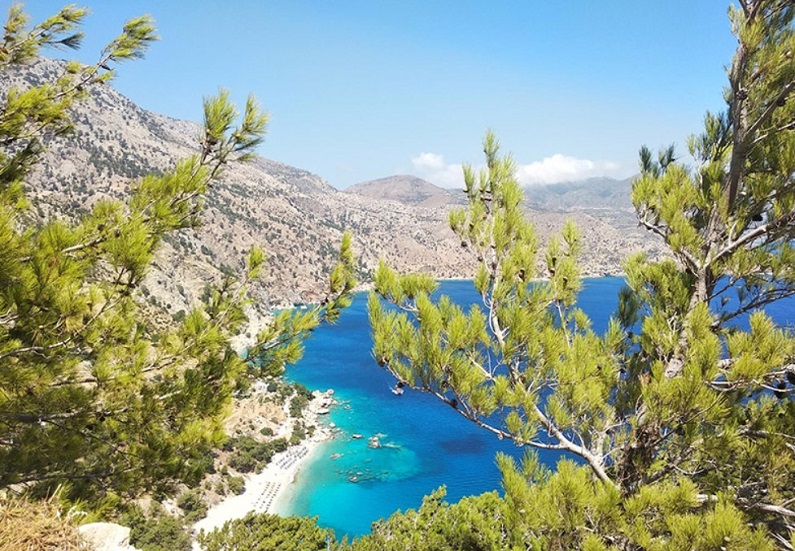 This windswept island has an intriguing history and culture, many untouched beaches and suits those independent travellers looking for a little extra adventure and the real Mediterranean experience.
Half way between Crete and Rhodes, the island has a small permanent population and while it gets a little busier during summer, it is not a highly touristic island and still keeps its natural feel.
This is pure Mediterranean; sparse and dry, isolated and silent. The sandy grey-greens contrast against the pure blue of the sea. Cicadas singing rhythmically, followed by summer silence.
The island has 10 or so villages. Pigadia in the south-east is the main port and capital, also called Karpathos.
Other southern villages are Menetes, Arkasa, Ammoopi and Finiki, and the mountain villages of Aperi, Volanda, Othos and Piles.
In the north are villages of Olymbos, Avlona and Diafani.
In the centre of the island are the villages of Mesochori, Spoa and Lefkos.
The winds blow hard on this island, trees are bent over permanently showing the force of the near continual blast.
Known in Italian as Scarpanto, the island's location in the middle of the crossing between the east and west ensured a violent and diabolical history, woven amongst the fabric of the history of Greece.
Cars are main transport on the island, in fact, some areas are four-wheel-drive-only territory. Travel to the high village of Olymbos is difficult as the high mountain roads are not paved.
Arkasa Αρκάσα (above) is a beautiful simple seaside village in the south of the island only 10 km from the airport.
A perfect location for boating, hiking, scuba diving, windsurfing and water sports, this gorgeous little town has grown to provide services for travellers, yet kept is natural charm.
Visit the beaches in the south and east of the island: Kyra Panagia, Apella, Agios Nikolaos, Ammoopi, Karpathos Beach, Achata, Kato Latos (accessible only by walking), Kyra Panagia, Apella, Agios Nikolaos, Damatria, Diakoftis, and Devils Bay.
---
From Crete to Karpathos

There are options to travel from Crete to Karpathos (or return):

Ferry with Blue Star

Flight via Athens with Aegean or Olympic Airlines
The ferry journey from Heraklion to Karpathos takes about 6 hours and 40 minutes. It can take longer if the ferry you book stops at the island of Kasos. The crossing from Sitia to Karpathos takes about 3 hours and 40 minutes. The fare for a shared berth is €92; there are cheaper and more expensive options. Ferries arrive into the port of Karpathos, with the same name, Karpathos, in the south-east of the island.
You can also choose to arrive into the port of Diafani, on the north-east of the island.

Flights from Crete to Athens, departing from either Chania or Heraklion, are around 1 hour duration, and flights from Athens to Karpathos are 1 hour and 5 minutes. Get to Karpathos before lunch with a good connection in Athens. Fly with Aegean or Olympic Airlines.


---
Accommodation

Karpathos
Choose from small B&Bs and pensions to larger resorts and hotels, there are plenty of places to stay in Karpathos. 
Villa Sea Breeze - just around the point from the harbour you will find peace and quiet here in this lovely elevated villa.
This 3 bedroom villa accommodates 8 guests, with private parking, fully equipped kitchen, 2 bathrooms, a dishwasher and spacious terrace overlooking the sea.
---
Arkasa Village

Arkasa Αρκάσα in the west of the island is quiet and authentically Greek. With its rocky headland and beaches of Arkasa and Agios Nikolaos, it is beachy, relaxed; miles from your worries.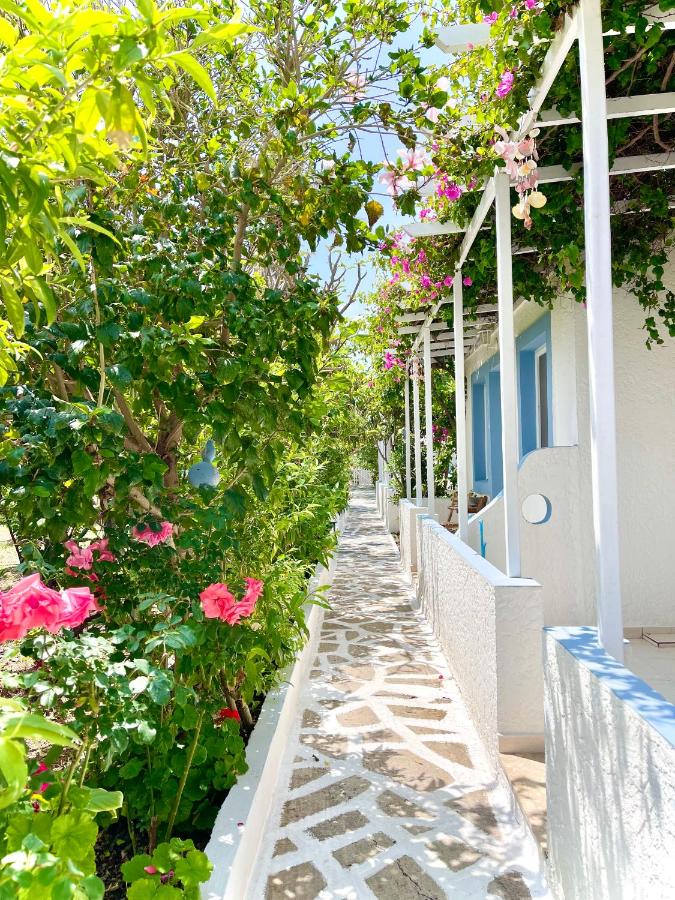 Seaside Studios - relax close to town and close to 2 beaches in this very characteristic accommodation. Surrounded by leafy gardens, each studio has a large double bed and a sofa bed, kitchenette and terrace.
Enjoy free parking and lovely local hospitality.

"Perfect location close to the beach and walking distance to the centre of Arkassa, really beautiful lush garden, nothing is missing in the spacious, nicely decorated studio, and with the best beds. Plus: very kind and caring hosts."
"We thought it was a beautiful apartment, very comfortable and very convenient for the beach and the town. Our hosts were super-helpful and friendly. They gave us some fresh figs from the garden. Everything worked nicely, the kitchen was well equipped, the bathroom was very clean and there was a good shower and plenty of hot water. The wifi was fine too. We had no problems with anything and a lovely holiday here."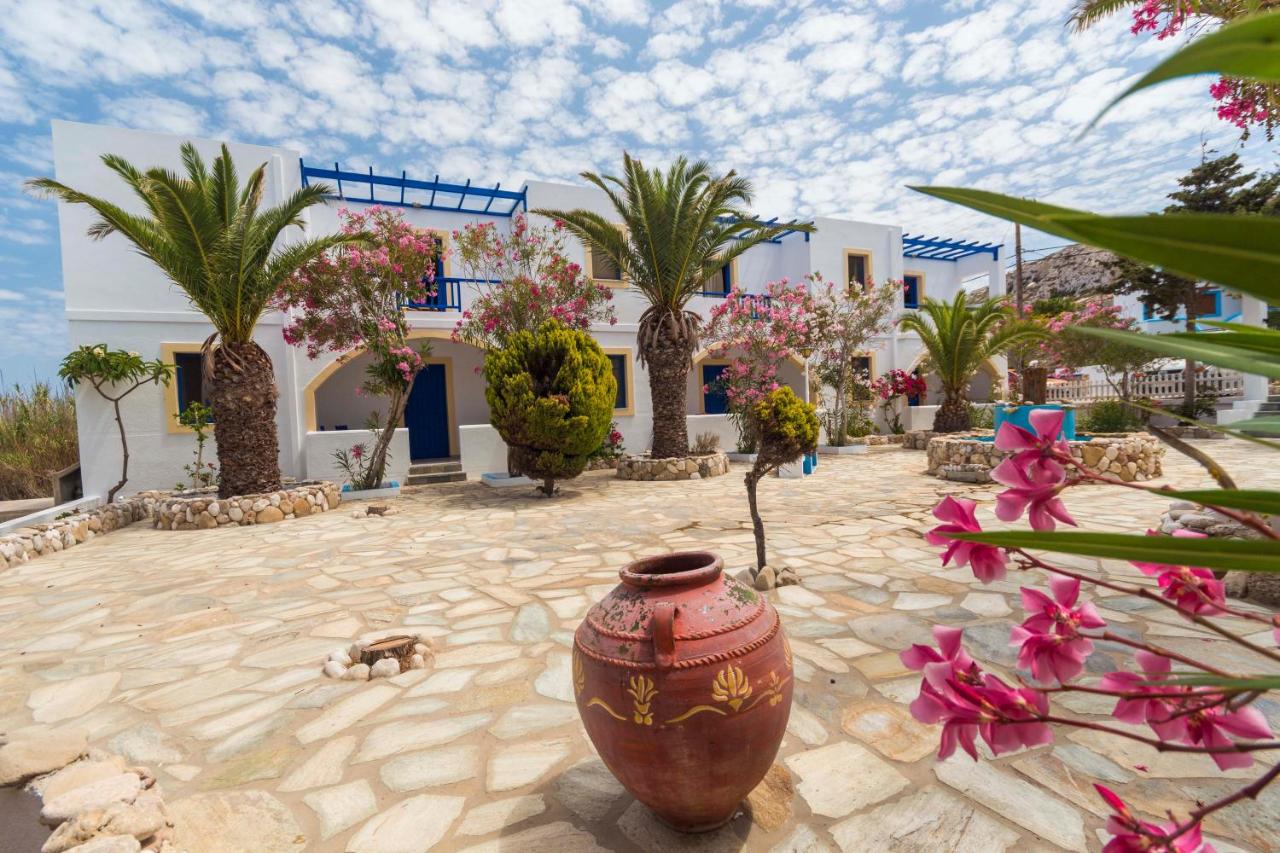 Summer Breeze - set a little back from the beaches, this homely set of studios is clustered around a beautiful courtyard. Relax and enjoy good local knowledge. Private parking, fully-equipped kitchen and terrace. Elevated to catch the breeze.

"We liked everything about Summer Breeze. The rooms were nice, clean and well sized. The kitchen was fully equipped and linen and towels were provided in plenty. The courtyard is great for children to play in. But the most memorable part was the friendliness and the hospitality of the hosts, who made sure we had a very nice time."


---
Ammoopi Beach
Ammoopi Beach Παραλία Αμμοοπή, to the south of Karpathos town, is beautiful and there are many good villas and B&Bs to choose from.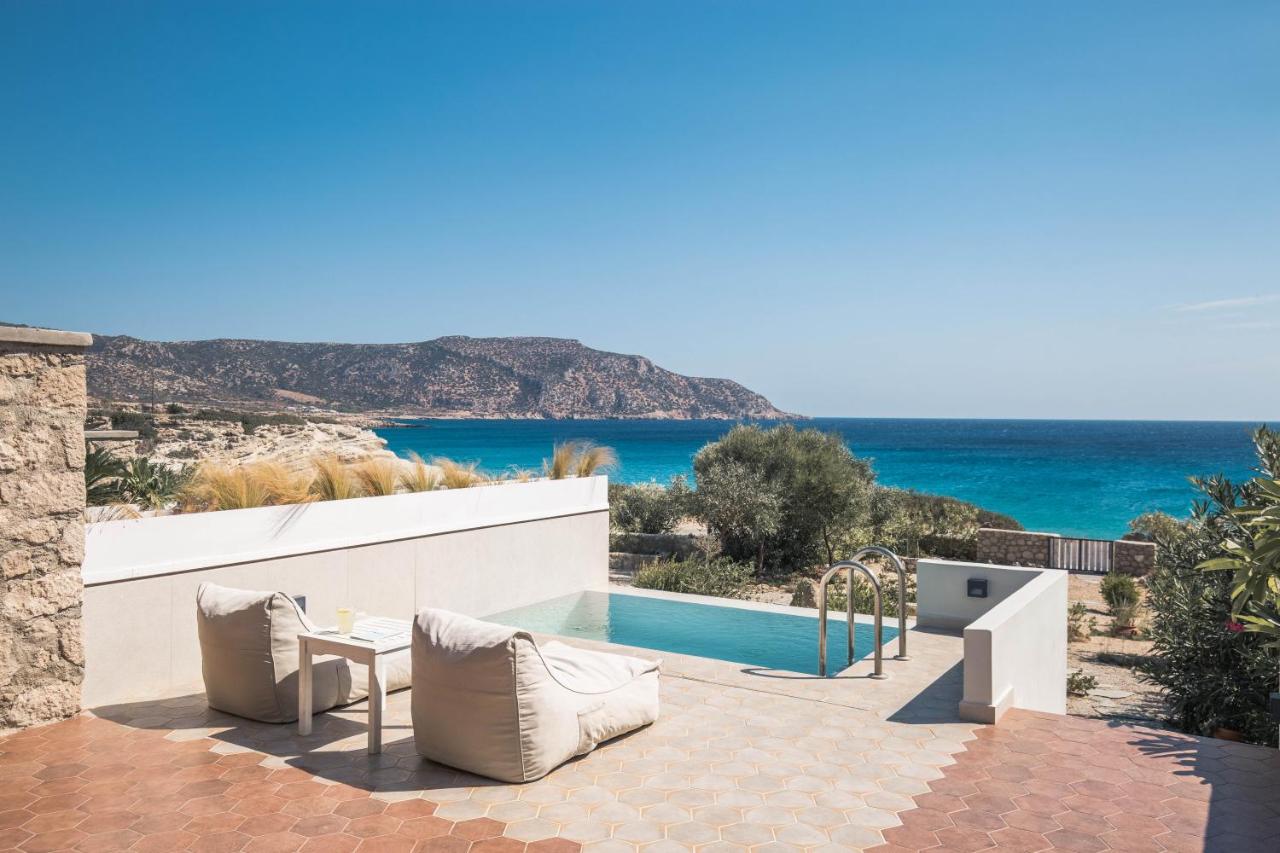 Onar Beach Houses - exquisite modern apartments just a skip and a step from the beach. All modern conveniences including a plunge pool. Guests love the style, peace and quiet and the wonderful friendly host.
"A choice of a private pool or multiple sandy beaches within minutes walk, while still being in a quiet location. Stunning views of the sea from the terrace. Tastefully decorated indoors with all tools/equipment you could need. Very friendly host that answered any questions we had and even offered us fruits from her grandfather's garden. We could not have been happier with our stay here."


---
Videos of Karpathos

Here you will find some videos of Karpathos. Below you can start to 'Feel Karpathos Island'. Warning, this video will have you packing your bags for Greece in record time!

Below is a video of hiking, climbing and cycling routes on Karpathos.

Below is part of the documentary 'Karpathos - The Land and its Music'.
Below is a video of traditional music in a small village of Karpathos. The lyra, laouto, tsambouna and the violi are the traditional Karpathian musical instruments.
The Sea of Karpathos in summer – a touching self-made video proving that love, friendship and summer are timeless.
---
Rock Climbing

Rock climbing is very popular in Karpathos, it is dotted with stony mountains everywhere, get away from everything with just the fresh air and the wind in your hair. With few tourists, quiet calm villages, fresh natural beaches, good windsurfing and surfing, this is a great island for adventure. There are many great climbing routes and experienced guides to take you to the climbs.
Karpathos Adventure will take you climbing, surfing, mountain biking, hiking or windsurfing.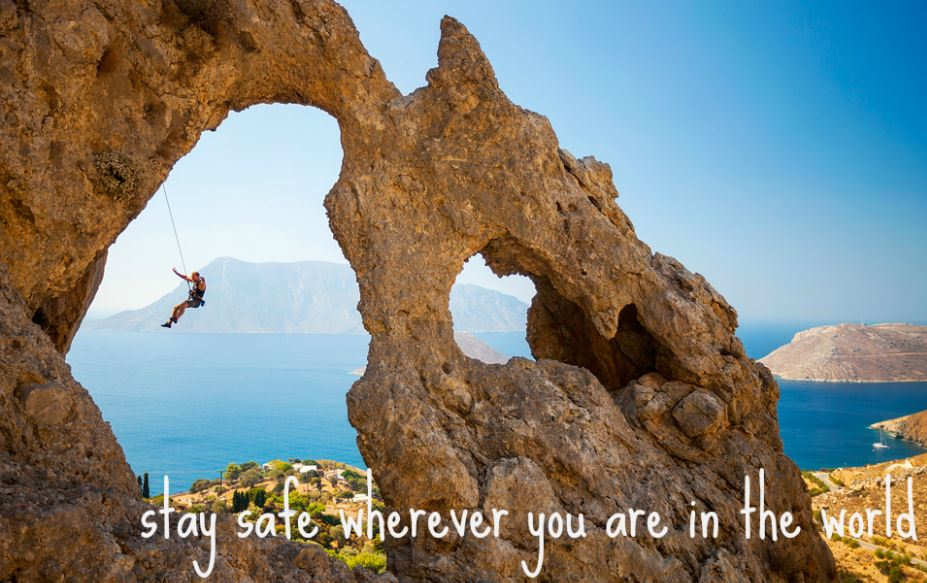 Get travel insurance - especially if you are going climbing or mountain biking
---
Karpathos in Pictures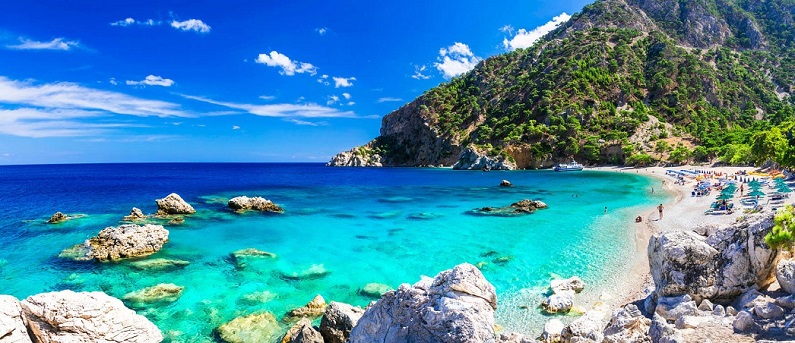 Apella Beach
Apella Beach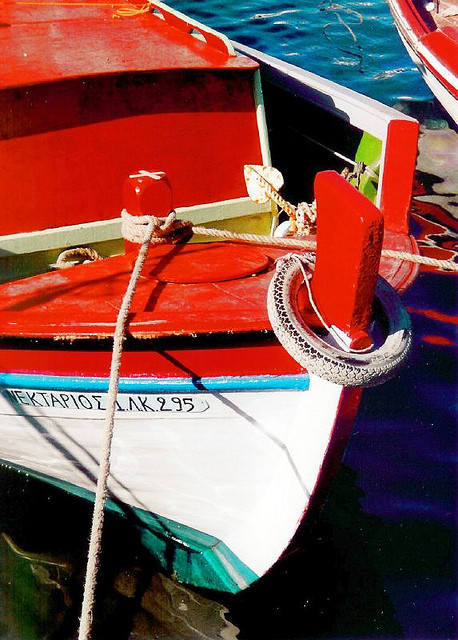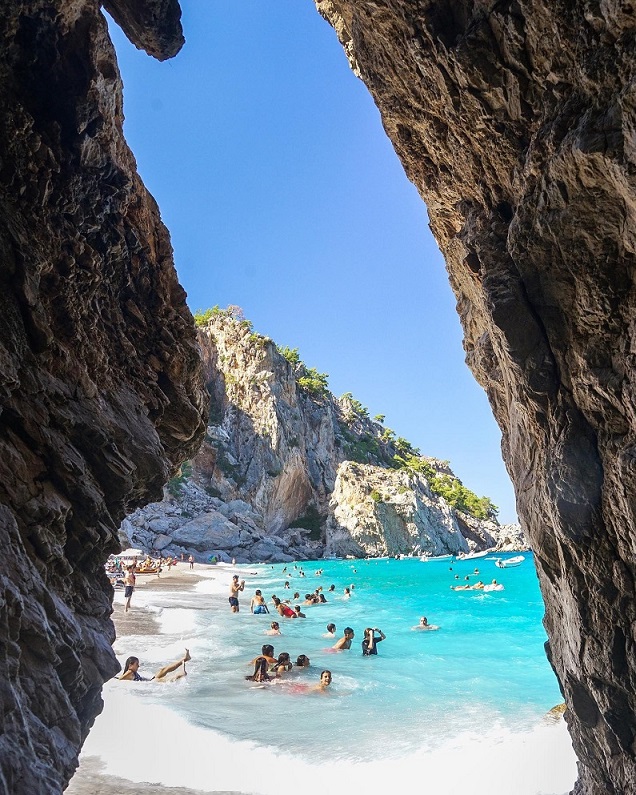 Kyra Panagia Beach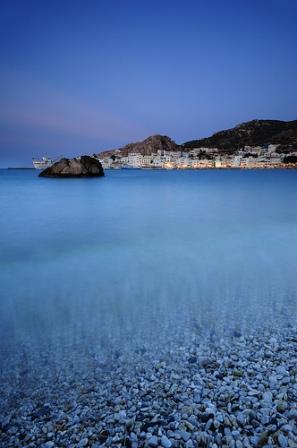 Karpathos Harbour at night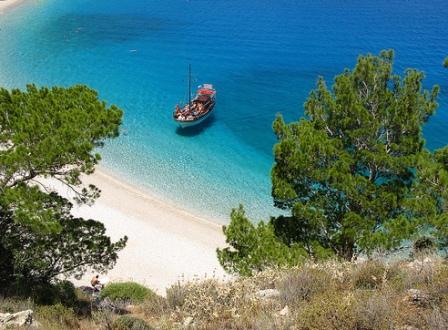 Apella Beach which is sandy with clear waters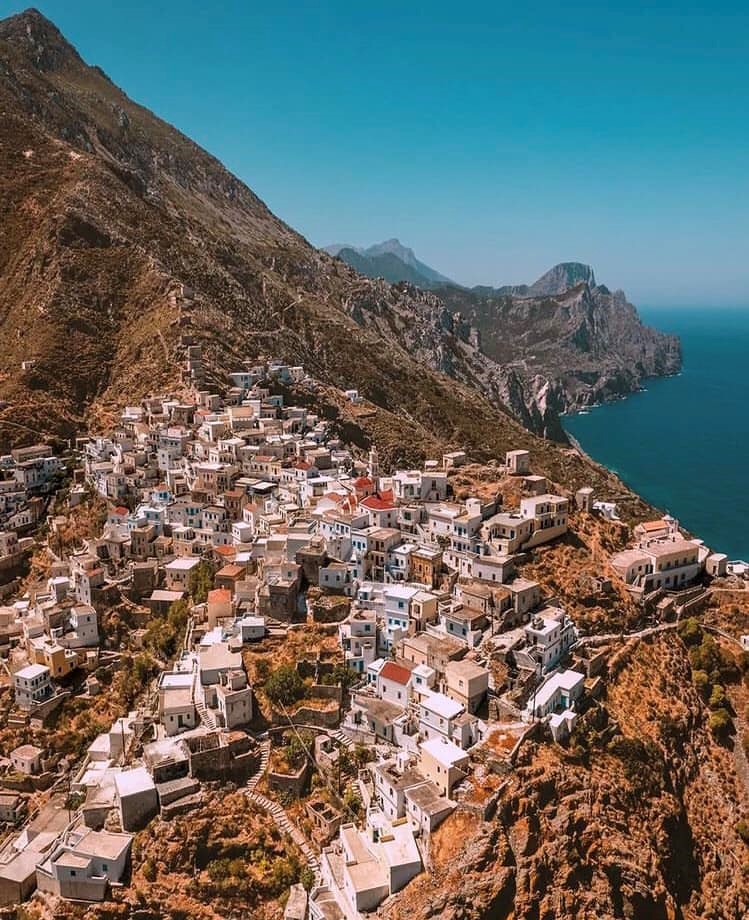 Olympos traditional mountain village - Karpathos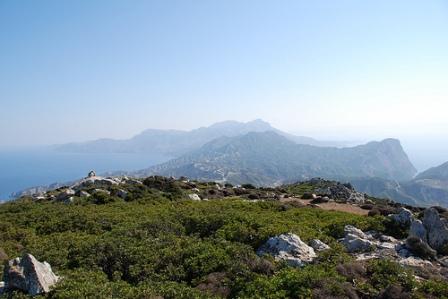 South of the island looking north
---
Diafani
Crete to Karpathos - the Port of Diafani
You may take the ferry from Crete to Karpathos to the port of Diafani. You may pass by Diafani on the ferry from Crete to Rhodes or, of course, from Rhodes to Crete. Diafani is a small village on the east side of the island with crystal clear waters and plenty of space, peace and quiet.
Fishing, diving, spearfishing, relaxing and walking are popular activities in and around the northern part of the island. Diafani is 7 km from Olympos, one of the traditional villages of the island, from where magic sunsets can be seen. Boat trips to nearby island of Saria and beautiful untouched beaches can easily be arranged.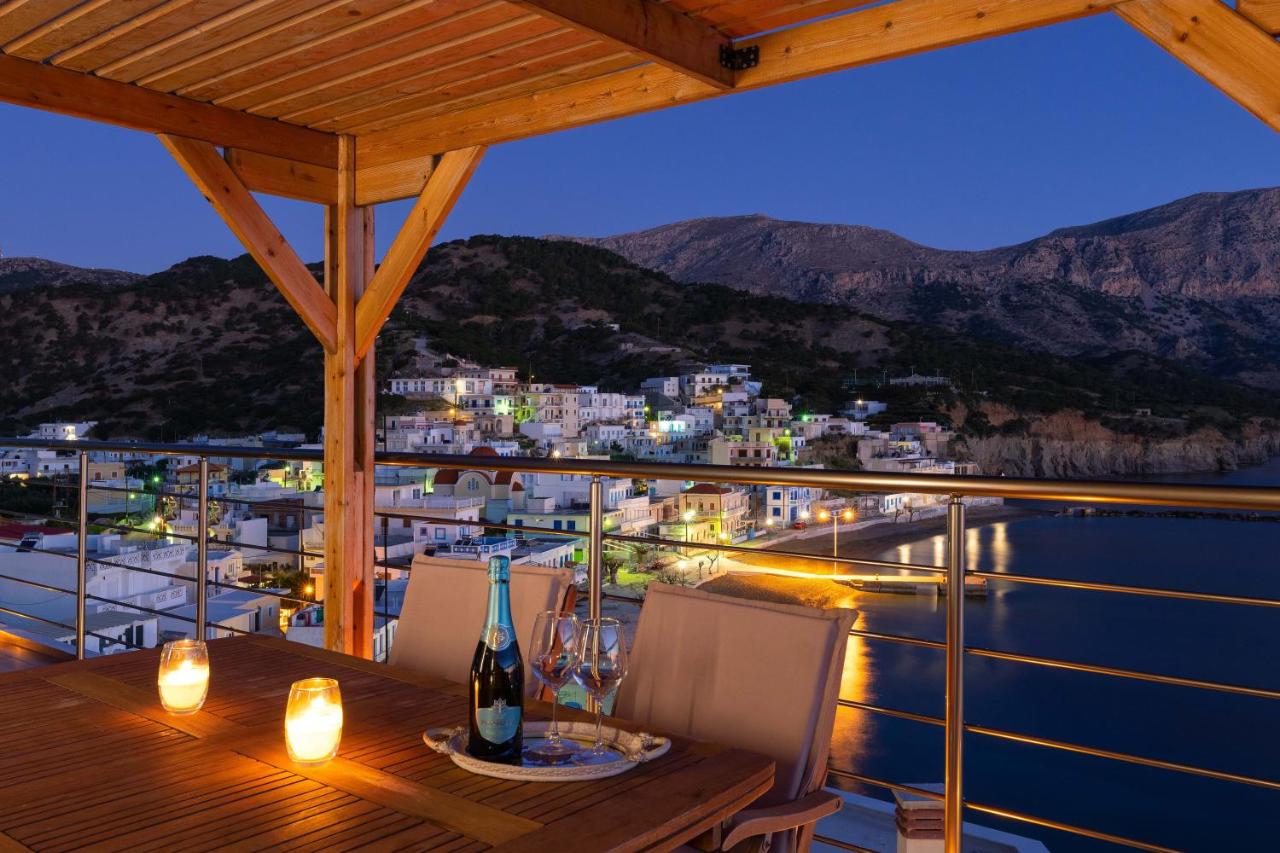 Villa Diafani - this is a spacious modern apartment with all comforts of home, fantastic views over the bay and convenient location to everything in town. The host is super helpful and the roof terrace a delight. 2 bedrooms welcoming 4 adults and sofa beds to accommodate children. Enjoy a fully equipped kitchen and free parking.

"The villa is really centrally located on the harbour of Diafani. The roof terrace is of course an absolute highlight and invites you to forget about the time and watch the colorful drifting in the small village of Diafani from the top. There is a huge kitchen-living room, which is well-equipped. Everything is very clean and modern. The hostess is really accommodating and pleasant. We felt at home."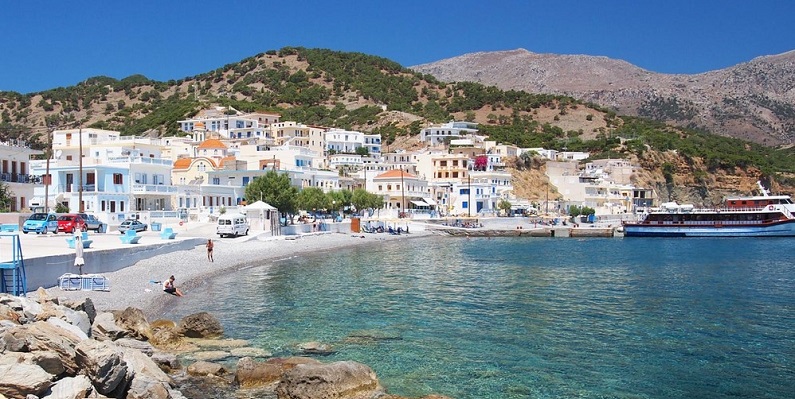 Crete to Karpathos - Diafani is a small seaside village on the east of the island
---
Olympos Village

A short drive into the steep mountains from Diafani is the village of Olympos Όλυμπος. This traditional village is built on incredibly vertiginous slopes,

A proud traditional village of exceptional beauty, gaining its strength from the rugged mountain side. A village where time stood still. Explore its narrow streets, breathtaking views, beautiful chapels and traditional culture.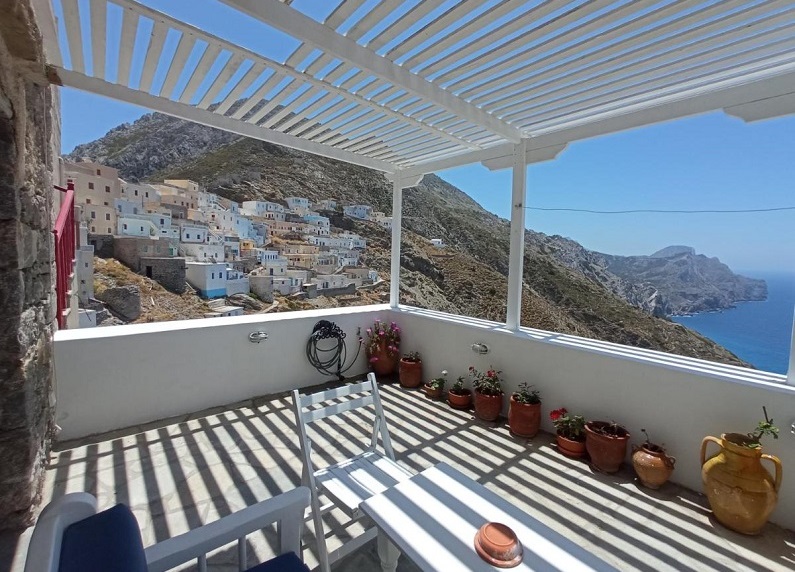 Anemos Guesthouse - just the view will take your breath away. This is a lovely traditional house in the perfect location to enjoy Olymbos village.
"Apsolutely gorgeous! I have to definitely recommend this house for holiday. Clean, traditional, absolutely gorgeous view!!!! The sunset was stunning!! I slept like a baby with sound of the sea and the mountain wind:)"



---
Getting to Crete

Take a 1 hour flight from Athens to Heraklion with Aegean Airlines or Olympic Air, with many flights available per day.
Or take a 9.5 hour overnight ferry from Pireaus port of Athens to Heraklion port.
More on flights and ferries below.
Car hire in Crete is a really good idea as it is a large island 60 km by 260 km. There is so much to explore.
When you book with our car rental partners - Rental Centre Crete - you are supporting a local company with excellent service and an easy online booking procedure. We are sure you will be well looked after by the team. Choose from hybrid or non-hybrid vehicles.
---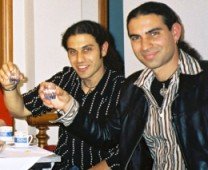 "We trust you have enjoyed these tips from the team at We Love Crete. Evíva!"
Contact us with further questions or feedback. We love to hear about your travels in Kríti and Greece. Let us know of any updates or additions, errors or omissions. Help us make this website the best it can be. Kaló Taxidí!

---