Kissamos Crete

This page may contain affiliate links, see our disclaimer here.

---
Kissamos Crete Κίσσαμος - this large village or small seaside town in the north-west of Crete sits on the Bay of Kissamos surrounded by beaches and protected by peninsulas, just 40 km from Chania Old Town.

Experience the real Crete here, absorb the rhythms of a typical small Greek town and take in some of the most dramatic scenery of Crete all around the region of Chania, within easy driving distance or take the local buses.


Kissamos is the centre of an agricultural area of western Crete. The locals are busy in olive groves or vineyards and vegetable farms. Some of Crete's well known olive oil for the table comes from this region.
As well as farming land, the wild and rugged peninsulas have created beautiful havens for white sandy beaches at Balos Lagoon, and a long sandy beach with five coves at Falasarna Beach. These same coves and their rocky caves were the hideouts for pirates long ago.

This area has a wealth of history which can be seen at the Archaeological Museum of Kissamos in town, and at ancient sites such as Ancient Falasarna and Polyrrinia.
More about Kastelli-Kissamos here
Visit nearby Kaliviani village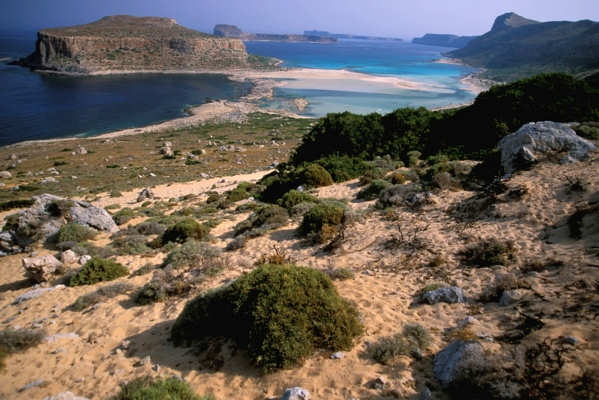 Gramvousa Islet and Balos Lagoon seen from the Cape Tigani, Crete
---
Beaches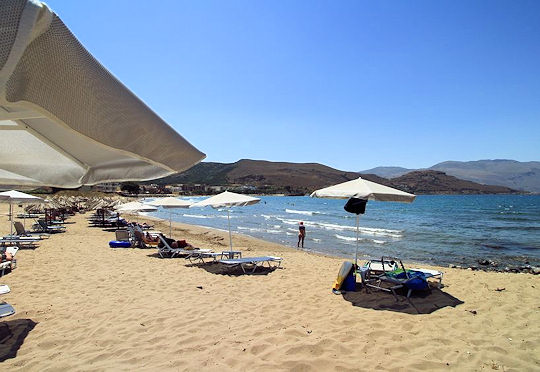 Mavros Molos Beach is just to the west of Kissamos
There is a wonderful selection of beaches within both walking and driving distance from Kissamos Crete. Within the Kissamos Gulf are the beaches from west to east of Meri Pigadi, Kaliviani, Viglia, Damialis, Mavros Molos, Livadia, Korfalonas, Drapanias, Nopigi, Choni, Ravdoucha and Agios Pavlos.
Close by are the extraordinary beaches of Balos Lagoon, Gramvousa Islet and Falasarna.
A day's bus ride or easy car trip of 40 km to the south is the magnificent Elafonisi Beach, set in a protected natural space.

At one of the local town beaches, Mavros Molos, you can happily relax for the day and settle down on the beach, then walk a few metres to the wonderful Maria Beach Bar or Restaurant for an evening drink and meal.  We love this location because we just love dining close to the water, especially for seafood.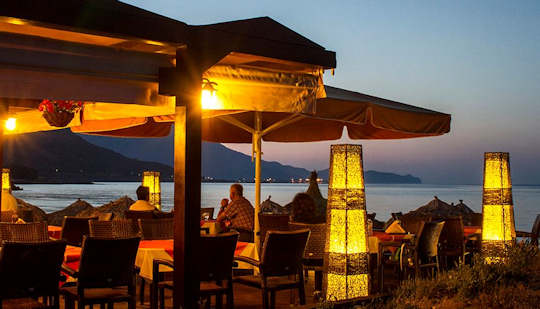 Maria Beach Restaurant - Looking out over Kissamos Bay
---
Kissamos Crete
Gorges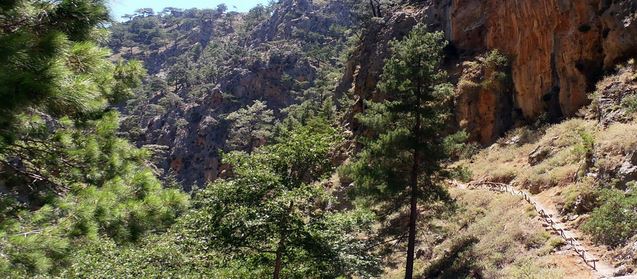 Agia Irini Gorge is a comfortable 12 km walk for inexperienced hikers
South of Kissamos the Gorge of Topolia just 13 km drive, is worth visiting for its dramatic scenery and 3 km walk from the village of Topolia to Koutsomatados and return, which includes the cave and church of Agia Sophia. There are tavernas near the road and near the one lane tunnel through the mountainside, from where you can enjoy a drink or a meal looking out over the gorge.
Try Spiliaraki Cafe for a cool drink and an amazing view of the gorge, or Oasis Taverna also with a good view and full traditional menu and lovely fresh tasty local food.
Agia Irini Gorge runs from the village of Agia Irini south to the seaside village of Sougia, the complete walk is 12 km. To get to Agia Irini from Kissamos is a 60 km drive through hilly and mountainous countryside.
Gorge Sarakina Meskla can be reached by a 42 km drive from Kissamos, a drive which can include many other sights along the way including various beaches on the north coast and villages or historic sites. This is a green lush gorge with a short walk of easy hiking, not difficult and close to many local tavernas.
Samaria Gorge can be reached by day tour or by driving 64 km to Omalos Plateau. It is easier logistically to take a Samaria day tour as it is a one-way walk 16 km which ends at the seaside village of Agia Roumeli.

---
Kissamos Crete
Ancient Olive Trees

Visit a working olive oil farm at Kolymbari just 19 km from Kissamos. Terra Kreta hosts farm tours and tasting tours, where you can follow your extra virgin local olive oil from tree to table.
Combine this visit with a drive 5 km to the small village of Ano Vouves, home to some of the oldest olive trees in the world. These trees are so old that they have been declared 'natural monuments' and are now protected by the government. At Ano Vouves is the Olive Museum. Get under the skin of the history of the olive culture in Crete, with many different exhibitions. including olive farming equipment, olive storage jars and wood-working tools.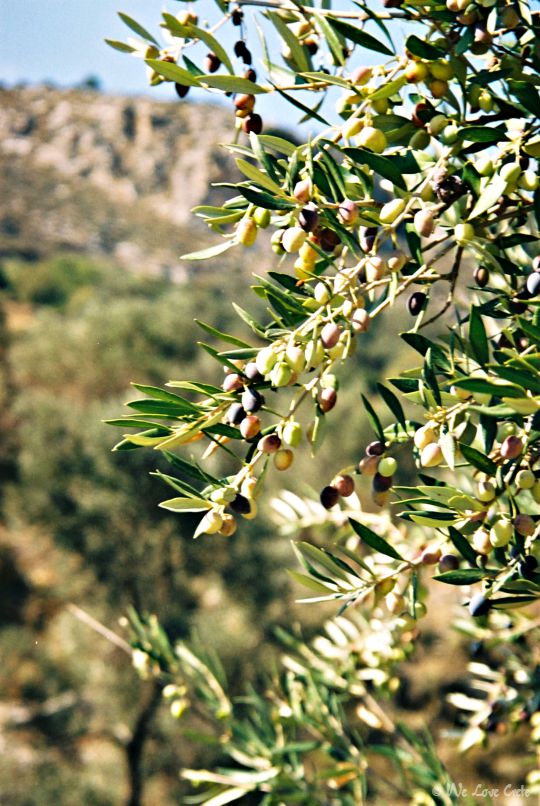 Colourful olives on the branch in Crete
---
Kissamos Crete
Accommodation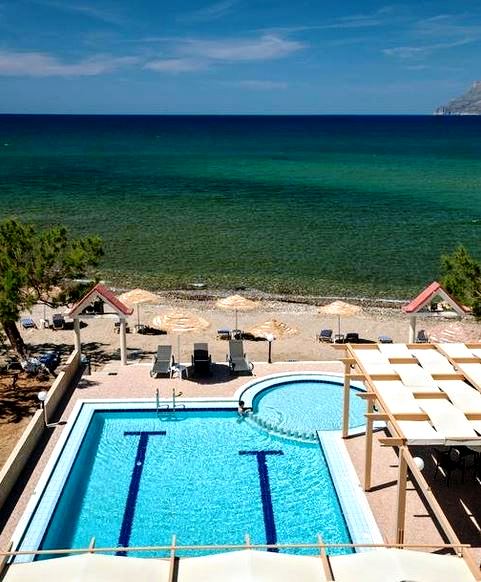 Mesogios Beach Hotel is an affordable hotel run by a local family that sits directly on the beach on Kissamos Bay.
Located 4.5 km from Kissamos town and 36 km from Chania Old Town, this is a relaxing location by the sea.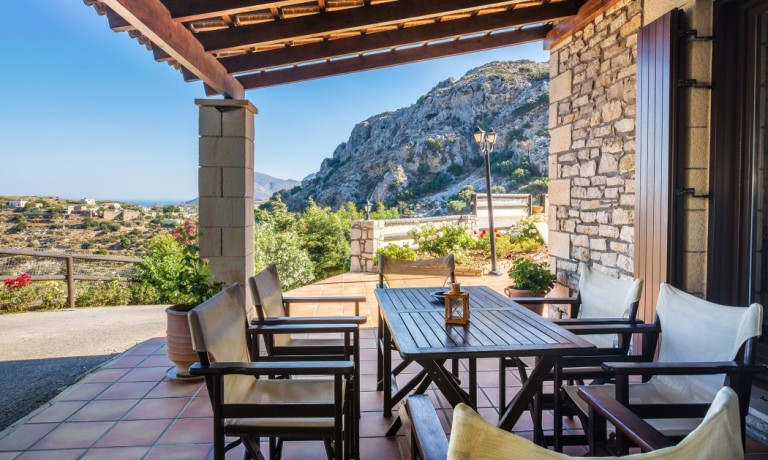 Platanos Villas. Two villas built of the local materials of stone and wood comfortably accommodate 8 guests in 3 bedrooms with 4 showers. Expansive views, a pool and hearty country styling make for an authentic experience of Crete. 10 km from Kissamos.

---
Kissamos Crete
Cooking Local Food

Cretan Traditional Cooking Lessons at Metochi Farmhouse - Chrisoula and her daughter Eleni are ready to help you prepare some rich tasty dishes made with authentic Cretan ingredients. Combine extra-virgin olive oil, fresh vegetables, local meats, local cheeses, aromatic herbs and local wine. Learn about the herbs of the island, including the therapeutic properties of olive oil and other tips about commonly used ingredients in the local cuisine.

Head to Balos Travel to book your culinary experience in Kissamos.


---
Kissamos Crete
Getting Here

Kissamos is in the north-west of Crete in Chania region close to Chania town. The nearest international airport is at Chania Airport with code CHQ. Flights arrive from all over Europe. Flights from Athens are scheduled frequently and the travel time is 1 hour.
Ferries arrive from Pireaus Port of Athens into Chania Port at Souda Bay regularly, they depart from Athens in the evening for a night crossing which takes 9 hours.
Local buses are available from Chania to Kissamos, the trip takes 1 hour and cost is less than 10 Euro.
See more details below of transport options to arrive into Kissamos.


Car hire in Crete is a really good idea as it is a large island 60 km by 260 km. There is so much to explore.
When you book with our car rental partners - Rental Centre Crete - you are supporting a local company with excellent service and an easy online booking procedure. We are sure you will be well looked after by the team. Choose from hybrid or non-hybrid vehicles.
---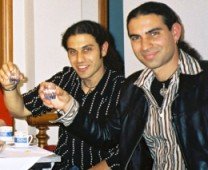 "We trust you have enjoyed these tips from the team at We Love Crete. Evíva!"
Contact us with further questions or feedback. We love to hear about your travels in Kríti and Greece. Let us know of any updates or additions, errors or omissions. Help us make this website the best it can be. Kaló Taxidí!

---