Accommodation in Rethymnon Town
This page may contain affiliate links, see our disclaimer here.

---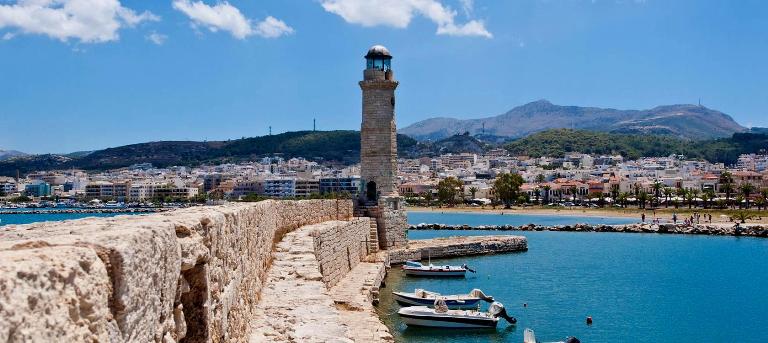 Accommodation in Rethymnon Town - we have selected beautiful small guesthouses in the old town.
Rethymnon Town is full of character and plenty of sights to explore.
Our tip is to stay within the walls of the old town, in that way you will be able to experience the atmosphere of the narrow lane ways and Venetian architecture, stroll surrounded by history, dine in the tavernas on your doorstep.

---
A tip about budget accommodation choices - these will take you into the new town - out of the atmosphere - which is the reason we suggest staying within the walls of the old town. We have tips for affordable accommodation below.

Our Top Picks for You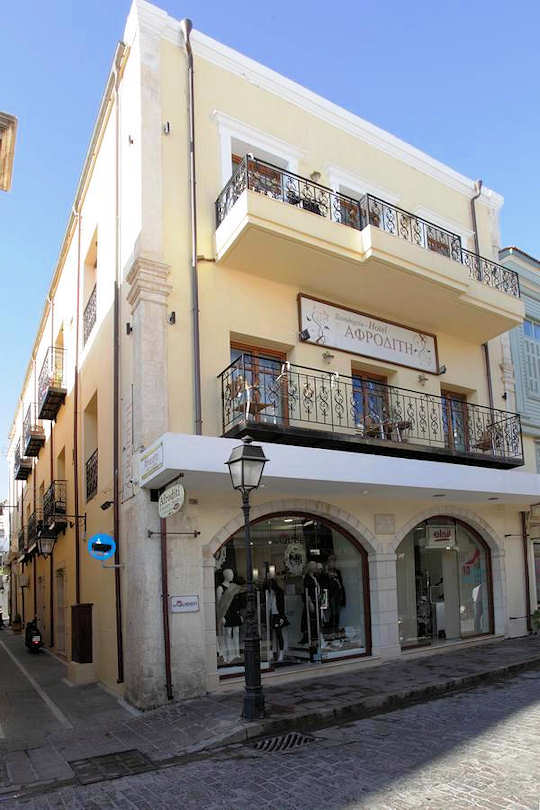 Afroditi is central and convenient, with self-catering options. A mid-range price yet located within the walls of the old town in a quiet area, and still close to tavernas and cafes. Clean and well-equipped rooms make a perfect base to explore the town and the region, not to mention a great host who will show you real Cretan hospitality.
5 Daskalogianni & 136 Arkadiou, Rethymnon

For a mid-range price, enjoy the narrow old lane ways of the Old Town whilst staying at the Casa dei Delfini. In the very centre of the old zone, surrounded by great shopping, boutiques, jewellers, this stylish accommodation is close to the Rimondi Fountain, Nerantze Mosque and the Archaeological Museum. We love its historical charm.

66-68 Nikiforou Foka St, Rethymnon

Casa Moazzo Suites were renovated with painstaking attention to detail, and opened as a guesthouse, with only 6 beautiful suites, all of which are styled quite differently. 
This historic building has a long tradition as a guesthouse, and previously as a residence to the aristocratic Moazzo family during Venetian times. The arched entrance to the property is one of the finest examples of neo-classical architecture in the old town of Rethymnon, which was under Venetian rule from 1210-1646.
The relaxing courtyard with beautiful architectural shapes, the location in the old town of Rethymnon, the wonderful service and the unique styling are highlights of this property which is highly rated by travellers.
We love the history oozing from the pores of this place, and we love the originality of design in a world full of cookie-cutter hotel rooms. If you are looking for a real Cretan historical and cultural experience, immersed in the atmosphere of the old town, where you can step out into the narrow lane ways and absorb the centuries by osmosis, you cannot go past Casa Moazzo Suites.
57 Tobazi Street, Metropolitan Church Square, Rethymnon
---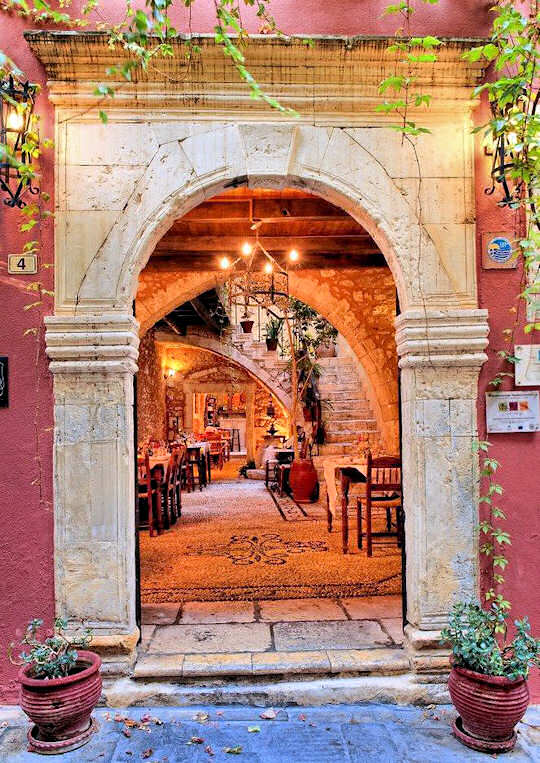 ---
Accommodation in the Old Town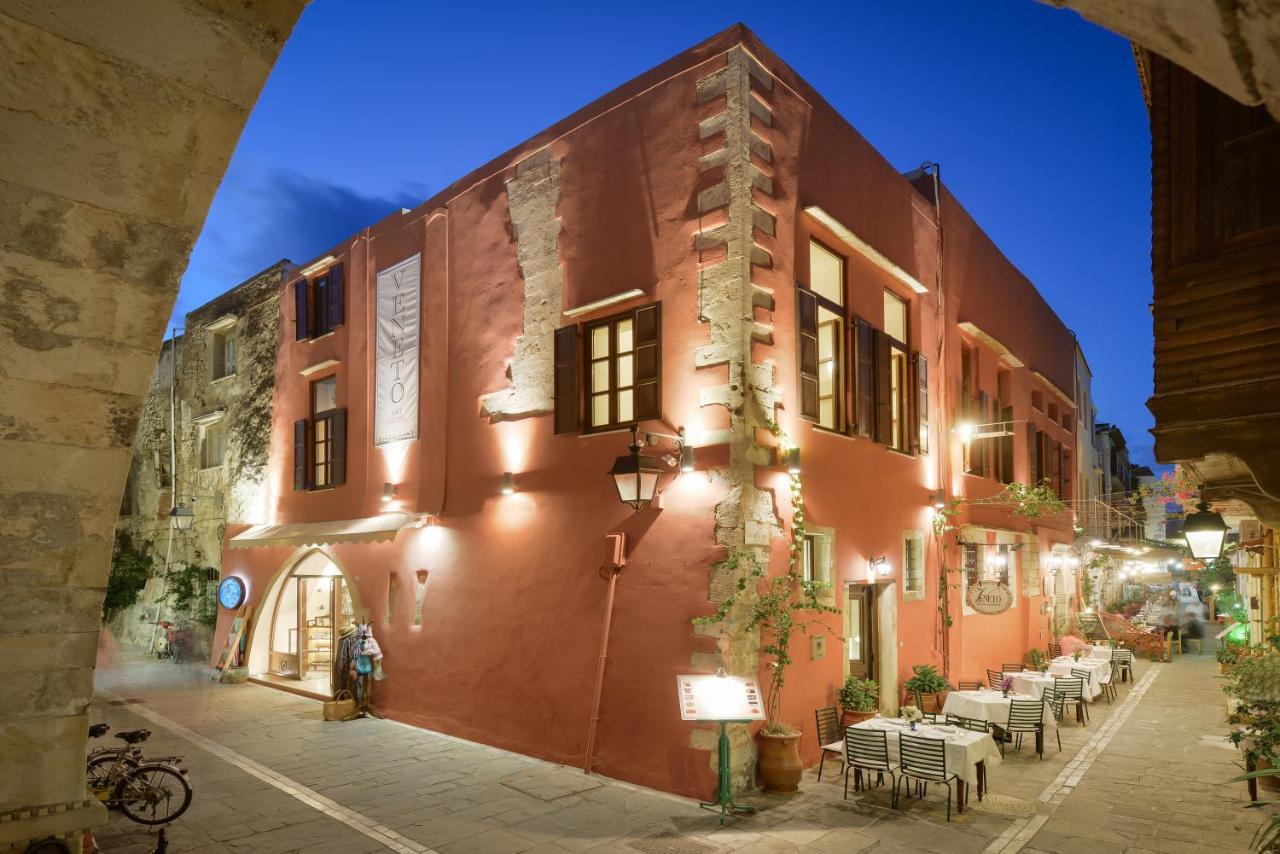 Veneto Boutique Hotel - we love the old town of Rethymnon with its winding narrow streets and stone archways. The ochres and browns leave soft colours on the eye and warmth in the heart. So it is with the Veneto. A beautifully restored, characteristic historic building, with only 10 rooms and family-run, the four star Veneto with its atmospheric restaurant is a true Cretan experience right in the heart of old Rethymon town.
Walk to cafes, tavernas and the Venetian Old Harbour.

4 Epimenidou Street, Rethymnon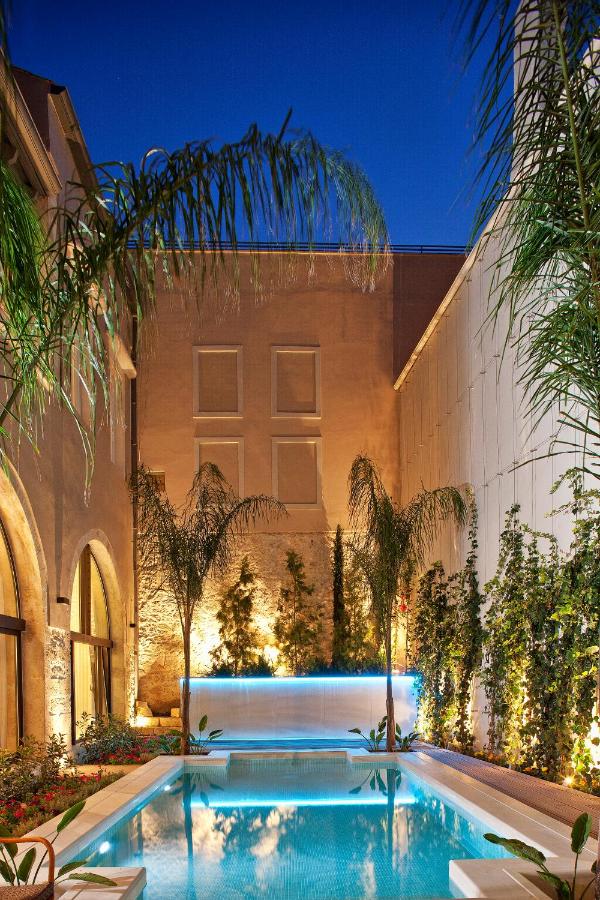 Rimondi Boutique Hotel  - located in the centre of the old town, these twenty studios rest in a renovated building dating from the 15th century. The architect owners are justly proud of the results of the recent renovations, which are beautifully luxurious, with natural stone features and mosaic courtyard. So close to the Rimondi Fountain, the Venetian Loggia and wonderful restaurants and tavernas, ensuring that meandering to dinner is a real joy.

21 Xanthoudidou Street, Rethymnon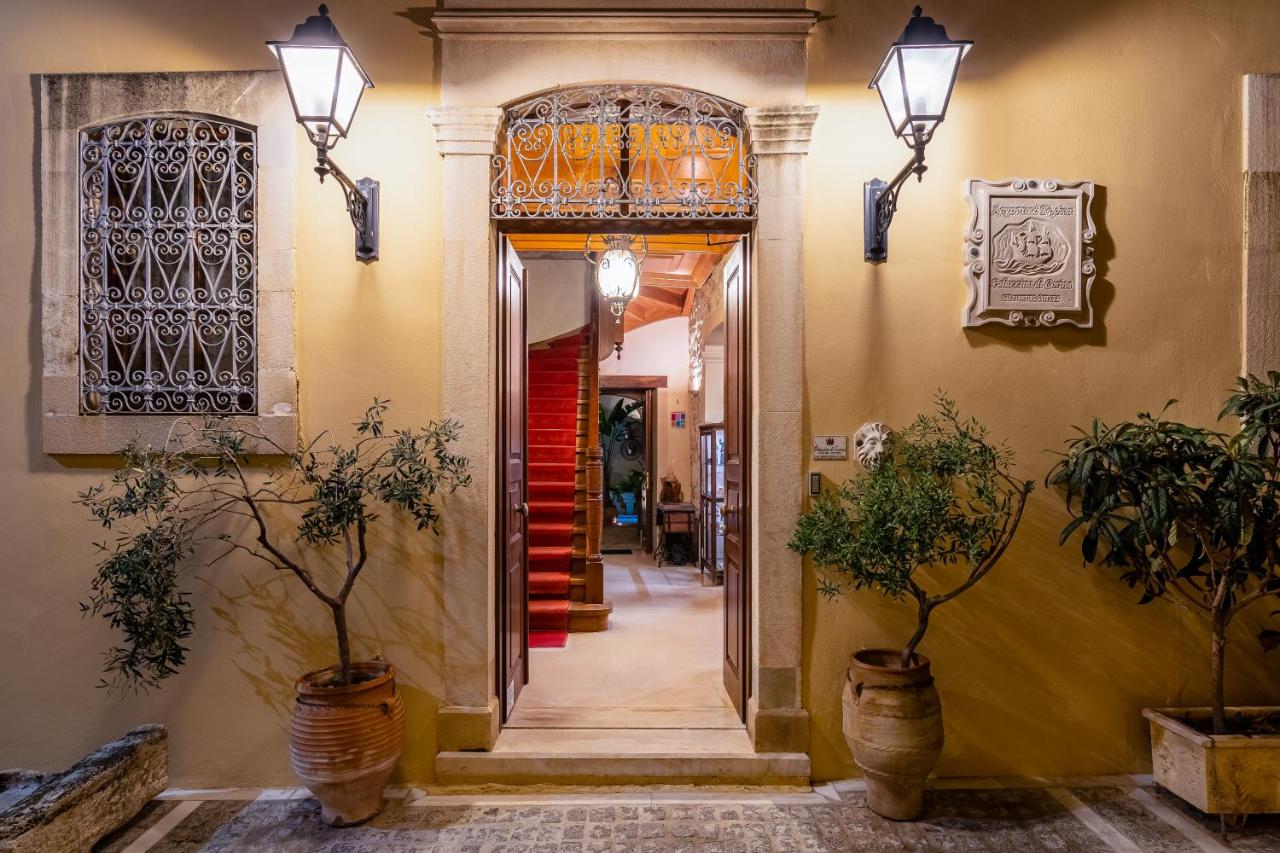 Palazzino di Corina - with only twenty one suites, this traditional Mediterranean mansion is lushly decorated in renaissance style. Located in the twisting narrow picturesque streets of the old town of Rethymnon, with café and the busy Venetian harbour on its doorstep, this is a touch of old world elegance with today's conveniences. A high quality small accommodation in Crete.
7-9 Dambergi Street, Rethymnon
Avli Lounge Apartments combine culinary excellence with ambience, a stunning enoteca and baraki. This exquisite combination of offerings shows the style of modern Kriti and her wondrous opulence, grounded by tastes and aesthetics centuries old. Do you want to experience the real Crete as the Goddess she is? 
Avli, meaning courtyard, offers the best of Cretan and Greek hospitality and the sheer love and appreciation of life. Fresh local produce, traditional food and quality service in a breath-taking location.
Cnr 22 Xanthoudidou & Radamanthios, Rethymnon
---
Accommodation Rethymnon Town Beach

Handy accommodation right on the beach yet close to the old town.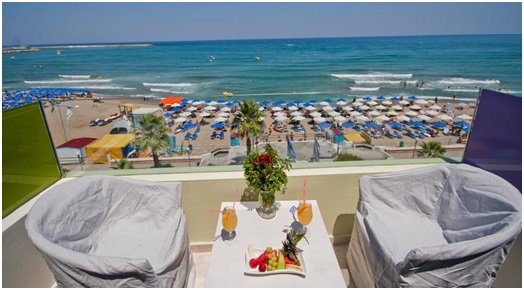 The Palm Beach Apartments, facing directly onto Rethymnon Beach allow easy access to all parts of town as well as being strolling distance from the old town and numerous tavernas, cafes and restaurants down by the promenade and Old Harbour.
These modern apartments are well-priced and convenient, with bright modern rooms, great service and a family atmosphere.
---
Accommodation in Rethymnon Town
Map
Accommodation in Rethymnon Town - find your place by location on the interactive map below

---
Getting to Crete

Take a 1 hour flight from Athens to Heraklion with Aegean Airlines or Olympic Air, with many flights available per day.
Or take a 9.5 hour overnight ferry from Pireaus port of Athens to Heraklion port.
More on flights and ferries below.
Car hire in Crete is a really good idea as it is a large island 60 km by 260 km. There is so much to explore.
When you book with our car rental partners - Rental Centre Crete - you are supporting a local company with excellent service and an easy online booking procedure. We are sure you will be well looked after by the team. Choose from hybrid or non-hybrid vehicles.
---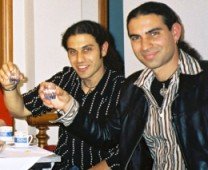 "We trust you have enjoyed these tips from the team at We Love Crete. Evíva!"
Contact us with further questions or feedback. We love to hear about your travels in Kríti and Greece. Let us know of any updates or additions, errors or omissions. Help us make this website the best it can be. Kaló Taxidí!

---
Accommodation in Rethymnon Town