Cheap Hotels in Heraklion

This page may contain affiliate links, see our disclaimer here.

---
Cheap Hotels in Heraklion - see Knossos Palace and the Archaeological Museum, the highlights of a visit to Crete - on a budget.
Heraklion is a transport hub, located in the centre of the island, so odds are that you will arrive via Heraklion Airport or into the port from Santorini or Pireaus.
Knossos Minoan Palace archaeological site is just 5 km out of town.


| | |
| --- | --- |
| | This is the budget symbol on We Love Crete. |

Heraklion Liondaria Fountain is surrounded by cafes and bars, with pedestrian shopping streets linking at this hub
Highlights of Heraklion town:
Liondaria Fountain
Heraklion Archaeological Museum
Old Venetian Harbour and Koules Fortress

Agios Titos Church and Square

Pedestrian Shopping Streets
1866 Local Market
Koraii Cafes and Bars
Memorial to Eleftherios Venizelos
Kornarou Square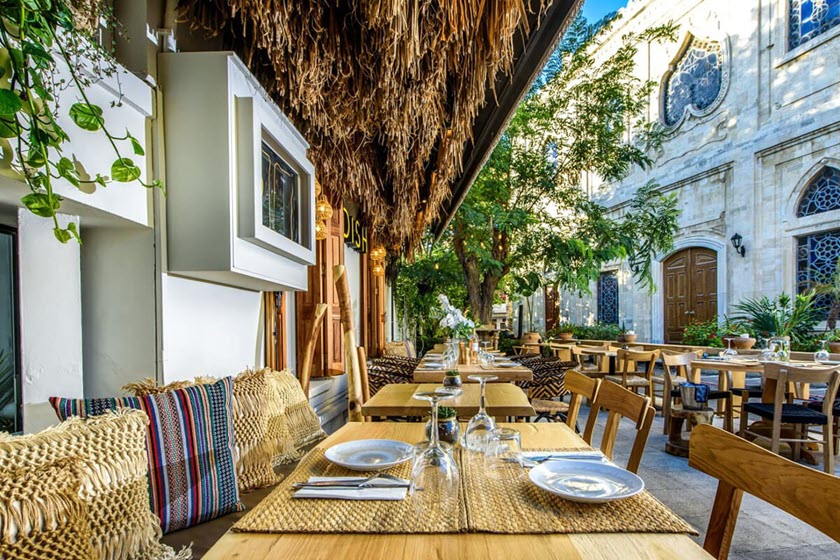 Agios Titos Square, Heraklion
---
Cheap Hotels in
Heraklion Town


Mirabello Hotel is well placed close the the centre of town, just a short stroll from the Liondaria fountain and central shopping district.
Just walk across the leafy Theotokopoulos square to cafes and Chandakos Street, or across the same square to the bus stop on 25 August Street, where you can take the local bus to Knossos.
20 Theotokopoulou St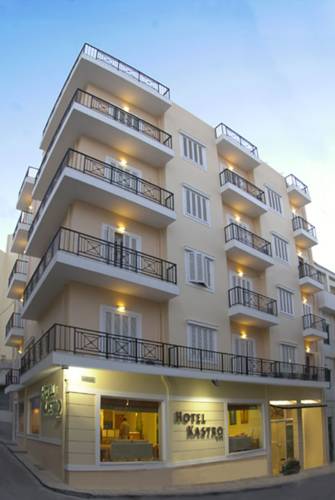 Kastro Hotel is also in the same location just north of the Liondaria fountain, near Theotokopoulos Park. The beauty of this spot is that it is close to everything yet quiet.

Get an air conditioned room with breakfast included for a budget rate, this is a modern, clean hotel with friendly staff and good wifi.

22 Theotokopoulou St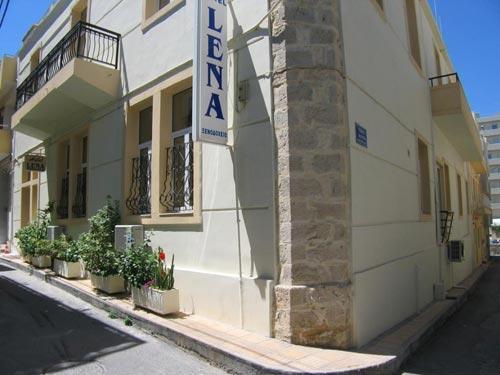 Lena Hotel is just around the corner, again close to cafes, bars, the Liondaria, Chandakos and Dedalou shopping streets and close to the bus stop for Knossos. This hotel is 1.5 km from the port and within walking distance of the local markets on 1866 Street and the Heraklion Archaeological Museum.
Get a standard, clean room for a budget price, friendly staff,comfortable beds in a central location.
10 Lahana St

The Heraklion Youth Hostel - a good budget hostel near to the Liondaria fountain and pedestrianised central streets of Heraklion, and the 1866 Markets.
---
Cheap Hotels in
Heraklion Region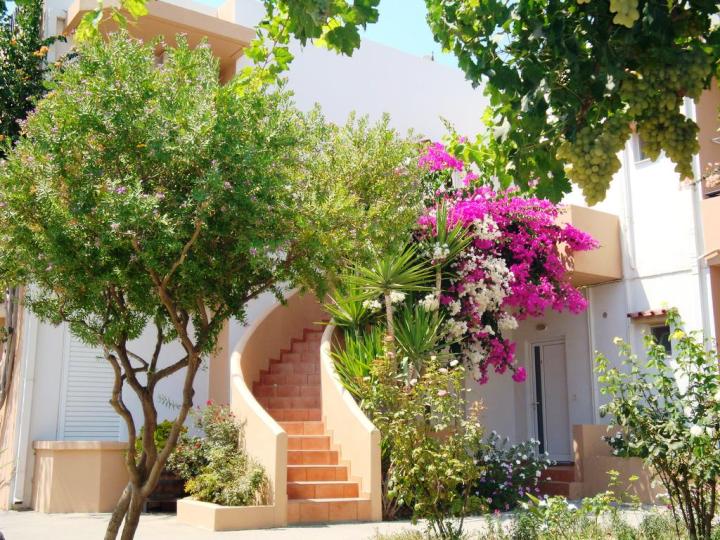 Located just 8 km west of Heraklion town, on the wide long sandy beach of Ammoudara, are the budget Yannis Apartments perfect for self-catering and good for families. There is a short walk of about 500 m to the beach. This is a busy beach with some unsightly factories in the west, so if you are concerned about peace and quiet and privacy, don't choose this beach.
1 Kos Street, Ammoudara Beach

---
Agia Pelagia Beach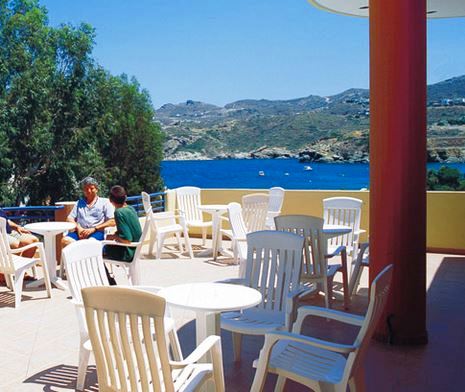 Andy's Plaza Apartments are close to the water, not too far up the steep hill, and close to Almyra Cafe - Bar - Restaurant, one of our favourite places to sit next to the sea for an evening drink in Agia Pelagia. One street back from the water, no water views, good for self-catering, clean and modern.
5 Kiteou St, Agia Pelagia

Villa Apollonia Apartments are centrally located in Agia Pelagia and represent very good value for money for this beautiful location. The azure clear waters of the bays make for a perfect Greek summer holiday destination, so close to Heraklion town, the port to take a ferry to Santorini and close to Knossos Palace ancient site.
Spotless apartments in a modern three-storey small building set back from the beach by about 1 and a half blocks. This is nothing fancy, yet as it is run by a friendly local family, you will lack for nothing in a warm welcome and helpfulness. Self-cater here to enjoy more time by the water on this sandy beach.
Neofitou Pedioti St, Agia Pelagia
---
Cheap Hotels in Heraklion
Zaros Village

Lake Votamos near Zaros Village

Keramos Studios in the leafy village of Zaros in the foothills of the Psiloritis Mountains, is good value for budget travellers and close to Zaros Lake and Rouvas Gorge, close to the E4 Walking Path.
At this charming B&B, run by a local family who treat you like family, you will not go hungry and be treated to all that is good in local food, teas and herbs.
---
Cheap Hotels in Heraklion
Matala Beach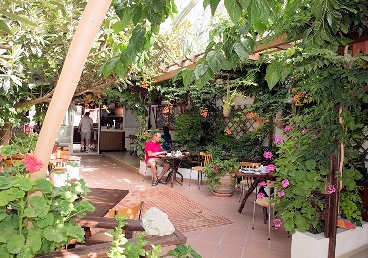 Hotel Nikos is located in the village of Matala in the south of Crete, just a block back from the stunning Matala Beach (pictured above). A friendly budget place which is good for families, you will get great service at this cheap hotel.


In Pitsidia is Pension Aretoussa within the village which is back away from the coastal hubbub of Matala Beach. Here the Spinthakis Family – Angelos and Kerstin - will look after you, in a small village hub known for its community feel. This is a budget price which will mean you are located 1.5 km from Kommos Beach, and 4 km from Matala Beach.
This is a very friendly and family-like place in a pleasant little village. Only 5 km from Phaistos, and close to many beaches. Enjoy the leafy, relaxing garden and good home-made breakfasts. Enjoy local tavernas in the village with fresh seafood, local wine, olive oil and raki.

---
Cheap Hotels in Heraklion
Keratokambos Beach

70 km from Heraklion town and 54 km from Ierapetra, there are plenty of other beaches to explore around here, and inland gorges and mountains to hike. Or just relax in the quiet garden and enjoy the peace and tranquility. Easily stretch out your summer budget here, one of the cheap hotels in Heraklion.
The affordable, simple Chouzourakis Studios are less than 50 metres from the beach. This out-of-the-way location is excellent for a long summer of exploring the beach, swimming, snorkelling, lazing and dozing.
Located just across the small road from the sand and pebble beach, the studios are very comfortable and suitable for self-catering. There are a few tavernas and a small convenience store in this small seaside village. This beach is low in development and open to the elements, just a natural, fresh, open beach with very little pretension.
---
Getting Here
Take a 1 hour flight from Athens to Heraklion with Aegean Airlines or Olympic Air, with many flights available per day.
Or take a 9.5 hour overnight ferry from Pireaus port of Athens to Heraklion port.
More on flights and ferries below.
Car hire in Crete is a really good idea as it is a large island 60 km by 260 km. There is so much to explore.
When you book with our car rental partners - Rental Centre Crete - you are supporting a local company with excellent service and an easy online booking procedure. We are sure you will be well looked after by the team. Choose from hybrid or non-hybrid vehicles.
---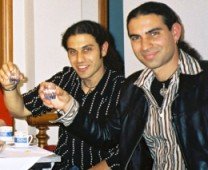 "We trust you have enjoyed these tips from the team at We Love Crete. Evíva!"
Contact us with further questions or feedback. We love to hear about your travels in Kríti and Greece. Let us know of any updates or additions, errors or omissions. Help us make this website the best it can be. Kaló Taxidí!

---
Cheap Hotels in Heraklion