Where to Stay in Heraklion Crete

This page may contain affiliate links, see our disclaimer here.

---
Where to Stay in Heraklion Crete - the town of Heraklion is a good place to arrive into Crete and many people arrive via the large ferry port from Athens or fly in from Athens or directly from Europe into the Heraklion International Airport.

We have chosen some good central hotels from where it is ideal to explore this hustly bustly capital town and enjoy the vibe of cafe bars and restaurants, as well as visit the famous Archaeological Museum which houses artifacts from all over the island of Crete, including Knossos Palace.
Many visitors stay in Heraklion whilst visiting Knossos Minoan Palace and the other archeological sites of the Minoan Palaces of Crete.
Heraklion Town Video
Enjoy our video of Heraklion town

---
Town Accommodation

Mirabello Hotel - a budget option in the very centre of the town, walking distance from the Liondaria Fountain and other pedestrian squares and streets.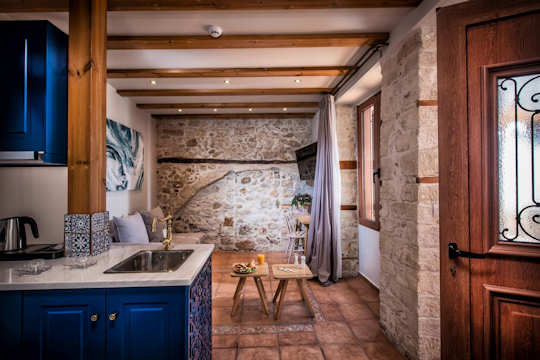 Veneziano Boutique Hotel - a unique experience where you can feel the pages of history turning in this cosmopolitan city. A beautifully restored old home tucked away near the central pedestrian squares.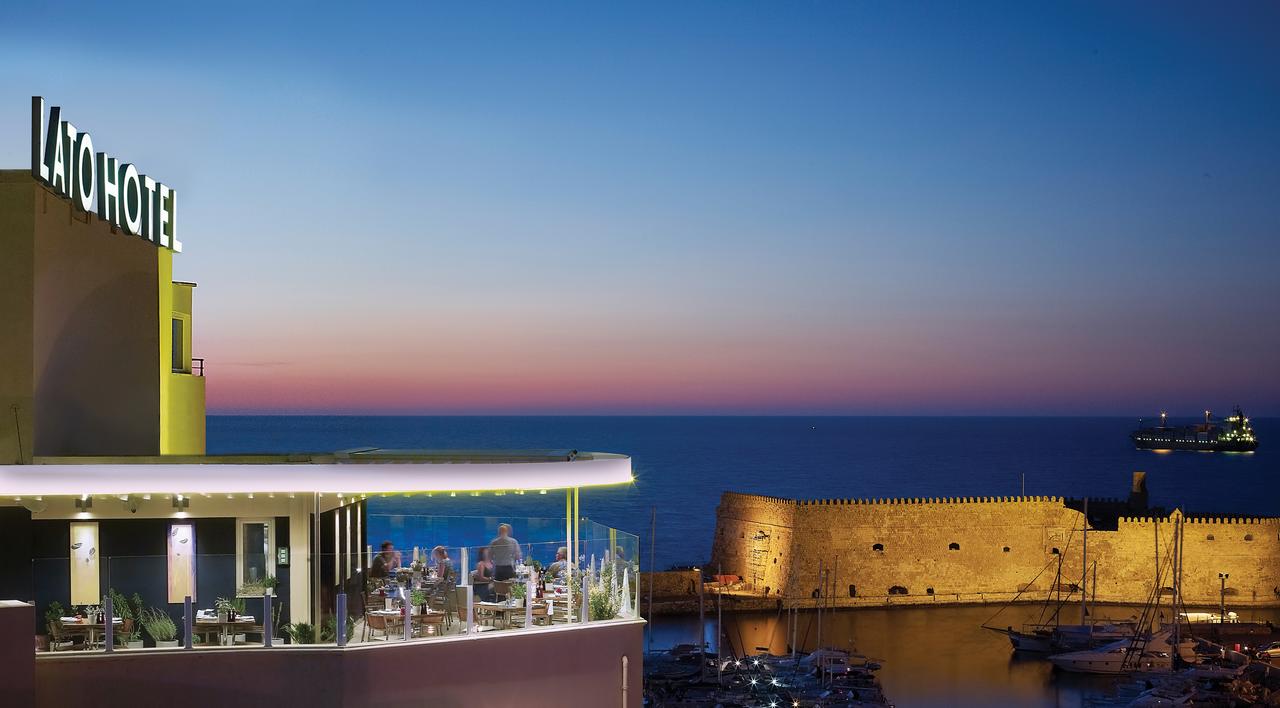 The Lato Hotel - our pick for downtown Heraklion because it is close to the port, the airport, the bus station and all the funky cafe bars. It also has great views over the romantic old harbour and terrific service. A great pick if you have travelled a long way or are awaiting your flight home. Enjoy the rooftop restaurant.

---
Where to Stay in Heraklion Crete - At the Beach

Just walking distance to the water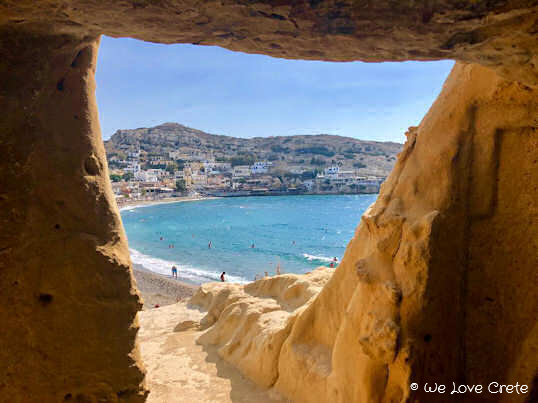 Matala Beach

Where to Stay in Heraklion Crete - At the Beach

Not only the vibrant town of Heraklion attracts us to this region, but some of the most important archeological sites in Europe. Knossos is a window to the first European civilisation. The Palace of Knossos is the most visited attraction on the island of Crete, and deservedly so.
In the centre of Heraklion is the Archaeological Museum, gathering artifacts from many years of work into one extravagant exhibition of all ages of Minoan history, Ancient history, Roman and Greek history and the priceless archeological finds from all over the island.
Other sites in Heraklion prefecture include the Minoan palaces of Phaistos and Malia and the roman ruins of Gortys. Combine all these layers of history with our relaxing beaches and you have the perfect Greek island holiday.


This is the budget symbol.
---
Agia Pelagia Beach

One of our favourite seaside villages is Agia Pelagia with its sweeping azure bays and crystal clear waters. The ring of cafes and tavernas on the beach side make it one of the most comfortable and interesting resort villages on the north coast of Crete.
The hills behind the bay get steep quite quickly, so it is important to choose your accommodation close to the water and close to the centre of the village.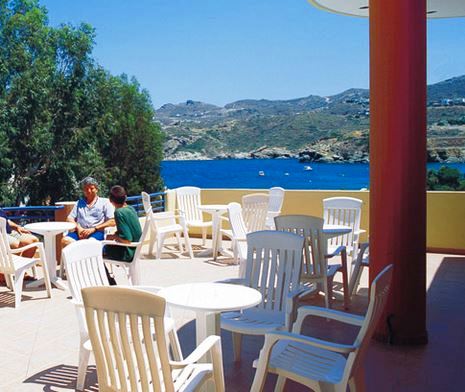 Andy's Plaza - a budget option nice and close to the beach and cafe bars, tavernas and shops. Free parking, great location with lovely service.
Aquarius Exclusive Hotel - set back a little from the hustle and bustle but not too high up - a comfortable walk.

Just 300m from the water, this is a quality and spacious set of apartments which make a very stylish and comfortable stay in Agia Pelagia. With only 14 rooms available, this is a quiet and exclusive property which will ensure an enjoyable stay by the beach.

---
Ammoudara Beach

Ammoudara Beach is located to the west of our capital town Heraklion, and is a long wide busy city beach. The great thing about this location is that you have such a central point for the whole island, you have the beach, the city and you are very close to the historic site of Knossos, not to mention close to the national roads that can take you to many other sites in Crete.

Yannis Apartments are simple, clean and excellent value, surrounded by lovely gardens and close to shops, tavernas and bus stops. Of course they are within walking distance to Ammoudara Beach. These rooms are perfect for families looking to self-cater, as they have all equipment and are close to the large Carrefour supermarket.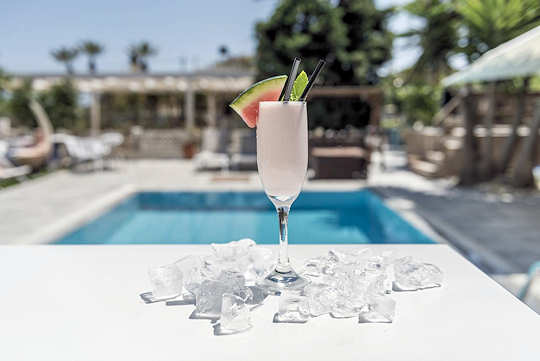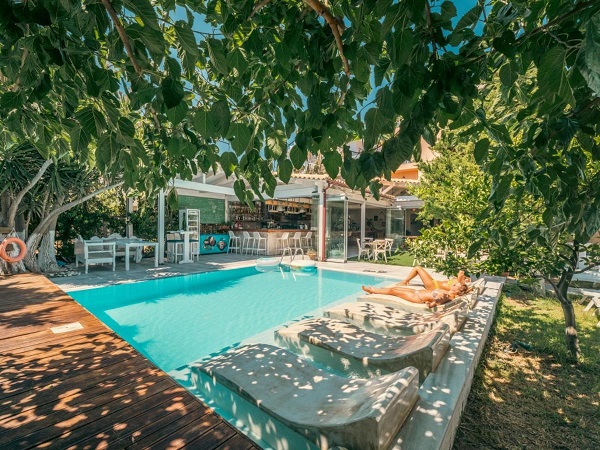 Georgia's Garden Hotel is also close to the water, affordable and gives a good base from which to explore Crete. Located 150 m from the beach, enjoy the private pool and garden with tasty breakfasts. Ask for a sea view.
---
Beach Hotels Heraklion
Matala
Matala Beach on the south coast of Heraklion prefecture, is 75 km from Heraklion town. Its clear waters, laid back feel and history attract visitors and beachgoers.
More about Matala Beach and Matala Village here.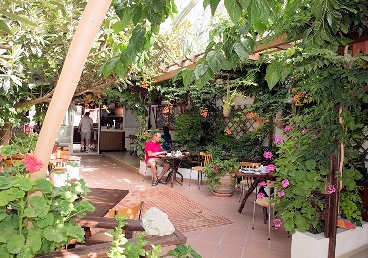 Hotel Nikos - with only a small amount of rooms and located only 130 metres from the sea, this small family-run hotel is an ideal base for those on a budget or a long stay in Matala.
Nikos and his family enjoy welcoming guests to their hotel, located centrally one street back from the beach. Standard rooms are affordable, have air conditioning and refrigerators, the hotel has a cafe and cool, leafy courtyard.

Hotel Nikos is one of those places you look forward to seeing after a long day's touring or sight seeing. Its spotless rooms and simplicity just the ideal beach holiday accommodation.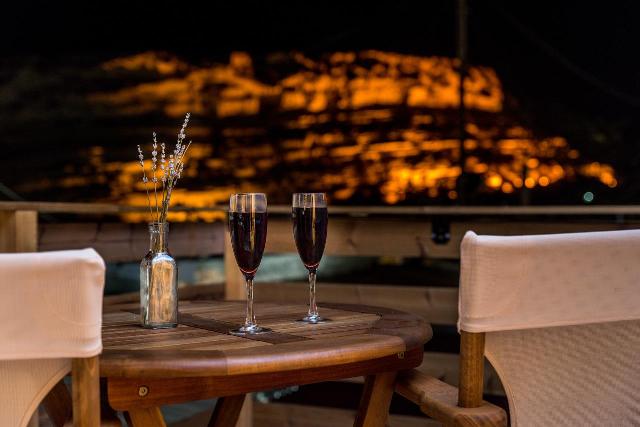 Ageliki Studio - a small, stylish studio perfectly positioned in the centre of the village, this is a beautifully modern comfortable pad. Central to Matala village, cafes and restaurants. Look out over the peninsular with its curves and caves from the balcony. 20 m from the beach.
---
Map of Beach Accommodation
---
Getting To Crete

Take a 1 hour flight from Athens to Heraklion with Aegean Airlines or Olympic Air, with many flights available per day.
Or take a 9.5 hour overnight ferry from Pireaus port of Athens to Heraklion port.
More on flights and ferries below.
Car hire in Crete is a really good idea as it is a large island 60 km by 260 km. There is so much to explore.
When you book with our car rental partners - Rental Centre Crete - you are supporting a local company with excellent service and an easy online booking procedure. We are sure you will be well looked after by the team. Choose from hybrid or non-hybrid vehicles.
---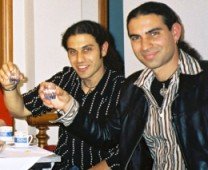 "We trust you have enjoyed these tips from the team at We Love Crete. Evíva!"
Contact us with further questions or feedback. We love to hear about your travels in Kríti and Greece. Let us know of any updates or additions, errors or omissions. Help us make this website the best it can be. Kaló Taxidí!

---
Where to Stay in Heraklion Crete