Self Drive in Crete

This page may contain affiliate links, see our disclaimer here.

---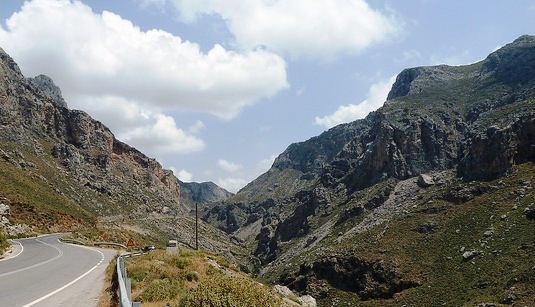 Self Drive in Crete - reasons to hire a vehicle:
Crete is a large island, measuring 260 by 60 km
hundreds of beaches
four major towns
three mountain ranges
centuries of history to discover
...not to mention great cafes and tavernas with fresh local food, wide open spaces and endless fresh new expanses to lose yourself in, or find yourself, so it is perfect for a self-drive road trip experience.
That is where your cheap car rental Crete comes in - allowing your budget to stretch further, so you can see more of the island, stay a little longer, and see what is around that next bend.

When you book with our car rental partners - Rental Centre Crete - you are supporting a local company with excellent service, competitive prices, transparent up-front prices and an easy online booking procedure. We are sure you will be well looked after by Harry and his team.
Cheap Car Rental Crete - search for your ideal vehicle below.


---
Self-Drive Trip Around West Crete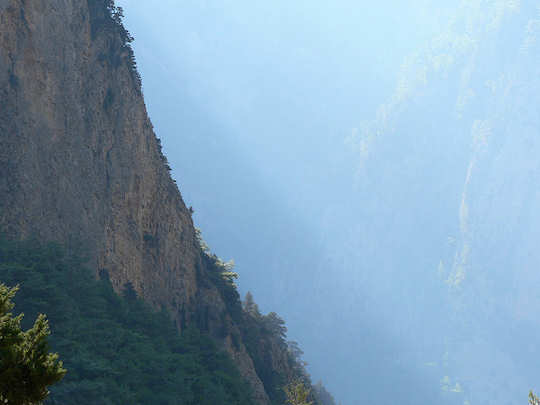 Self Drive in Crete - a question from one of our visitors who would like to know about experiencing Crete.

Hi,
I have been enjoying your site and have downloaded your 5-day guide to western Crete - thank you for making both available!  My husband and I are going to be traveling with another couple to Crete in May.  We will arrive on the ferry from Santorini and have 10 days on Crete. 
We will expand your 5-day itinerary to a 10-day itinerary and would like your advice.  These are our thoughts at the moment, but we are flexible.
We will pick up car in Heraklion and drive to the wine country, stopping at Palace of Knossos along the way.  We would like to spend 2 nights in wine country; what would you suggest?
Then, we would drive south to Matala with a possible overnight in this area or continue to Agia Galini area.  What would you suggest here?  
Then, we are struggling with whether to go north from Agia Galini through the Amari valley to Rethymno and then on to Omalos…or skip Rethymno and head more north west to Spili and Argyroupoli and on to Omalos.  
We plan to spend two nights in Omalos and hike the Samaria Gorge.  From there we will drive to Elafonsi area and spend 2 nights. We are then thinking of two nights in Chania before driving back to Heraklion, in time to get our late afternoon flight to Athens. 
Your guidance on our itinerary and things to see and places to stay will be greatly appreciated! 
Thank you!
Rachel


---
A Personalised Itinerary for a Driving Holiday in Crete

Self Drive in Crete - here is our answer for Rachel and all the tips and pointers for her car trip around Crete.

Yiasas Rachel,

Your trip sounds wonderful, we have put together some ideas for you below.
Thank you for purchasing our mini trip guide booklet and we are glad you have found it helpful.
For your cheap car rental Crete we suggest Rental Centre Crete, because the team will look after you.
The timing of the ferries from Santorini to Crete will not allow you to visit Knossos on your first day, as you will arrive in the evening, around 7pm or 10pm, depending on which ferry you choose. Due to the late hour, you may want to take a taxi to a comfortable city hotel and then pick up your hire car in the morning, so as not to drive late at night. Or you could pick it up from the port, your choice. A good city hotel close to the port is the Hotel Lato.
We suggest Matala or that area instead of Agia Galini, as Matala's scenery is just so special.

There is not a lot to do at Omalos, we would not recommend staying two nights there, unless you are using it as a base for walking or other mountain activities. Because of the one-way route of the Samaria Gorge walk and the lay of the land, it makes logistics tricky therefore it is much easier to do this walk with a tour rather than independently, unless you have at least 3 days to enjoy the south coast. We have put in an alternative for you below, basing yourselves in Chania.
We are not sure what type of accommodation you are seeking, budget, mid-range or luxury. In each place there are many options available. We have mentioned some of our preferred characteristic guesthouses or homes.
Day One
Arrive Heraklion in the evening from Santorini
Stay at the Hotel Lato
Or pick up your hire car
Drive 14 km to Archanes Village
Stay at Archontiko Studios
Or other accommodation options here
Day Two
Drive 7 km down country roads to Knossos Archaeological Site
Or pick up your cheap car rental Crete and drive 5 km from town
Arrive early, allow 2 hours for your visit
Visit wineries around Archanes, Pesa, Siva, Dafnes
Visit Koronekes olive farm near Archanes
Lunch at one of the wineries or taverna in one of those villages
Stay at Archontiko Studios
Day Three
Drive south via Gortyna and Phaistos ancient sites to Matala Beach 76 km
Stay at Matala Beach or inland at Kamilari Village
Stay at Koronio House near Kamilari
Day Four
Drive from Matala area to Meronas village via Amari Valley 60 km
Stay in Meronas Village
Stay at Meronas Eco House
Day Five
Drive from Meronas via Arkadi Monastery to Rethymnon Town 34 km
Enjoy the Old Town
Stay within the walls of the Old Town
Stay at Casa Moazzo
Day Six
Drive from Rethymnon to Chania via Georgioupolis Beach, Lake Kournas and Argyroupolis 100 km
Lunch in Argyroupolis
Explore the Old Town of Rethymnon
Stay within the walls of the Old Town
Stay at Casa Leone
Day Seven
Leave luggage at hotel – take a day pack or small overnight pack
Take a day tour to Samaria Gorge or take a local bus to Omalos
Walk the gorge
Arrive at Agia Roumeli village
If on the day tour – depart on the ferry and coach back to Chania
Stay at Casa Leone
If staying, relax on the beach and enjoy Agia Roumeli, stay at the Gigilos Hotel
Day Eight
Take the morning ferry to Chora Sfakion and bus back to Chania
Pick up remaining luggage and hire car
Drive to Palaiochora 70 km
Enjoy the beaches
Stay in Palaiochora
Stay at Aris Boutique Hotel

Day Nine
Take a ferry to Elafonisi beach - Captain Manos
Enjoy the beaches
Stay in Palaiochora
Stay at Aris Boutique Hotel
Day Ten
Drive from Palaiochora to Chania port or airport 90 km
Allow at least 2 hours for the drive
Depart


---
Self Drive in Crete
Information Pages for this Trip
Self Drive in Crete - our website info will get you on your holiday around Crete:


---
Your Self-Drive Vacation in Pictures
Self Drive in Crete - your itinerary takes you through some of the most beautiful countryside on the island.

Archanes Village is close to both the airport and Knossos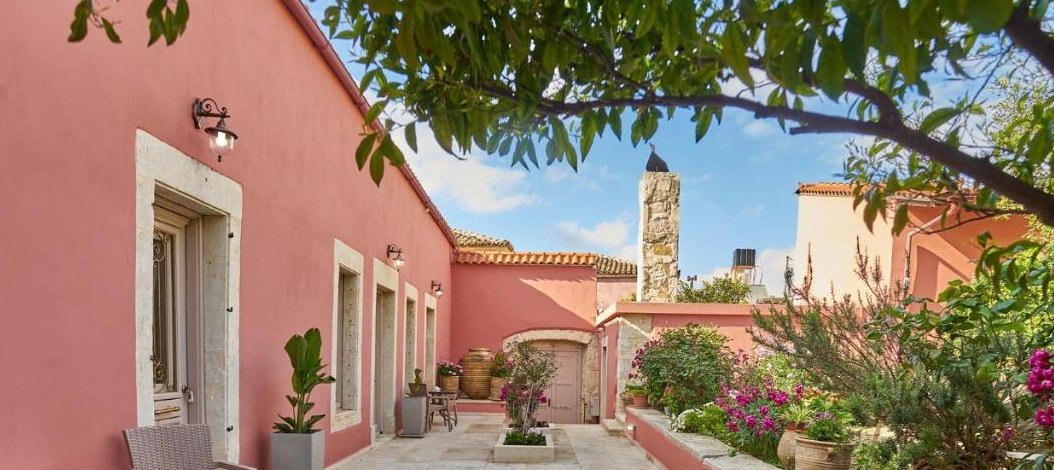 Arhontiko Studios in Archanes Village are in a beautifully restored family mansion now registered as a historic building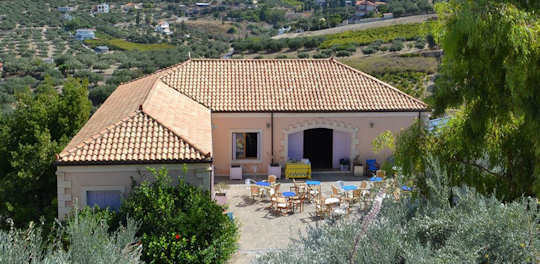 Koronekes Olive Farm has regular tastings and tours near Archanes Village
Vist the wine country south of Heraklion - call in at Douloufakis Winery near Dafnes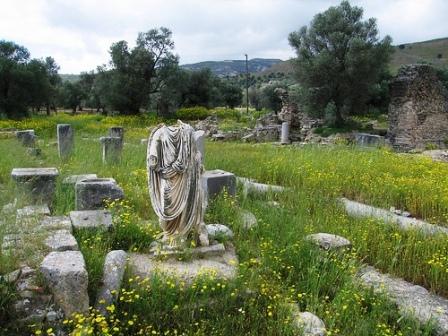 Vist the ancient site of Roman Gortyna on your self-drive tour around Crete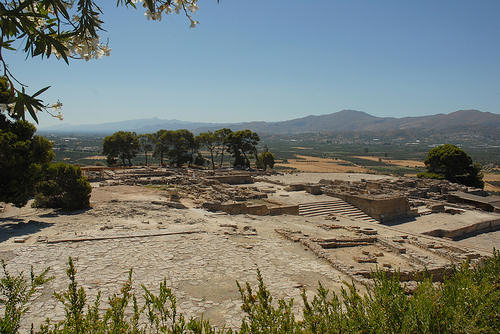 Phaistos is the site of an ancient Minoan palace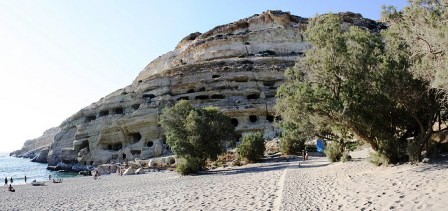 Matala Beach and the ancient burial caves in the sandstone headland, famous as a hippie hangout in the 60's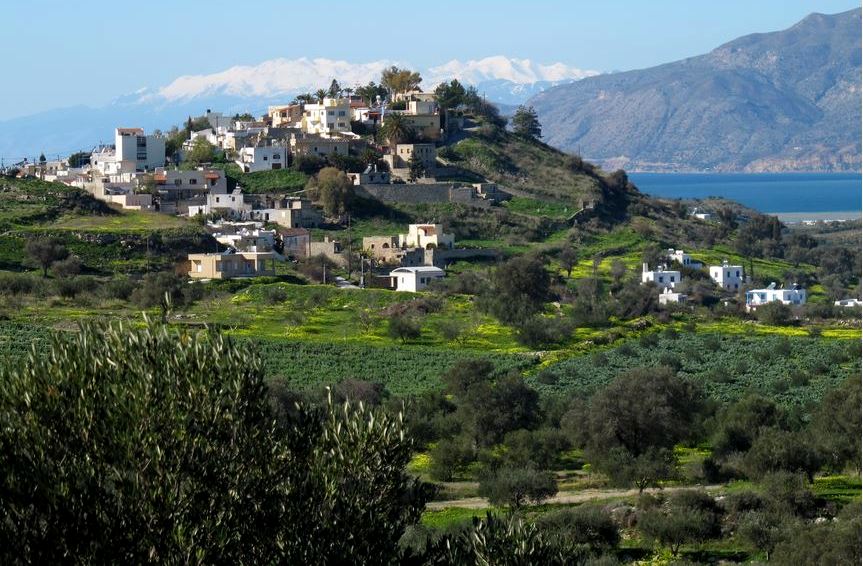 Kamilari Village sits surrounded by olive groves a little inland from the coast, overlooking the Libyan Sea
At Meronas Eco House you will have an experience of a traditional Cretan home in rural Rethymnon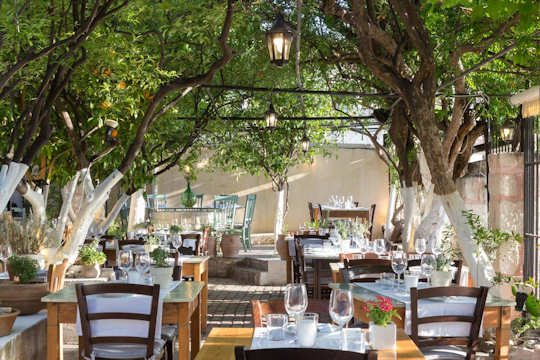 Enjoy the narrow laneways and courtyard restaurants of Rethymnon Old Town - this is Lemonokipos or 'Lemon Tree Garden' Restaurant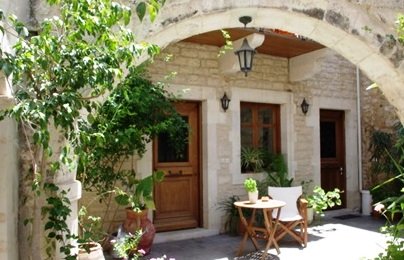 Enjoy the traditional style of Casa Moazza in Old Town Rethymnon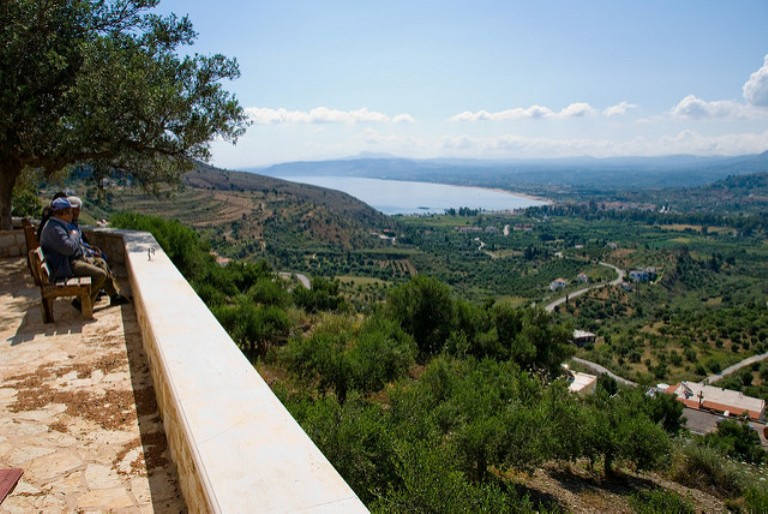 Enjoy driving in the hinterland of Rethymnon and Chania - this is the view to Georgioupolis Beach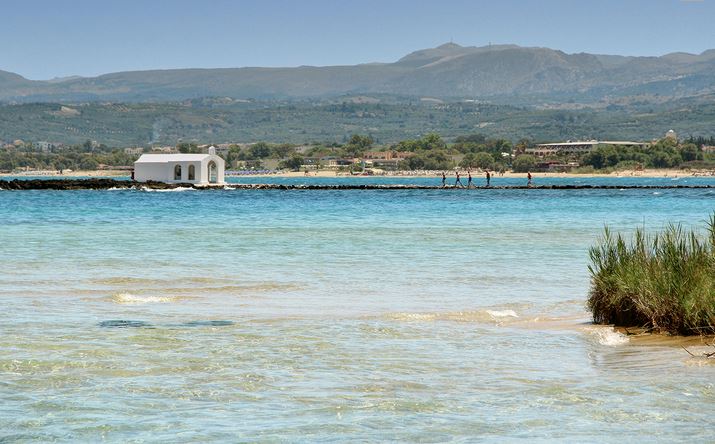 Georgioupolis has a beautiful beach, river and chapel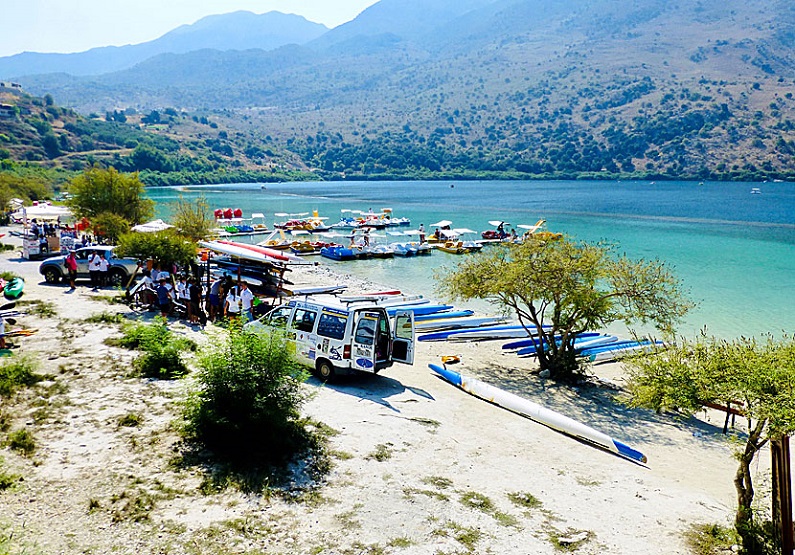 Lake Kournas is just inland from Georgioupolis Beach, drive here on your way to Agyroupolis, enjoy fresh water swimming or sit for coffee at a lakeside cafe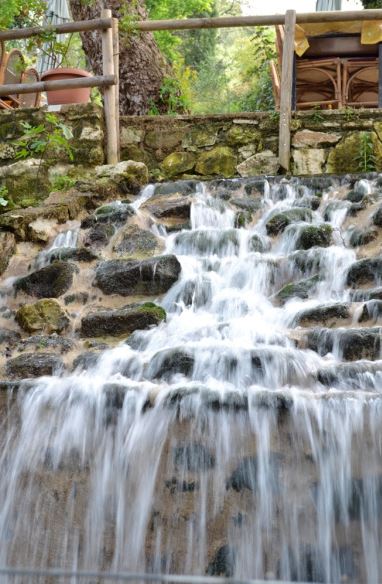 Visit Argyroupolis in summer for the cool shady squares surrounded by cascading waterfalls, perfect for lunch at one of the creekside tavernas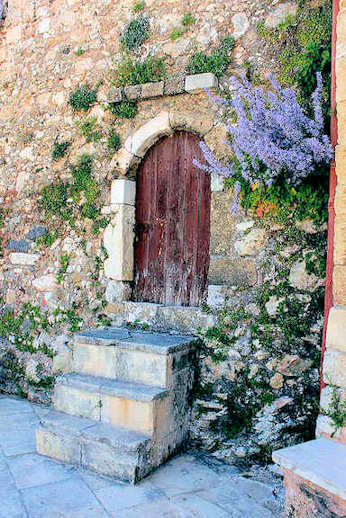 If the walls of the Old Town of Chania could speak - what stories they could tell!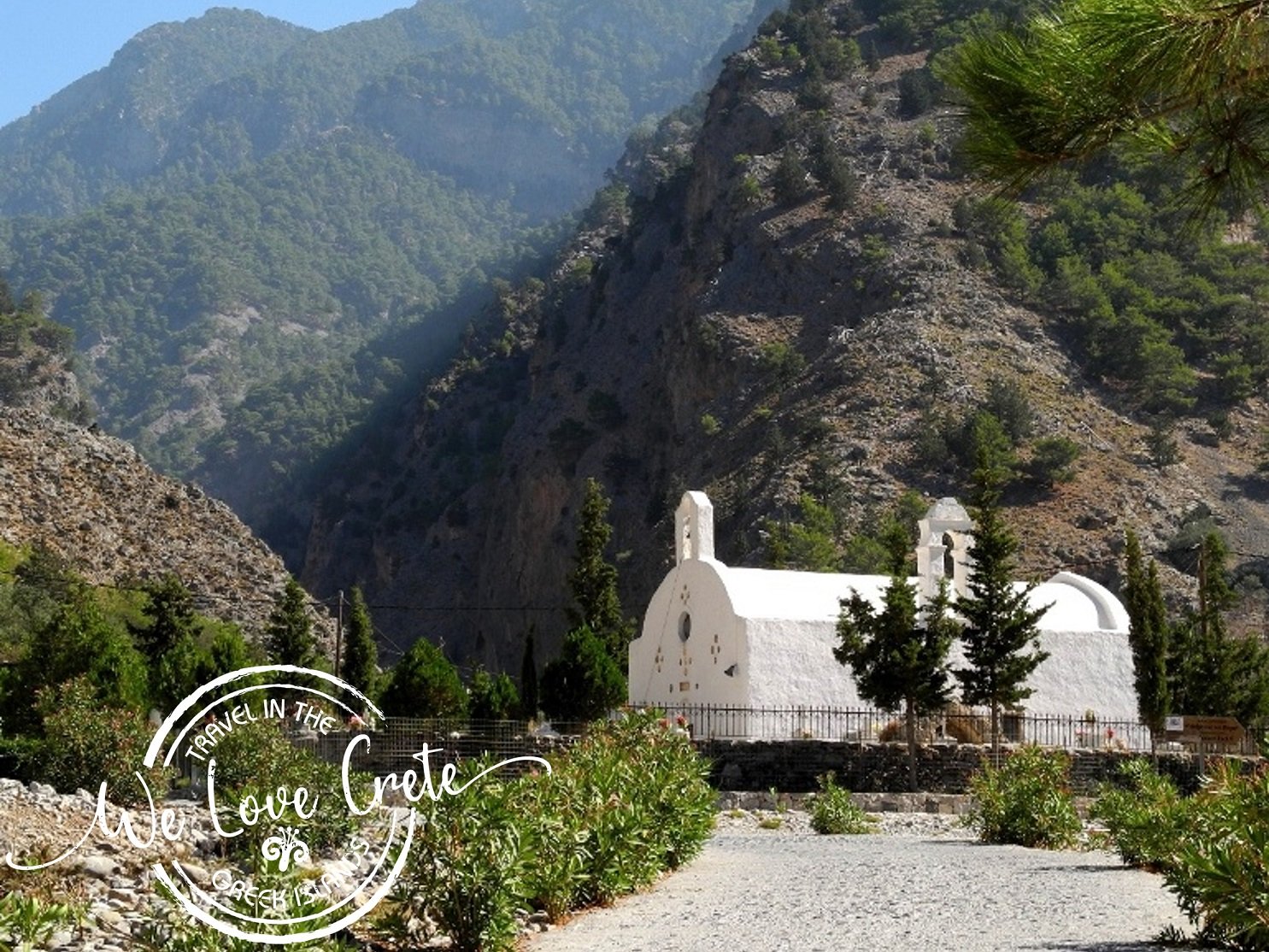 Take the Samaria Gorge journey on foot - experience the majesty of nature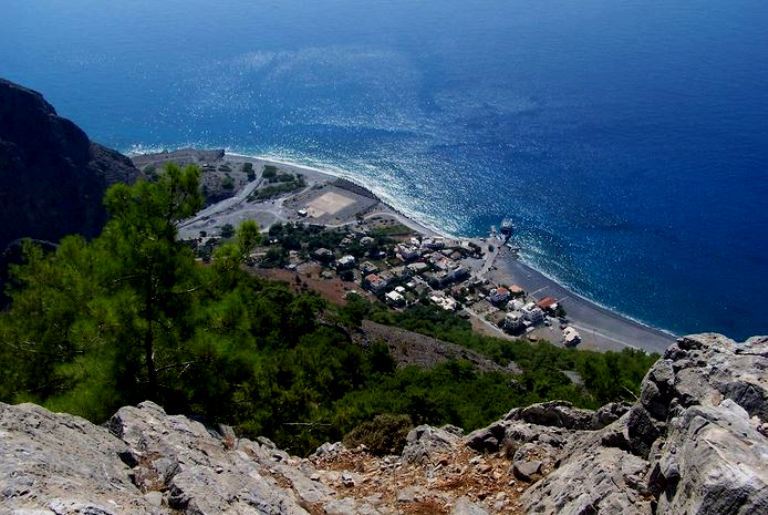 Walk through the gorge, crossing the mountains to the sea and arrive at Agia Roumeli on the south coast
Relax at the Gigilos Hotel after your long walk, stay in Agia Roumeli after the ferries leave and enjoy the peace and quiet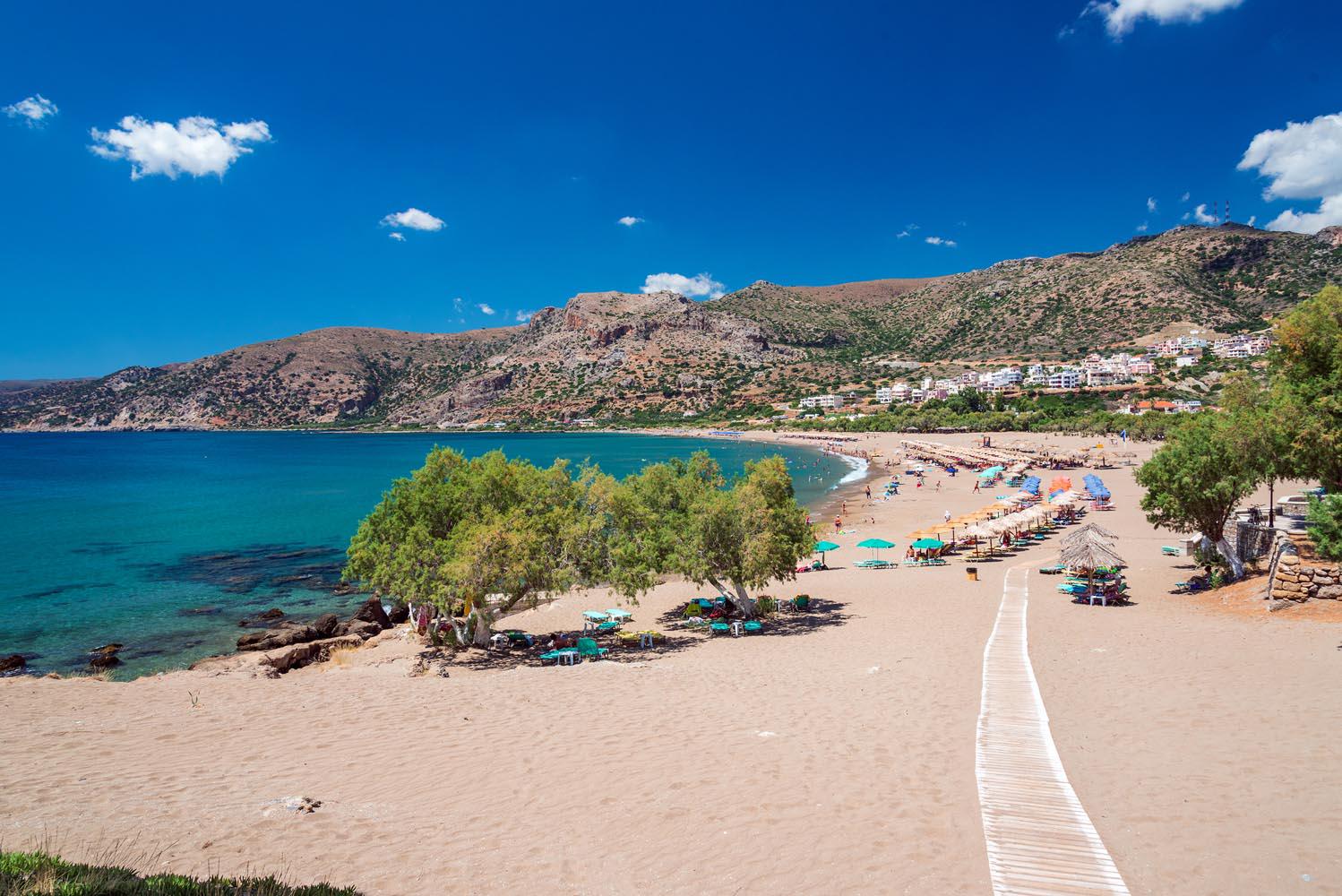 Palaiochora is surrounded by beaches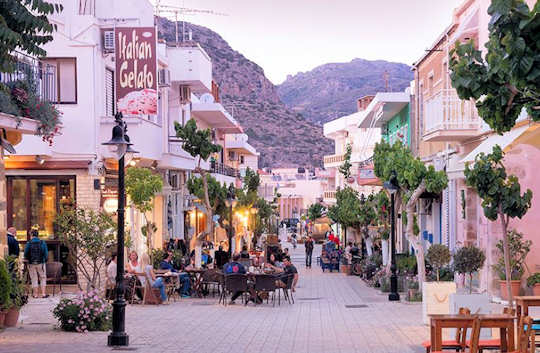 Enjoy the cafes and tavernas of Palaiochora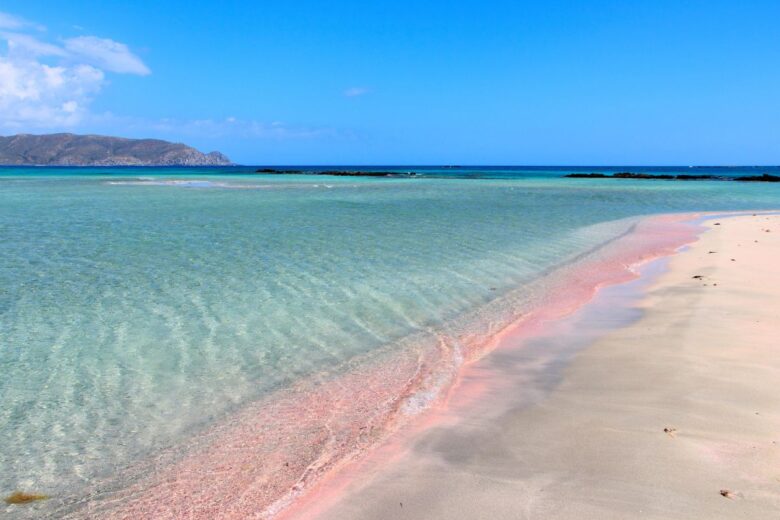 Elafonisi is a protected beach with perfect white sand, numerous little atols and coves, and sometimes, the sand is tinged with pink
---
Getting Here

Take a 1 hour flight from Athens to Heraklion with Aegean Airlines or Olympic Air, with many flights available per day.
Or take a 9.5 hour overnight ferry from Pireaus port of Athens to Heraklion port.
More on flights and ferries below.
Car hire in Crete is a really good idea as it is a large island 60 km by 260 km. There is so much to explore.
When you book with our car rental partners - Rental Centre Crete - you are supporting a local company with excellent service and an easy online booking procedure. We are sure you will be well looked after by the team. Choose from hybrid or non-hybrid vehicles.
---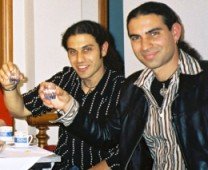 "We trust you have enjoyed these tips from the team at We Love Crete. Evíva!"
Contact us with further questions or feedback. We love to hear about your travels in Kríti and Greece. Let us know of any updates or additions, errors or omissions. Help us make this website the best it can be. Kaló Taxidí!

---