Wildlife Conservation in Crete
This page may contain affiliate links, see our disclaimer here.

---
Wildlife conservation in Crete starts with knowledge of the ecology and diversity of the island. Our nature pages cover a great deal about the island's natural history.
A visit to the Natural History Museum of Crete in Heraklion will show the world of Cretan nature.
A trip to Cretaquarium will delight adults and children alike, opening up the world of the sea.

Here we look at some of the rare and endangered fauna one-by-one, and organisations and projects which you can support.
The Mediterreanean Monk Seal Monachus monachus is Europe's most endangered marine mammal and the rarest seal species in our oceans worldwide.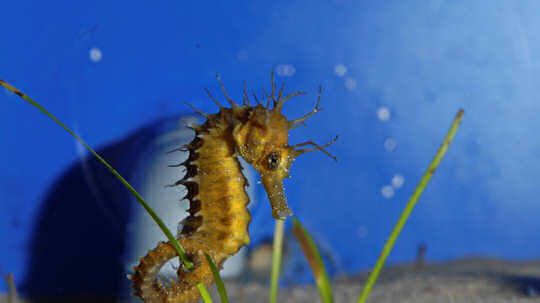 ---
Wildlife to Watch

Monk Seal Monachus monachus
Leatherback Turtle Dermochelys coriacea




Green Turtle Chelonia mydas
Loggerhead Turtle Caretta caretta
Bearded Vulture Gypaetus barbatus
Eleonora's Falcon Falco eleonorae
Sperm Whale Physeter macrocephalus
Striped Dolphins Stenella coeruleoalba
Kri Kri Cretan Wild Goat Capra aegagrus creticus
Cretan Spiny Mouse Acomys minous
is vulnerable and is on the ICU


---
Conservation in Crete - Action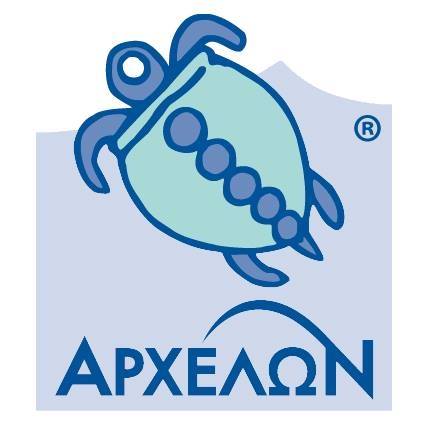 Archelon - the Sea Turtle Protection Society of Greece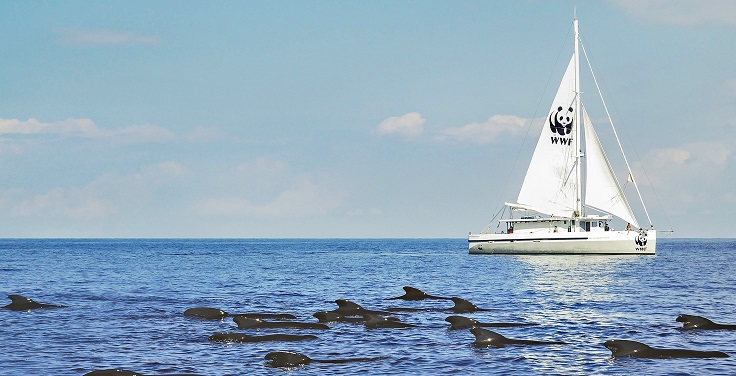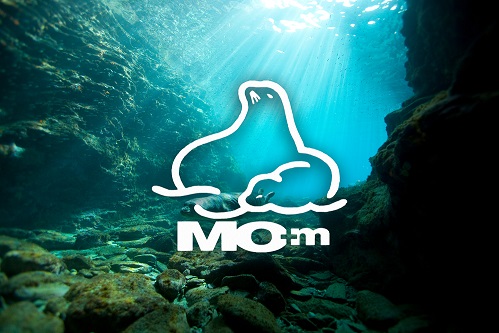 The Hellenic Society for the Study and Protection of the Monk Seal


The Mediterranean Association to Save the Sea Turtles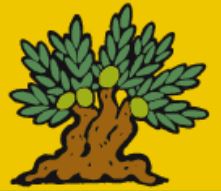 The Pan-Cretan Network of Environmental Non-Governmental Organisations, named Eco Crete is the coordinating body of ten environmental NGOs in Crete. It has been established since 2004.

---
Turtle Conservation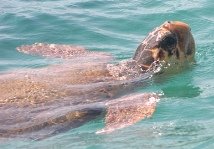 The Loggerhead Turtle (Caretta caretta) nest along Crete's coastlines. There are three project sites run each year by Archelon to help conserve this species. Volunteers can join in one of the locations on Crete between 15 May and 10 October each summer.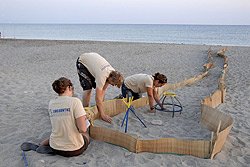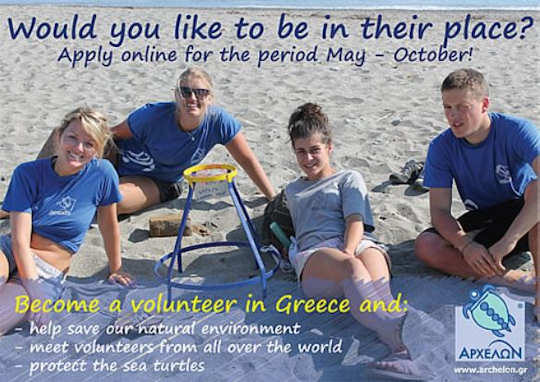 Please consider what you might do to contribute to protecting some of Crete's unique animal species, have a look at the websites of these organisations. Of course each one is dependent on the healthy ecology of the island of Crete, her waterways and her seas.


---
What Can I Do?
DO
inform yourself about turtles in Crete
ask your host if there are turtles breeding on your beach
turn lights off at night if you are in a hotel on the beach
get involved in a turtle conservation project for your next vacation
DON'T
go to the beach at night
use lights on the beach
buy products made of turtle
leave rubbish on the beach or in the water
leave your sun chairs or other equipment on the beach at night


See the work below by Medasset for cleaner waters and beaches of Greece and the Mediterranean.
Remember - turtles cannot tell the difference between their food and plastic bags! This video shows you their point of view.


---
Accommodation
Choosing accommodation in local villages close to nature and dedicated to the culture and traditions of the island, your trip will become an immersion in island life.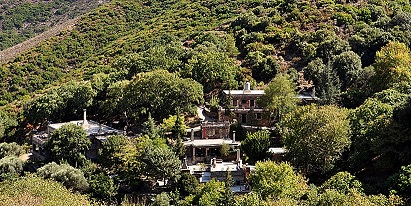 Milia Mountain Retreat -this beautiful rural accommodation in Crete is chosen for its authentic architecture and small size, it is a peaceful rustic getaway for a real experience of Kríti. This community is also dedicated to sharing a real grass-roots environmental retreat, using organic farming and solar energy.
Located 60 km from Chania town in the west of the island, the Eco Village Miliá  Μηλιά is a fully restored village built into the rocks of the beautiful Cretan mountains. The closest village is Vlatos 4km away.
Central to the scenic area of western Crete, the retreat itself persuades visitors to relax, breathe deeply and be at one with nature. Close by are the beautiful beaches of Elafonisi and Paleochora to the south and Falasarna and Gramvousa to the north.
Meronas Eco House - sitting in the beautiful Amari Valley, this home with foundations of solid stone and chunky wood has been recently restored, with such care and attention to the traditional character of Crete, with even the original door locks in place.
Now open as a B&B or Agrotourism, or Eco House, what ever you wish to call it, it is a little piece of heaven, a slice of the life of Crete hidden behind these doors, with years of slow cooking and living close to the land.
Manolis and his mother, Mrs Eleftheria, will look after you, the visitor will be able to appreciate and experience the local customs of bread making, olive harvesting, herb collecting and of course, farming, first hand.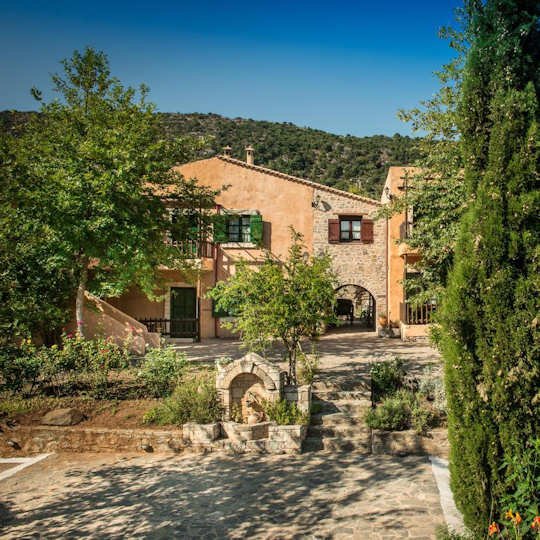 Enagron Eco Village - the Psilioritis range dominates the centre of the island and is the source for inspiration, strength and hardiness of the Cretan character. The mountains are the backbone of Crete and a visit will open your heart to the real Crete.
Giannis and Fani have created Enagron in the village of Axós, in Rethymnon prefecture near Mt Ida, also known as Psiloritis. The essence of nature surrounds them, in the silence of the mountains.
Located 48 km from Rethymnon town, the village has played a part in the history of the island and there are many sights to visit, either on foot or by car, in the local area. The Enagron Village has been built of rock and rough washed as in the local style, with large wooden beam features.  Terracotta and stone interiors with natural textures playing softly on your eye, these maisonettes and studios have been built in the traditional style complete with modern facilities.
---
Getting Here
Take a 1 hour flight from Athens to Heraklion with Aegean Airlines or Olympic Air, with many flights available per day.
Or take a 9.5 hour overnight ferry from Pireaus port of Athens to Heraklion port.
More on flights and ferries below.
Car hire in Crete is a really good idea as it is a large island 60 km by 260 km. There is so much to explore.
When you book with our car rental partners - Rental Centre Crete - you are supporting a local company with excellent service and an easy online booking procedure. We are sure you will be well looked after by the team. Choose from hybrid or non-hybrid vehicles.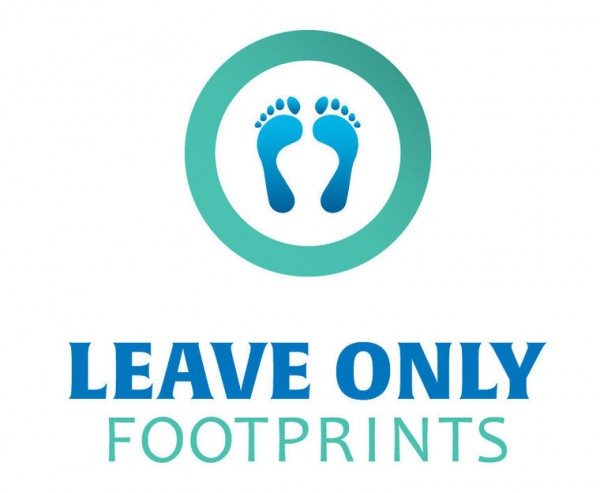 If you have a ecological issue or project in Crete, or a concern for conservation in Crete, please let us know on our Contact Form. We would love to hear from you.
---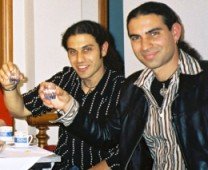 "We trust you have enjoyed these tips from the team at We Love Crete. Evíva!"
Contact us with further questions or feedback. We love to hear about your travels in Kríti and Greece. Let us know of any updates or additions, errors or omissions. Help us make this website the best it can be. Kaló Taxidí!

---